The new publication from the Scootering magazine stable has been selling off the shelves. This publicaton is a one-off 'hybrid' of book and magazine which can be found on the newsstands of WHSmiths for a select three to six month period, but once sold out (as I understand most WHS stockists now are) then it only becomes available via mail order. A brief synopsis of the title is outlined below, by author Stu Owen, and for anyone who still hasn't got a copy, you can order online: www.classicmagazines.co.uk for only £6.99 (price includes FREE UK delivery).
Book overview
By the mid-60s scooter sales by the likes of Lambretta and Vespa had already peaked in Britain. The emphasis of the scooter had begun to change from a commuter vehicle to one now more suited for leisure. As it did, ownership shifted to the younger generation whose appetite for speed and power was every increasing. Soon enough 
shops began to cater for this new fashion, offering tuning services as a new era of the scooter scene dawned.
Before long competition among owners to be the fastest intensified and found a new outlet in the form of circuit racing. This was the real catalyst for both road-going and track scooters as development continued at a fast pace. Though production of the Lambretta ceased in 1971 the Vespa survived despite the continuing downward trend of sales.
This pushed the scooter scene underground but despite doing so the passion of tuning continued to flourish. With the release of Quadrophenia towards the end of the decade a new injection of devotees were keen to join in and in the process Lambretta and Vespa ownership increased significantly. Shops and businesses opened up in droves as the scooter tuning market took off, and companies began heavily investing in the manufacture 
of all manner of products.
With the introduction of the TS1 kit for the Lambretta and the T5 Vespa by Piaggio in the mid-80s this would not only cement scooter ownership but take the tuning scene in a new direction. With owners prepared to blow huge budgets, stunning creations took these machines to a 
new level. With continued investment from manufacturers and the competition still strong the Lambretta and Vespa Street racer scene continues to thrive. This is the story of its evolution from the 1960s to the present day.
Article continues below...
Advert
Order yours now online at: www.classicmagazines.co.uk for only £6.99 with FREE UK delivery.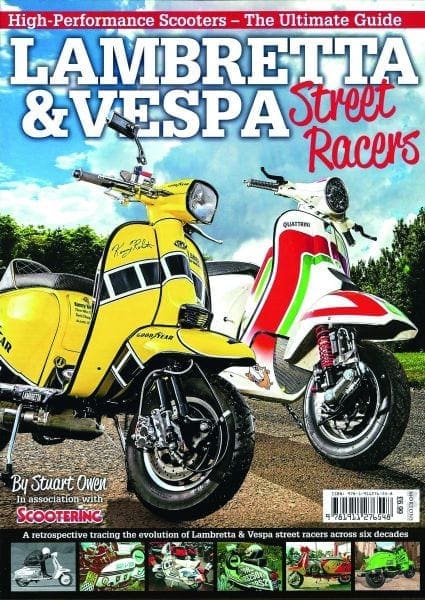 Enjoy more Scootering reading in the monthly magazine. Click here to subscribe.
Article continues below...
Advert