Don't get complacent, take the extra few minutes to protect your scooter. It's your pride and joy and it's worth securing. You know it makes sense. Many owners think nothing of spending £400 on an exhaust or tuning kit, maybe a grand on an engine rebuild or £1500 on a spray job, but most won't even spend a fraction of that to help keep their investment safe.
That's like buying a massive home cinema set up with some tasty surround sound speakers, then going down the pub and leaving your front door on the latch. How foolish is that?
So here are a few hints and tips on scooter security that we've learned over the years, some of which you may recognise and use, others maybe not. Hopefully, by combining a few together, it will help keep your scooter safe and secure and you can continue to enjoy it for a long time to come.
Andy
Datatag
Datatag security marking is both a deterrent to anyone thinking of stealing your scooter to sell on or strip and sell for spares, and a tool for recovering your bike and its parts should they get stolen.
The Datatag electronic anti-theft system consists of tiny transponders (about the size of a grain of rice) that are hidden in your scooter, as well as Datadot microdots and other identification technology which you apply to your bike and the parts, from frame to panels and everything else. This multi-layered identification system enables the police to identify the true owner of any Datatagged scooter – either by reading the electronic transponder, or noting the unique microdots on parts – even if the numberplate and identification numbers have been removed or changed.
Available from all good scooter and motorcycle dealers to retro fit yourself (£59.95).
Datatag has also been fitted to literally thousands of Yamahas, Piaggios, Vespas and Gileras too. There are no annual fees, and when you come to sell your scooter you'll find that the Datatag registration can be transferred to the new owner. https://datatag.co.uk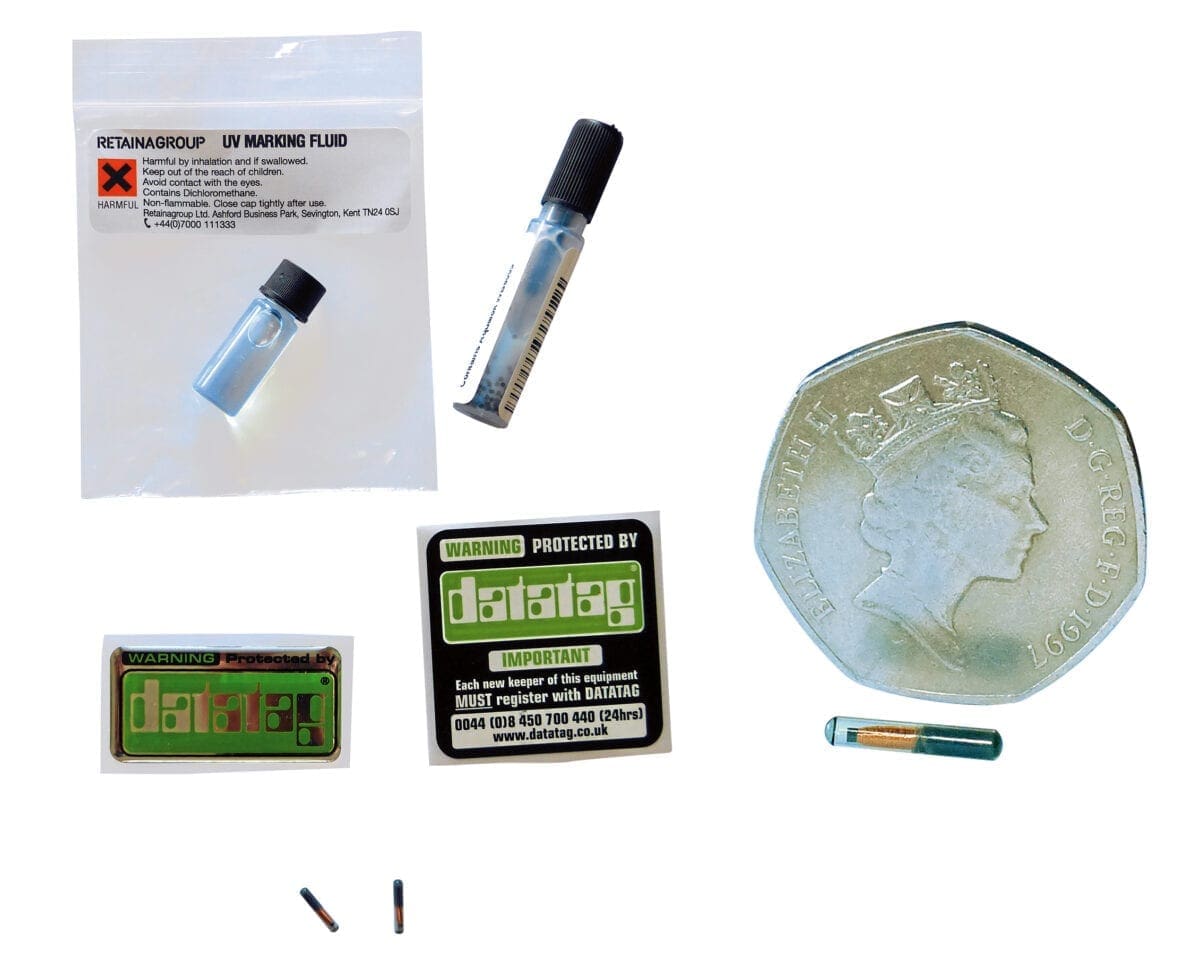 Sign of the times
If you're going to nail a sign to your garage or shed wall, then instead of enticing thieves in with adverts of what you have stored inside, how about putting up a sign to put them off? That means no 'Lambretta Parking Only' type signs, okay?
Grip or Croc?
I first came across Grip Lock a few years ago and have used it regularly since, mostly as a secondary device alongside another lock and chain. It grips the front brake lever on, making the scooter harder to move, although the slide adjuster for different handlebars seems to be getting loose, meaning the placed rubber inserts of the new Datatool version – Croc Lock – appear to be a better idea.
Only time will tell if it lasts as long of course, but for now this is a visible deterrent, if not the most secure lock on the market. Croc Lock is £29.99 from www.datatool.co.uk while expect to pay around £45 for a Grip Lock, www.grip-lock.com
In the loop
If you can get a lock around the leg of a Vespa fork that should prove fairly secure. However, if your Vespa is not suitable for that, or you have a Lambretta on which the front wheel can be dropped out in seconds, how about getting a steel security loop welded on to your frame? Done right, it remains discreet, and while it's maybe not original, it's better to have the scooter still in your possession like this, than exactly as Innocenti intended in the back of a thief's van, eh?
The lock here is a 1.5m Oxford Combi Chain. While it doesn't feel as hefty as the rest in this article, the number combination lock (oddly branded Wordlock?) and light weight could prove convenient for some riders. The RRP is £39.99. www.oxprod.com
Ground anchors
Ground anchors come in all shapes and sizes and usually include the necessary security bolts to fasten them down securely. This one is a heavy-duty item and is wide enough to allow a scooter to sit over it and a long chain to pass over the footboards.
If you've got a suitable concrete base you'll just need a heavy-duty drill and masonry bit (or hire one from a local plant hire firm). In this case we had to dig a large hole, mix the concrete and allow it to go off before the bolts could be drilled in. Ball bearings are hammered into the Allen bolt heads to prevent them being unscrewed – so make sure you're happy with its position!
Although this concrete block isn't huge, the location of the anchor between an external wall and the shed would make it difficult for a thief to prise it out and wheel the scooter, chain, anchor and concrete away. A larger concrete base would be better though.
If you're worried about it looking unsightly you can disguise the anchor using slate, gravel or bark. At least then you'll only have to see the prongs sticking up when the scooter isn't over it. In reality you'll still leave the chain threaded through though.
Disc-o baby!
Disc locks afford easy, quick immobilisation for scooters with external disc locks. However, because of the small 10in wheels, finding a good one that fits is harder than you may think.
This Xena XX6 disc lock fits my PM Tuning and Stoffi disc brake kits for a Lambretta, but not my Vespa PX Disc. It has a 120dB alarm should anyone tamper with it and it retails at £44.99. A neat optional extra is the 1.5m hi-tensile cable and adaptor which means you can use your disc lock to secure your scooter to something else too. Check out the website at www.motohaus.com where you'll also find a template of a disc brake with locks on to print out and try on your wheel for size.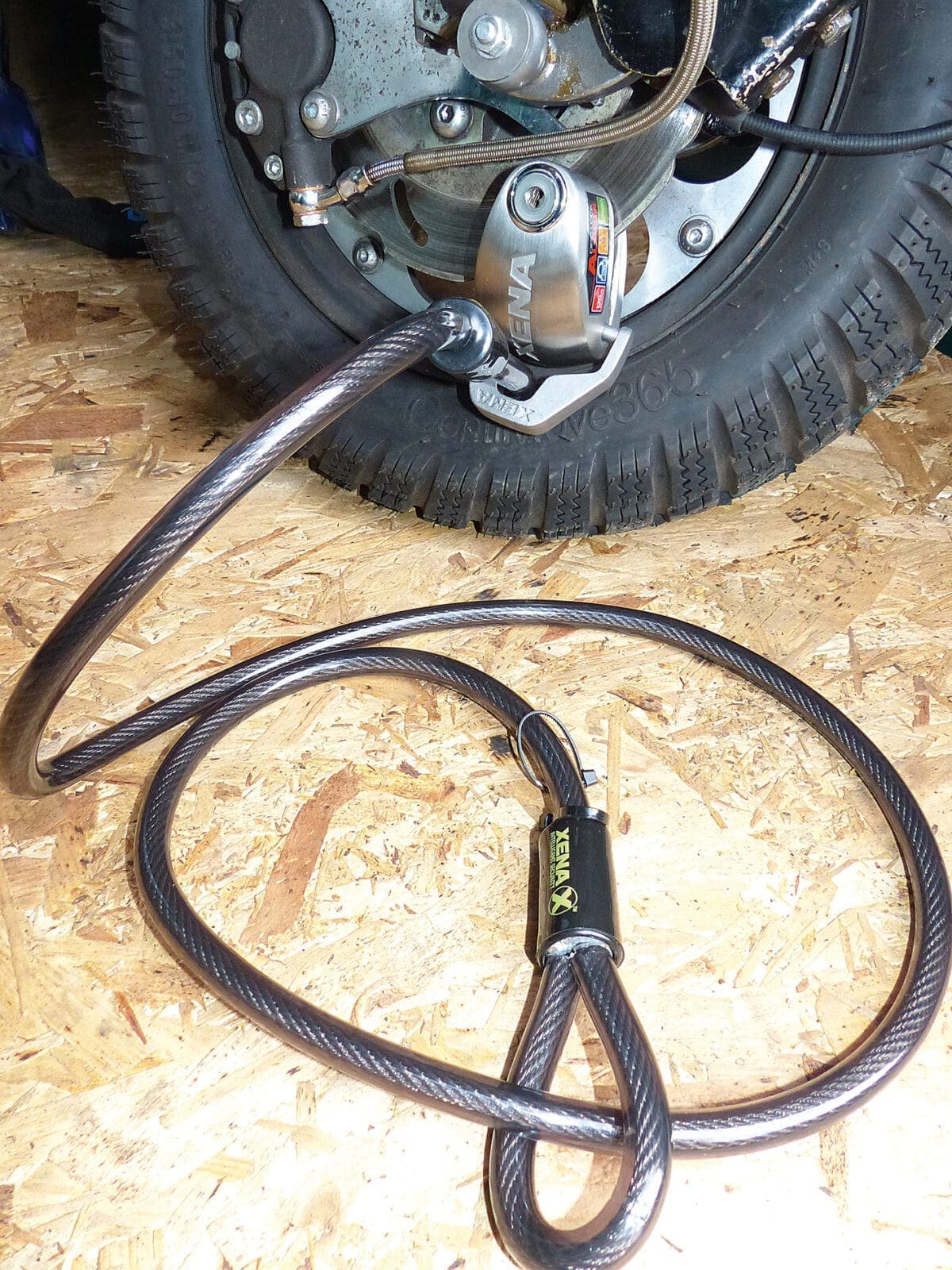 Frosty reception
If you've got windows in your shed or garage then consider making it hard to see what's inside with some stick-on window frosting. Available from your local hardware store (and at least one nationwide DIY chain too), it's relatively inexpensive, still allows the light through and adds an element of security at the same time.
Undercover
One of these has a rather nice Vespa LX hidden underneath, which I quite like the sound of, but goodness knows what's hidden under the other cover. Yes folks, don't advertise your scooter to thieves, either at home or on the streets.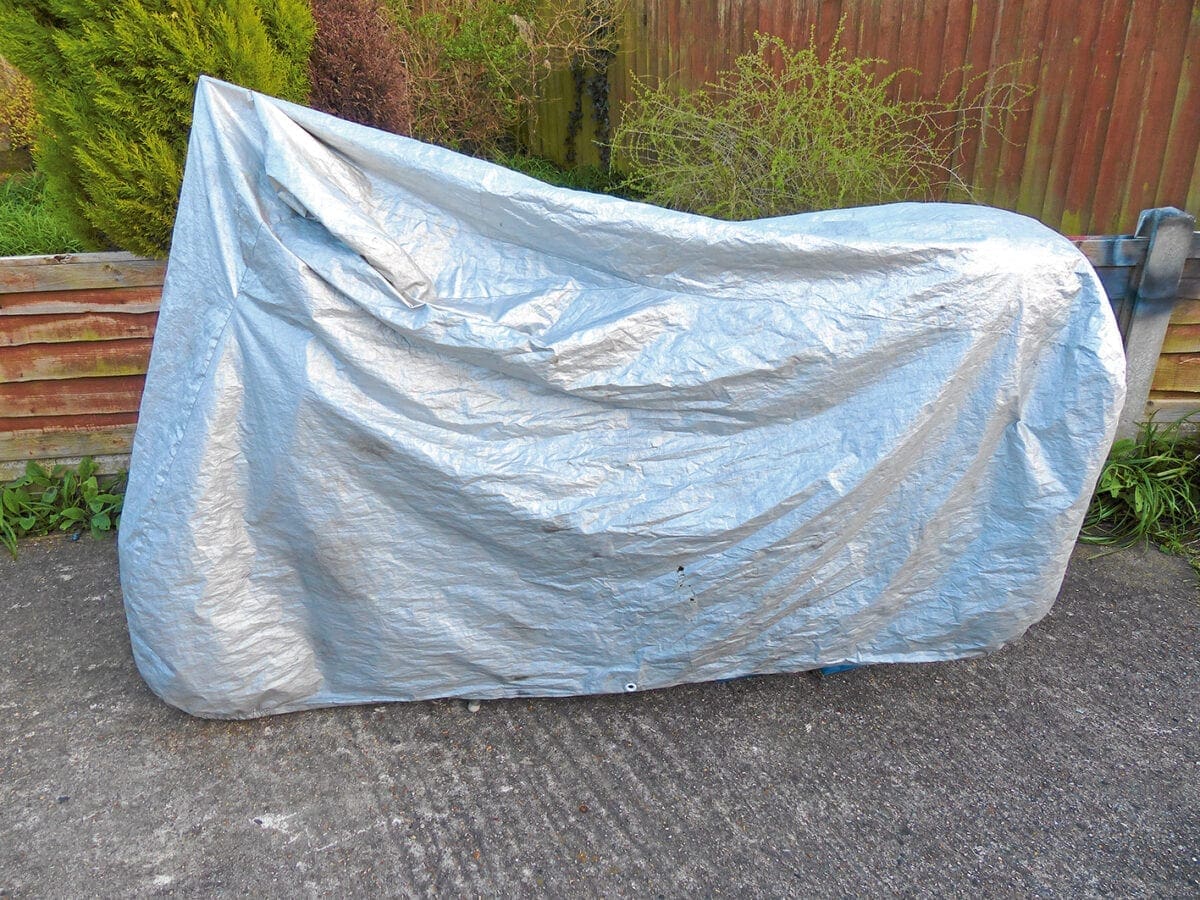 Lock to lock
If you've not got a solid immovable object to lock your scooter to then pass your lock through that of an adjacent bike/scooter. You can both unlock and go home independently, but while they're joined it's harder to lift two bikes together into the back of a van. To get around the floor of a classic scooter and attach to the same on your friend's, a 1.5m long lock should do the trick. This Gear Gremlin Nimrod CR-MO Chain Lock is just that. It's approved by Sold Secure, which means it's tested by master locksmiths and it has a hardened steel lock body with a double ball bearing anti pick and anti-drill system. The chain links and shackle are steel too and it retails at £64.99. www.thekeycollection.co.uk
Brake pedal
Feeding the lock between the brake pedal and floor of a scooter not only provides a securing point but locks the back wheel on too, making the scooter harder to steal.
The Datatool 'Portable Python' lock and chain here is a good example of one which has very little space between the links and the padlock for a thief to get something in to try and prise it open. Also note neither the lock or chain are on the ground so a thief cannot use that as leverage.
This chain is 1.2m in length with 9.5mm case hardened links and coupled with their 10mm case hardened alloy padlock with anti-pick/anti-drill lock assembly.
This lock is Thatcham approved (therefore attack tested), and still fits into the toolbox of a Lambretta or Vespa and costs around £89.99.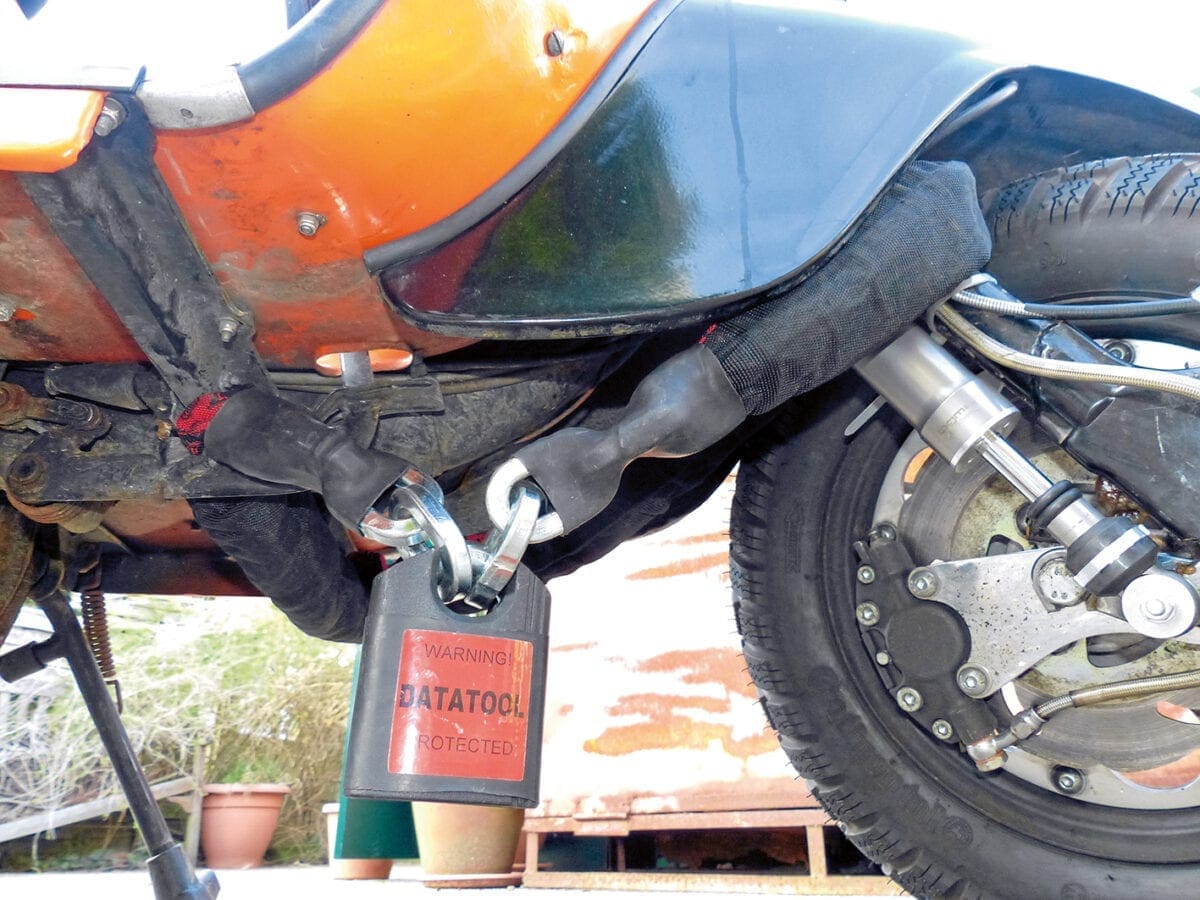 Handlebar lock
Four out of five scooters in Barcelona uses one of these it seems, securing the handlebar to the frame which also enhances the standard steering lock in the process. Affordable, highly visible and simple to use. Artago makes them in Spain for geared Vespas old and new (therefore the LML Star too) as well as most popular autos including Vespa LX and GTS range (Vespa locks available from Allstyles Scooters, www.allstyles-scooters.com).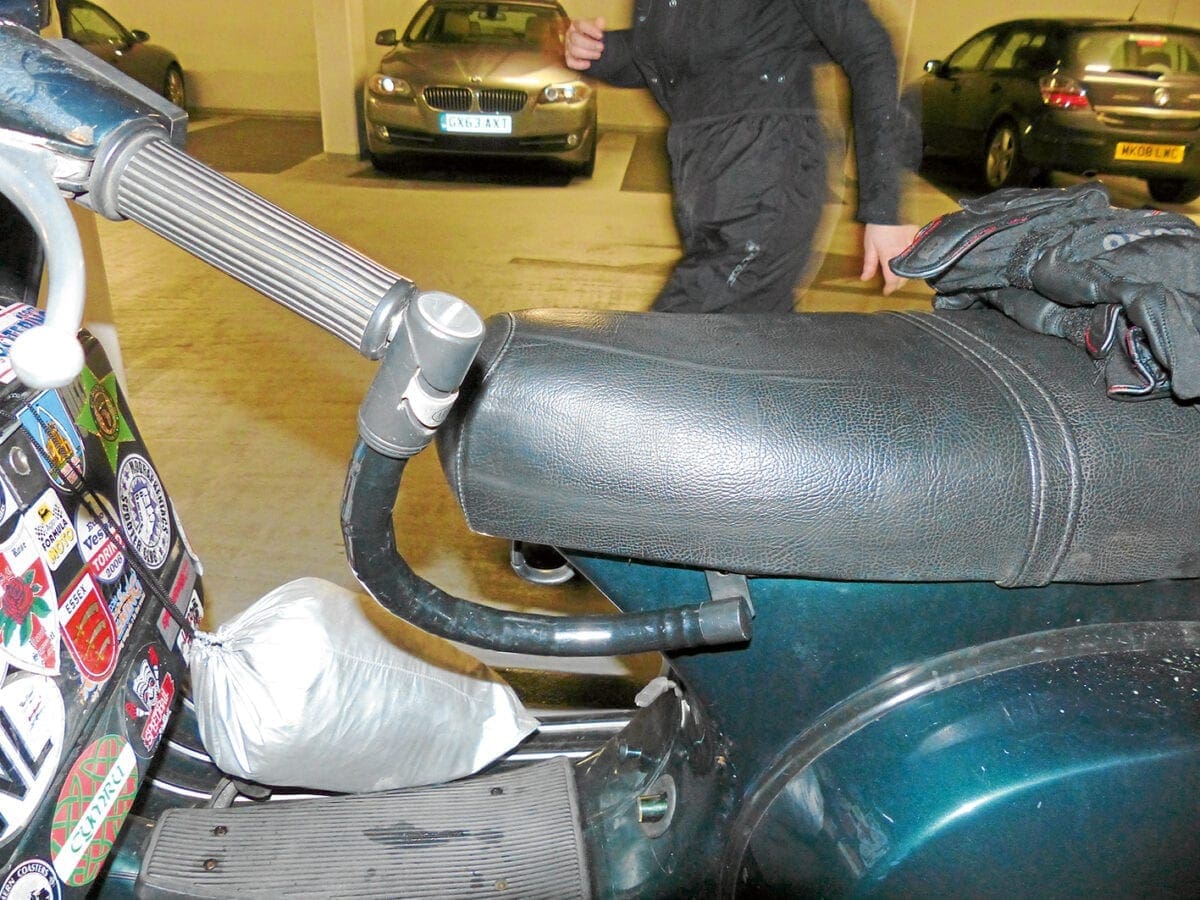 I HAD ONE STOLEN
Paul Jolliff is a long time member of PRAT Scooter Club, a former scooter racer and the proprietor of Puzzle Scooters in Portsmouth. An experienced rider, he's travelled the length and breadth of Britain and Europe attending rallies since the 1980s and is the owner of this rather distinct Lambretta. You'd think therefore that he'd be the last person to have a scooter stolen, right? Unfortunately not, as his was taken in February.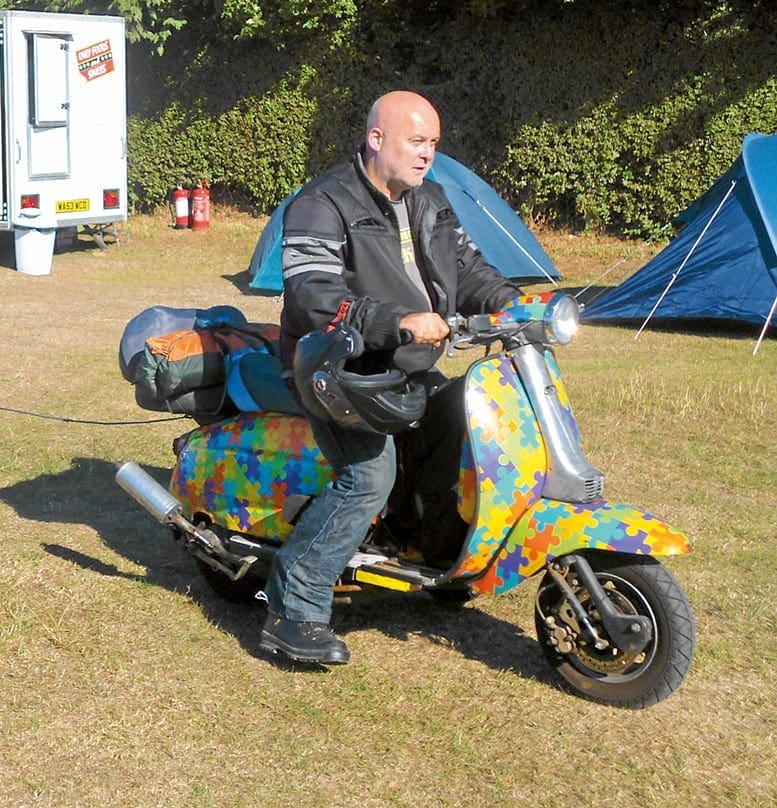 What is your scooter?
A Serveta Lambretta TS1 which was my race bike for many years and I've used it on the road ever since.
Where was it stolen from?
I'd parked it outside a friend's house in Portsmouth, somewhere I've visited before, so it wasn't a strange place to me.
What security did you apply to your scooter?
Ahh… I simply turned the ignition off and walked away. I suppose I got complacent. I lock the scooter up at home and at work, I've got a big padlock and chain, but it had been okay parked there before and also I, ahem, didn't really want to get down on my hands and knees and fit the lock – I'd got wet enough that day as it was!
Anything else to add?
Erm yes. I have left it like that before. You see I've got a wizard ignition system that I've developed that's programmable and mappable and you need a laptop to figure out. I know that anyone who stole the scooter would have terrible trouble trying to start it. Also, the front brake can be lethal in the wrong hands, especially in the rain, so any thief may well get what they deserve…
Did you really think that would be enough?
My bike has been painted like a jigsaw puzzle for many years now, everyone in Portsmouth knows it's mine, and so do scooterists all over the country.
It's so easy to identify who'd be stupid enough to steal it?
So what did you feel like when you discovered it had been stolen?
I've had three scooters nicked in my life and I just thought, "Oh no, here we go again." To be honest I automatically thought it would be some little shit who'd stolen it. But just in case I told my friends who do Facebook and others in scooter shops and they spread the word in case anyone started trying to sell the engine or bits.
But you got it back though?
Yes, I was lucky. We went looking for it and found it within an hour. The horncast was smashed off and they'd cut the wires to my rev counter, which proves it was some little shit kid joy-rider as this is how they get into automatic scooters and cut the ignition wires. It seems they couldn't get it started so they nicked my tools out of the tool box and dumped it.
Was there any other damage?
Apart from a few scratches and scrapes – a few more than were already on an ex-race scooter! – not really. I was very, very lucky though because most little shits, when they get this far and can't start a scooter, then they set fire to it instead.
So has this changed your ways?
As I said, I did get complacent. I used to have an alarm system fitted but that shook itself to death. I'm currently developing a new, more robust system and will use that. And I'll start locking my scooter up again, every time.
What advice would you give to other scooterists?
Don't get complacent, definitely take the extra few minutes to lock it up. It's your pride and joy and it's worth securing. If possible lock it to something secure, and if nothing else lock it to another scooter – that makes it far more difficult for anyone to lift yours into the back of a van. Put a cover over it to stop thieves from seeing what's available to steal. If you've got an alarm as well then hopefully that will also help if someone tampers with your scooter.
Originally published in April 2014

Enjoy more Scootering reading in the monthly magazine. Click here to subscribe.