Rockers – 25th Anniversary Edition (Wienerworld)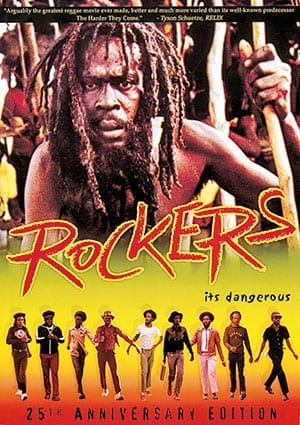 If you enjoyed the film The Harder They Come, then I think you'll like this too. Made in 1978, in Jamaica, Rockers tells the story of Leroy 'Horsemouth' Wallace's attempts to succeed in the cutthroat business that is the Jamaican music industry.
More reggae than ska, as the era would suggest, Horsemouth, a drummer, hustles his way through the film in which the cast, all being local, speak in a strong Rasta patois so subtitles are enclosed and indeed the booklet includes a couple of pages of translation should you need it.
Money is borrowed, scams set up and deals struck as the story unfolds, all accompanied by some simply wonderful music by artists including Peter Tosh, Junior Murvin, Inner Circle, The Heptones, The Melodians, Justin Hinds, Lee Perry and Bunny Wailer. Others that appear on the screen include Gregory Issacs, The Abyssinians, Big Youth, Theo Beckford, Burning Spear, The Mighty Diamonds and people like Robbie Shakespeare and Tommy McCook who appear in The Rockers Allstar band.
It's a bit of a B-movie to be honest, but you don't buy Rockers to see Oscar winners. You buy it for the roots and culture.
A Story About King Kurt (Secret Films)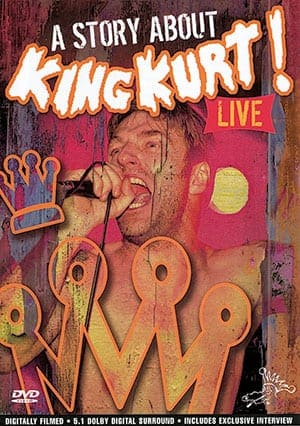 Probably the most infamous of all bands to belong to the 'family' of psychobilly is King Kurt.
Renowned for concerts featuring anything from live sex and cheap haircuts to men in dresses and food fights, lead singer Smeg returned to the UK and to the stage a couple of years ago to perform at the Woolacombe scooter rally. This in turn led to Smeg forming a new King Kurt for the 21st century and it is this band that you see performing here in this DVD.
Filmed at Brighton's Concorde 2 in December of 2003 the concert kicks off with Rack & Ruin and progresses through a blistering set of favourites that includes She's As Hairy, Do The Rat, Destination Zululand, Banana Banana, Zulu Beat and Wreck A Party. There's also a couple of tracks from the last King Kurt album (Poor Man's Dream); My Business and Friends, as well as a couple of false starts, a story and general onstage anarchy.
Yes it's by no means note-perfect, but have any King Kurt fans ever seen or heard a King Kurt video or CD that is? To top it all, not only do you get a full concert but an extensive interview with young Smeg where he explains, amazes, baffles, waffles, and talks his way through the story that is King Kurt.
Laurel Aitken & Friends, Live at Club Ska (Cherry Red Films)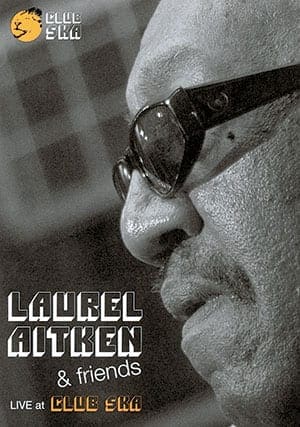 Released just weeks before the Godfather of Ska sadly died, this DVD is now both a recording of his last ever concert as well as a tribute to the man himself.
Disc one features Laurel's concert at London's Club Ska that took place in January 2005. Despite illness he still performed like a true showman. In fact you forget that this man on stage qualified for the free bus pass some 12 years earlier!
Backed by the Pressure Tennants, Laurel gives us some classics from Boogie In My Bones to Bartender, Mad About You to Skin head, and of course Sally Brown! The 70 minutes of concert also sees guest appearances by Rico, Eddie 'Tan Tan' and Denis Alcapone, while other features on this disc include a photo gallery and interviews with Laurel, Rico, Eddie, Winston Francis, Count Prince Miller, and Nick and Martin from The Selecter.
Disc two was previously released on Club Ska Films last year and features the 'Tribute To Laurel' concert that was held at the beginning of 2004 when he first fell ill. That concert featured The Pressure Tennants with Prince Buster, Dave Barker, The Riffs, The Ruts, Gaz Mayal, Winston Francis and Mikey Brooks among others. A fitting tribute to a great man. www.cherryred.co.uk
Desmond Dekker, Israelites – Live in London (Secret Films)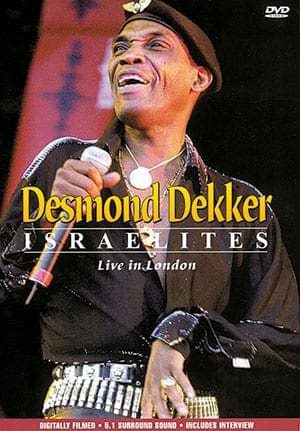 Back in 1969 Desmond Dekker had a UK number one hit with Israelites (the first ska/reggae song from Jamaica to do so). Thirty-six years on and he's still belting out the hits, pulling in the crowds, and entertaining as he's always done.
Filmed at London's Dingwalls in 2002, this DVD shows that he's lost nothing since then too. His voice is still beautiful, the girls still love him and the crowd still sing-along, and Delroy's there to keep you all on your toes!
Kicking off with Cherry Oh Baby, he then launches in his first single, Honour Your Mother & Father. Others that get an airing include It Mek, King of Ska, Get Up Edina and of course You Can Get It If You Really Want It, as well as some later and equally good material, Good Loving and Sing A Little Song.
My only criticism is that Dingwalls as a venue is a small, sweaty kind of place. Great to go and see a gig in, but not too great when it comes to filming one. Oh and the Medley of songs in the middle was a bit dodgy, despite it containing Pickney Gal, which is a favourite track of mine. Never mind, hopefully the interview with this talented gentleman, where he talks about things like getting his first number one hit to what inspired him to write 007, will take your mind off the cabaret session!
Blue Sky Factory — Flower Generation – Katsuyuki Shinkawa (Vespa Service Hiroshima)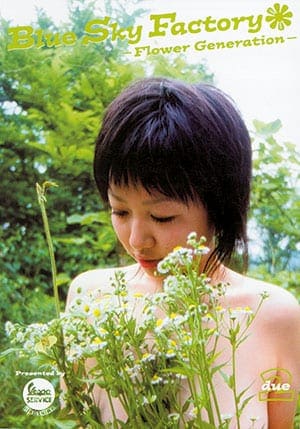 If you're into semi-naked, scantily clad Japanese girls posing on, with, near, or indeed without scooters, then this maybe up your street. I'm a little confused as to the point of it, but this is the second Blue Sky Factory book from Japan and the first was pretty similar. In this edition (flowers being the theme) the scooters featured include Vespa 50, 90, 125 ET3 Vintage, GS Mk1, Lambretta SX125 and TV175. Some of the girls look quite cute, others a little confused, and the setting and type of shots doesn't make it any easier. Still, each scoot has a manufacturer's spec list next to it so if nothing else, I guess this book is a point of reference.
For further information visit www.love-vespa.ne.jp or email v9ss1t@hotmail.com
Essential Guide To London's Retro Shops – live Dunkley (New Holland)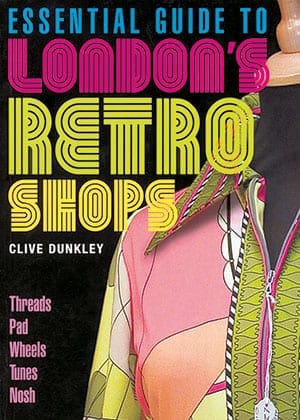 After what was undeniably a cautious approach to this book read, (keep ignoring it until the deadline looms and you've really got to pick it up!), I must admit to it being rather contagious.
The author has taken a lengthy look at London regarding all things retro, from clothes to coffee, scooters to sunglasses, motorbikes to music, cars to clubs, furniture and more. It's all here and he looks at the shops individually, describing what they sell, specialities and contact details, while also visiting classic venues such as the 100 Club and original, family run cafes that are still, somehow, managing to keep their heads above water in a modern world of corporate giants like Starbucks that seem intent on world domination, swatting anyone that dares to stand in their way.
Indeed, if you want to immerse yourself into yesteryear, then you do need this book. It's split into areas and subsections from there too (food, furniture, wheels, clothes, etc) and while it probably helps that I actually live in London, I did find it both hard to put down and easy to pickup.
£10.99 is the price from all good bookshops, further details from www.newhollandpublishers.com
Scooters—Red Eyes, Whitewalls & Blue Smoke – Colin Shattuck (Speck Press)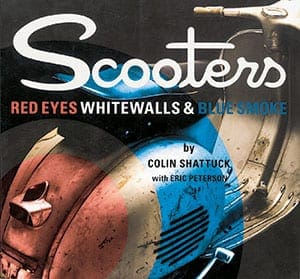 Written by an American, for Americans, this book is heavily dominated by the American scooter scene. It is therefore kind of expected that in many areas such the history of the scooter and the culture that goes with the scene, the author has glossed over some of what we Brits (or even the Europeans) may regard as worthy of slightly more than a brief mention.
If you're happy to ignore these areas then this book offers over 130 pages containing many photographs (and there's some pretty good images among them) as it explores the history of scooters (focusing mainly on Vespa and Lambretta, after the early US machines), the (American) market today from Chinese autos to Indian Vespa clones, the scene (Stateside) including rallies and parties, as well as details of shops and clubs over there making this the ideal book for someone who's only recently bought a scoot and wants a guide to where to go and enjoy it.
A nice touch for a quality-looking publication as this is the inclusion of some 'street' scooters as the author goes through varieties of 'personalisation', rather than relying on archive images throughout.
Not the best scooter book out there by far, regarding European scooterists at least, but if you've got £14.49 you don't know what to do with, then you could do worse than buy this book, put it on the coffee table, and discuss it with your clubmates next time they come round.
Distributed in the UK by Turnaround (www.turnaround-uk.com).
Vinyl Dementia: The Psychobilly & Trash Record Guide— Part 1: 1981-1987 – Craig Brackenridge (Stormscreen Productions)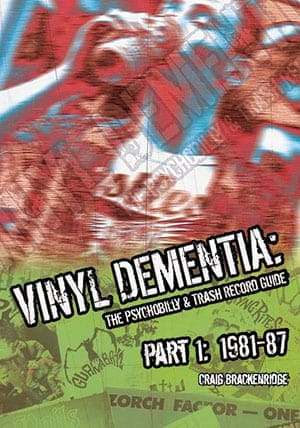 From the author of the psychobilly book, Let's Wreck, comes this mini-book that brings back memories of the early 80s. A5 in size and 28 pages long, it offers full page reviews on what the author thinks are 20 of the most groundbreaking records of the time.
If you were there at the time you'll almost certainly agree with the inclusion of In Heaven and Wreckin' Crew from The Meteors, decide that no matter how silly they were that King Kurt's Ooh Wallah Wallah definitely deserves an entry, remember buying the Blood On The Cats compilation when it came out, and admit you wish you'd also bought the Four On 4 (Trash On The Tube) EP too! Oh and then argue as to what he's missed out!
If you missed psychobilly in its heyday, then you still need to buy this publication, as it tells you which albums you should try to get and whether reissues are available today.
Vinyl Dementia is priced at just £3 and is available mail order from Raucous Records, Nervous Records, or direct from Stormscreen by sending a cheque payable to C Brackenridge to 24 Retford Road, Woodbeck, Retford, Notts DN22 OJL. P&P is free within the UK and £1.75 for rest of world.
Scooter Style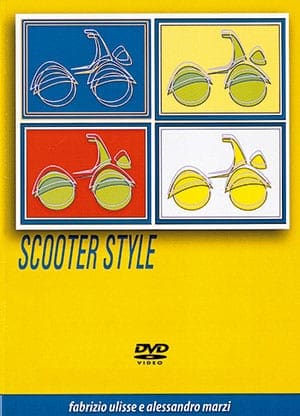 Thanks to the wonders of modern technology, this Italian DVD can be enjoyed by scooterists other than those from the country in which it was filmed. With a soundtrack by Mike Painter & The Family Shakers, Scooter Style comes from the home of stylish scooters and looks at a variety of Italians involved in scooters today. There's the collector with over 100 scooters from a first model Vespa 98 to a modem PX, the mechanic and restorer and Roccia the Lambretta riding DJ and clothing shop owner, all featuring on this 40 minute film.
Yes, it is all in Italian (but with an English subtitle option) which can make it a little more taxing to watch if that's not your first language, and the footage will obviously be more important to those involved than others. Nevertheless there are some good shots on this disc and I think it's always interesting to see what other people's angles are on the topic of scootering.

Enjoy more Scootering reading in the monthly magazine. Click here to subscribe.