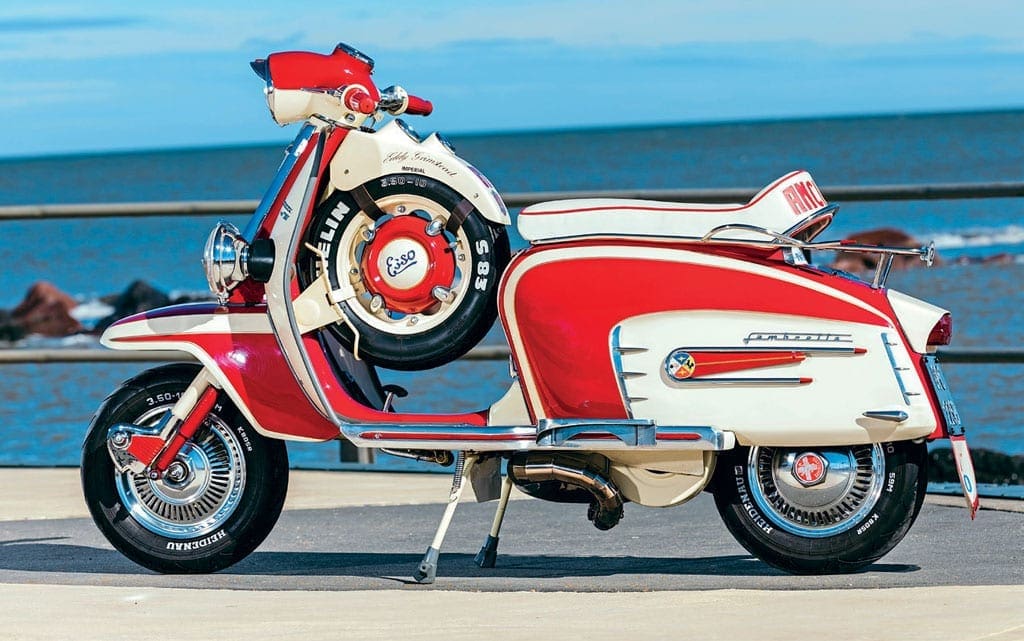 Words: Sarge | Photographs: Gary Chapman
Certain scooters have become genuinely hard to find as the years have rolled by. Then there are those machines that are categorised as mythical!
Dealer Specials, and certainly those from years gone by, are generally in short supply. Demand far outstrips supply of examples in original specifications at any price.
The reality is that relatively few original Dealer Specials from the '60s, as well as to a lesser degree from the '80s, have survived the ravages of time, or for that matter, survived ever-changing popular styles of road-going scooters with riders of each and every period.
Then there's the near-mythical Dealer Specials, such as the Grimstead Imperial Lambretta. Grimstead Hurricane Vespas are a rarity, especially a genuine Grimstead Hurricane with bona fide provenance. As for the Grimstead Imperial although advertised for sale, were any ever produced or sold?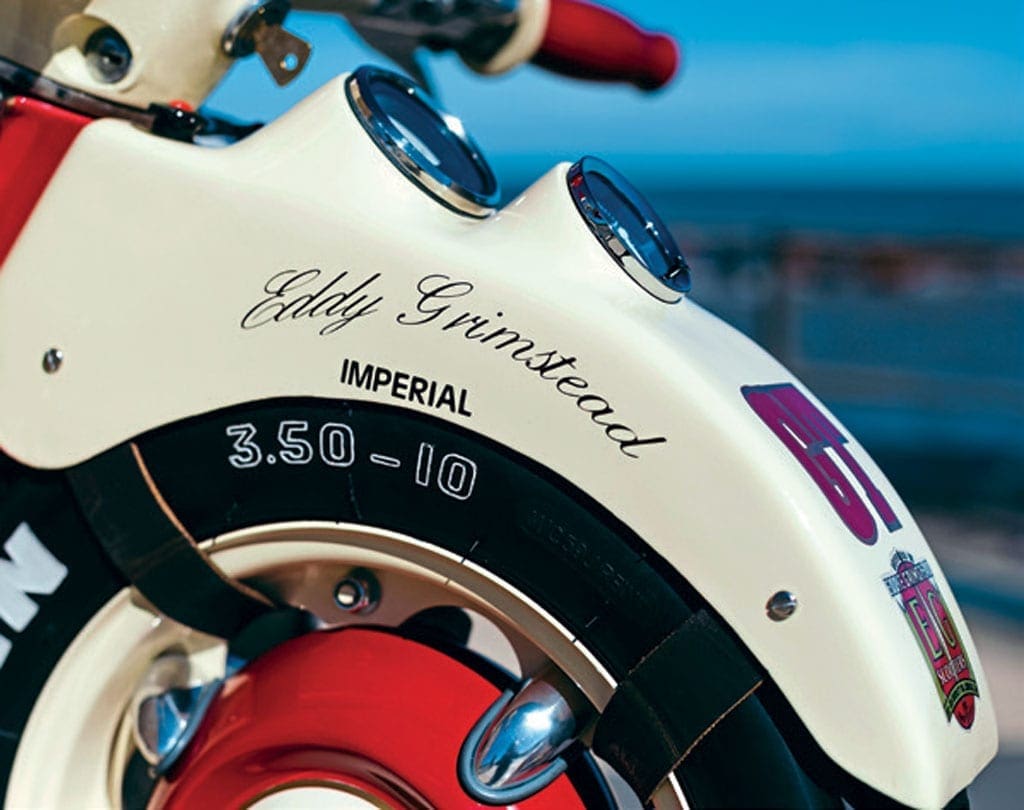 Evolution of a species
Nigel Hetherington, or Cain to his mates, has had his Grimstead Imperial replica for years. It was obtained as a stock TV/GT200 in 1993 for a then reasonable sum of £300.
At the time, Cain was rather taken by some old adverts he'd seen in '60s magazines, such as Scooter and Lightweights, and Scooter World, offering a Grimstead Imperial Lambretta for sale. He sourced a Grimstead Imperial legshield badge relatively easily, before setting about creating his interpretation of how a top-of-the-range Grimstead Imperial would have appeared during the '60s.
The first iteration saw his GT Grimstead Imperial replica sporting a blue and white paint scheme. A scooter which was very much ridden not hidden, it was seen regularly at National rallies during the early to mid-'90s.
What had started off as an engine failure requiring a complete overhaul, soon became pretty much a total revamp. It was re sprayed in a cream and deep red scheme by Kas Racepaint in Kettering, who created an appearance that certainly had a retrospective '60s' aura.
It was during this particular rebuild that Cain incorporated certain items that were more likely to be found on other '60s Dealer Specials, and for a time, almost a trademark extra found on early Arthur Francis S-types, such as the Smiths chronometric speedo' conversion. S-Types of the mid to late '60s were very much evolved from Team 'S' Equipe competition scooters.
Being handy at manufacturing one-off items and being a good engineer himself, Cain made an instrument panel to hug the top of the centrally mounted spare wheel, taking no small amount of inspiration from the Lambretta Rallymaster, housing an eight-day clock and a Smiths rev counter. Although a replica loosely based on what a Grimstead Imperial may have looked like, Cain's GT really did have a look of authenticity.
Ten years after
The Grimstead Imperial-inspired replica GT Lambretta last appeared in Scootering around ten years ago. That particular re-working was completed in just three months, whereas the initial transformation took around 12 months, after having acquired the GT in '93.
On both occasions the bulk of the work was carried out by Cain himself. A decade on, this classy looking scooter has had few changes bestowed upon it, and it still retains its eye-catching appearance. This is also a scooter which is ridden on a daily basis.
"My GT is the only scooter I've got. I've had quite a few others over the years, and sold a few that I owned when I first got it in '93. Since then I've owned a few others, but then I didn't see the point, because no matter what alternative choices I had, I always wanted to ride my GT.
"The paint was done ten years ago, and is a testament to the quality of work carried out by Kas Paintwork that's has lasted so well. Maybe I'll treat the side panels to a lick of paint soon, because there are the beginnings of splits developing, which will require braizing. That would be an ideal opportunity to get the side panel paint freshened up. Any scooter that's built to be ridden will be a constantly evolving project.
"Since the last time my GT was in Scootering, I've made some changes. Most recently it involved the engine being brought up to spec. For some time it had an SX top end. Now it's a GT200 top end with a porcupine cylinder head, GP gearbox and an AF midweight flywheel.
"From a baffle-less megaphone exhaust and up-jetted standard carb', it now has a 30mm Dellorto with a TSR Evo system, topped off with a Taylor carbon end cap. The barrel and engine have had some attention to the porting, which gives a return of 27hp and 18ft-lbs torque. This has given a lift to the overall power output, especially at low revs. Work on the engine, like the scooter itself, is a constant work in progress, as I am always looking to make improvements."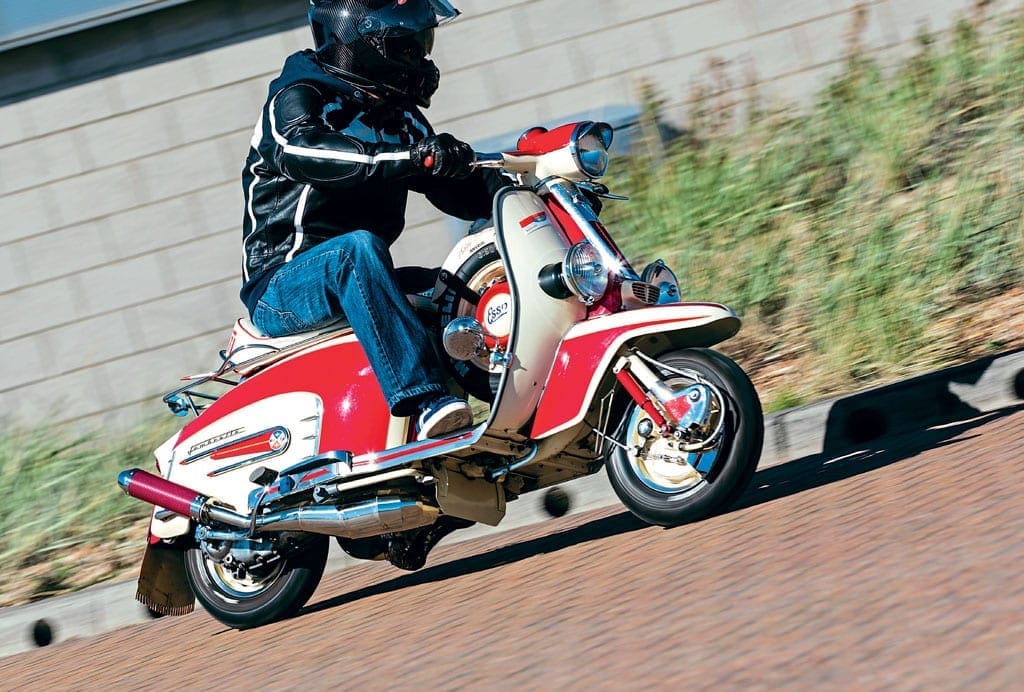 Back to the future
Visually noticeable changes that've been carried out to Cain's replica Grimstead Imperial include a bespoke oil can mounted in the middle of the spare wheel. There's also a rev-counter mounted on the right-hand inside legshield.
"I fabricated the one-off oil can myself to sit inside the spare wheel. I made it using a copper float from an old water storage tank. The filler cap took time to get right.
"It would've been easier to obtain an old oil can and hold it on with a strap, as seems to be popular. I decided to make one myself to suit my GT, and I think the end result looks better than a rusty old tin, and is much more in keeping with the Grimstead Imperial look.
"Other changes I've made include the legshield mounted rev-counter and its mounting bracket. A rear Sebring rack has been replaced with a seat grab rail and rack combo. I've also made and added a chrome forced air scoop for the front disc brake, which was a popular(ish) modification on late '60s competition and racing scooters."
Cain has the provenance of this particular GT200 Lammy. There was only one previous owner, who was based in Crawley, close to Eddie Grimstead's southeast London base in the '60s. His spec sheet provides more information regarding the Lambretta's past.
As to any further changes planned, apart from some braising and a blow-over of the paint panels, he's looking for a new seat. He has been in contact with a couple of seat fabricators and is currently weighing up his options.
"I've got several other ideas on the go. One is the false cable off the rev-counter. It'd be good to have it running properly. There's no immediate rush, because all things happen in good time. Should I ever want to go back to standard, however unlikely that may be, the frame and engine numbers match."
It may be Cain's 25th anniversary for owning the Lambretta, but putting that landmark to one side, this Grimstead Imperial-inspired replica has been evolving ever since he took ownership. This outstanding '60s GT 200is more than able of coping with the rigours of being ridden regularly today.

Enjoy more Scootering reading in the monthly magazine. Click here to subscribe.