In 1953, at the time of Queen Elizabeth II's Coronation, scooters were already (just) a thing. If you were buying a new Lambretta to go and watch the pomp and ceremony, you'd have likely been buying a grey Lambretta LD.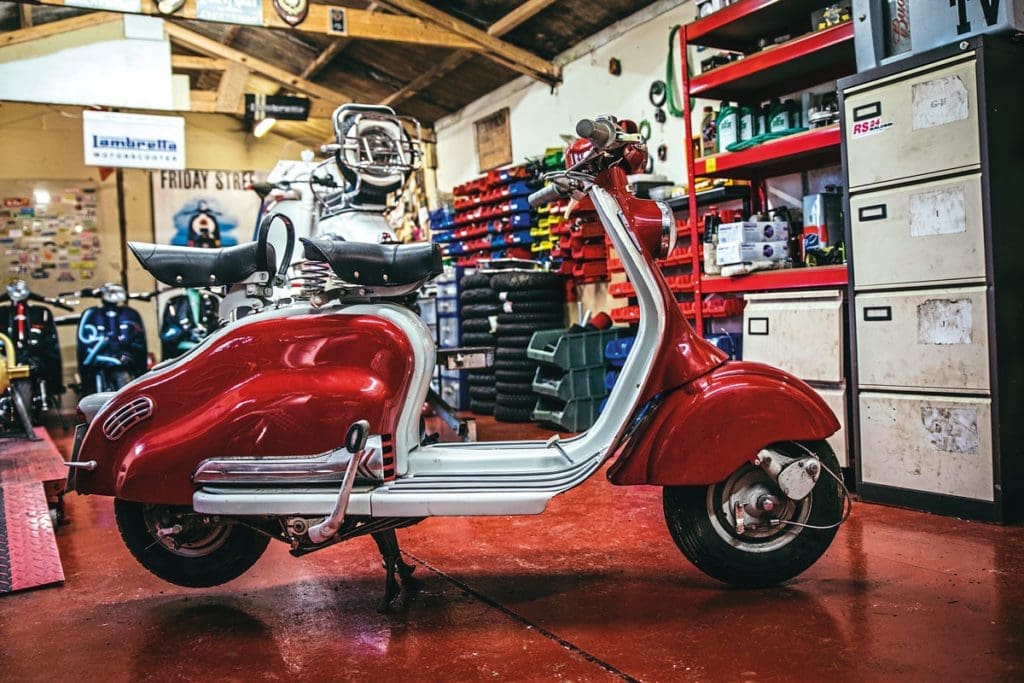 The recent Platinum Jubilee celebrations have set me thinking about my own brush with 1950s technology. Once upon a time I owned an LD, having bought it partially restored with the intention to finish it off. I didn't manage to actually finish it but I did ride it around for a while. I'd have to say the handling was, erm, primitive and I remember thinking the low performance was probably not a bad thing. The whole engine/torsion bar arrangement messed with my head quite a lot after I'd somewhat recklessly taken it apart. But despite the bad handling it was still quite fun to ride and in standard trim it was not fast enough for the handling to throw me into the ditch. The tyres appeared to be from some piece of farm machinery, but painting it and working on it kept me out of mischief one winter and if I recall rightly I paid £80 for it so I likely had my money's worth from it.
I don't recall ever seeing the Queen on a scooter, and web searches seem to confirm she's not been a secret scooterist even in her younger days. Thanks to the Royal Warrant stickers seen on plenty of Vespas, I was half expecting to find a picture of Prince Philip sitting on some early scooter. Despite searching hard, all I could find were instances of Prince Philip questioning people on mobility scooters. He was probably asking whether they had run anyone over. I did however get a little closer with Prince Charles who has been pictured sitting on numerous motorcycles, albeit mainly in museums.
Princess Diana, as we know, broke lots of royal conventions so it is perhaps no surprise that both William and Harry rode motorcycles as youngsters and both passed their tests and rode into their twenties. But alas no scooter riding could be found! So looking at this I have a tinge of disappointment that members of our Royal Family have not ridden scooters – they have missed out on such a lot.
I can't help reflecting during this period of jubilee patriotism how our Italian scooters have somehow become a patriotic thing too, decked in red, white and blue along with Union flags! I have no doubt that during the jubilee celebrations there were scooters (and riders) dressed to the nines, celebrating the jubilee in various parades, shows and street parties.
Article continues below...
Advert
Just like society and indeed Queen Elizabeth II herself, scooters have changed styles through the last 70 years, but just like the Queen they have remained a celebrated constant. I can easily picture a young Elizabeth sitting side saddle on a scooter, or Prince Philip scrambling one across a field to go shooting. But the reality I guess is that scooters were perhaps a more working class thing so royalty were unlikely to be riding them when the Land Rover or Aston Martin could be pulled out of the garage. But wouldn't it be great to see them in the 50s or 60s in an old black and white picture?
But back to the LD; handling aside, I do like and appreciate the timeless, classic style of them and I guess it is quite apt that they would have been the style of scooter around at the time of the Coronation. LDs have that classic style and look. Just like our Queen Elizabeth.

Enjoy more Scootering reading in the monthly magazine. Click here to subscribe.
Article continues below...
Advert