We've a very special report from Scott Swarbrick and his entry in the Rabbit 24 Hour race in Pomposa.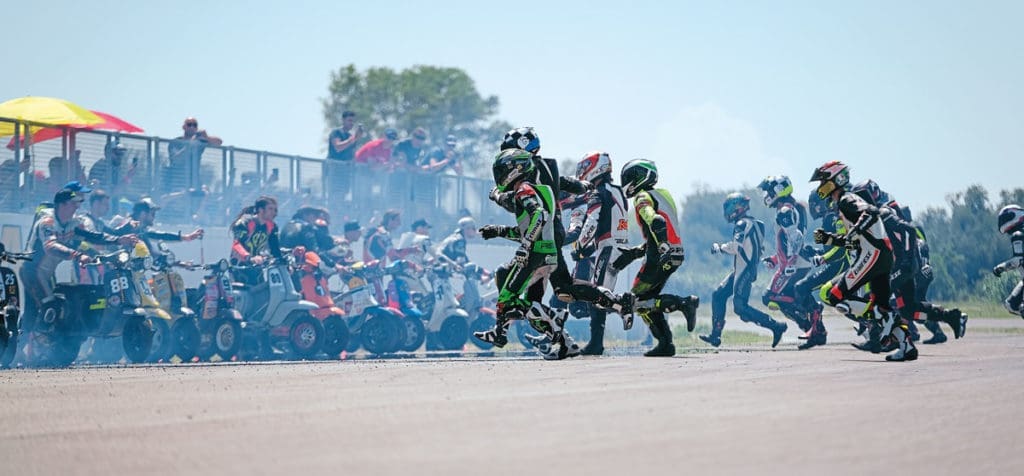 Scott writes: For those who don't know me, I started racing scooters back in September 1994 and have raced Lambrettas, Vespas and autos, with race wins on all types and championship wins on some. One thing that had been an ambition of mine from the first time I raced in the UK was to compete in Italy. Pre-internet, many of us knew about the Malossi Trofeo and the Polini Cup and knew that these were the pinnacle of scooter racing. I enquired about both championships but discovered that Italian residency was required to enter. Fast forward to 2016, when we took the decision to buy a house in Italy, securing Italian residency in 2020.
At some point I realised the 'fringe benefits' that my residency opened up regarding those scooter championships. I reapplied to both series, was accepted by both, but was once again thwarted, this time by the ACU who demanded a licence upgrade and £300 paid to them for every race I entered in Italy. As it transpired, this may have been a blessing in disguise.
I went to watch a Polini Cup round early in 2022 and the pace was unbelievable. The standard of young rider was easily equal to that at British Superbike rounds.
Team Dexter
Never easily deterred, I was directed toward the Italian Scooter Challenge series, and the growing popularity of scooter endurance racing in Europe. In 2022 I contacted the boss of the ISC, Stefano Bono, who rapidly connected me with an Italian race team who were entering that year's Pomposa 500km race. As part of a three-rider squad, I finally debuted on track in Italy for FSR racing, almost exactly 28 years after I started!
Around this time, all teams had turned their attention to the big one, the Rabbit 24 Hour Scooter Endurance Race in June. I was in discussions with three teams but Team Dexter made it clear that I was the rider they wanted, and the deal was done to ride their Vespa smallframe racer in the Proto class.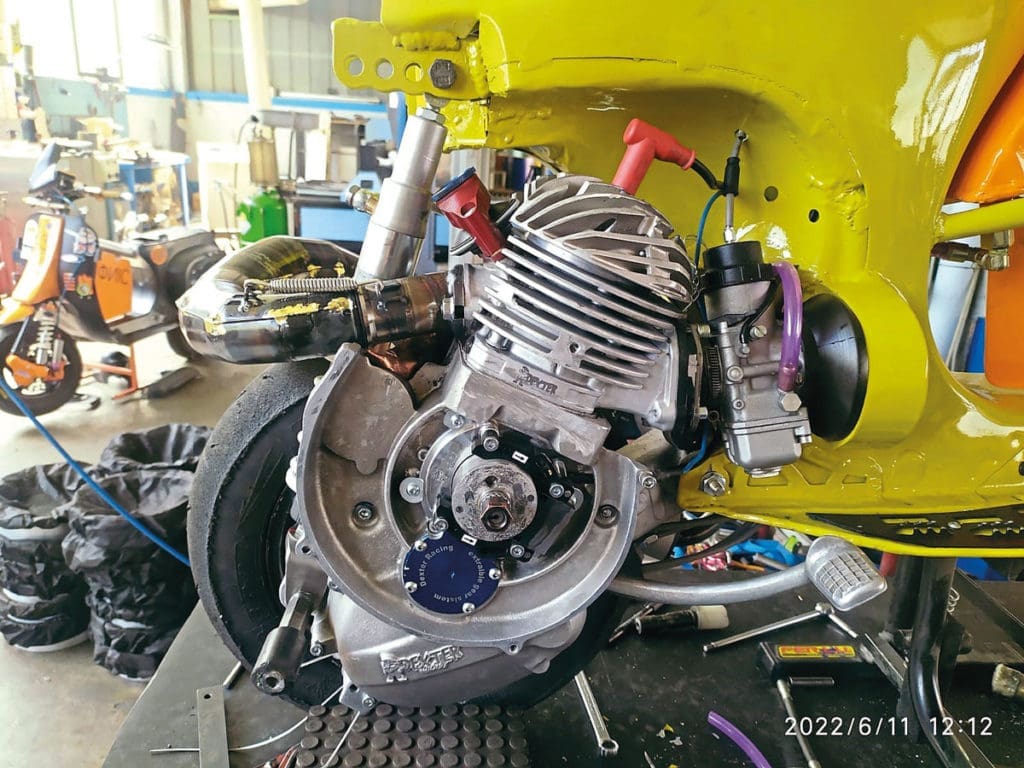 In late May we began to prepare for the event, with my thoughts veering between the belief that this was the best idea I'd ever heard, and a fear that it might be the craziest. Racing highly tuned scooters for 24 hours, around a tight anti-clockwise circuit, non-stop and staying awake from 7am Saturday morning until 10pm Sunday evening. What could go wrong?
The Team Dexter machine was specially prepared for the race, with an amazingly clever gearbox (N-1-2-3-4), and quick release front brake calipers for rapid brake pad changes, among other innovations.
The levels of machine development, rider talent, budget, pit crew and basically everything, is a big step up from what we are used to in the UK. The average age of all riders and crew being decidedly lower than the UK. In Italy, the over 50s like myself are still represented, but the vast majority are under 30. There are no slow riders in this series.
The race weekend finally arrived, with the race scheduled from midday Saturday to midday Sunday, with a compulsory night-time practice on the Friday. This was a new experience for four of our riders, me included. The track was floodlit, and the scooters had powerful LED lights, so all things considered, but it took some getting used to. After five or six laps I was on a similar pace to daytime. At 9.30am on Saturday we qualifed eighth for the race.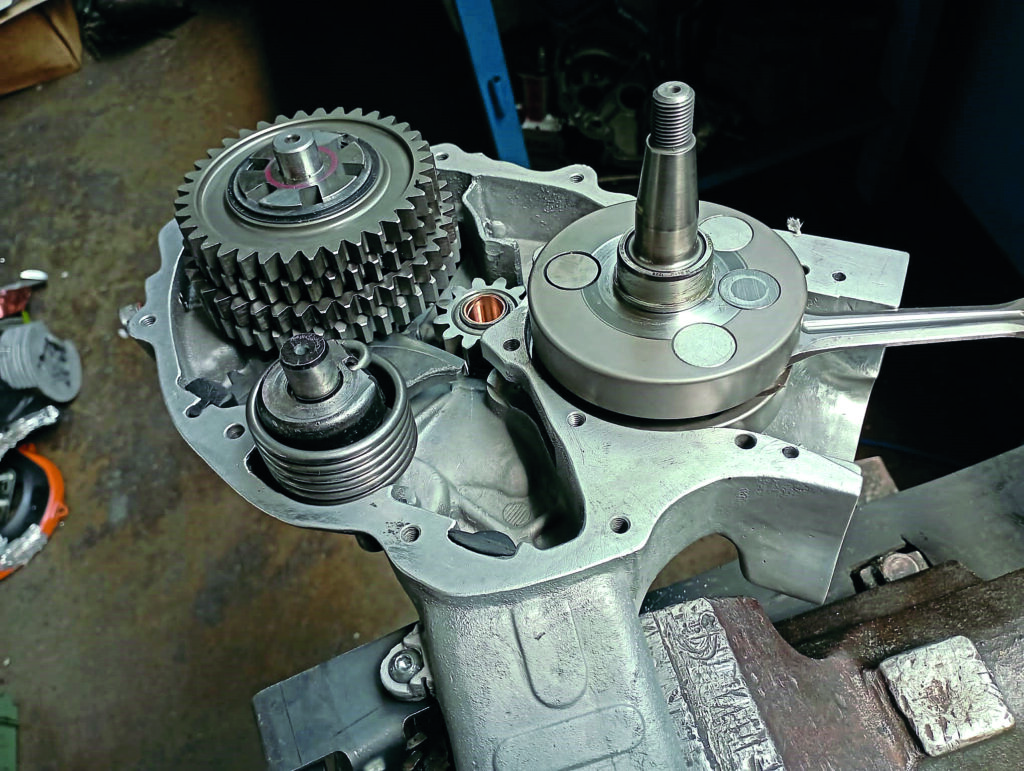 Flag Drop
We have six riders, each doing an hour on track across four stints, on an agreed roster. Each hour will comprise just short of 50 laps; then enter the pits, refuel, change rider and get back out in as close to 90 seconds as we can. The scooter must enter the pits engine off and when ready it's sprinted by the youngest pit crew member to the awaiting next rider at pitlane exit. Cries of 'Occhio!!' (look out) are loud and frequent. Under blazing 41C sun, the flag drops at midday and Pierpaolo has the dubious honour of the Le Mans start. He sets a good pace and hands over to me in fifth place.
I start my hour having been asked to aim for 1:12s lap times, a pace we've agreed is competitive but will also limit stress on the machine and reduce the chances of unwanted crashes. We can probably achieve 1:08s laps on the scooter in a short race scenario, but this is in every way an endurance. It's hot, stiflingly hot, but I turn out consistent 1:12s, then some 1:10s, then a string of low 1:11s to finish my first hour. When I enter the pits we are in third place.
Il notte degli otto pistone
Marco takes over from me and sets a good pace but then the problems start and 'the night of eight pistons' begins.
Toward the end of Marco's hour, the scooter seizes on the back straight; he catches it with the clutch but has to run with the scooter back to the pits. Marco gives a rapid debrief and the guys start to strip the top end. A group of under-30s, Alessandro's just 15, surround the scooter, and they work at a blurring speed. The engine problem isn't hard to establish, the ring peg has detached, allowing the ring to spin and catch in the cylinder. A new one of each is fitted. The first top end strip and rebuild took 32 minutes.
I'm out again around 5.30pm, it's still very hot, but I can't wait to get back out there. I enjoy a trouble-free stint and have a terrific 20+ lap battle with #71 and don't want to leave the track when the pit board comes out. We're still hovering around eighth place.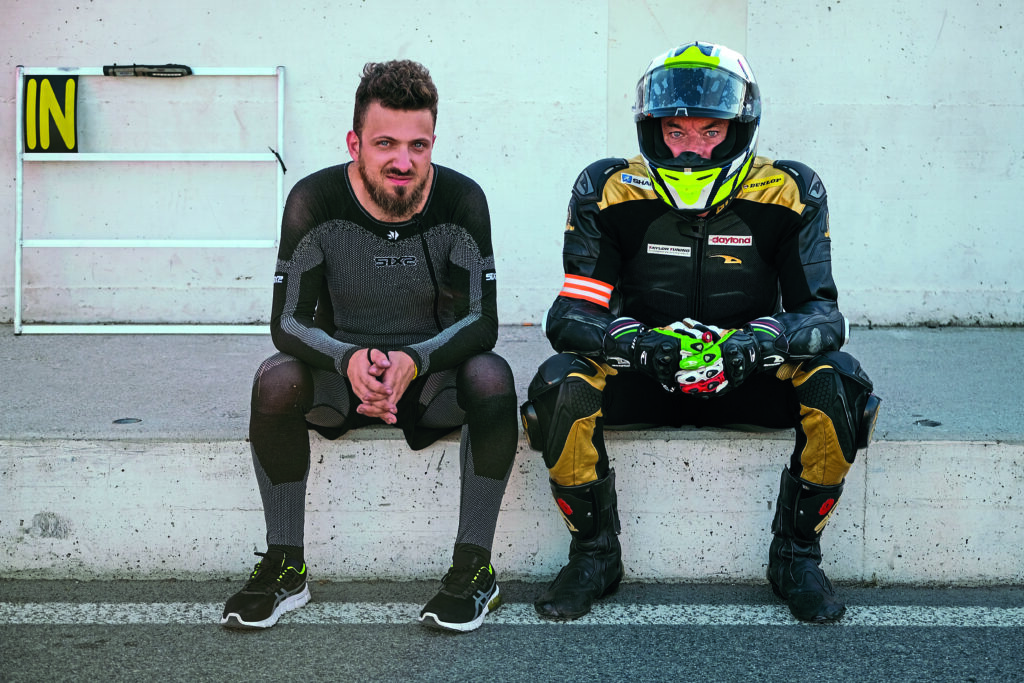 Night falls
By the time my next stint is due it's completely dark. We've had another piston change and Luca has decided to remove the power valve system in case that's the cause of our problems. The change reduces both bottom end power and acceleration and it takes a few laps to adjust riding style. I find a good rhythm again in the 1:12s. The night riding is amazing, the hour flies by and again I'm reluctant to bring it in for the rider change. Another piston cries enough two or three laps after the change.
The way the rota had been scheduled, I was due out again at 2am for my final stint, but I'd already done three and some of the guys only one. I spoke to the team and said that I wouldn't take my next turn as scheduled, in fact I wouldn't go out again until everyone had completed three stints. I'd ride again if needed, but only if and when we'd all had similar track time.
Around this time, another piston bit the dust, and the team took the decision, reluctantly but rightly, to change to our spare engine. This carried a 50-lap penalty and took us out of contention for the top five finish we'd hoped for.
With the revised roster I was able to get some sleep but as soon as I woke, I checked the live timing on my phone and saw that we were out there and still running; that in itself was a huge relief and testament to the team's hard work.
I dressed, had a cuppa and some porridge, then walked to the pit box at 7am. Marco had just finished his third shift and said he was done, insisting that I took his next scheduled stint. In the event, that all changed rapidly. The team boss, Luca, was riding when the bike seized and he took his riding gear off to lead the repair team again. That left no rider dressed and ready, so I was told to get kitted up and be ready to go as soon as they had it running.
At around 7.45am, I started my fourth stint. Low sun, beautiful morning, I had a few muscle aches, but loved being back out on track again. After around 45 minutes, the engine seized on the back straight. Like all experienced two-stroke racers, I always have one finger on the clutch lever, coasted off the circuit then had to run back to the pits with the scooter, just as Marco had done some hours earlier. After over 150 laps on track, the morning jog wasn't that welcome.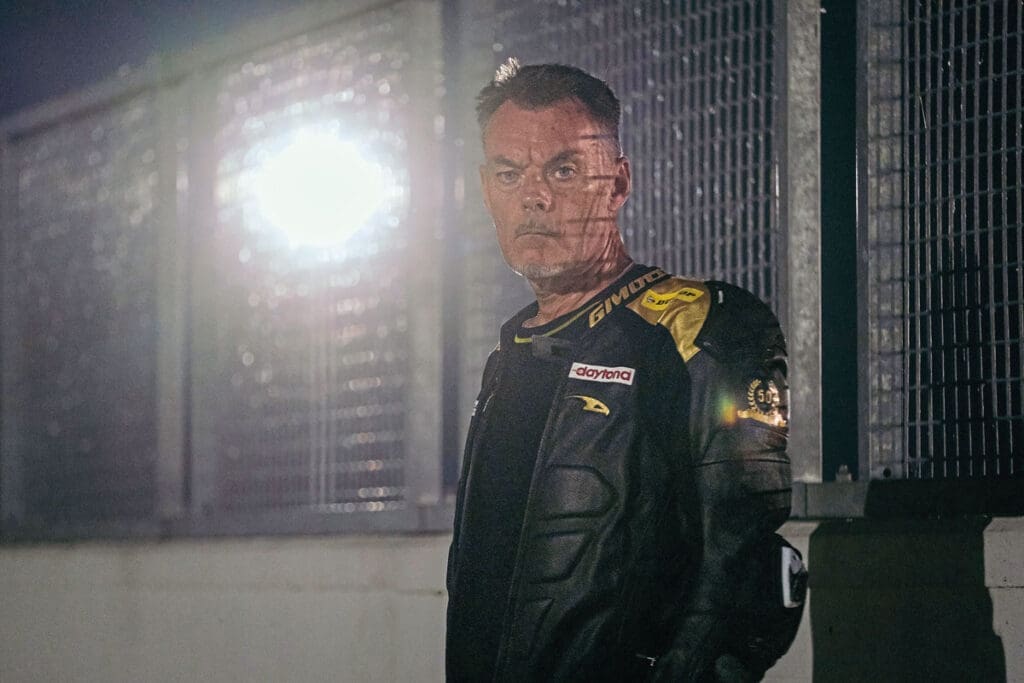 The finishing line
A heat seizure was what we expected and indeed found. At this point, with another top end rebuild ahead, the reluctant decision was taken to get an engine assembled and running, and we would join the track a few minutes before the end. That way we could take the flag and at least achieve a result. Our finishing position would be based on the number of laps completed but at that stage, no forecast was possible or helpful, as other teams could, and would, face their own issues over the remaining time.
At 12pm on Sunday, Luca brought the Team Dexter Vespa across the line, to complete Italy's first ever 24-Hour Scooter Endurance Race. Despite the mechanical frustrations, the overwhelming emotion was still utter happiness and achievement, possible thanks to a monumental sense of togetherness. However you get there, however many problems you encounter, as a team it is a very special feeling to have attempted such a challenging prospect and to have done everything we could to get to that chequered flag.
Frustratingly the 'post mortem' found our two-stroke oil to be at fault. Whether the batch, or it didn't mix the way it should we don't know. It was a high-quality brand, mixed at the correct ratio, but it was also the only element that was common to all engine configurations, all encountering the same failures. Ifs, buts and maybes are all always moot in sport, nevertheless, the scooter, the riders, the team as a whole, had what it took to achieve a much better result; only to be held back by a problem that could never have been foreseen in anyone's pre-race preparation.
Racing ahead
Team Dexter now looks forward to the Pomposa 500km race in September, I'm hoping to be part of the team again. I plan to fly out for the 500km, my riding kit in the hold, and I've also offered to provide English commentary on the YouTube live feed of the race when I'm not on track. If you're bored on September 16 follow me on social media and I'll post links to the live stream and live timing.
For me, the 24 hour was one of the best things I've ever done, not just in racing but in all things outside major family milestones. I prepared as well as I could and was very pleased post-race with the low level of fatigue and muscle ache that set in; after three or four days, I was ready to do it again!
I sincerely hope the event runs again next year, I hope even more that we can put the same team together. I know that if we do that, we will achieve even greater things in 2024.
Team Dexter Vespa Proto
Dexter racing produced engine casings with removable cluster
Dedicated Dexter racing crankshaft, 56.7mm stroke, 45mm width, 94mm diameter with polygonal pinion keying system
Cylinder derived from Rotax Aprilia RS 125, modified and brought to a 58mm diameter to reach a displacement of just under 150cc. Modified for air cooling
Pneumatic exhaust power valve
Dexter Racing primary with damper basket in billet steel
Dexter Racing purple five-plate clutch
Dexter Racing four-speed gearbox, Endurance model configured N-1-2-3-4 instead of the normal 1-N-2-3-4 (available at dexter-racing.it) increased tooth module, six-arm spider and gear width increased by 5mm in total compared to the original (gearbox layout was a revelation!)
Dell'Orto vhsb37mm carburettor
Dexter racing pvl ignition kit with oversized fan, Endurance model
Dexter Racing exhaust system developed for this engine after numerous dyno tests·
Gas filled front and rear fully adjustable shock absorbers
The front braking system features a 200mm floating disc with a radial mount four-pot caliper and ceramic pads and a quick release caliper system to speed up replacement of the whole caliper not just pads
The caliper support is a component produced by Dexter, machined from solid billet. The upper support of the front shock absorber is mounted a on uniball
The central fuel tank is aluminium with a 12L capacity
Words: Scott Swarbrick
Images: Courtesy of Riccardo (Ricky) Giuliani

Enjoy more Scootering reading in the monthly magazine. Click here to subscribe.