When the youthful subcultural influences of a custom scooter builder and a renowned artist are shared, and then blended into a custom scooter, there's only one outcome…
Everyone knows that the northern soul scene is firmly embedded in the scootering community. Scooters came on to the scene during the early 60s, but when times changed in the late 60s and things moved on to the era of flower power and psychedelia it wasn't to everyone's taste.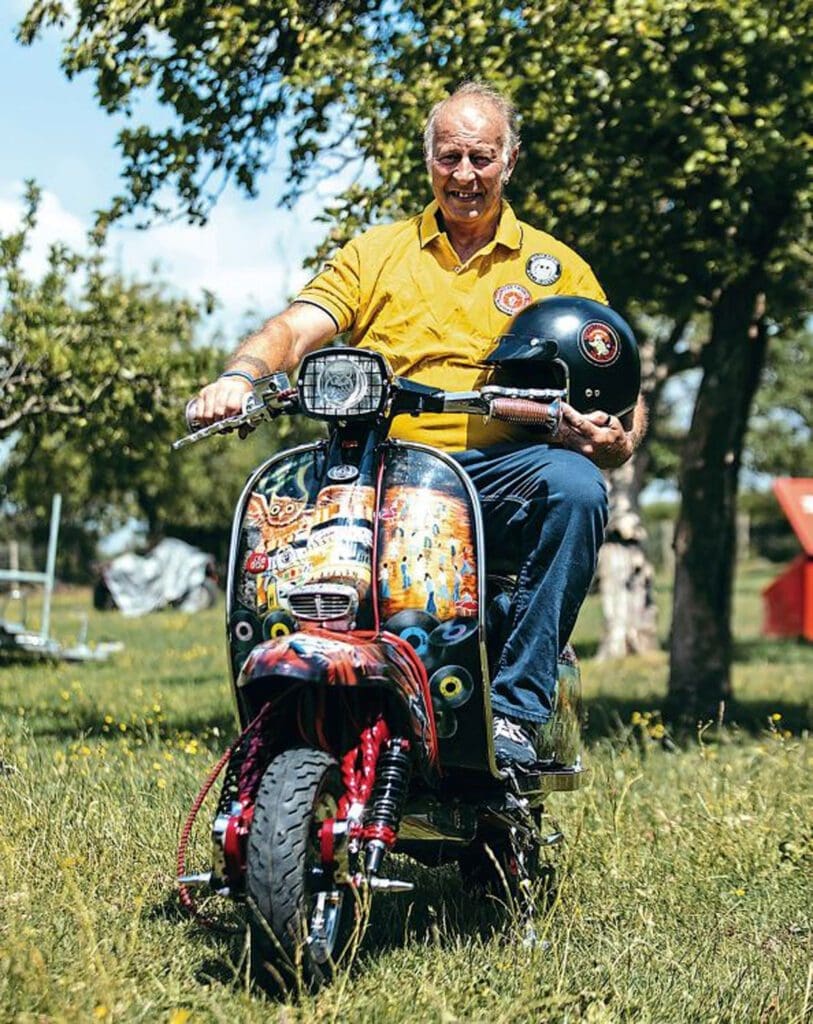 Those who weren't interested sought out a style of music which was upbeat and progressive; nightclubs emerged and the northern soul scene was born. Throughout these changes, one thing remained: scooters; and over the years numerous scooters with northern soul themes have been developed. Some people might ask, "Why the interest? Each one's got the same theme." But actually each one is different; it doesn't matter if it's a highly detailed custom scooter or a plain and simple, 'Keep the faith' graphic; the fact is that it's been developed through the owner's personal connections to and experiences of the scene.
Hazy
Right from the birth of northern soul Martyn 'Burty' Burrows has been an avid fan and event goer. "In the 70s I used to go to Wigan Casino with my pals, it was a fantastic experience, and the influences and memories (although somewhat hazy) will always remain with me," Martyn smiled. Going into the detail, Martyn explained that his trips to the northern soul all-nighters at Wigan Casino started with a four-hour journey with his pals in his Triumph Toledo. "We were all in our late teens/early twenties, the northern soul weekends were something special and we looked forward to them with excitement." Even though at the time he was of a youthful age, the weekends still took their toll and Martyn was a self-confessed fully paid-up member of the 'Monday Club'.
While I claim to know a little bit about the northern soul scene, I have to be honest; when Martyn mentioned the 'Monday Club' I wasn't exactly sure what he was talking about. With a smile on his face Martyn explained: "We'd set off on our four-hour journey to Wigan on Saturday and the excitement we experienced between us on the way about what lay ahead was in itself 'energising'; and when we arrived at our destination we'd be helped through the weekend with other forms of 'energising' material. Then on Sunday morning, as dawn broke we'd begin our long journey home and the events of the weekend would start to kick in; we needed time to recover and the 'Monday Club' was born."
On a Monday after they'd been on a weekender Martyn and his pals would come up with a story. "We would make out to our parents that we were off to work as usual. Then once we were out of the door we'd all meet up at one of our houses (usually the one whose parents had gone to work for the day) and then we'd go to sleep for most of the afternoon! If none of our parents were going out we'd meet up at a local pub, which had a quiet back room!"
Venues
Since those days, Martyn has continued to attend northern soul events around the country. At several of those events Martyn met Neil Thompson, who was selling prints of his northern soul oil paintings. "Neil's paintings are fantastic, and because they are painted from Neil's own memories and experiences of going to Wigan in the 70s they capture the atmosphere perfectly."
Reflecting back on those happy times Martyn was determined to develop a northern soul-themed custom scooter; however, he wanted it to be something different, and he wanted it to be something which would capture a true personal connection to the scene.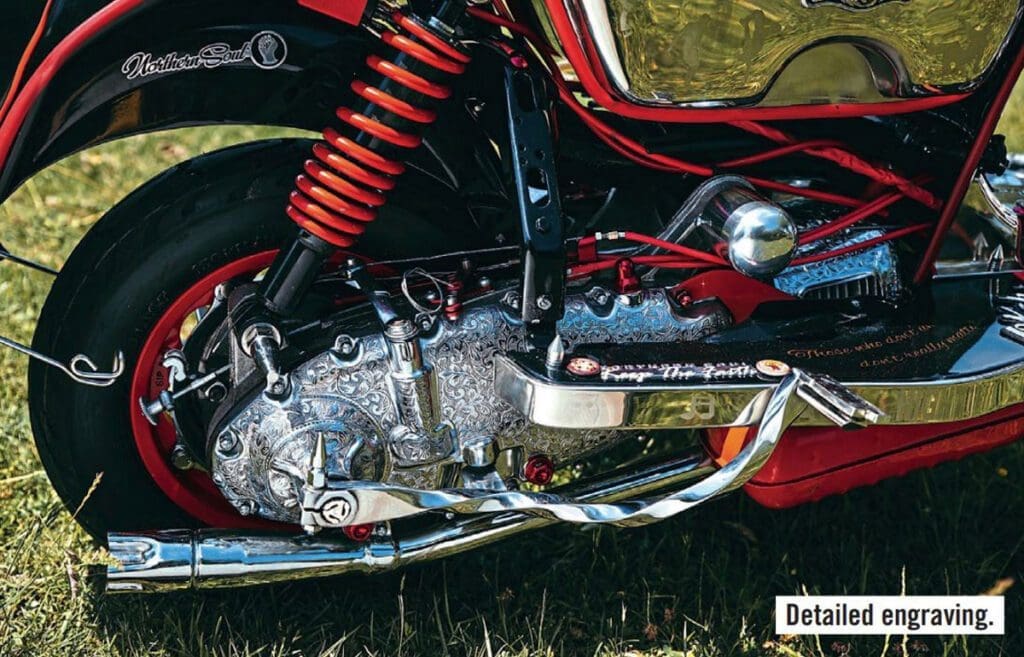 Having been impressed with Neil's artwork, Martyn had previously bought several of his prints. "I'd had the prints for a while, and then I realised that if I could develop them into the artwork on a northern soul-themed scooter it would be the perfect way to deliver the authentic connection I was looking for." But finding an artist who had the ability to complete the work, and in the way in which Martyn wanted it to be completed, wasn't going to be easy.
However, after a lot of searching Martyn eventually commissioned Sammy Cave of Re-born to be Wild to take on the responsibility of the job. "Before Sammy started the work we had several meetings about the project; I showed Sammy Neil's prints and I explained to her what I was hoping to achieve by developing Neil's artwork into the scooter. Initially, and only because what I was asking Sammy to do was outside the parameters of her usual style of work she was a little apprehensive; but after a little bit of persuasion she said she was interested and took up the challenge."
Memories
Having received the body panels, Sammy carefully migrated Neil's artwork on to the scooter, and together the images deliver an interesting story which illustrates the excitement and atmosphere of the scene. As well as this, inside the legshields Sammy's added the lyrics of Martyn's favourite northern soul tracks: Tobi Legend's Time Will Pass You By and Dobie Gray's Out On the Floor. "For me, one of the most significant personal elements of the whole project is to know that I would have been at those events with my pals while Neil was probably there hearing those same tracks and capturing his memories, which he would later develop into his artwork."
As well as amazing artwork, the scooter is also adorned with northern soul tributes and other interesting custom features. The triple twisted five-inch extended forks were fabricated by Simon Aldred aka Aubrey of Dark Arc Engineering and add an 80s custom feel. The detailed engraving was completed by Kevin Adams and Martyn's added numerous personal one-off custom additions around the scooter, which adds further credibility and authenticity to the theme.
In total, from start to finish the project took around two years to complete; while the scooter is eye-catching Martyn also wanted to make sure that its performance wouldn't let its looks down. As a result, the scooter runs on a BGM 225 kit with a 110 x 58 crank and 34mil flat-side Mikuni carb. The exhaust is a neat JL item and the gearbox is an SX200 unit. Martyn describes the performance as 'race-tour'; and with a top speed of around 75mph I'm sure it would've given Martyn's Triumph Toledo a run for its money back in its day!
You can read all about lots more feature scooters in the magazine, have a look at our latest subscription offers here!
Words by: Stu Smith
Photos by: Gary Chapman

Enjoy more Scootering reading in the monthly magazine. Click here to subscribe.