Torbay Lambretta is rapidly earning a reputation for its excellent mail order spares service. Stan paid the team a visit to see what's behind the website.
Like most scooterists I spend too much time scrolling through various scooter-related forums and Facebook pages. Working 'in the trade' I'm always interested to see which shops are recommended for supplying mail order parts. While no dealer can stock every part all of the time, it's also true to say that some suppliers have better reputations than others. Over the past 18 months one shop seems to have risen to prominence and unusually no one seems to have a bad thing to say about them. That shop is Torbay Lambretta, but to think of them as 'new kids on the block' is doing the owner, Mike Farrell, a grave disservice.
Shed to shopfront
Like many successful scooter businesses Torbay Lambretta's origins are with an enthusiast who turned their passion into a full-time job, but, as Mike explained, this didn't happen overnight. "The business started around 14 years ago," he began. "I was working as an engineer but doing repairs and supplying parts out of my workshop at home. Because I didn't need to take any money from the scooter business, I could reinvest any profit into buying more stock. When I decided to leave engineering and concentrate on scooters, I'd got a large stock of spares and nothing on credit, which was a great start."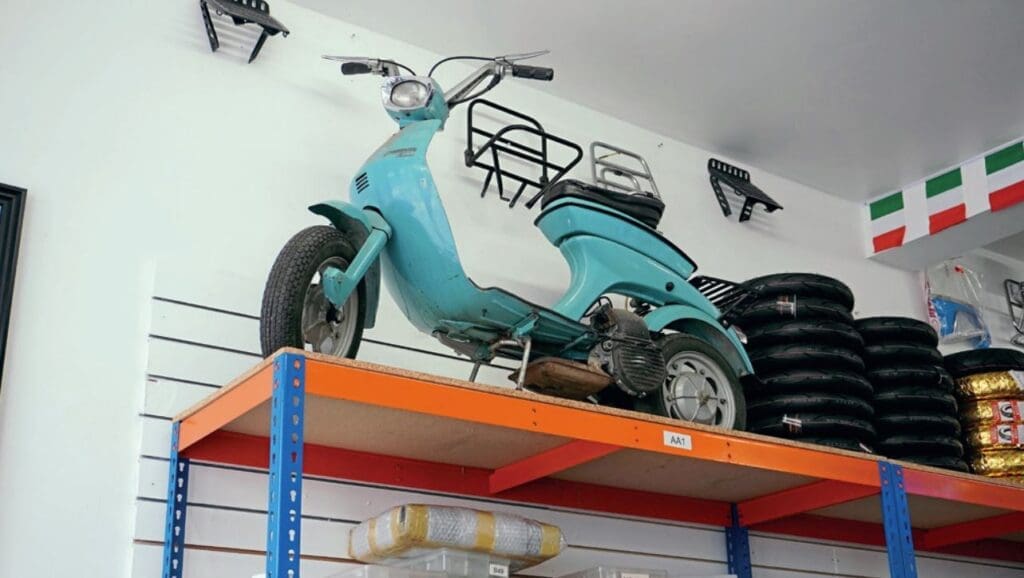 That decision was taken five years ago, with the business moving to its current premises in Paignton shortly afterwards. Around three years ago the business headed in a fresh direction when Mike decided to focus on mail order. "I'd been selling spares, doing repairs and had a small showroom with scooters for sale. It was really hard work," he began. "A scooter would come in for a simple repair but inevitably a lot of other problems would magically appear. It wasn't unusual to spend half a day working out what other people had done wrong, and owners didn't want to pay me for that time. I'd also experienced problems getting quality parts when I needed them. I realised that I couldn't be the only one facing that problem and decided to close the workshop. That's when things really took off."
"If it's on, it's in"
When I asked Mike why Torbay Lambretta has such a good reputation, he was quick to answer: "If a part's on the website then it's in stock. I'm very proud of that."
From outside, the shop – a proper 'bricks and mortar' retail site – has a reassuring, old-school feel that transported me back to the dealerships I remember from my youth. Once inside that illusion continues. There's a glass-fronted cabinet that's filled with goodies and accessories hang from the walls. Even the scooters displayed in the showroom evoke a different era, but these aren't for sale as they're Mike's own collection.
It's a hoard that's very 'Luna' heavy, these being Mike's personal obsession.
Although the shop exudes an atmosphere that should make every self-respecting scooterist feel at home, behind the counter it's a very different matter. Not only has Mike invested in a reliable website, but he's also created an efficient stock control system. There's not much to look at but within the Tardis-like space every shelf, drawer and product bin is labelled and organised. The roll call of stock reads like a who's who of quality parts suppliers, with AF Rayspeed, BGM, Casa Lambretta, MB Developments, Recambio Rapido, Scootopia and SIP all occupying shelf space.
Team Torbay
With so many parts available it's obvious that managing all the incoming orders is beyond one person and Mike quickly recruited his wife Mel to help out. She's been joined by Marie and together the trio work to process orders quickly and efficiently. "I guarantee that any order placed before 1pm will be dispatched the same day," said Mike, "but in truth we have couriers coming and going continually. It's very rare that any order isn't posted on the day we receive it."
I'd not known what to expect before visiting Torbay Lambretta, but I never expected to find such a pleasing mix of traditional and modern. It's clear that Mike's found a gap in the market and is filling it perfectly, but you don't have to take my word for that, just ask on your favourite forum or Facebook group. www.torbaylambretta.co.uk
Words and photographs by Stan

Enjoy more Scootering reading in the monthly magazine. Click here to subscribe.