SIP speedo!
SIP speedometers have revolutionised the speedometer market since their first appearance in 2010. Features that were previously only possible with many additional instruments have been integrated into one – and with maximum understatement. Now they are available in two additional versions also for VNA-VNB vehicles as well as for lamp-bottom/wideframes from V30 to VL. The latter design also fits many ACMA and for example Motovespa vehicles and the like. The speedometers need 12 V power supply, as these vehicles provide only after conversion to PX, Vespatronic or SIP performance ignition. Those who want to stick to their original 6V on-board electrics, however, can still power the instruments using an external battery. For this purpose, a charge level indicator is available in the tachometers, which reminds the user to charge the battery from an adjustable lower limit. The speed signal with DC electrics can be taken off at the white cable of the SIP Performance ignition or with the additional filter SIP Art. No. KOBA0040
Speedometer 2.0 Specification
– RPM analog or digital up to 12000rpm
– Speed analog up to 120km/mph/h or digital up to 199km/h or 140mph
– Storage of maximum speed and RPM
– Temp display up to 250° c or 482° F, tempe sensor and mounting material included
– Display maximum temperature
– Total riding distance up to 99999 km/miles
– Total riding distance adjustable (old speedometer reading transferable)
– Trip odometer A and B up to 9999,9 km/ miles
– Riding time A and B up to 99,59 h
– Average speed A and B up to 199 km/h or 140mph
– Brightness of the speedometer illumination 5-fold adjustable
– Reserve indicator (with SIP Fastflow fuel tap/electric reserve indicator)
– Operation with external battery possible (if vehicle electrical system cannot provide 12V)
– Self-learning digital gear indicator
– Speed-test function (e.g. 0 – 60mph)
– Exhaust gas temperature/EGT sensor connectable SIP Art. No. 5001EGTJ
– Lambda sensor/AF sensor connectable SIP Art. No. 5001AFJ0
SIP-TIP: Fast Flow fuel tap with reserve level indicator to be ordered separately. For trouble-free operation use interference suppressed spark plug!
– VNA1 to VNB2 (split sheet metal steering head cover) requires holder SIP Art. No. 17413557
– VNB3 to VNB6 need the holder SIP Art. No. 17413556
More info: www.sip-scootershop.com
Tank Cap – SIP Series Pordoi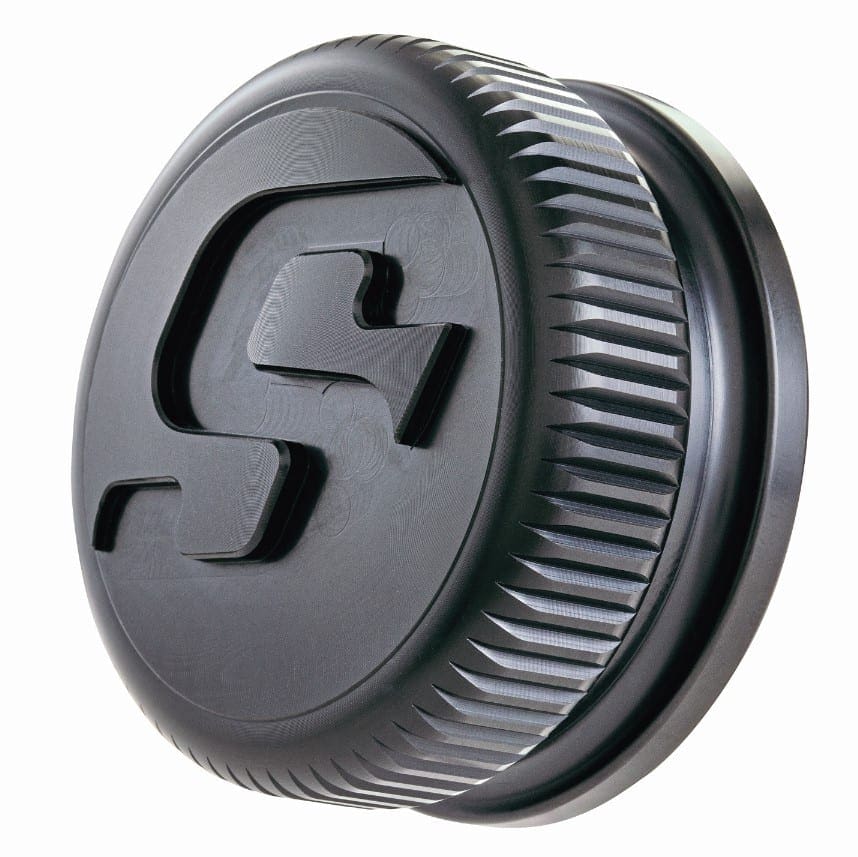 An aluminium, CNC milled, black matt anodised, magnetic fuel-filler cap to suit all modern Vespa models, Piaggio scooters and Maxi-scooters. Every time you have to refuel the same procedure, where can I stick the filler cap? It either gets slung into the overfilled helmet storage area, ends up rolling around the floor of the petrol station or, worse still, even gets occasionally left forgotten somewhere on the petrol pumps! The solution is now here in the form of the new SIP magnetic fuel filler cap, from the SIP Series Pordoi range.
Fits Vespa ET2/​ET4/​LX/​LXV/​S/​Primavera/​Sprint/​946/​GTS/​GTS Super/​GTV/​GT 60/​GT/​GT L 50-300ccm 2T/​4T also for Aprilia/​Derbi/​Gilera/​Piaggio.
More info: www.sip-scootershop.com
Price: £31.06
Grips  – SIP Series Pordoi
Although easily overlooked, handlebar grips are the direct point of control and contact between the scooter and its rider. Ergonomically optimized shape for comfortable use, waffle pattern takes up the design element of the Vintage handlebar grips 125mm, 22/24mm, black, with opening at handle-bar end. Using a high quality rubber mixture in their production which leaves them resistant against colour fade and becoming brittle over time. If you wish to combine these grips with handlebar-end indicators a groove has been incorporated into their design around the closed end to enable a clean cut.
Fits Vespa GTS/​GTS Super/​GT/​GT L 125-300cc, also for Vespa ET/​LX/​LXV/​S/​Primavera/​Sprint 50-150cc.
More info: www.sip-scootershop.com
Price: £22.73
Horn Cover – SIP Series Pordoi
While assembling their SIP Pordoi Custom GTS the guys on the team could not get used to the idea of the original horncover being part of it. The bulbous, obtrusive look of the plastic neck tie just did not suit the envisaged concept. To solve this issue they decided to design and produce their own version of the Vespa GTS/GTV/GT/GTL horncover to complement the appearance of the scooter. Alongside its flat design they have also remodelled the lower opening and have omitted the chrome trim found on the original design. The most obvious difference between the two is the inclusion of the hexagonal logo badge. The huge oblong-shaped Piaggio logo badge did not suit the scooter, and much less the new, sleek look of the Pordoi horncover. Comes painted in original Piaggio colours (e.g. grey mat Titanio 707/​C, white Montebianco 544, etc).
Fits Vespa GTS/​GTS Super/​GTV/​GT 60/​GT/​GT L 125-300ccm (-'18)
More info: www.sip-scootershop.com
Price: £62.13
Front Shock Absorber – SIP Performance
Sports orientated shock absorbers noticeably improve the suspension of every Vespa to which they are fitted. A fact many Vespa GTS riders can confirm, due to the hopelessly inadequate standard set up, at the rear as well as the front!  No matter whether you intend to have a comfortable solo ride, with a pillion or even for stiff race orientated purposes, the extensive adjustment possibilities only add to the well-considered attributes of these vital components. The technical finesses of a 14mm damper-rod, hardened manufacturing materials and an additional guide cup for the upper damping rubber guarantee a noticeably increased stability of the suspension, when compared to the original items.. 
Tech Spec:
CNC machined aluminium adjustable shock absorbers.
Continuously adjustable spring pre-load.
Progressively wound springs.
20 adjustable rebound settings.
9 adjustable damping settings. (front Version)
Body: matt black
Spring: black
External reservoir (front).
Fits Vespa GTS/​GTS Super/​GTV/​GT60/​GT/​GT L 125-300ccm ('03-'13/​'17-)
More info: www.sip-scootershop.com
Price: £219

Enjoy more Scootering reading in the monthly magazine. Click here to subscribe.