Words: Sarge | Photographs: Gary Chapman
Are the 80s replacing the 60s and 70s as a major source of retrospective inspiration for custom scooter builders?
Certainly, there are more than grounds for posing that rhetorical question. Especially given that it was during the 80s when many of today's scooterists had their inaugural experiences of the scene first-hand.
Taking elements of tried and tested approaches from that particular period has, during recent times, had an influence on a significant number of new or revamped scooter customs.
Norwich-based Mike Kershaw first became interested in scooters during the mid-80s via a mate, Paul Fuller, who had a custom scoot by the name of Dark Sceptre. Three decades or so later Mike created his custom Vespa, Amazon Warrior.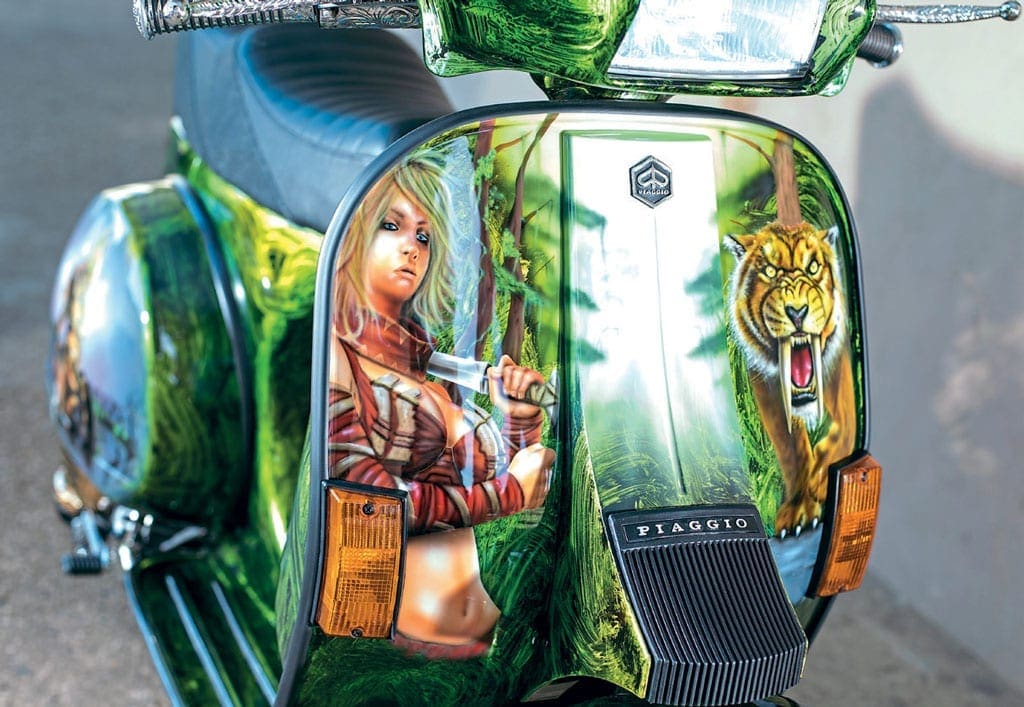 Eligible for click and collect?
Mike had the desire to build and own a full-on, 80s-style custom for some years. Outline ideas had been on a loop in his mind for some time, although it wasn't until 2013 when the base scooter was purchased for a reasonable £600. Work started in earnest in transforming the Spanish large frame into what had been his genuine dream machine in 2015.
Full-bodied, full-blown custom large frame Vespa P-range scooters, with acres of engraved brightwork along with detailed murals offset by stunning basecoats, were popular during the 80s.
It was several iconic custom Vespas of that halcyon period that directly influenced Mike – Worlds Apart, Enchanted Dream, War Of The Worlds and Chariot of the Gods to namecheck a few of many.
Mike started work on his full custom large frame after buying a Spanish specification TX 200, a large frame variant not officially imported to the UK as a new model. Available in Spain through Moto-Vespa, TX 200 Vespas were basically a T5 frame and front end, fitted with a P200 engine.
Name and theme for his Vespa is Amazon Warrior – not those individuals who seemingly spend all their spare time scouring the online hypermarket offers for special reductions or super deals, nor sub-contracted companies, whose delivery drivers have earned a bit of a reputation for mis-delivering parcels of late.
In fairness though, near-impossible daily targets by their employers must be more than a contributory factor to parcels not always arriving at the intended destination. No, the Amazon Warriors that Mike selected as subject matter for murals and the name of his scooter are the ferocious all-female warriors of Greek mythology.
Wonder Woman, comic book super-heroine elevated in recent times to cinema screens is, apparently, a member of that mythological race. All manner of variants of the Greek myths regarding the Amazons exist; many have been clouded by Americanised interpretations, additions and inventions, to suit their back story of the DC Comics character, as well as for both the TV series (screened in the 70s) and in recent times for big-screen incarnations.
Murals adorning Amazon Warrior panel work without any doubt inspired the Amazons of mythology. Mike's short, simple and observational, red-blooded male perspective of his chosen theme is rhetorical: "Who doesn't like women with a fuller figure?"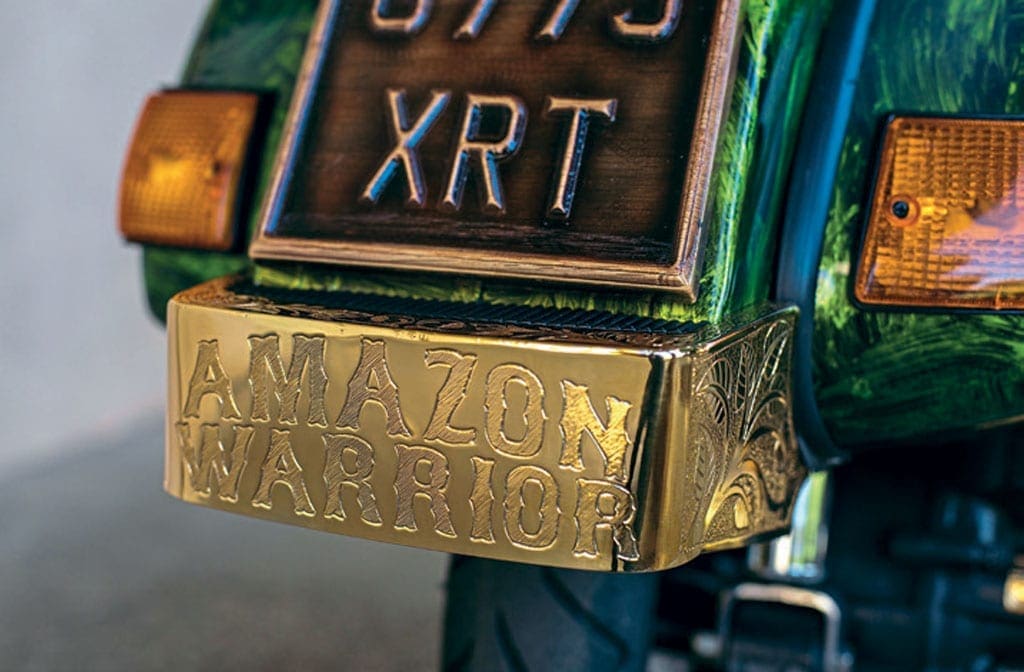 Start your free 30-day trial
After stripping his Spanish TX down, frame, body and panels were despatched locally to Air FX in Norwich for Darren to work his magic with an airbrush. Superb murals of Amazon warrior women adorn the bodywork and side panels, on top of the main coat that changes colour tone in different light conditions.
Going from almost a yellowy green to a deep green, and everything in the spectrum between, subject to which natural or artificial light is catching it.
"I was quite adamant that Amazon Warrior was going to be evocative of the many 80s fantasy art, full custom Vespas that both influenced and inspired its creation. Darren discussed what I wanted before he started working on the paint work. He did advise me of more current approaches that would work, but I stuck to my decision.
The main paint work compliments the murals, with the paint colours flipping between different shades of green, depending on how the light catches it. It gives a bit of jungle rainforest sort of feel. Someone said to me after it was up and running that the main coat paint effect is called Eerie Dess. I'm not sure about that. To be sure you'd need to speak to Darren." Which we did. See box-out section.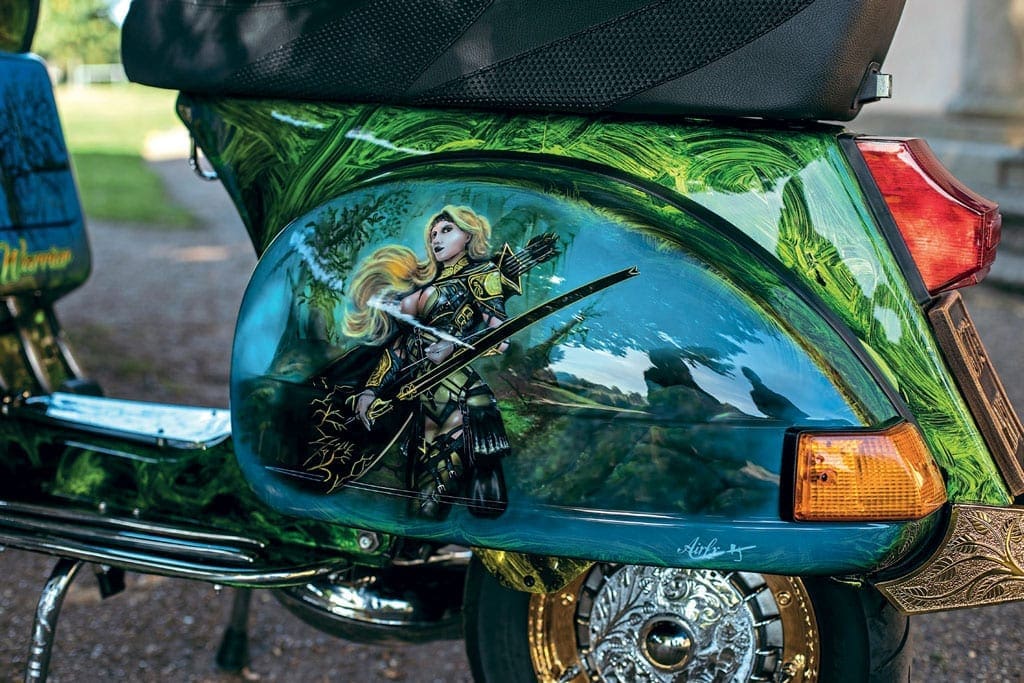 Unlimited one-day delivery
Another area where expert skills were commissioned was the brightwork and engraving. At the same time the body and frame were being painted, forks, hubs, wheel rims, engine cowlings and almost everything else that wasn't being painted, went off to be engraved and plated.
Adi Clarke's master workmanship created the abundance of intricately detailed engraving. Quality Chrome processed all the parts, some chrome plated, some gold plated, to meet Mike's own specifications. It took 24 months give or take, for the various craftsmen to do their thing.
Over the 2017 Christmas break, Mike found himself at last with everything back in one place. On Boxing Day he embarked on the re-assembly and re-building of what had become Amazon Warrior.
Impressively, a mere six hours later with the clock reading 1pm, the re-built engine fired into life.
Mike has opted to keep the engine stock bog standard, with no modification from exactly how it was intended to be when it rolled off the production line.
"This year I'm aiming on riding to all of the National scooter rallies. With that in mind I've decided to keep the engine standard for the reliability that we all know the P-range motor gives. Besides, I don't want to end up chucking this scooter down the road if I can help it. I've got other scooters with tuned, high spec motors. Keeping Amazon Warrior standard, I know I'll get a standard and reliable performance. When I get the need for speed, I'll ride another of my scooters."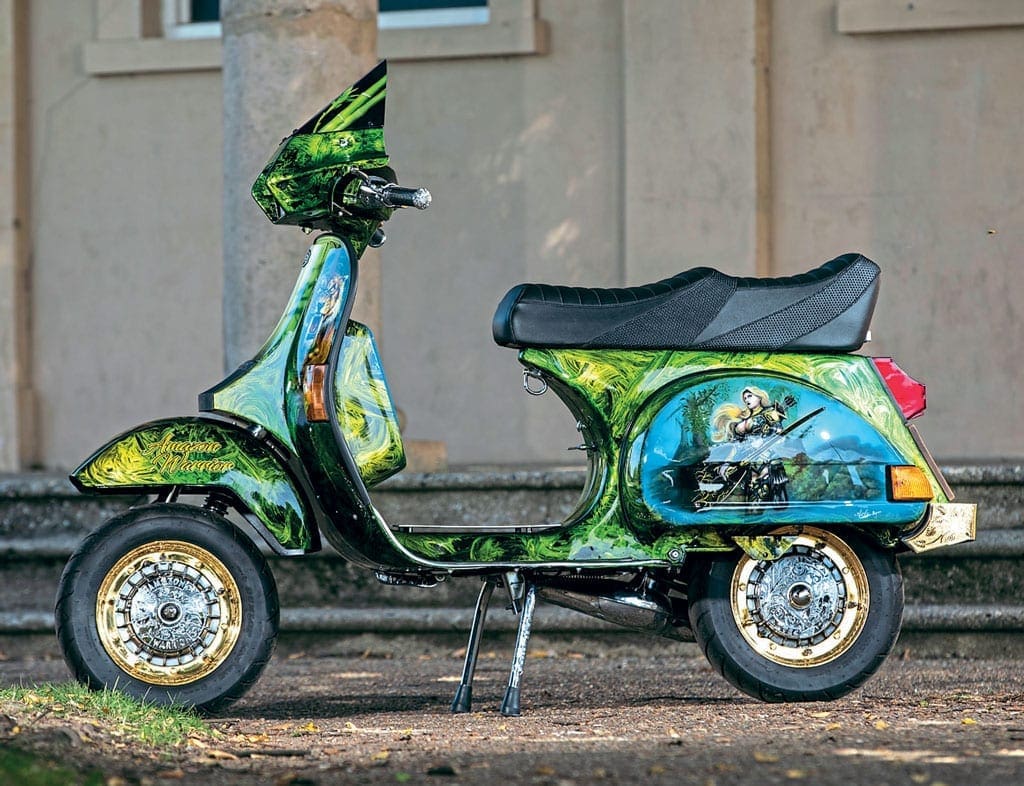 Finally, is Amazon Warrior now completely finished or are there any other plans or changes yet to happen?
"It's more or less as I want it. Things like the locks will be engraved and plated soon. I may add some pike-nuts too. I'm looking at changing the floorboard runners for maybe some one-off bespoke items too," With its back-to-the-80s appearance, I've a feeling Amazon Warrior will attract plenty of attention at the rallies.

Enjoy more Scootering reading in the monthly magazine. Click here to subscribe.