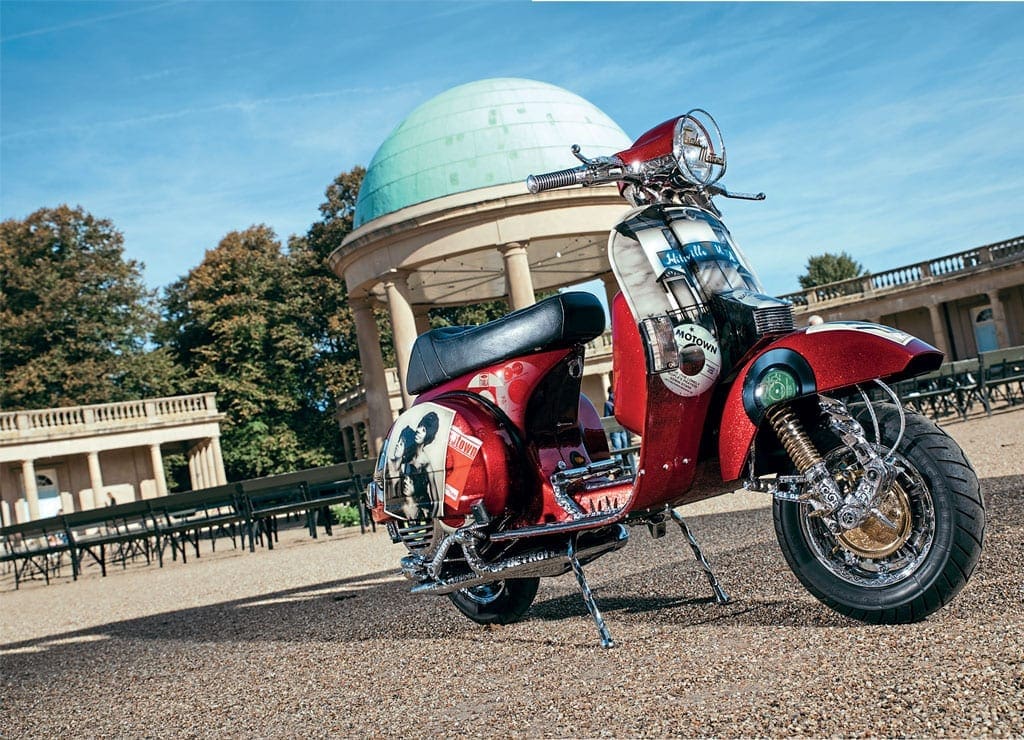 Words: Sarge | Photographs: Gary Chapman
Originally built in 2006, custom Vespa Detroit Soul was also featured in Scootering in May that year.
In the interim 12 years, this custom Vespa has changed owners several times. Though it wasn't until current owner, Shaun Freestone bought it five years or so back that this particular scooter has gone from what was a tidy looking scooter with a Tamla Motown theme, to being a full blown custom Vespa.
This involved replacing some of the original murals, respraying the base coat and adding more murals. Plus there was a total and complete engine rebuild along with adding an abundance of engraved brightwork with many subtle, yet significantly in keeping with the theme, one-off items. Some more obvious than others.
Detroit Soul is at the top end of customised scooters, having had pretty much everything treated to enhancements, in every department. With all the changes and upgrades in keeping with the original custom theme of the Vespa carried out to Shaun's own requirements, Detroit Soul has, since he took ownership in 2013, been elevated to a higher plane in custom scooter terms.
It boasts fabulous artwork depicting and celebrating Motown acts, artists and related labels, detailed engraving following the same theme, interesting one-off items worked into the scooters make-up, along with a pokey yet practical engine.
Even before he owned his first scooter, Shaun, who rides with Norwich Broadsmen SC, has had a liking for full-blown custom Vespas. From an initial interest as a youngster, albeit at that point not getting a scooter, his interest was re-ignited several years later after a mate got a scooter.
Shaun was around 19 years old when he followed suit by getting his first scoot, a cut-down PX125. Riding the relatively short distance from Norwich to Great Yarmouth for a rally there in '91, if he wasn't before, he was certainly well and truly hooked there. Despite snapping his clutch cable on arriving in Yarmouth, without taking any tools and having to 'crunch the gears' on the homeward journey, he wasn't put off at all.
Over the ensuing two decades, Shaun nurtured his desire to own and ride a full-blown custom Vespa. In 2013 that desire took a step in the direction of becoming a reality.
"I heard Detroit Soul was up for sale. It had gone through several owners since Simon Blackthorne had built it, although it was looking a bit run down, tired and sorry looking. I agreed a deal involving part exchanging a PX200 and some cash for it. I'd always had a liking for Motown too, which gave me a bit of a head start when I started on my project to rebuild and revamp Detroit Soul."
The fact that Detroit Soul, despite requiring some much-needed TLC, provided Shaun with something of a shortcut is not much different to how many custom or restoration projects get under way in reality.
The buyer invariably acquires a machine that is suitable as a base model on which to create their ideas. Anything that helps in any way in getting to the planned finish in a shorter time more cost-effectively, or which aids in achieving the required end result, has to be a bonus.
After taking ownership of Detroit Soul, Shaun spent a bit of time assessing what was salvageable or suitable from the existing paintwork and murals. Needless to add that Shaun also had plans to add more artwork reflective of the Motown theme as well.
When first built in 2006, the base coat red livery was provided by Bertie's Paint Shop, while the murals were the handiwork of Matty Evans. It almost goes without saying that, unless meticulously cared for, on a constant and continual basis, paintwork and brightwork on any vehicle soon deteriorates.
Certainly the UK's changeable weather conditions, coupled with countless local councils' liking for and use of corrosive road salt during occasional days of freezing conditions both take their toll. "It was a bit shabby looking in many areas when I got Detroit Soul. After taking stock I made a decision on what would be usable and what would need replacing or redoing to the paintwork.
"I had the entire base coat redone in red metallic. On the spare wheel side panel I had the mural redone, with a mural of The Miracles along with a Tamla Motown record and sleeve either side. The front mudguard was replaced, this time with a mural of a young Stevie Wonder.
"I had additional murals done on the floorboards and headset top, with additions to most of the remaining Matty Evans murals too. Daz at AirFX has done a fabulous job with the paintwork and murals. Matty's original murals on the front of the scooter, engine side panel and glovebox are all that remain from the paintwork from 2006. One rather neat and unique touch is the flywheel, which has its own mural of a record label, Kim Weston – I'm Still Loving You on the American Tamla label.
"If the paintwork was showing the ravages of time, you can only imagine what condition the plated and (the few) engraved items had deteriorated to after Shaun had taken ownership of Detroit Soul. Most of the plated parts were in need of redoing. As for the engraved parts, the levers were both broken so they needed replacing.
"Other engraved items needed replacing, so with a couple of exceptions, namely the helmet hook and engraved sundance grips, Adi Clarke took care of all the engraving, working in a lot of intricate, specialised engraving that is in keeping with the Motown theme of my Vespa.
"The engraved and plated parts are well worth taking a proper look at; there is a serious amount of top quality engraving worked into Detroit Soul, some obvious, some less so. Just about any available metal surface that could be engraved has had Adi Clark work his magic on it. Quality Chrome provided all the plating, or re-plating where required."
Although it doesn't necessarily go without saying, it is indeed worth mentioning that Detroit Soul boasts a number of bespoke items – meaning there are a number of neat one-off items adorning the scooter. These include the front headlight guard with its Tamla Motown lettering, the engraved tombstone rear light along with the bumper bar mini embellisher that reads Motor City plus the unique horn casting badge that has the scooter's name on a mini Tamla Motown black label repro.
With the 80s being regarded, when viewed through the proverbial rose-tinted riding goggles, as the peak time for full-blown Vespa customs, Shaun wanted a couple of genuine 80s items to fit to his revamped, reincarnated Vespa, Detroit Soul. Twisted fork leg and matching stand, both reminiscent of the customs of the 80s, were already fitted. Further engraving and replating freshened up those matching parts.
Sourcing a genuine 80s anti-dive kit for the front forks was hard, as was tracking down a new old stock 80s Pitone exhaust system. "Both the anti-dive kit and the Pitone exhaust took me almost a year to find. I have managed to since get my hands on another, new old stock, anti-dive kit from eBay Italy. It's probably a good idea to have a spare, just in case."
Last, but by no means least, doubly important as Detroit Soul is most definitely ridden not hidden, the scooter was treated to a total engine rebuild. Again, another integral part of this Vespa that required attention after being neglected was the engine. "It was running, but not very well. It turned out the crank seal had blown.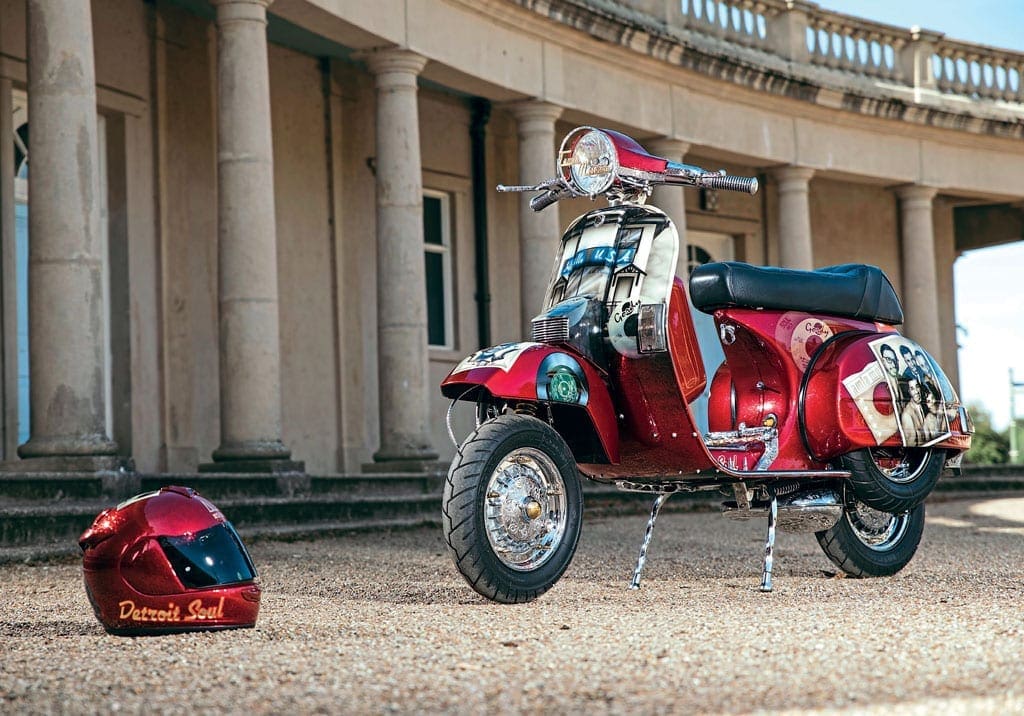 "I stripped the engine down completely, replacing anything that wasn't 100% right. It had a Polini kit fitted, which I replaced with a Malossi 210 top end. A good mate of mine, Rushy, matched the crankcase transfer ports to the Malossi barrel for me, I did all of the rest of the engine rebuild myself, including fitting a stronger BGM clutch setup. I've replaced the stock P2 fourth gear with a T5 fourth gear cog. It gives a decent top speed and power spread, while retaining reliability."
Detroit Soul is as finished as any custom scooter is. Custom scooter owners in general always plan tweaks, changes and alterations to their creation, some of which eventually bear fruit. Shaun is no exception to that outlook; he has a few in mind.
"An engraved spare wheel cover is at the top of my list," he said. "I'm considering changing the mural on the front leg-shields too. A seat suitable for riding distances with a bit of comfort would be good as well. Though, as I've started work on another full-blown custom Vespa project, the odd change to Detroit Soul may need to be put on hold, until finances allow."

Enjoy more Scootering reading in the monthly magazine. Click here to subscribe.