Words & Photographs: Nik Skeat | Additional Images: DVSA
In the first of our two-part series, we check out the regulations for getting your scooter tested, and explore some of the tales surrounding the rules.
For most of us, the MOT is an annual mixture of nervous anticipation and checking and double checking everything you can think of in the hope that the great Testing God will smile benevolently at your scooter and give you the thumbs-up for another year of riding.
If you're anything like me, you'll have tested your brakes a hundred times, wobbled your wheels slightly and convinced yourself that it's a passable amount and then realised that there's something that you forgot to check just as you pull up. A nuisance, certainly, but one that serves a valid purpose, other than to raise a few more quid for the country's bank account.

Before we go any further, remember that the MOT test changes regularly. Since I've started writing this it has changed twice. There may be further slight modifications in the near future, so any advice on what will and won't pass is much like the MOT itself – only really valid on the day it's given! That said, the principles remain largely the same, it's only the fine print that changes.

But what is the MOT actually for, what do they test, and how does it actually compare to the law when it comes to use on the road? Well firstly, let's start with first principles.
Originally, the MOT was a test of the roadworthiness of a vehicle, making sure that it was safe to use on the roads. Brakes, steering, and lights were the bare minimum tested, but over the years there have been numerous revisions to the requirements needed to pass, and in recent years these have become increasingly related to environmental issues and security. That said, most of these only apply to cars and larger vehicles, but are likely to find their way into the two wheeled regulations eventually.
Secondly, it's worth remembering that even if you roll out of the MOT station with a fresh certificate, this is no guarantee that the vehicle is legal to use on the road. Construction and Use legislation isn't the same as passing the test.
There are items which aren't on the MOT – such as a speedo – but without which it is illegal to ride on the road. No, I can't say I understand the need to have two sets of legislation either, but there you go. We do.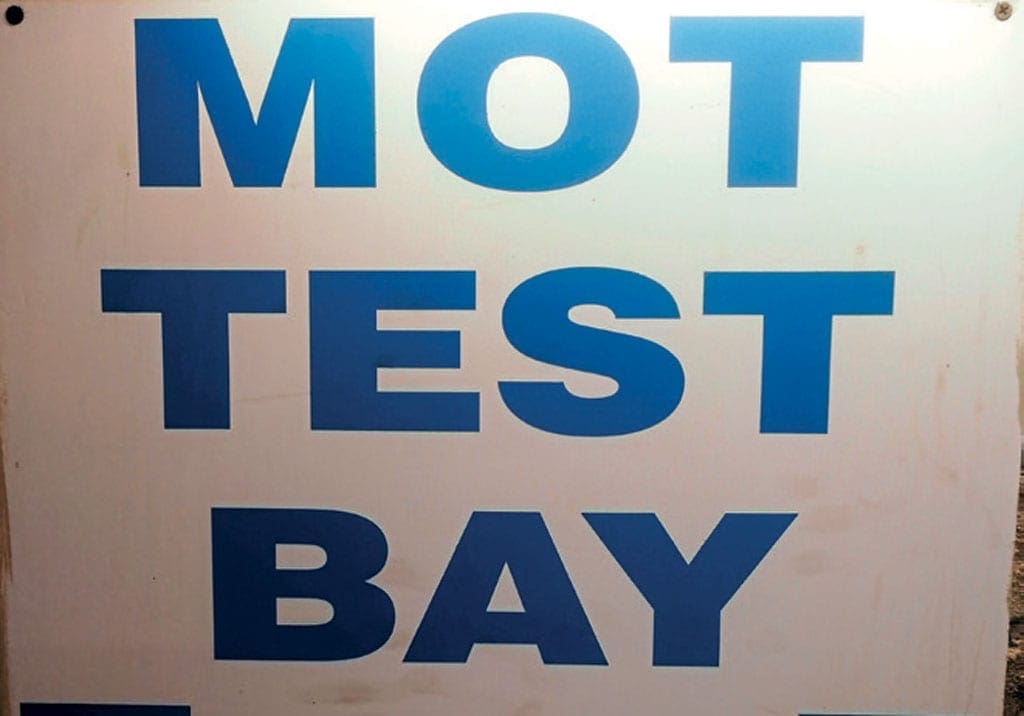 All this aside, let's take a look at what the MOT actually does, and try to dispel a few myths that have sprung up around it. As we've already seen, the test is little more than a check on the safety of a vehicle. It's designed to ensure the vehicle is safe to be used by measuring up against a minimum set of standards. Although the list only looks at the essential items, it's pretty comprehensive. Let's take a look at the requirements

To start with, we've compiled a handy list of items that will be tested for your £29.65 and an hour of your tester's time, so it's worth going through this before presenting your scooter to the MOT station. Its fine hoping that they may not notice something, but for the sake of making the scooter safe, here's your quick guide to passing. Most of them are self-explanatory, but a few may need a little more detail.

Thanks to the MOT testers and testing stations that helped compile this surprisingly complex article, your assistance was gratefully received.

MOT check list : Part 1
Number plate
Missing or insecure, illegible or bears the incorrect registration, then don't bother turning up. If your number plate doesn't meet the minimum requirements listed, then technically this is a fail, but there is a get-out.
Although the MOT manual gives the minimum requirements for the size and font of a number plate, it doesn't actually specify the dimensions of the plate itself. Unless you're unlucky enough to run a scooter with a plate that has a couple of Ws in it, the odds are that a six-and-a-half inch square plate will pass.
Above all, the tester will be making a judgement on whether it is legible or no. However, there is a clause which says that imported vehicles may use a smaller plate if necessary. I think it's pretty obvious that this refers mainly to private imports, given the number of Japanese, Italian, American and Chinese machines that are on the road.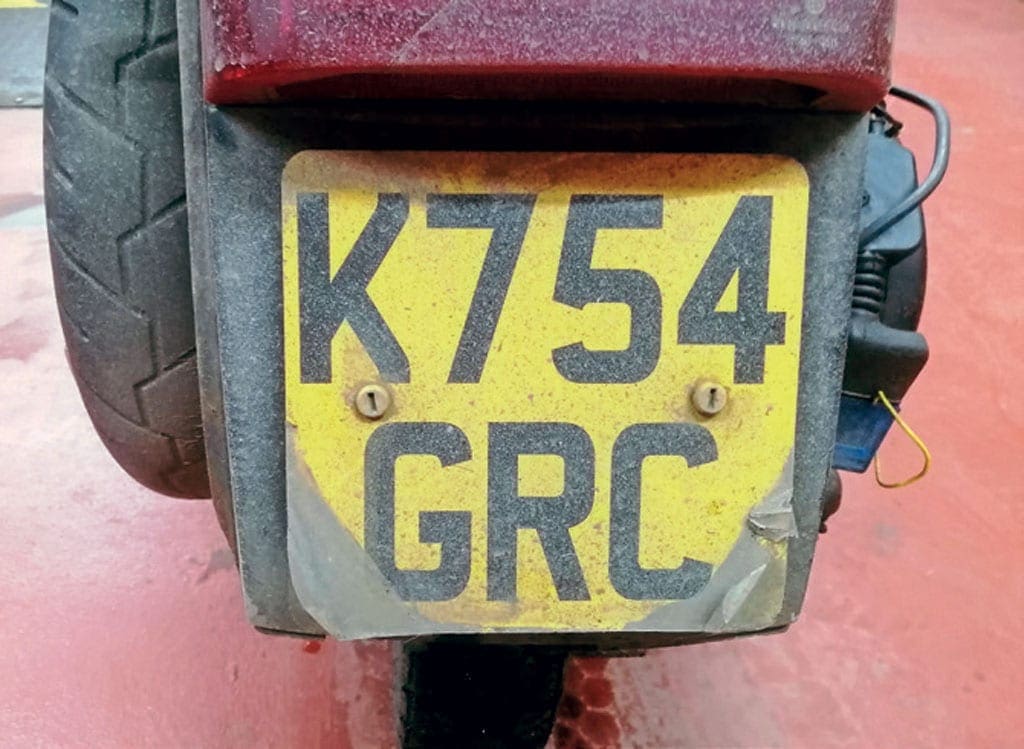 VIN
There are obvious reasons why this one is important. All of the above could be used in an attempt to pass a roadworthy vehicle off as another, perhaps dangerous, one. The examiner can, and will, ask for panels to be removed if the frame number needs to be inspected.
Fails:
■ Can't be found
■ Illegible
■Obviously falsified
Brakes
I'm pretty sure that we all can see why the braking system is probably the most heavily tested item during the MOT. No one wants to put their pride and joy into the back of a car that's suddenly stopped.
Although the test checks each item separately, an overview is that any item that is obviously damaged, missing, outside of legal minimums or insecure will fail.
In addition, any control that doesn't move freely in either direction, or which fails to operate before the limit of its movement is reached, won't pass, and neither will ones where the cable, hose or fastener is damaged, restricted or looking likely (in the opinion of the tester) to fail.
Other testable items include the grip pattern on a bare metal pedal if no rubber is fitted, and pivots that are too tight or obviously worn.
Fails:
■ Insecure mounting of lever or pedal
■ Too tight or binding on the pivot
■ Too loose or obviously worn pivot
■ Lever can be pulled back to the grip before brake is applied fully
■ Pedal reaches the floor before brake is applied fully
■ Not releasing correctly so that the brake remains applied
■ No anti-slip on brake pedal
■ Master cylinder loose, defective or leaking, or cap missing
■ Brake fluid contaminated, significantly below minimum line or not visible
■ Brake hose damaged and likely to failures
■ Brake hose chaffed, twisted, stretched or otherwise significantly damaged
■ Hose connections leaking or hose porous
■ Brake lining or pad less than 1mm thick, contaminated with oil or grease, or insecurely mounted.
■ Brake drum or disk cracked, fractured or loose
■ Brake calliper damaged
■ Any leaks throughout a hydraulic system
■ Any excessive corrosion to braking components
■ Braking component modified dangerously, insecure or adversely affecting braking
■ Inadequate or no braking performance at any wheel
■ Lag in operation, binding or fluctuation
■ Brake efficiency below minimum standard.
Steering
Another obviously vital component is the steering assembly. Obviously you want the scooter to go where you point it, but it's also worth checking for excessive movement between items which are meant to be fairly tight, such as the forks or hubs.
Most experienced MOT testers will be aware of the natural movement in a Vespa rear hub, but don't take this for granted. It's one of the few areas where you can get into a discussion with the tester over the reason for fail.
If a screen of any type is fitted, make sure that it clears the legshields. Even if you don't think it hinders movement, it is a fail. If in doubt, remove it before the test and ensure you refit it correctly.
Handlebars obviously need to be secure to the forks, but it's also worth checking that your grips aren't going to move when twisted. Sundance grips are notorious for this, so check your fasteners before heading off.
Forks need to move freely in their bearings, but not so freely that side to side or forward movement is noticed. Bent forks are a pretty obvious no-no, but when was the last time you actually checked?
Fails:
■ Excessive movement between items that are supposed to be fixed, ie, hub and spindle
■ Handlebars fouling bodywork or tank
■ Restriction of steering from lock to lock
■ Bodywork or accessories interfering with free movement of any steering component
■ Insecure handlebars
■ Handlebar retaining device missing
■ Handlebars bent, corroded or otherwise damaged to an extent it is likely they will affect controls
■ Missing or insecure handlebar grip
■ Fractured, insecure or excessively deformed forks
■ Unsafe modification
■ Overtight or slack steering bearings
Horn
On vehicles registered after August 
1, 1973, there must be a horn fitted, which is capable of emitting a continuous or uniform sound. Prior to that, a bulb 'clowns' horn is acceptable.
You are not allowed to have a multi-tone horn, bell, or even a gong (seriously, that's what it says) as an audible device, or anything that could be confused with an emergency vehicle.
The seat has to be structurally strong and secure. In practice, this means that the metal or plastic chassis of the seat needs to be undamaged, and that it's not going to move about under cornering.
Many testers take the view that if the hinge section is solid, then there is no real need for a rear mount, but if you're missing yours, then fastening the rear of the seat down with a bungee or tie down is acceptable, as long as it stays where it is when the tester tries to move it from side to side. There is no test on the condition of the padding or cover.
Fail
■ Insecure mounting.
Myths: Part 1
OK, that's instalment one of the technical bit explored, so let's look at a few MOT myths that have popped up over the years, and hopefully explain or put them to rest.
Daytime MOT certificate
Well, to start with, such a beast doesn't really exist. On the other hand, it's possible to put a scooter successfully through the test without any lights, other than a brake light. If you go down this route, then you'll be issued with a certificate, but with a manual advisory that no lights were fitted.
This is where the problems start. If you then fit lights, you need to retest. If you get stopped by the Police when you should have lights on (night,or heavy fog or rain, for example), then you will find yourself collecting penalty points for not having an MOT. The rest of the time is not a problem. Proceed with caution, as it's a minefield and open to interpretation!
From a practical point of view though, why would you? If they're not working, get them fixed. It's safer.
Extended forks
In themselves, extended forks can't be a direct cause of a fail. They're tested for wheel alignment, integrity and stiffness of steering, but the actual length isn't an issue. However, a tester can take the scooter for a test run to see if they affect the handling.
Advisories
There isn't a limit to the amount of these that can be issued on an MOT certificate, and none can lead to a fail. They serve to warn the owner of potential faults, and to show that the testing centre had spotted them. should they become an issue at a later date.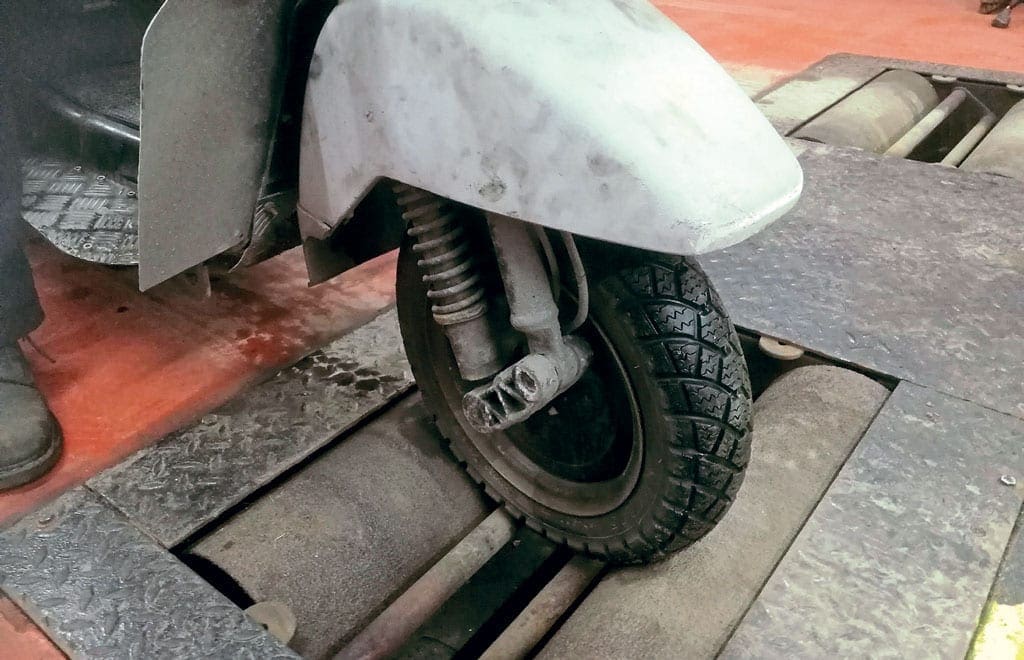 Bulb horns
As noted in the main article, bulb horns are only legal on pre-August 1973 vehicles.
Thirteen-month MOT
You can present your vehicle for a test up to one month before it's due date. Should it pass, then the MOT starts on the day the last one expires, not the day that it's tested. For example, my ticket runs out on March 1, so I take it for a test on February 1.
A pass would mean that it then needs testing on the first day of March the following year. However, If it fails, the balance of the current MOT is void as you are now knowingly using an unroadworthy vehicle. Think wisely on this one.
That said, if you fix any faults before the due date, then it is treated as if it had been presented as such on the re-test date and any extra time is then added.
MOT exempt vehicles
Many of you are no doubt aware that most vehicles over forty years of age no longer need an MOT, provided there have been no substantial changes to the machine.
The detail that many overlook is that the scooter needs to be registered with the DVLA as a 'Vehicle of Historic Interest' (VHI) using form V112 from your local Post Office. Until done, it will still need testing.
As an aside, given that the MOT is a test of the vehicle's roadworthiness, it may be worth asking yourself if it's a good idea to avoid them anyway? At the time of writing, we're still waiting to see what constitutes 'substantial changes'.
What lies beneath
There's a common belief that testers aren't allowed to remove panel work to check for dodgy or non-existent VIN stamps, or the condition of fuel lines, and so on. The rules state that the tester can remove any bodywork if he doesn't need to use specialist tools to do so. In short, yes, he can remove your panels to take a look!

Enjoy more Scootering reading in the monthly magazine. Click here to subscribe.