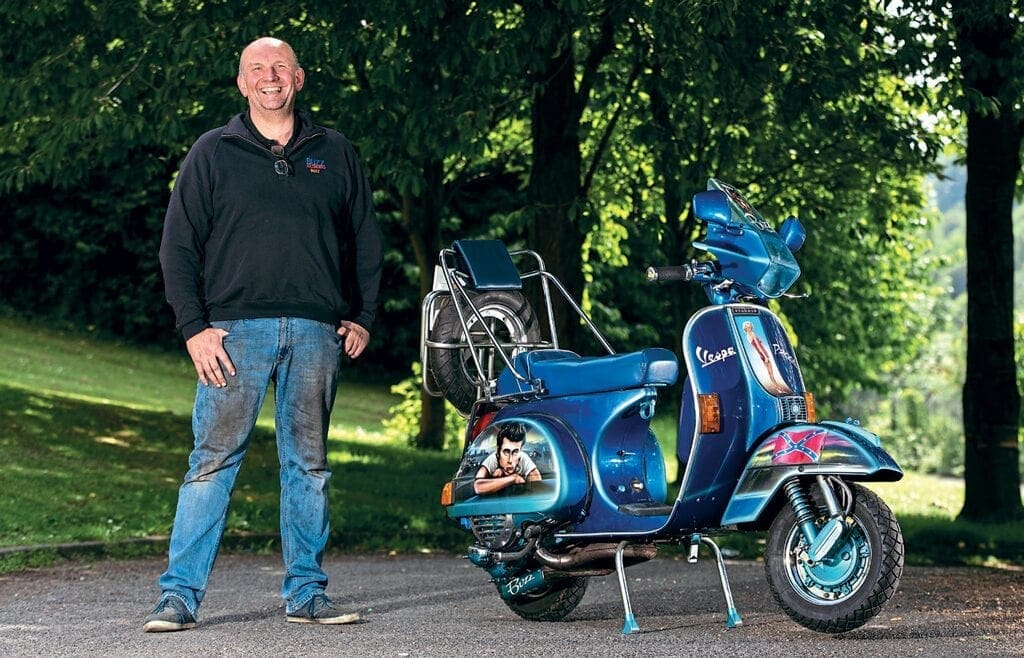 Visitors to Buzzsolomoto will see the rarest of all beasts, an original 1980s paint, custom P2. But this isn't for sale, it's Buzz's own ride.
Eagle-eyed readers will already have spotted that this can't be a Mk 1 as the registration's far too late for that. However, this is a scooter with a story. Having grown up in the catchment area for Len's of Shipley, it should come as no surprise that once he discovered the joy of scooters, Antony 'Buzz' Beaumont became a regular customer.
As a skilled engineer, Buzz had the income to back up his desires and in 1984 he purchased a low mileage Mk1 P200E from Len's. "I'd always been into Rockabilly music," he explained.
"The plan was always to create a custom around that theme." The chosen artist was Kev Rosebrooke who was responsible for many of the dealer specials to emerge from the legendary Yorkshire dealership.
Although he's more associated with Len's trademark stencil-based schemes, Kev was also an excellent freehand artist.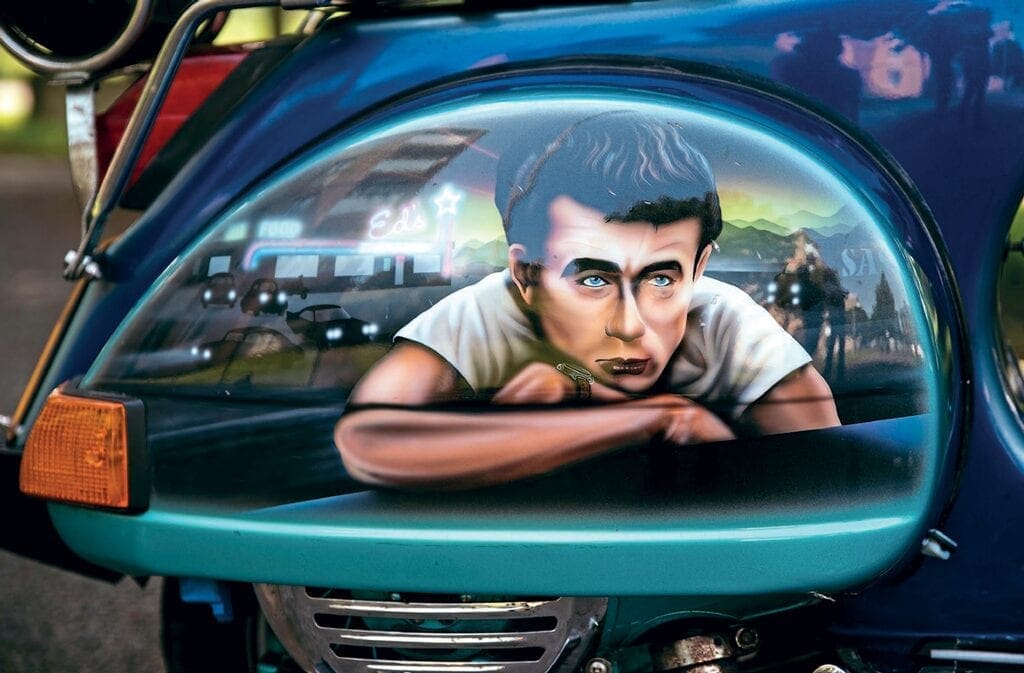 Some like it hot
Although most scooterists will forever associate Rockabilly with bands such as the Cramps, the term originated in the 1950s.
It was this era that fascinated Buzz, and the obvious icons to represent the era were Marylin Monroe and James Dean. With the addition of a few Confederate flags the concept was complete.
"I collected the finished scooter in late 1985 and picked up its first trophy the following year," said Buzz.
Despite its 'Rebel Without a Cause' naming on the toolbox the scooter soon became known as 'Marylin', a name that Buzz still uses with affection when discussing his old friend.
Asphalt Jungle
Unfortunately, as Buzz explained, Marylin's first incarnation was short-lived. "I was riding along minding my own business when a woman drove straight into the side of me. I wasn't badly hurt, but I thought Marylin was a write-off.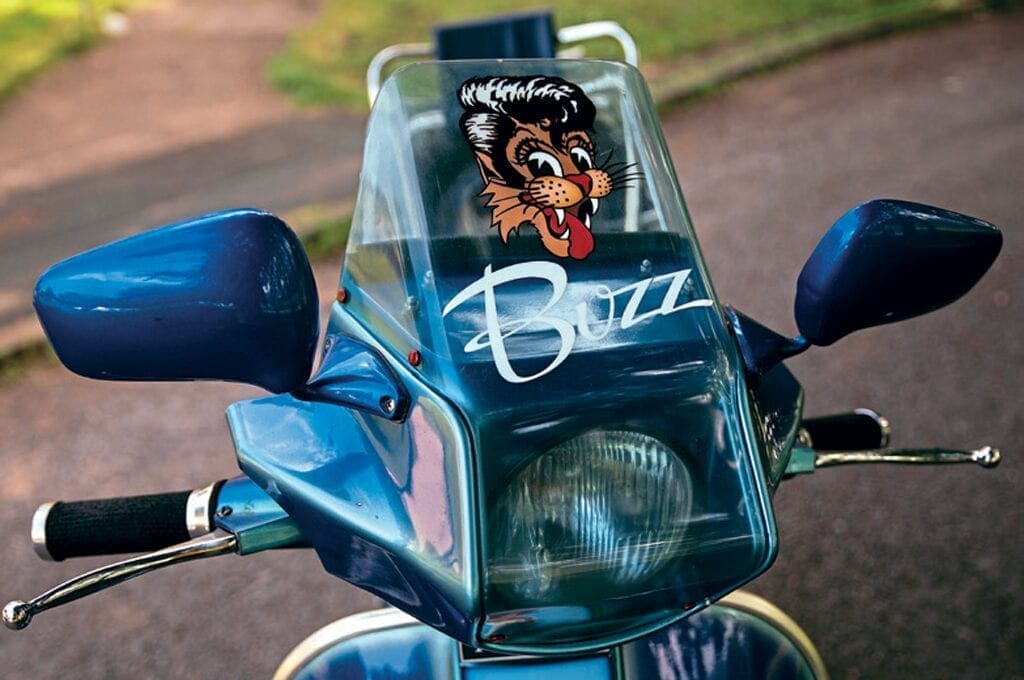 "Incredibly, the insurers chose to rebuild it instead of write it off and Marylin returned to Len's for a full rework; only the mudguard remained from the original scheme. Even more unusually, the DVLA allowed the reframed scooter to retain its original identity."
The rebuild was far from straightforward as the only available frame was for an EFL. Look closely and the keen observer will see the side panels are mismatched.
"The engine panel is the factory original and retains its fixing tab. It wasn't badly damaged in the crash and was modified to fit the EFL frame," explained Buzz.
"The left panel is a replacement, but not from my accident. I went down on the engine side, but I lent Marylin to a mate who came off and ruined the left panel!"
After respray number two, Marylin settled down to a less dramatic existence, picking up trophy after trophy at local and national shows.
There have, of course, been other changes along the years. At one time a Malossi 210 propelled her around the streets of Bradford, but that was replaced with a standard top end several years ago.
The exhaust is original to the first build and although obviously bespoke its origin has been lost over time.
Various seats have been fitted and the current example is the original Super Corsa fitted at Len's, albeit re-covered some years ago by local upholstery supremo Tony Archer.

As 'real life' intruded on his time, Marylin was used less and less but unlike many owners Buzz never seriously contemplated selling her.
Storage left its mark on the brightwork and some time ago Buzz took the decision to prevent further deterioration by de-chroming her.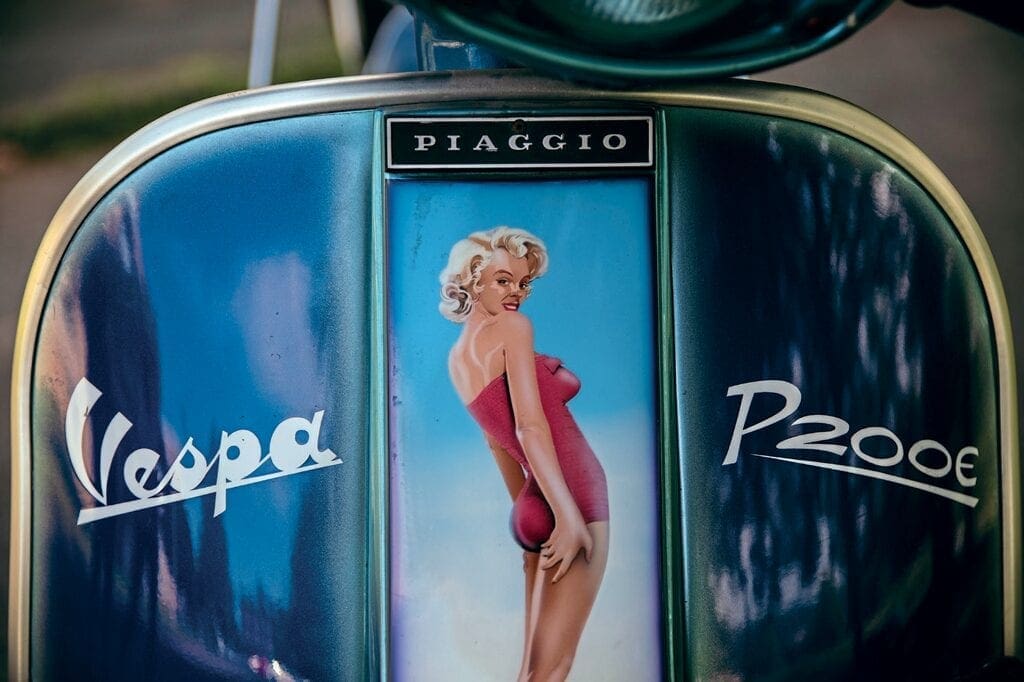 For the past few years Marylin's been a fixture in his Halifax showroom but the final commemoration on the old Len's site provided much needed impetus to get her back on the road.
"It started with the simple intention of refitting the driver screen and getting an MOT" laughed Buzz.
"Then she wouldn't start and I discovered the stator wiring had corroded. After we'd replaced the stator we discovered that the indicator wires had also perished so that led to a full check of the loom. Once we'd flushed the fuel system she burst into life, but the main seal had gone. Every job created another, but we got there in the end!"
Gentlemen prefer blondes
Being absolutely honest, by the standards of today's photo-realistic artists Marylin looks slightly crude, but by contemporary standards it was groundbreaking.
Also, like Trigger's broom it can be argued that Marylin isn't original, but that misses the point. This scooter's lived, it has a story and is still very much loved. By any standards it's a true classic.
If you want to see Marylin in person pay Buzz a visit, just don't bother putting in an offer to buy…

Enjoy more Scootering reading in the monthly magazine. Click here to subscribe.