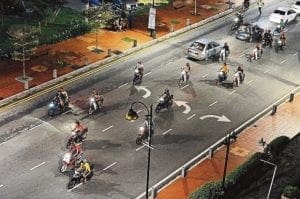 The Malaysian government has said that it is going to hold legal street races to counter the growing number of illegal scooter races that have recently sprung up.
Federal Territories Minister Datuk Seri Tengku Adnan Tengku Mansor made the announcement last night. He said that a large number of Malaysian scooter riders had turned to racing illegally because it offered cheap thrills – and because so many were getting hurt the government decided to step in in a positive way. "We will control the situation because we realise that this is an entertainment for them. They have no other way to entertain themselves because of the high costs," he told reporters.
The Minister also said that the government was considering closing down the city roads in the national capital to all cars and other traffic for one night a week and setting that aside for scooter road racing!
Mansor added: "Probably in one week, one or two days, we will give it like the car-free day but only for them to race at night. We don't want illegal racing but we want them to race in a specific place. If they want to race, it's okay but we give them a place where we can control with safety barriers and all."
Malaysian govt is closing down the capital once a week so that young riders can road race legally!

Enjoy more Scootering reading in the monthly magazine. Click here to subscribe.