Words: Stu Owen
As one of the scooter scene's most active characters during the last 40 years, Andy Francis is showing no signs of slowing down. Here's why…
Anyone who attends a rally or show can't fail to have seen the large marquee and stall that belongs to Andy Francis, packed to the rafters with virtually every Lambretta part currently available.
At the front the man himself, more than happy to help customers any way he can — showing an enthusiasm and passion for anything Lambretta, one he has held since he was a teenager. Once a competitive circuit racer and now actively promoting the BSSO production class, he is more involved than ever before.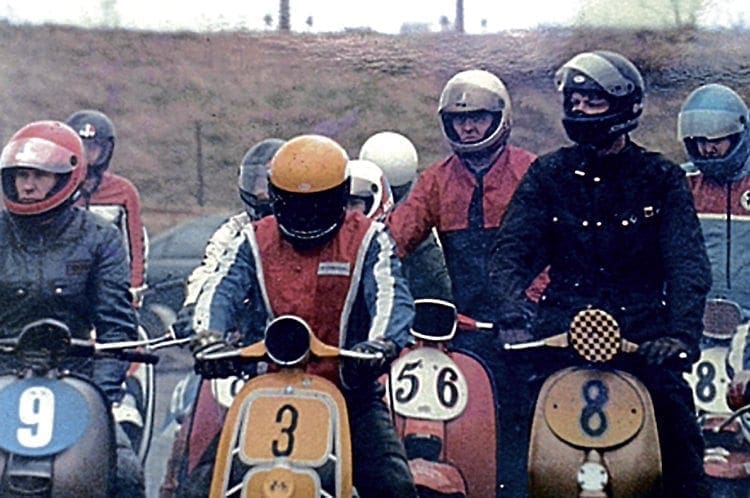 Pound land
Like so many before him and those since Andy's first foray into Lambretta ownership came through a rather unorthodox route. Back in the 1970s and at the tender age of 14, he was out collecting wood locally for bonfire night. Knocking on the door of an old lady's house, not only was he given some wood… but also, rather bizarrely, an old Lambretta. Having never seen one before it was a bit of a novelty, but a rather interesting one.
Topped up with fresh fuel it ran, and allowed Andy to join his mates… many of whom had Honda 50s which they raced around at the local disused army camp. He can't recall exactly what model it was but the tatty old machine supplied endless hours of fun.
That is until one day when it packed up running altogether and with no idea how to fix it Andy sold it to the local scrap dealer for just £1.
Undaunted by the experience of its reliability issues, this was not going to put him off and in 1977 he purchased his first road-going Lambretta.
For £75 it was possible to purchase a maroon coloured Li 150 special and it would be used to get him back and forwards to work as a newsagent. Getting up early in the morning meant reliability was a must, but as Andy explained, it was the worst starting Lambretta in history.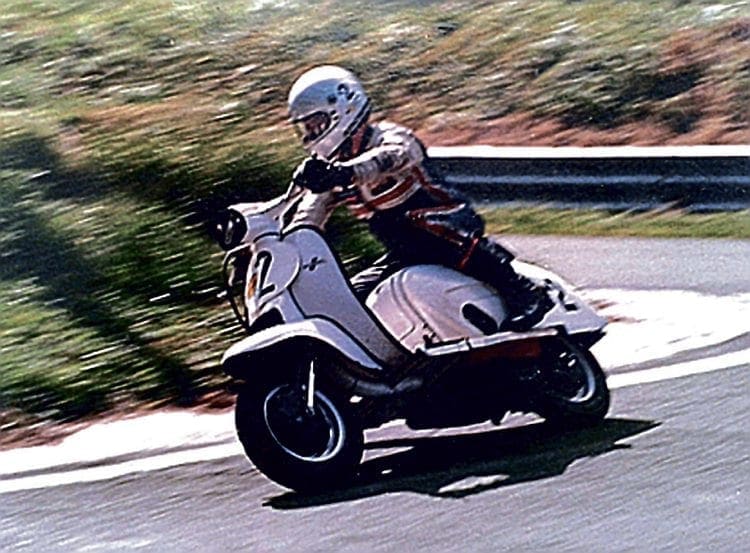 Unable to fix the problem himself, the job was farmed out to two local lads Mike Pattinson and Eric Jack who later went on to fame, building Lambretta expansion pipes under the banner of Mikeck.
Having now purchased a TV175, again suffering from years of neglect, Andy decided to take on the role of mechanic himself. It was a quick learning curve but one which would help him gain the experience required to survive in the Lambretta world.
A racing team or two
Firmly entrenched in the grip of the growing scooter scene and now becoming a competent Lambretta mechanic, other aspects of scooter ownership started to Influence him. Scooter racing was beginning to really take off once again and it wasn't long before Andy joined in the proceedings.
He joined Group 3, the 150 standards class, and raced with Carlisle Racing Scooter Club (CRSC). The ultra-close and competitive class was one of the most contested in the British championships. It was often oversubscribed and a reserve list of riders was not uncommon to see.
Once established as a regular rider and making his way up the grid Andy joined forces with Fylde Area Speed Team which had been started up by Jem Booth. He already had a great knowledge of tuning and race preparation even by this early stage and was becoming a big influence on Andy's racing career.
It was at this point that Andy and Jem contacted Ray Kemp about setting up Team AF Rayspeed. Soon enough Ray took up the challenge and the team was born, one that still exists to this day. Not only were they successful but it also brought Ray out of retirement in late 1980s for a brief period; no one can forget the immaculately prepared race machines and distinctive colour scheme that they were painted in.
Andy went on to campaign Group 3 for several years but started to become disillusioned by the rules and politics that began to dominate the sport in the late 1980s. Though he had relative success those running scooter racing's governing body didn't make things easy with the changes that were being implemented.
With all this going on he decided to call it a day on his racing career and spend more time concentrating on his business instead.
How to build a business
Those who know Andy will be aware he is a shrewd businessman within the scooter scene and has been trading much longer than you think. It all started way back in 1980, selling spares and the odd scooter from his mother's house.
Advertising on the sell and swap page of Scooter and Scooterist magazine was how it was done back in those days as he slowly built the business more as a sideline to start with. His main income was from the restaurant trade but the pressures of that industry got the better of him for a while, so he quit and concentrated on 'scooters only' from then on. Around 1998 he finally established his scooter business full-time trading under the Franspeed name.
With the resurgence of Lambretta ownership post-2000, Andy was in the right position to take full advantage of the growing need for spares and servicing. With the business being 99% Lambretta based he saw the opportunity to move into supplying those who wanted to restore their machine and subsequently keep it on the road.
At the same time with tuning and performance beginning to gather pace he began to heavily invest in that area also.
Using his racing knowledge and contacts it was easy for Andy to build up a string of suppliers of the best and most used tuning products. One of the big opportunities was when the RB kit was released into the market and there was a need for an expansion pipe to suit it. Securing the services of Jim Lomas, Andy commissioned a series of experimental pipes specific to the RB kit.
Quickly coming up with the answer unleashing the true potential of the kit the Franspeed race and tour expansion pipes soon hit the market to great acclaim. Using the pipes' successful formula these became available for all types of Lambretta engines and today are one of the most used brands in the Lambretta tuning industry.
Not one to rest on his laurels the Franspeed business took to the road in style. Vast table space displaying almost every Lambretta part conceivable would be on display at any rally or show. If outdoors then a huge marquee would be in place, dwarfing most other stalls around it. A huge logistic exercise it may be but one which is most impressive in appearance.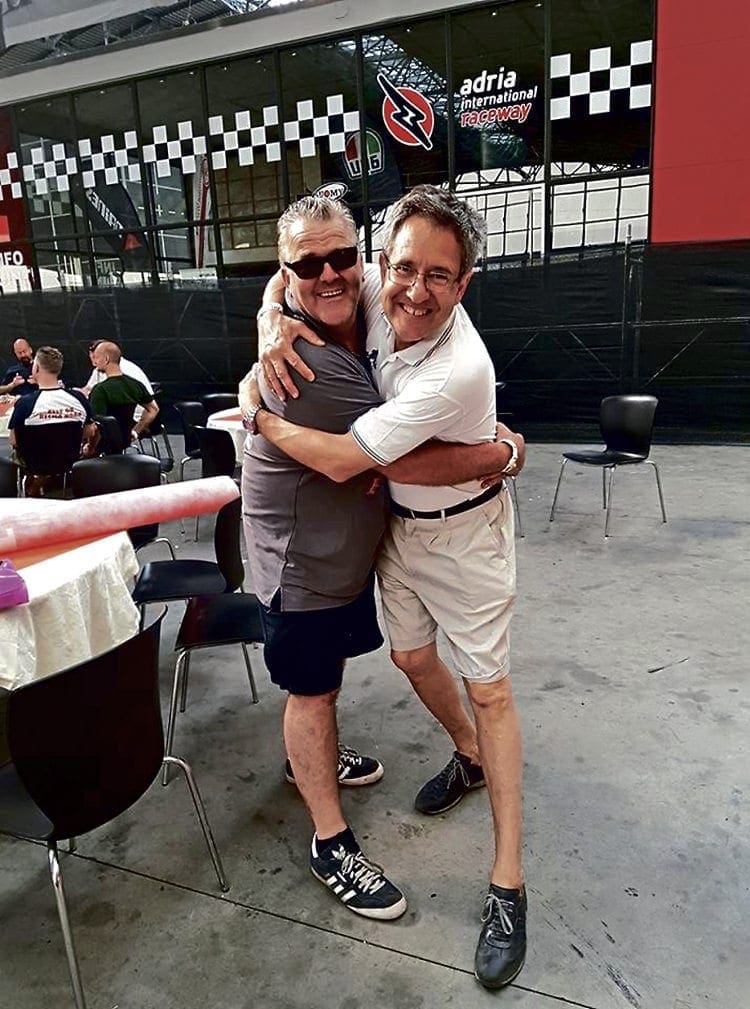 To this day you can still find the Franspeed stall all around the country at various rallies and shows. At the front willing to help and give advice is Andy, enthusiastic as ever. Though the roadshow is important, the majority of the business is now run through the internet. Andy, like many other dealers, has adapted to the way the majority of customers shop and has a strong presence for those who want to purchase online.
Like all others involved in the scooter industry, Andy is still sceptical as to how long the scene has left, certainly from those using them on the road. Though, currently, the huge investment in Lambretta performance products is helping customers to continue their interest and is an encouraging sign. Like anyone else though, he doesn't know the answer to this question but welcomes any developments regarding Lambretta tuning and performance.
BSSO racing and the production class
In 2015 Andy noted certain things that didn't seem to be working well within the current scooter racing series. It wasn't the fault of anyone or the BSSO, which organises it, just the low number of riders in certain classes and the lack of new blood coming into the sport.
Realising something needed to be done, he started making inquiries into forming a production class. This idea had been proposed back in the 1980s when the TS1 was first introduced but failed to get off the ground.
There was the street class which again started at a similar time and is intended to be a cheap way to get into racing. With only two riders competing the class in 2015, Andy realized something needed to be done quickly.
After meetings and discussions with Paul (Chalky) White and several businesses and organisations within the scootering community, a proposal was put forward to the BSSO. This would form a new production class which would be strictly governed with what engines and equipment could be used.
Not only would it be much cheaper to start racing but also every machine would have almost identical performance. In turn, this would mean close competitive racing, concentrating more on the rider's skills than who had the most powerful engine. Using his long-standing friendship with Ray and Ben Kemp the RB 20 was the chosen cylinder.
The benefit of this is that AF Rayspeed is ideally equipped to offer all the parts required to each rider and at subsidised prices. With the amount of small block Lambretta casings now readily available, this would make the engines cheaper to build and a guaranteed flow of spares if needed. Strict rules state that no tuning is allowed but with the good power output of the kit at around 20-22bhp this allows for fast and close racing among the riders.
To make sure there is no breaking of the rules there is strict scrutineering at each race meeting, trusted to Barrie Braithwaite who as a seasoned racer is the ideal person to spot anything that is deemed to be illegal.
In 2016 there were a few riders who signed up for the class which given the short notice was quite remarkable. With the close battle between the riders proving to be a success like it was presumed interest soon gathered pace. Last year saw a much bigger field and many new entrants started to join now seeing it as a great way to get into the sport.
Even some past racers or those wishing to race in two classes have also signed up. At present, there are now 32 entrants in the class making it the biggest in the BSSO. This is a testament to all the hard work and effort Andy has put into getting it off the ground. He knows he couldn't have done it without all the support from suppliers, sponsors and those just willing to help organise everything.
It's at this point he would like to thank them all for everything they have done and continue to do in making this class the success it has become.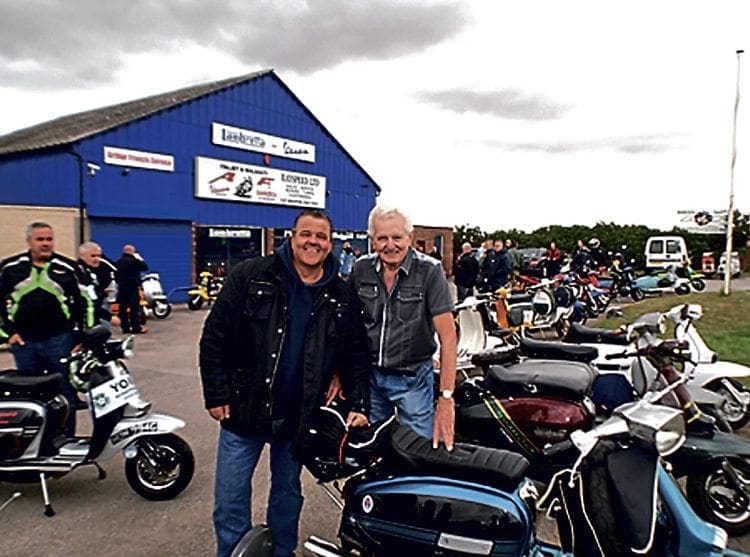 Lambretta forever
It will soon be 50 years since his first excursion on that old Lambretta he picked up while out collecting firewood. During that time he has raced them, built them and run a business dedicated to them.
Not only that, with the production class he has put something back into what has always been his passion.
As a dealer, he is seen as a businessman but still crosses to the other side of the counter, a willing participant when it comes to riding them to events or rallies. This is a unique quality not often seen but Andy Francis has Lambretta running through his veins – for him it will be Lambretta forever.

Enjoy more Scootering reading in the monthly magazine. Click here to subscribe.