Words: Stu Smith | Photographs: Gary Chapman
Little Rascal was developed in the early 80s and caused a stir when it first appeared on the scene. Somehow it's a scooter which has a special place in a lot of people's hearts, and one of those people in particular who was infected with its love was Jim Lockwood.
Most of us would say that the 80s brought us the ground-breaking custom scooters, which formed the foundation and influences of today's custom machines. 'Little Rascal' has pride of place amongst those machines, and here's the story.
Starting from scratch
Nigel Tollady had seen Lambretta chops on the circuit and realised that there didn't appear to be a Vespa chop on the scene. With this in mind, Nigel decided he was going create a Vespa chop and in 1982 he purchased a standard, full-bodied Vespa P200E, which would eventually become Little Rascal. Having bought the scooter, Nigel set about cutting the bodywork down.
"After drawing the template with a felt-tip pen, a steady hand and a keen eye, I cut the leg shields and side panels down. I used a 9-inch masonry wheel to do the job, but there were sparks everywhere. However, when I went inside to get some eye protection, all I could find was a full face diver's mask! What a sight!" laughed Nigel.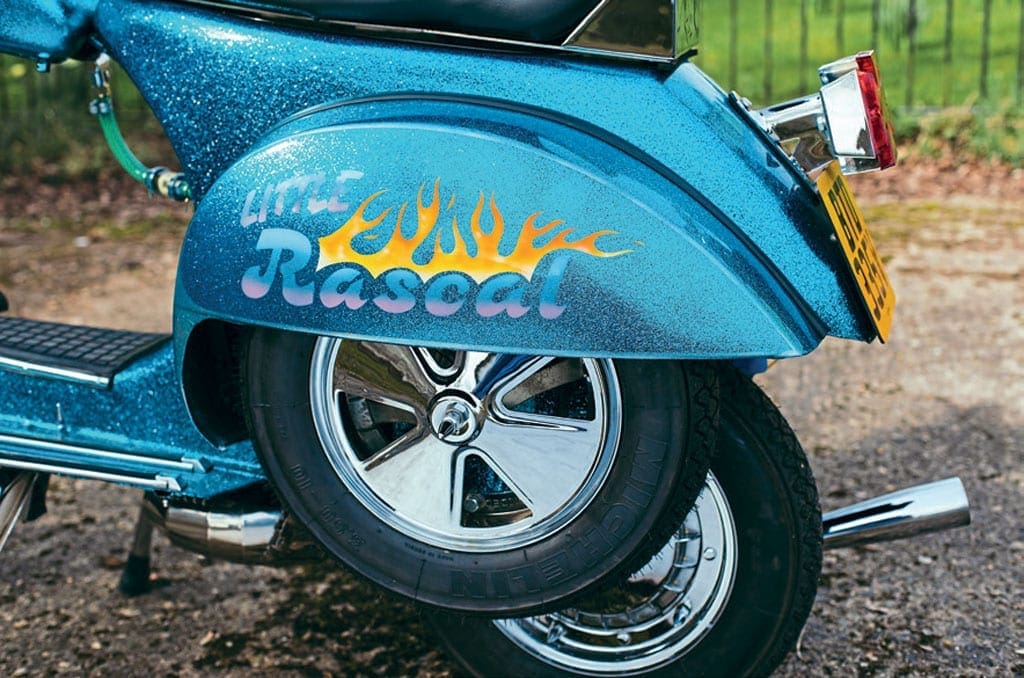 Upgrades
The initial cutting down of the bodywork formed the first phase of the transition into Little Rascal as we know it today. The scooter remained in this form for about six months, until Nigel decided that he was going to take the modifications further.
"The scooter was going to have extended forks, a custom fuel tank behind the leg shields and a tuned engine. I knew this development would require some engineering work and this is where my long-term pal, Spoc, came in to help. Spoc is a good mate of mine and we're both members of Bolton Roadrunners S.C. Spoc is a sheet metal worker by trade and he could pretty much manage anything," said Nigel.
Forks and fabrications
The forks were removed, cut in two and a four-and-a-half inch extension was welded in. A plate was then added to the side of the forks to accommodate the suspension. Having organised the forks, Spoc then set about fitting the petrol tank, but because the scooter and the tank had already been painted, this turned out to be one of the trickiest parts of the build.
"With a bit of thought, I fabricated a bracket to fit under the headset, which would connect to the forward element of the tank and would allow it to be fitted into the frame without the paint being compromised. Ha, ha, I actually made the bracket from a piece of metal formed round a cast-iron drainpipe at my mum's house and it fitted perfectly!" Spoc laughed.
As part of the upgrades, Nigel decided that he would also add some murals to the scooter over the existing regal blue candy over silver metal flake. As a result, Nigel commissioned local artwork specialist, Tony Rae, to add a mural of a devil to the petrol tank and later a mural of a devil was added to the horn casting.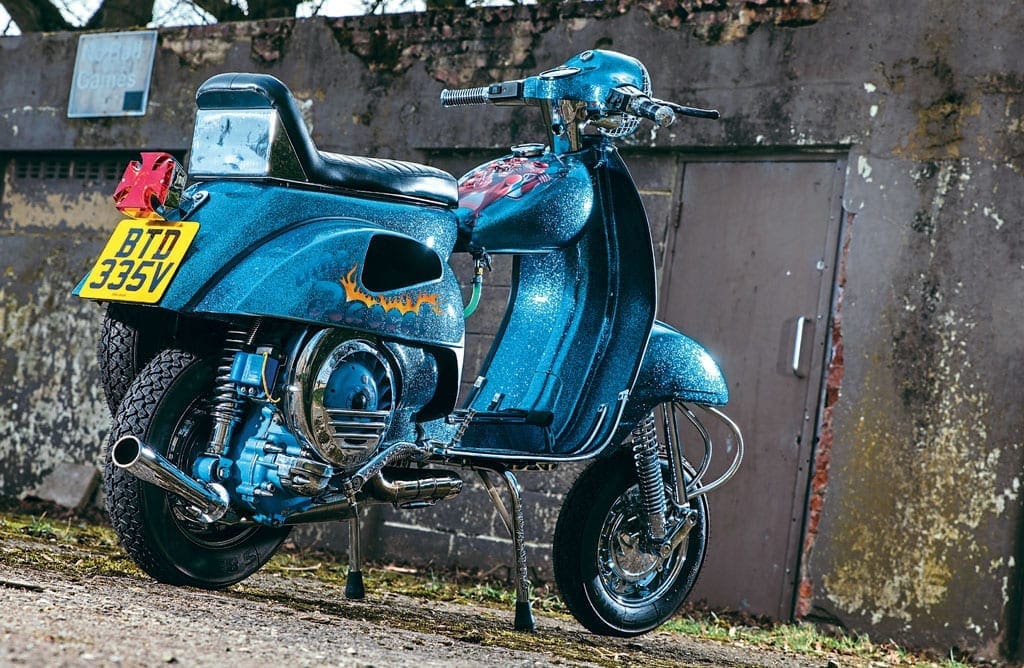 Custom show
The phase two upgrades were completed over a period of approximately six months and in 1984, when it was first shown in its current form at the Morecambe rally, Little Rascal won Best Customised Vespa.
Also at the rally was a 15-year-old schoolboy from Leeds called Jimmy Lockwood, who'd jumped on a bus with his pals to get there.
Jim distinctly remembers seeing Nigel riding Little Rascal up down the seafront. "I loved the scooter. As soon as I saw it, it was love at first sight! I vowed to myself that if it ever came up I'd try and own it," said Jim.
New owners
In 1986 Nigel sold the scooter to Ralph Dixon, a pal who was a member of Bolton Roadrunners. Then sometime around 1991/92 Ralph sold the scooter, and it ended up in the showroom of the late Doug Hacking's motorcycle dealership in Bolton. When Doug passed away, Nicky Ashton, Tony Rea's daughter, bought the scooter for her husband, Mark Ashton.
"Mark was actually more of a biker, but there was a tie to the scooter through her dad. Also, when Nicky was young, all the scooter lads used to take their scooters to her dad, and I think out of all of them she liked Little Rascal the most. It was almost as if she was keeping it in the family," Spoc and Nigel smiled.
"Mark kept the scooter and rode it for a couple of years, and then it ended up going to Bristol Street Motors in Bolton, where Mark worked. The scooter ended up getting taken apart. The frame was in the rafters and the engine was in the workshop on one of the benches," they added.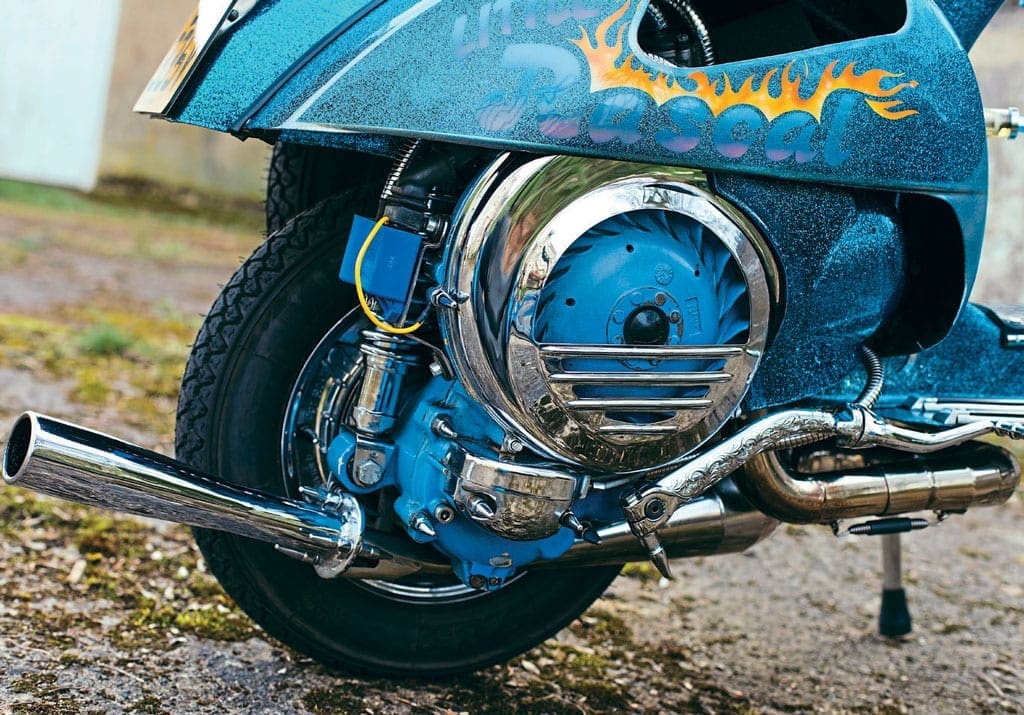 Picking up the trail
As time passed, Jim constantly had the idea in his mind that he always wanted to own Little Racal. During that time, Jim had owned several custom scooters, Vespas and Lambrettas, but for some reason Little Rascal always occupied a special place in his heart.
"I watched out for it coming up for sale, but it never cropped up. I think it was advertised in Scootering sometime in 92 or 93, but I missed it. It just went off the radar," said Jim.
In 2006 as part of his plan to try and locate Little Rascal, Jim wrote to the DVLA, but they weren't able to help. Not being happy with this, Jim started to develop his own lines of investigation to try and see if he could track down the scooter.
"I knew from the enquiries I'd already made that it wasn't getting MoT'd or taxed, so because of this I thought that it must have either been in storage somewhere, or scrapped. I thought it was lost… until one Sunday morning in 2015 when I was looking round on the internet for it. I'd randomly started looking through the Vespa Chopper Club website and there I saw a picture of a red Vespa. I looked closely, and instinctively realised that it could actually be Little Rascal. The scooter in the picture was called, 'Flight of Fancy', and appeared to have been painted over the original Little Rascal paint," said Jim.
The eureka moment
Jim did some some further investigation and eventually managed to contact Mark Ashton. "It was time to get this old girl back on the road! The pictures of the scooter showed the frame, engine and forks at the side. I knew that others had recognised it and time was precious. I'd missed my chance before and I wasn't going to miss it again!"
With no time to waste, Jim got in touch with Mark and asked him if he'd sell the scooter. In a rather nonchalant fashion, Mark replied: "I've not really thought about selling it. But make me an offer and I'll have a think about it." Jim made an offer and the following Tuesday, Mark accepted it. On April 25, 2015, Jim went to collect the scooter and brought it home. "When I saw it I could see the original Little Rascal paintwork underneath: I was over the moon," said Jim.
Restoration
Developing a forensic restoration process, Jim set about getting the scooter restored to its former glory. He managed to locate Nigel and Spoc, and got first-hand guidance from them throughout the process. In the meantime, he made contact with Colin Fitzgerald and commissioned him to complete the paint work. As part of the overall upgrades, from one of his previous custom scooters Jim added a T5 engine, and Pete Merchant at Solely Scooters took care of the overall engineering side of things.
All-in-all, the restoration process took approximately four years and the results are outstanding. Jim's taken this 1984 classic and with a careful restoration process he's retained all of its original characteristics and appeal, and also brought it up-to-date with today's scooter improvements. Little Rascal was produced from an idea developed by Nigel Tollady. Nigel was supported with this vision by his pal, Spoc.
With a limited amount of equipment and resources, but with a vast amount of knowledge and a desire to produce a cut-down Vespa, which would be the first of its kind, they produced a machine which could be considered as the benchmark that today's cut-down Vespas evolved from.
Friendships
In turn, Jim's tenacity to find Little Rascal and his commitment to the whole restoration process has not only restored this true classic to its former glory, but it's also realised a teenage dream and developed a sincere, and life-long friendship between him, Nigel and Spoc.

Enjoy more Scootering reading in the monthly magazine. Click here to subscribe.