LeJog: T5 Resurrected…
If you refer back to Scootering issue 11 in 1986, there is an article on a head-to-head road test between a Vespa PX200 and the newly launched Vespa T5, the test route was Land's End to John o'Groats and it was to be completed in a day — The Longest Day. According to the DVLA the PX200 has not seen the light of day for a good few years, but I am lucky enough to own the very same T5 — C823 SWV.
LeJog is something I have always wanted to do and it being the 30th anniversary since my T5 did it, it had to be this year. With such a busy calendar, finding a free weekend was proving difficult, however with Woolacombe looming a plan was hatched at short notice: van the scoot up to John o'Groats on Friday then spend Saturday and Sunday getting to Land's End with a stop off at Woolacombe Scooter Rally Sunday night on the way home.
For me the 12 hours it took to get from Nottingham to John o'Groats in the van was probably the most laborious part of the weekend. At 8am Saturday, after breakfast, we set off to do the customary 'sign pictures' where a guy from Northants on a BMW bike couldn't believe what we were about to take on.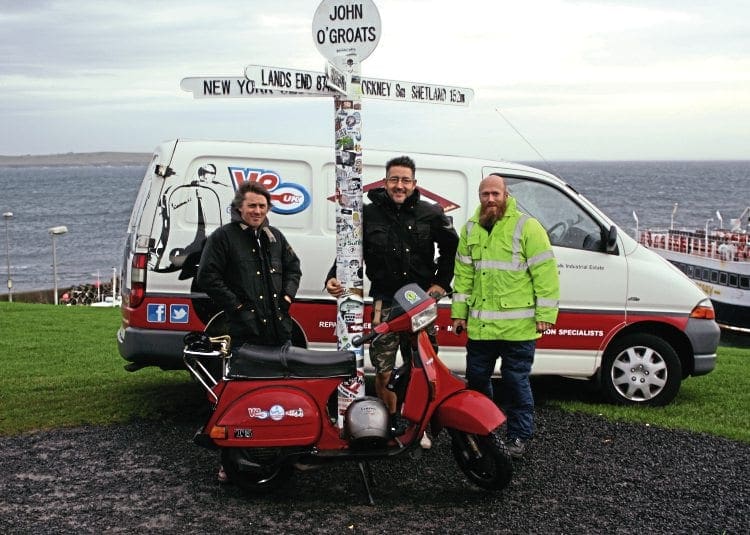 Simple plan for Saturday was to get as far as we could using petrol from cans in the back of the van every time the fuel light came on. The T5 is totally standard running the original oil injection on SIP synthetic oil and for this run we were trialling FA Italia split tubeless rims and Heidenau K58 tyres which both proved to be faultless in all weathers.
We took tents and sleeping bags with us but Vince from Olympics offered a room to the three of us for Saturday night, at this stage we had managed just under 600 miles on the first day in around 13 hours and had ridden through stunning Scottish countryside mostly in the rain to arrive at Junction 2 of the M5 around 9pm.
At 8am the next day we were off down the M5 to complete just under 300 miles. As we got further south the weather did improve and we made good time along the hills of the A30. Arriving at Land's End around 19 hours after setting off was quite an achievement and could probably be done in a day in summer. I believe Land's End is privately owned and somewhat of a tourist trap we were duly fleeced of entrance and photography fees, although we were allowed to take some of our own pictures if we were quick! Cornish pasty later and the Scoot was in the van and we were off to Woolacombe for Sunday night.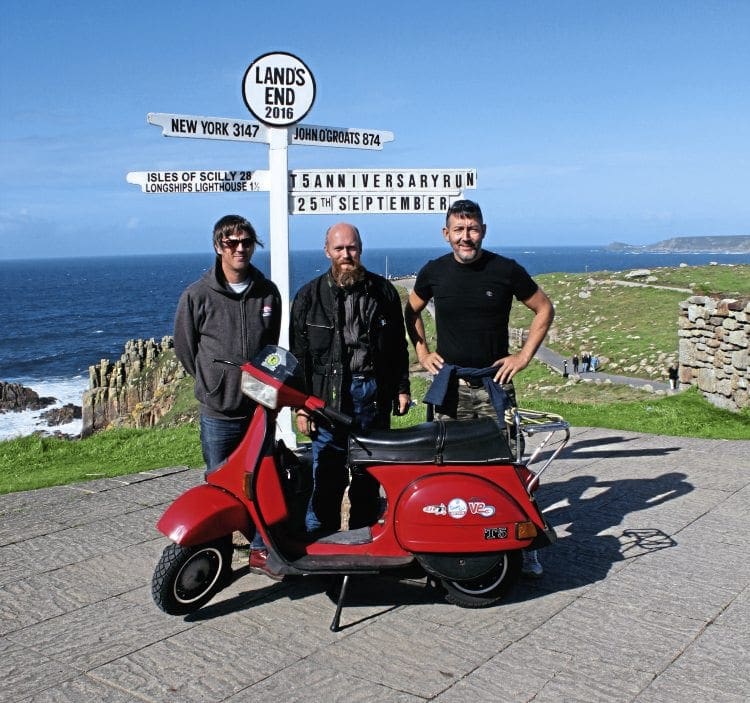 T5 rider Andy Butler, van driver Stephen Gregory and photos Andy Cra. Thanks to sponsors Scooter Solutions, VMS, SIP Scooter Shop & Norrie Kerr at VE.

Enjoy more Scootering reading in the monthly magazine. Click here to subscribe.