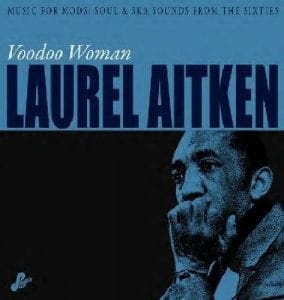 Before I start can I please draw all non-believers' attention to the sub heading of this album, Music for Mods: Soul & Ska Sounds From The Sixties. Thank you.
As a fan of the late Laurel Aitken I do already own a number of his recordings from both the 50s and 60s as well as more recent times. This latest compilation has been put together by Laurence Cane-Honeysett and, as the subtitle suggests, embraces the mid-60s by which time he was mainly based in the UK and performing to fans around the country, many of which were Mods. Laurel was always aware of his fan-base and allowed his ability and diversity to reach as many as possible, which brings us nicely to this selection of his work covering ska, beat, soul and more, satisfying everyone from dancers to lovers.
You Can't Stop Me is just beautiful Jamaican ska; harmonica (or is it melodian?) on the off beat, a sax trailing throughout and Laurel's vocals soulfully riding over it all. Seven Lonely Nights reminded me of Under The Boardwalk, a soulful ballad. I Believe you could almost imagine James Brown covering, adding a little theatrics of course, as could I'm In Love With You Baby (which gets its first UK release here by the way), embellishing that gospel style of R&B. Glory Hallelujah is another track getting its first release on these shores, a 1960s recording for the Beverley's label apparently and despite its title it does have a solid ska beat, as does another rarity from the same imprint, Don't Play With Fire.
Slow soul ballads (or beat ballads as the accompanying booklet suggests) such as Bewildered & Blue and You Left Me Standing don't do much on the dance floor but really show Laurel's vocal talent. Looking For My Baby is an interesting number which should fill a dance floor as it combines ska with a soulful shuffle all with an almost jazz feel. Nice. I've Been Weeping & Crying is another that you'd imagine 60s Mods would have loved, a Hammond led groove with Laurel's voice sounding as strong as any American star, they'd be strutting their stuff after the first few bars.
Fast-forwarding towards the end, complementing his funky take of Stax number Last Night that sits near the beginning, Sweet Precious Love is pure soul, dare I say Northern? An upbeat dance number it was recorded in London but sounds as though it should have been on a rare label from the States. This will sit alongside the more well known classics with ease.
So for anyone that considers Laurel Aitken to be just a ska singer, or indeed Mod music from the 60s to be of a more focused genre, here's the evidence that all is not as you assume. A rather varied mix of tunes from The Godfather that have been well selected to make a desirable collection of his work.
Article continues below...
Advert
Listen to: Seven Lonely Nights
• Scootering magazine – August 2010
Article continues below...
Advert

Enjoy more Scootering reading in the monthly magazine. Click here to subscribe.