Words: Stan | Images: Jyl Ristau
Costa Rica isn't high on the list of places associated with Vespa scooters but as Willy Conejo explains it's a perfect destination for discerning Vespisti.
It's fair to say that Willy isn't a typical scooterist. Not yet 40, his life has included periods spent as a professional skateboarder, competitive racing cyclist and actor.
Despite this varied portfolio, the love of his life is the humble Vespa scooter. Now in business as 'El Taller De Vespa de Willy', he's already producing world-class custom scooters from his shop in San José, Costa Rica.
Local Colour
"It all started with my father's wrecked and abandoned Vespa," explained Willy. "I had no transport and he told me that if I could make it work I could ride it. I had no money to pay a garage so decided to strip it myself.
"My father went crazy when he saw the Vespa in pieces and told me that I was going to get in serious trouble if I was not able to put it back together. That was enough motivation for me to get it right
"When people heard that I could repair Vespas they started to bring theirs to me, and the business slowly grew from there. I learned the basic mechanic skills from the old mechanics.
"At the beginning it was hard because they saw me as a threat, but then I found Eduardo Cossio. Eduardo was an old-school mechanic who didn't see me the way the other mechanics did. He taught me a lot, from electric systems to mechanics's secrets about the Vespa."
Although LML and Bajaj have been sold in Costa Rica, it was Vespa that dominated the local market. It's thought that there are one or two Lambrettas in the entire country, and these are in private collections.
Due to this fact, locals refer to any scooter as a 'Vespa', in the same way that people use 'Hoover' to describe vacuum cleaners. Unfortunately, anyone eyeing Costa Rica as a potential source of hidden classics will be disappointed.
"There used to be a lot of barn finds," said Willy, "but this is a little country and news spreads quickly, so whenever one shows up it becomes quite a national event on social media. I'd say that prices here are in line with those in Europe."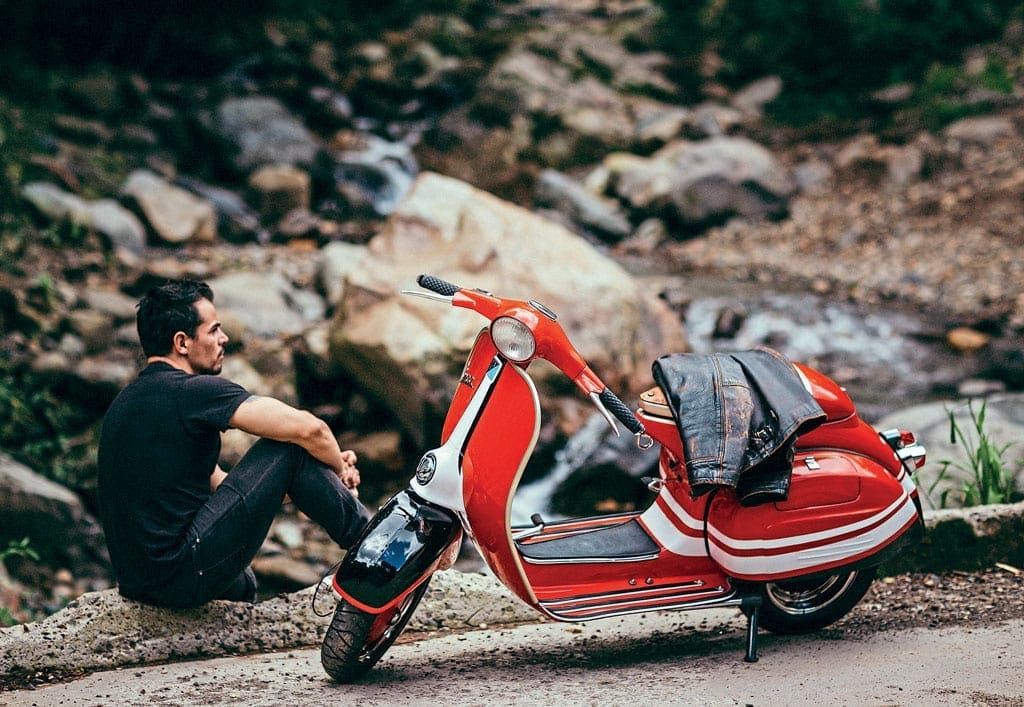 One difficulty faced by Costa Rican enthusiasts is the price of spare parts. The country has high import taxes, and enthusiasts wanting to use European tuning parts must be prepared to pay for the privilege. Nevertheless, tuning has become a key part of Willy's business.
"A group of us were hanging out at Eduardo's shop where he had the picture of a tuned Vespa on the wall. I was thinking out loud and said, 'One day I'm going to make Vespas like that'. Everyone started to laugh because they saw it as something really crazy to do in Costa Rica, but their reaction became part of my motivation and the result is my beautiful 'Isabel'."
Although customisation and tuning are Willy's passion, he also conducts servicing and routine repairs, catering to a growing band of Costa Rican Vespisti.
Club Life
"There's a Vespa club in Costa Rica now," said Willy. "They usually get together on the weekends for short rides and you can find a little bit of everything, from perfectly preserved classics, to mods and street racers.
"In Costa Rica we have also developed a crazy mix of the two styles. It's funny, but also a way of expression and they're accepted as part of the local scene.
"Like any other Vespa club, Costa Rica's full of friendly people ready to share their passion, do business with other riders and have a great time with these magnificent pieces of history. The movement is getting bigger every day and hopefully soon we can have rallies and events related to music, art and culture."
Almost two million tourists visit Costa Rica each year, drawn by its incredible scenery and cultural sights. There's a Vespa hire shop about to open for business, and Willy would encourage anyone in search of a new riding experience to pay Costa Rica a visit.
"Although we have a long, rainy season, the showers usually stop pretty quickly and when it's sunny, the best thing you can do is put on some sunscreen and get a nice tan.
"You can ride day or night every month of the year, and locations here are just magnificent. We have volcanos, rain and cloud forests and beaches, all within two or three hours of the capital."
If that's not enough to tempt you, Willy also has a very special invitation. "If you have enough time, come and visit my shop while you're in the central valley and we can have a cup of coffee and take a ride together. I'm always happy to make new friends who are as passionate about Vespas as I am."

Enjoy more Scootering reading in the monthly magazine. Click here to subscribe.