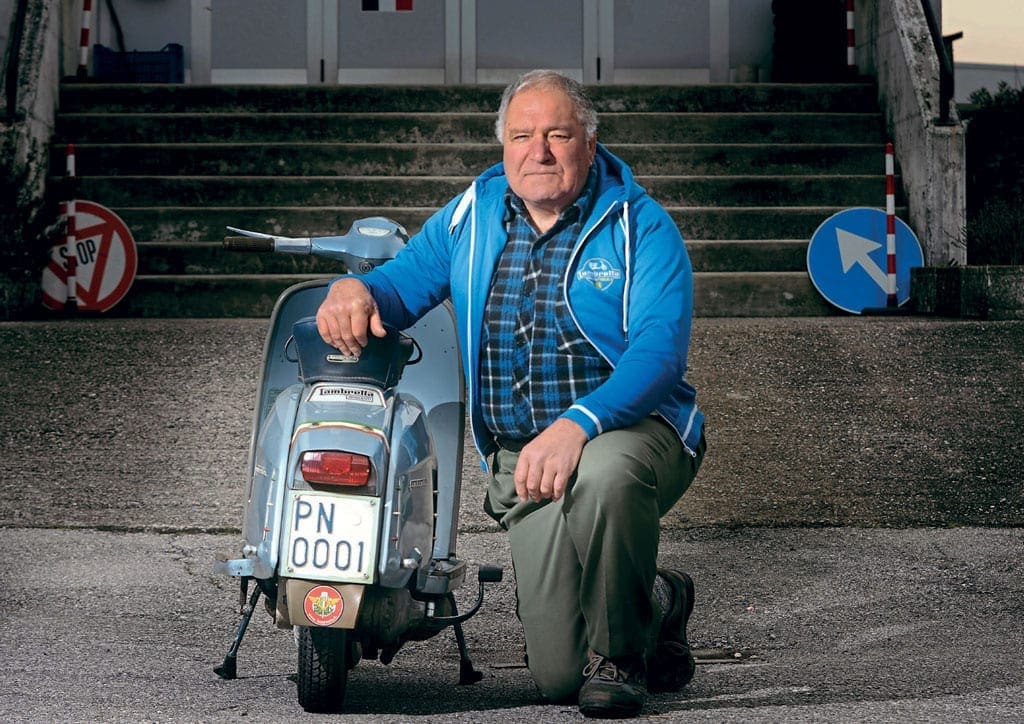 Words & Photographs: Christian Giarrizzo
Scootering's 'Show Us Your Scoots' pages are a real source of inspiration. I think many readers probably noticed the lovely black and white photograph in edition 390 (Dec 2018). It depicted five Lambrettas ordered by plate number.
Yes, I noticed too and since it was something so wonderful from my very own region, I wanted to go and see with my own eyes what happened and where those vehicles lived their life.
So I rush to Pordenone and ask for information, and I end up again at the headquarters of Scooter Italiano, owned by Bruno Pisaniello. When I arrive at the store I cannot believe my eyes, the owner of "0001" is there, in front of me. Like a hungry hawk I swoop down to hear his story.
"Living in Zoppola (PN)…" says Isaia Bomben, who was born March 26, 1947, "…I finished conscription and I found a job. I decided to go to evening school too. I was looking for a motorised vehicle and in those days Innocenti was offering some discounts.
Two months of hard work (155,000 Italian Lire) later and I finally bought this 125 Special. I never expected that it would one day become a rare scooter. Everything happened by chance, as in 1968 the city of Pordenone became the provincial capital for the first time.
I could have taken the vehicle from the dealership immediately, or wait until they registered it with a new Pordenone plate that would start from code PN0001.
"Innocenti Pordenone's dealer was one Mr Pellegrini and here he becomes part of the story: One of Pellegrini's colleagues was Mr Cagliari, a municipal technician who at that time distributed the plates and was in charge of the new province.
As soon as he saw my surname (Bomben) he remembered a gentleman who helped him during driving and agriculture school. As a matter of fact, Cagliari was in charge as driving instructor. That gentleman he remembered by surname was, in fact, the brother of my grandfather. At this point, for the classic Italian reason of 'I favour my friends,' Mr Cagliari gave the number 0001 plate to one lucky Lambretta. Mine.
"On that day in September 1968, there were not just the five Lambrettas showing off the first numbers of the province, but also a group of Fiat 500s, some tractors and some trucks belonging to a Mr Pighin. It was a lucky event because from that moment my Lambretta became famous and everyone looked at it with envy. La numero uno!
"That event was so important that a parade was organised. I didn't attend it though – Pellegrini's salesman did and everybody was asking him if he wanted to sell the scooter. Can you imagine that? Somebody asking you to sell a machine even before it has hit the road," giggles Isaia.
I ask what the story of that scooter is; I mean if it was ever used by Isaiah's wife, and what trips it has done. I make a blunder… "I'm not married," Isaia says, "maybe that's why everyone asks me if I want to sell the machine, because it's a collector's item. Maybe the fact I am single at my age makes them think they need to save the Lambretta when I'm gone."
Bomben says he will give her (not the wife of course!) to some motor club, to someone who cares and wants to keep it in good condition for the future. "Since the museum is no longer there, I'll see who deserves it," he says.
Let's knock on wood though, we are talking about the prospect of death. Isaia however is here, alive and healthy, and I am superstitious. In fact, I'm looking at a solid man, blessed with a proud look and strong hands. A boxer's physique, I would say, or at least a retired one.
'Boxer' also greatly enjoys being a member of a scooter group, something that is not that common in Italy. "I would like a motor club to keep it for all the 'Lambrettisti' in our Friuli Venezia Giulia region," he says. I would say that I am in the company of a gentleman from another age, who has the values of a special type of person. If you are lucky enough to spend a month in Italy visiting scooter rallies, you will understand what I mean.
The machine appears not heavily used (dashboard shows under 40,000km) and it's thanks to Isaia's care and attention that this Lambretta has been preserved in such remarkable and original condition.
As I explained in Scootering edition 369 (March 2017) in my article 'Phoenix from the ashes', a 'preserved' scooter is treated very seriously and respectfully by the rally community in Italy. Italians remember the famous Japanese art form 'Kintsugi' that treats wear and breakage as part of the history of an object and something to display with pride, with repairs carried out in powdered gold.
"Occasionally, I rent it to newlywed couples who want to experience the thrill of celebrating in the classic beauty and style that only a Lambretta can offer," smiles Bomben.
I ask for some special memories, but Isaiah is very shy. "The rallies in this region are always the same," he says. "I would like Italy to learn from the colourful and active British gatherings. I did not even want the trophies which are given for the best preserved scooter."
After a little pause, however, a memory creeps into Isaia's mind: "I remember an unforgettable downpour near Barcis lake, just after Vittorio Veneto. Torrential rain came just as I was turning off the engine of the Lambretta, wetting everything… points, condenser and flywheel. My hands were so wet that I could not even turn the throttle.
When I got close to Vajont lake I was dry again. Back down to Vittorio Veneto, I was struck again by a shower even worse than before. Then, again sun and rain and sun alternately, until night-time. At that time there were no technical fabrics or special clothes; if you were wet, you had two options… remain wet or light a fire in the woods to dry a bit."
I ask about gals, wondering how many girls Isaia has allowed to sit on his beauty, since he was a pretty handsome guy. And we return to the subject of death. Perhaps he talks about it to celebrate life, or maybe, at 37 years old, I am too young to understand. Isaia fades slightly and I understand that the topic of 'love' is off-limits.
"When I die I will have 'her' in the hole with me, so those who want 'her' must arm themselves with shovel, pickaxe and a lot of patience." I freeze for a second, as I remember the story of Sandra Ilene West who was so in love with her Ferrari that the two are buried together.
Suddenly I understand the reason for all this blackness. Isaia suffered a partial paralysis at 40 and struggled to move and breathe for some time. This explains why his machine is so well preserved; the 'Special' waited for Isaia until he recovered and his soul strengthened again. Then they left together for new adventures.
I see him stoop to the tail of '0001' and notice a small flicker of nationalism when Isaia touches the three coloured stripes, painted himself many years ago. The luggage rack was ruining the bodywork so it was decided to draw those three stripes in the colours of the Italian flag.
"If we were smart enough to love our country more we would be second to none," he says. I admit that I always feel a lot of tenderness when these giants of the past pass on their wisdom to us youngsters. I think that if we studied more history and listened to the wise, many things would be better…
Bruno interrupts us, bringing us back to the present – after all we are in his sanctuary – and produces two documents. Apparently the biggest obsession is his. He has researched and wanted to contact all the owners of the Lambrettas our readers saw in the original picture.
A stubborn Italian – he wants to know at all costs where the scooters in that image ended up. He has found three out of five; the '0004' is cancelled from the Italian vehicle licensing authority's list and is in France, according to the latest information Bruno has. It appears the '0005' is still in order somewhere.
Bruno wants me to make an appeal. He asks to use Scootering readers to try and find out if this machine is over the Channel now. According to him, he feels instinctively that it is. I smile a bit, it's as if we are looking for the Holy Grail. As a matter of fact in the movie The Da Vinci Code professor Robert Langdon ended up in some remote British church and also in France. Perhaps like these machines Bruno is searching for?
At this point Bruno seems to me more like Inspector Maigret than a scooter enthusiast. He went to the address given for number '0005' and there was not even a house – let alone any heirs – only fields. In this case there seemed to be two possibilities; it had ended up in a breaker's yard or ended up abroad.
There is also a further problem that deepens the intrigue – you all know how we Italians love to see mysteries even where none exist – the wording on the identification document is not correct, because in the displacement section a value of 148cc is indicated, while in the line referring to the type of machine is written Lambro 500 L. Who knows what happened? Silence descends as if in a Knights Templar den.
I interrupt our thoughts and ask Isaia to do some pictures in front of his Lambretta, because at present he is the only owner of one of those Lambrettas in the original photography known to be still alive and have it in their possession. Isaia accepts and laughs saying that he now weighs 110kg instead of 80kg when young.
He shows me other photographs and in a group taken in black and white something in particular intrigues me – a shot frozen in time, Isaia clinging to another Lambretta, while an elderly gentleman passes in the background.
"And who was this man? He seems amused to see you on the scooter," I say. "He was my grandfather. He didn't give a damn about scooters, Lambretta, Vespa, or any such thing. He was only interested in sheep, used to spend most of his time on the Piancavallo mountain." I wonder to myself what expression a person in 2050 might have reading about Isaia, Bruno and the 1968 Pordenone plate. Who knows?
As always a picture can create magic. From the past to the present we have jumped more than four generations of scooterists. Long may this magic continue folks.

Enjoy more Scootering reading in the monthly magazine. Click here to subscribe.