Kelso, June 2-5, 2022
A forecast of sunshine and an extra-long bank holiday found scooterists from across the nation heading for Kelso and the Scottish National. Stan was among them, but was it worth the trip?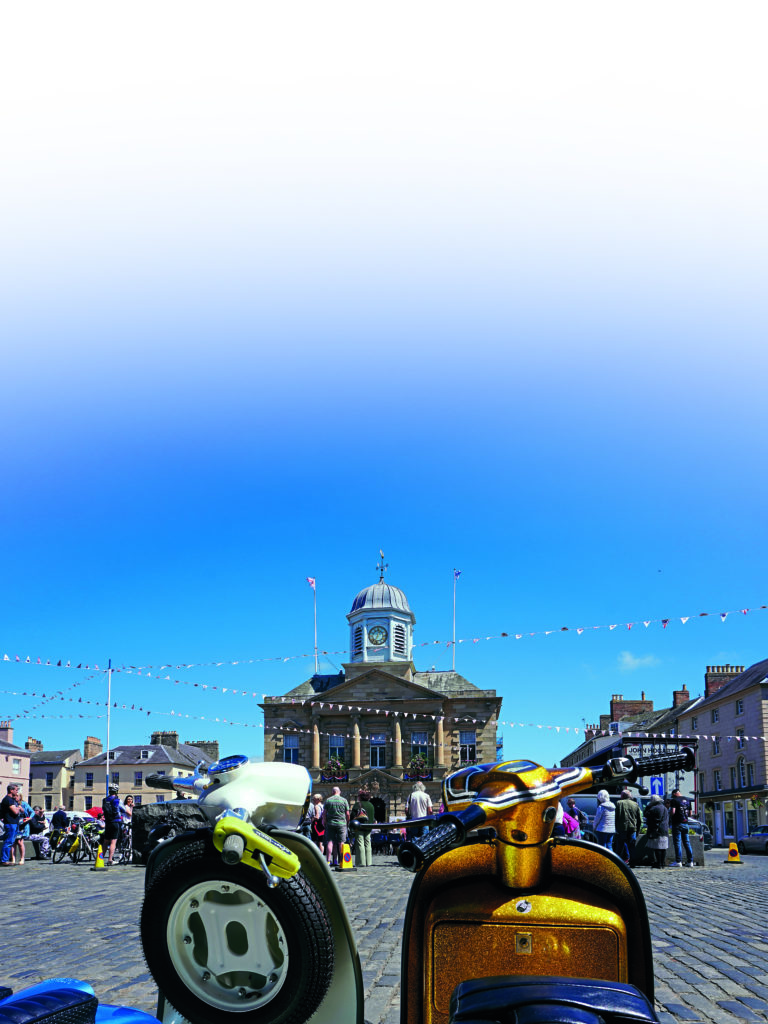 It's been too long since I scooted north of the border, British Vespa Days 2017 to be precise, so I can't even blame Covid. With that in mind I decided to take advantage of the extra day's holiday and make a tour of it. Ask the sat nav how far it is from my house to Kelso and it'll confidently give an answer of 141 miles.
However my route through the Dales then across to the Northumbria coastline and up into the Borders increased that to just shy of 450 miles. During that time I saw very few scooters, I assume many had decided to take the direct route along A roads. If I'd any worries that the turnout might be poor they were dispelled on arrival – the town was buzzing.
Thankfully a call asking where I was disturbed my unplanned evening nap (isn't middle age fun?) and I was soon in town, jostling to get served in packed pubs with everyone else. As always it was a time to say hello to old friends but bumping into Tony, who I'd last seen in Afghanistan, and who now rides with the Edinburgh Blues, was a definite highlight.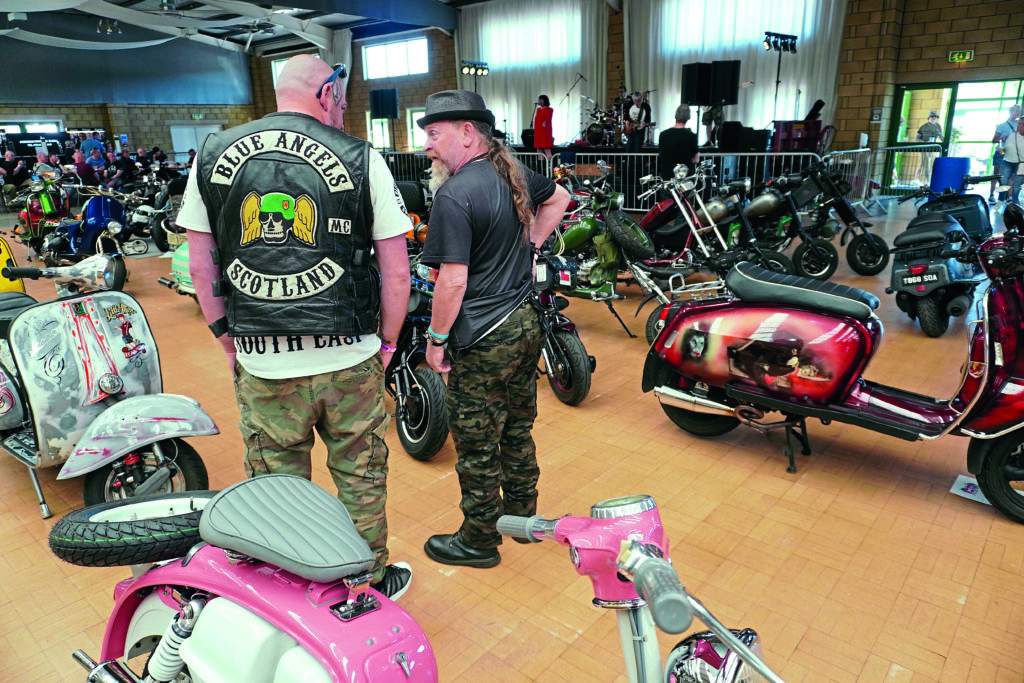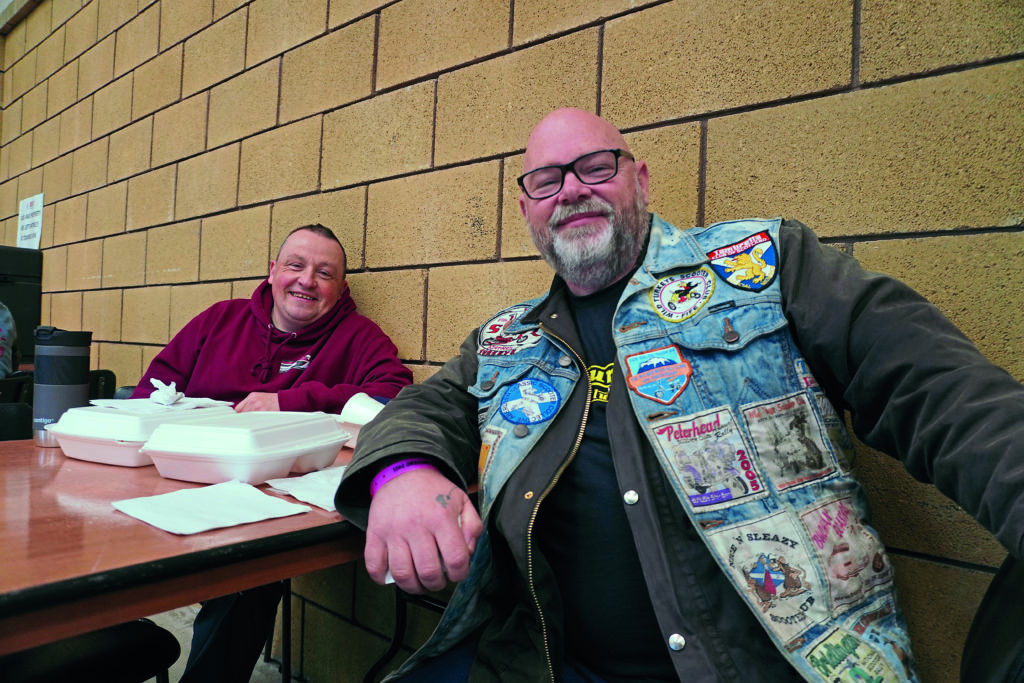 From the moment I opened my curtains on Saturday morning – sorry, camping is a last resort these days – it was obviously going to be a scorcher. The showground is on the outskirts of town, just far enough away so noise doesn't annoy the locals but it's still close enough to walk and is a perfect rally venue. There was plenty of camping with enough room for caravans/motorhomes to have their own section and some large shower blocks. The trade fair was busy, but with plenty of space to let the stalls 'breathe' while the indoor activity took place in the main building which also housed a canteen and huge bar.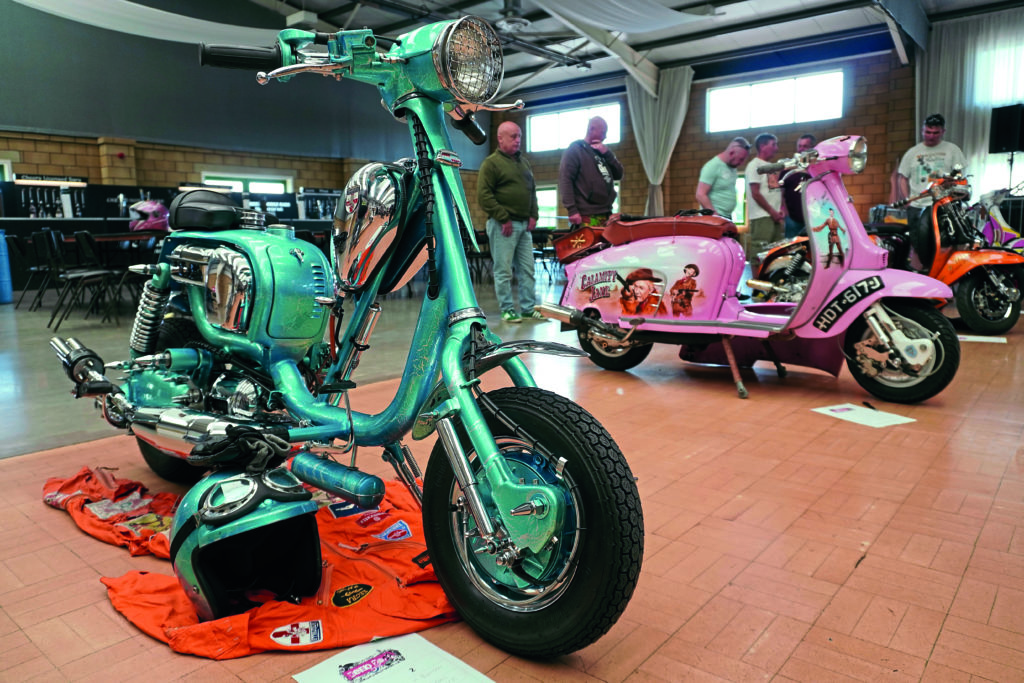 The dancefloor, which had been warmed up on Friday evening by the Substitutes, had been cleared overnight to host the custom show and even for the most avid rallygoer there was plenty to feast upon here. Among the field of around 50 entrants were some old favourities but also plenty of machines that I'd never seen before. While Breaking Rocks deservedly took away another Best in Show trophy, the judges made a good job of spreading the awards. I've helped judge shows before and it's a thankless task, but I think Kelso produced some well-earned trophies. No doubt some fresh eyes were cast on the entrants as a member of the Blue Angels had accepted an invitation to join the judging panel.
With the trophies announced it was over to Frank Fountain who drew the winning ticket in the charity scooter raffle. The new owner is Patrick, but the real winners are the charities which are about to benefit in the sum of around £5k.
With the sun still beating down I decided to fight middle age and take myself on a ride around the local countryside. What started out as an extended fuel trip to Hawick soon extended out to Newcastleton, Carter Bar and back up through Jedburgh. In all I covered around 75 miles, at times ignoring the sat nav and letting my nose follow the beautifully sweeping curves as they cut through the most stunning scenery imaginable. As a Yorkshireman it sticks in my throat to admit this but when the weather's right there really is nothing to beat riding in Scotland. My extended trip found me arriving back in Kelso later than planned with just enough time to throw a takeaway down me (literally as it turned out) before the weekend's highlight of the Neville Staple Band took to the stage.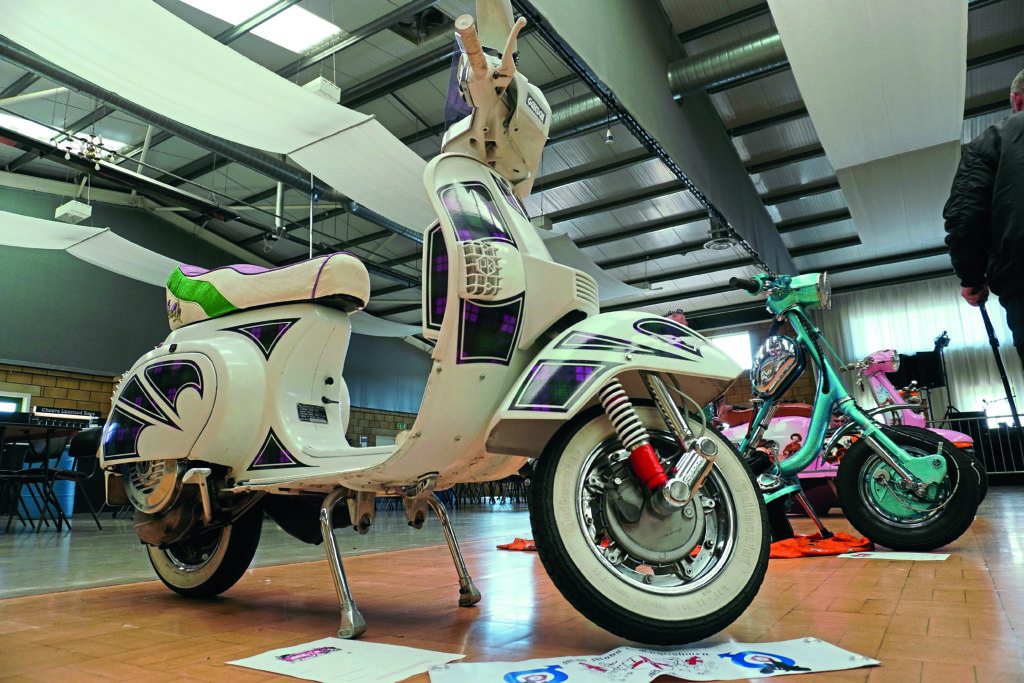 I'm going to make a confession that might shock some readers, but I've never been a big fan of 2-Tone music. Unfortunately, my decision to snap a few photos of The Neville Staple Band and then join some other ska-sceptics for a couple of pints back in Kelso was probably the only bad decision I made all weekend. There's no doubt that Neville is still at the top of his game. It took no more than a few bars of music for the crowd to be eating out of his hand, enthusiasm that he returned with great crowd engagement. It was with reluctance that I tore myself away and headed back to what was by now a very quiet Kelso town centre. The upside being that I finally got to drink beer out of something other than a plastic beaker.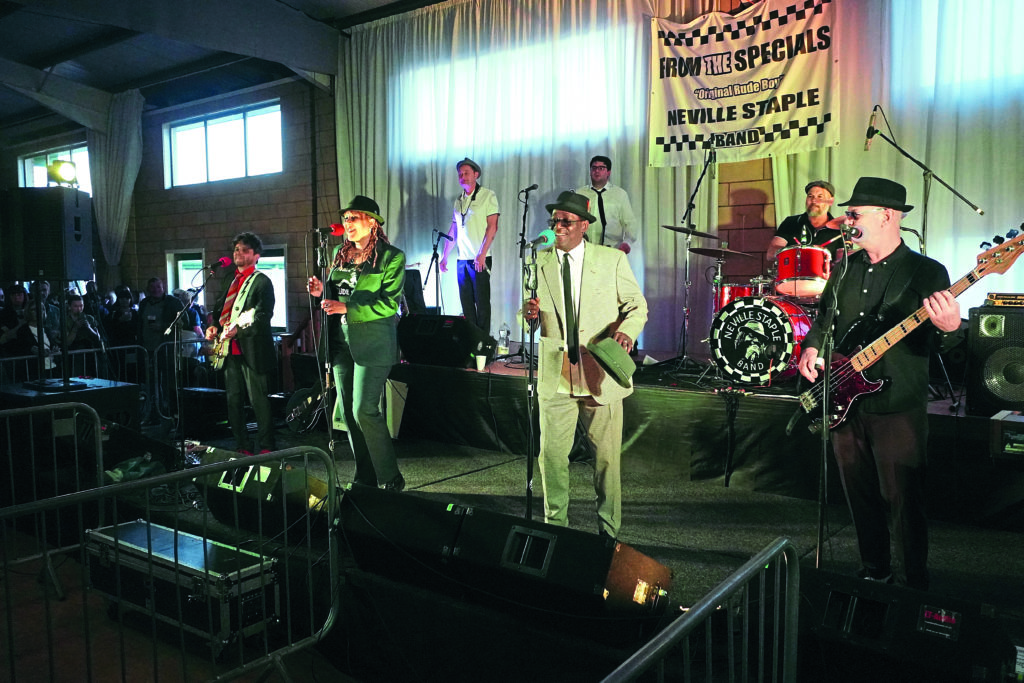 In Kelso 2002 the Scottish Number Ones excelled themselves. While the weather and extra day's holiday helped it was a mixture of great organisation, a perfect venue and well-chosen entertainment that made for a perfect weekend. This was, without doubt, the best rally I've attended in some time. I promise I won't leave it so long before heading to Scotland again.
Custom Show Results
| | |
| --- | --- |
| Best Vintage Vespa: | Little Miss Havoc |
| Best Vintage Lambretta: | 683 XVT |
| Best Lambretta: | War Bird |
| Best Automatic: | Primavera Ltd Edition |
| Best Engineered: | WUF 327 |
| Best Chop/Cutdown: | Crime |
| Best Paintwork: | Calamity Jane |
| Best Murals: | INXS |
| Best Chrome: | Lambretta cutdown OJE 62J |
| Best Engraving: | Breaking Rocks |
| Best Non Vespa/Lambretta: | Heinkel Tourist |
| Best in Show: | Breaking Rocks |
Words and images: Stan

Enjoy more Scootering reading in the monthly magazine. Click here to subscribe.