Words: Stu Smith | Photographs: Gary Chapman | Extra Images: Mark Broadhurst
When Mark Broadhurst's business hit hard times, he was doing his best to keep things going and not lose the lot. But as he told us: "When you're on your knees and needs must, everything has a price"… and that's where this story starts.
In the mid 80s Mark Broadhurst built and tuned a water-cooled reed-valve cast iron SX200 called 'Eddie Cochran' for a customer, which was full of innovative ideas. By the end of the 80s, though, the owner wanted it to be restored back to a Blue and White SX200, but with the same engine all hidden away so it was truly a wolf in sheep's clothing.
However, when it came to paying for the restoration the customer didn't have the funds. Instead he offered Mark two scooters as payment, one of them being a complete GP200 Electronic. Mark accepted the offer and kept the scooter, which was a model he'd always wanted.
Out of the blue
At that time, it hadn't been long since Mark had re-located back to Doncaster from Grimsby. Also at that time, he had just finished a TS1 engine rebuild for a customer, Barry Drew from Chatham in Kent. When the bill came to be paid, Barry asked Mark for an invoice.
"Why? No one asks for invoices unless its Mail Order!" Mark said. "I'm an accountant, and if I can't do something with that invoice, then I'm no good at my job!" Barry replied.
"An accountant you say? How much would it be for you to do my accounts?" Mark asked. Barry's fee turned out to be a fraction of what Mark had been paying, and thus their friendship was formed.
"Barry's been a best mate, and my accountant for 29 years, which is the same time that I've owned the GP Electronic. A few years ago when I was struggling, I told Barry, 'The Electronic's got to go'. He said, 'No you can't, let's keep it in the family. I'll have it!' And so the deal was done," explained Mark.
Shrine
Before we go into the development of the scooter's current form, let's rewind a little and take a look at the various forms the scooter's appeared as since Mark got it back in the late 80s.
"When I first did the bike, I customised it as a shrine to the GP range and loosely sprayed the scooter in all the colours that the GP range had been painted in, including the Indian variants. It had the years of manufacture 68-71 on the panels and legshields and then the various badges used. 'Innocenti' 'Grand Prix 125, 150, 200', 'i' and 'Electronic'. Engine-wise it was stripped and developed constantly," said Mark.
In spite of all this, over the course of the development of this theme, Mark explained that he kept adding things to the paint and as a result he ended up hating it.
Eventually the scooter was stripped again, and was re-built as a one-off Carbon/Kevlar bike, which was as light as a cut-down. Mark didn't stop there. The scooter had one of the first outboard hydraulic disc brakes fitted, and the engine had the first MB Alpha cranks. In the end and after several changes, Mark built a new engine using a 64mm crank; and with a TS1 cylinder it was now a true 250cc, and showing 30bhp with 25lb torque.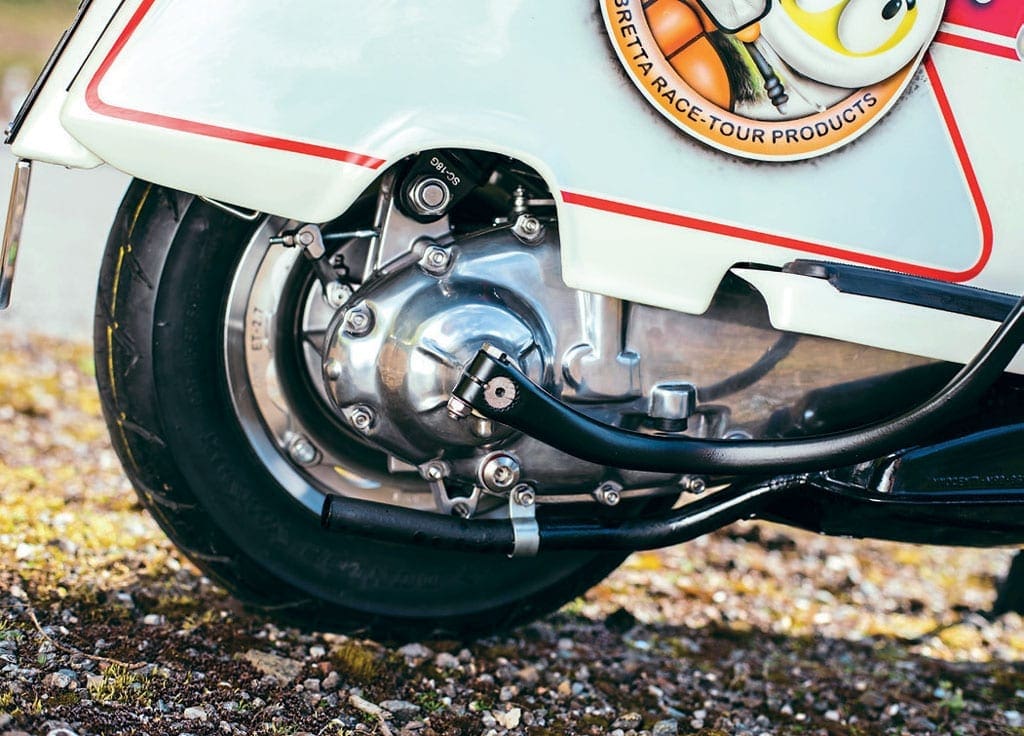 New form
When Barry agreed to buy the Electronic, he discussed the project in detail with Mark and decided that it would be made as an MB custom dealer special.
To set this off, the scooter would have the original white GP Electronic base coat and the block-work would be based around Mark's own dealer specials from the 1980/90s. Mark then picked the logos and graphics, which have been developed over the last few years from MB Developments to MB Scooters.
"The scooter has been built with as many original parts as possible. But over time, some parts have been lost or weren't up to the job and had to be replaced," said Mark.
Along with the original-style paintwork, block and pin-stripe influences, Mark has also brought the scooter into the modern world. There's Mark's 'Mr Bee' logo on the headset, toolbox lid and side panels, and on the mudguard there's his simple MB Scooters logo.
Mark's Marmite-themed logo, 'Markmite – love him or hate him – pure quality', which is a response to various negative comments online, appears on the offside of the leg shields. Then, cutting across the nearside section of the leg shields on to the horncasting, there's 'Designed to be ridden hard!'
"Originally the exclamation mark was a penis hard on! But because we now live in a politically correct world I was out-voted to do it that way. I would have left it, because a straight-talking Yorkshireman says it how it is; which constantly makes Barry laugh when he phones me," smiled Mark. "If Barry's in the car with the kids it's always,'Marrrkk, before you say anything I've got the kids in the car'.
Sometimes the kids have shouted, 'Mark teaches us some Yorkshire swear words' to noooo from Barry and Joe!"
Engineering, set up and spark
Engine-wise, the scooter is based on one of his tried-and-tested set ups. The engine sports a 71mm piston to go with the 60mm crank, which increases the cc and gives a good power spread with a decent fuel economy. The scooter is driven through an MB 5-speed box and MB 5-plate clutch with simple 18×47 giving a final gear ratio of 4.7:1.
"In terms of carburation, I've run a 30mm Dellorto; old and simple and they've never changed from the 1980s because they just work well; and an MB 'Tea Strainer' filter keeps the motor from wearing out," said Mark.
"Exhaust-wise, the MBgm Clubman is in keeping with the looks of the bike: simple, nice and neat and tidy, just as I like my machines to look, and the overall result delivers a nice rideable and driveable 22bhp motor."
Attention to detail
Mark's kept the original MB outboard disc brake and the original MB twin-tank, which again is something that has been passed on through all three versions of the scooter.
Due to the petrol tank configuration, the scooter doesn't have a toolbox, and Barry was adamant that he didn't want to have a leg shield toolbox. To overcome this, Mark made an internal leg shield rack, which also houses the two-stroke oil bottles. Also, to prevent the head cowling from cracking, Mark modified and cut the item for the reed manifold, which stiffens it up.
The slope-back seat adds to the look and is just what Mark had on his very first Lambretta. The cables are upgraded stainless steel braided versions and the loom is MB.
Having interviewed Mark and Barry about this project, it re-affirms my belief in those age-old values that when something's been built and developed through years of knowledge and experience, and then add in the fact that the project has been driven by a true and real friendship, then the only outcome that there could ever have been was that this scooter was always going to be an absolute masterpiece. One thing is for sure; you've got to hand it to Mark, when he builds a bike, he does it right!

Enjoy more Scootering reading in the monthly magazine. Click here to subscribe.