He's inspired many a race replica but somehow we think Guy Martin would particularly appreciate Brian Winters' mechanical mashup…
Whether it's supersizing a Land Rover Defender into a 100mph off-roader, or joining the ranks of insanely fast Piaggio Ape racers, Guy Martin loves a hybrid. However, unlike Brian Winters, he's never considered shoehorning a tuned Gilera Runner engine into a Lambretta frame.
The genesis of this build was a couple of years ago when Brian was building a cut-down Lambretta. With the project only half complete he encountered a few problems with the painter and urgently needed someone to complete the work. "It wasn't easy," said Brian, "but I had a chat with my pal Andy at Downtown Scooters and he put me in contact with Gary Cooper of Mdmachine. Gary agreed to take on the work and did a fantastic job. He also painted a themed matching crash helmet for me, which was spot on."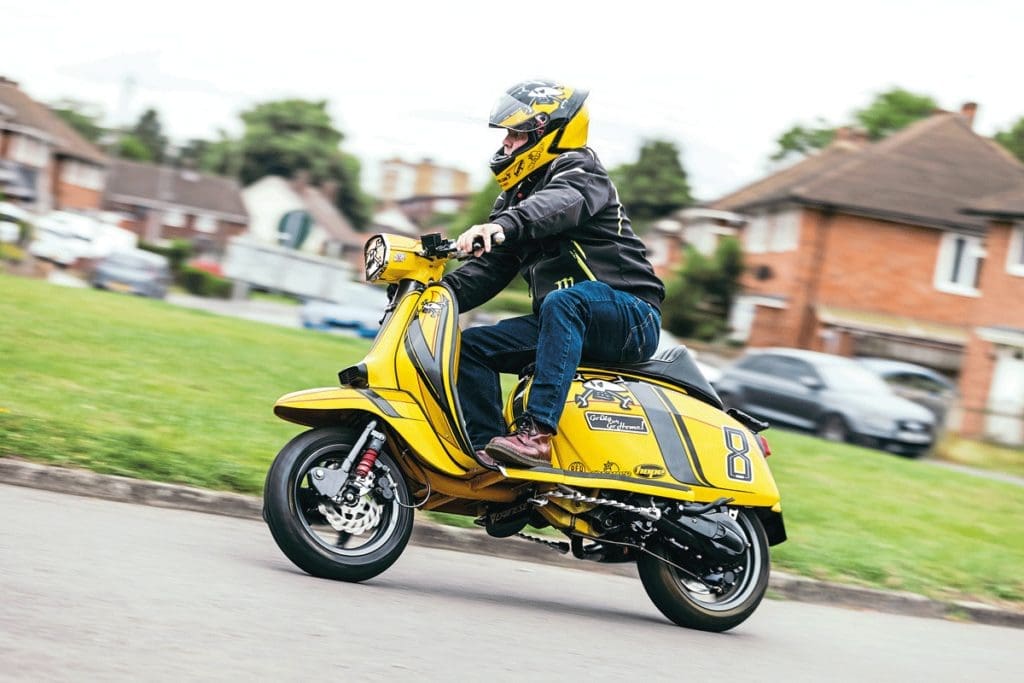 Sometime after that, Brian decided it was time to build a hybrid scooter. "I like race-themed scooters, but there's plenty of them about so I wanted to try and do something a bit different. Covid had also kicked in and although that wasn't a problem for my missus, who was watching every film and series imaginable on Netflix, I needed a project."
Back to Mdmachine
Eventually Brian found a suitable machine and quickly snapped it up. "It was just what I was after, a hybrid scooter based on a Lambretta body and frame. In the advertisement the seller had described the paintwork as 'tatty' and they weren't lying."
As Brian's always liked Guy Martin, the project's theme was easy to plot. "He's down-to-earth and a bit nuts like most scooterists!
"As well as that, I'd already bought myself a yellow Guy Martin race-themed helmet."
With the memory of Gary and Mdmachine pulling him out of a sticky spot still fresh in his mind, Brian got back in touch and asked if Gary'd be able to help again. A plan was hatched to develop a Guy Martin theme around the detail on his crash helmet with Gary adding a few more twists and turns that we'll come to shortly.
Swearing by it
The original idea was to complete a simple black and yellow paint scheme, but while Gary was researching the theme in detail he realised that he could also add elements of grey and red. These wouldn't conflict with Guy Martin's race-styling; it would in fact add to the overall eye-catching nature of the paintwork. Alongside that, he also chose to add metal flake into the paint which introduces a more 'custom' feel to the project.
It took Gary about six weeks to complete the paintwork. "When I visited his shop the panels were spread out everywhere and it was hard to imagine what it was going to look like when it was built." He need not have worried. "I know from my time in scootering that what I'm about to say isn't a regularly used phrase; but the paintwork on every piece of bodywork matched up seamlessly, which is a credit to Gary's skill, ability and professionalism."
Unfortunately, the build wasn't all plain sailing. "The most troublesome part was putting back together the cables, rubbers and wiring. It was an absolute nightmare. Let's just say, if it had been part of a TV series it would have to be shown after 9pm and with an over-18 rating!"
Taking the racing line
Looking round the scooter, the paintwork on the legshields heralds the street-racer feel while the sight of Guy Martin's logo on each side of the legshields introduces the theme. Some of Keith Newman's work also features on the front end of the scooter, the matt black headlight grille gives off a stealthy look and the Guy Martin logo horncast badge introduces a cheeky element.
When you're taking in the detail of the paintwork, you'd be forgiven for thinking that the lines running along the top of each side of the front mudguard are simply part of the street-racer paintwork. However, there's more to it than that. Look closely at the scooter from the side and you'll see that there are similar lines running along the top of each of the side panels. Then, when you link each of those horizontal lines with the vertical lines below them you realise that they subtly deliver Guy Martin's TT logo. Clever stuff.
The portrait of Guy Martin on the toolbox lid shows him at his cheekiest, indicating that something crazy's about to happen. His expression lightens up the raw feel of the scooter, reminds everyone of Guy Martin's character and brings us back to the point which fundamentally inspired Brian to choose the theme in the first place.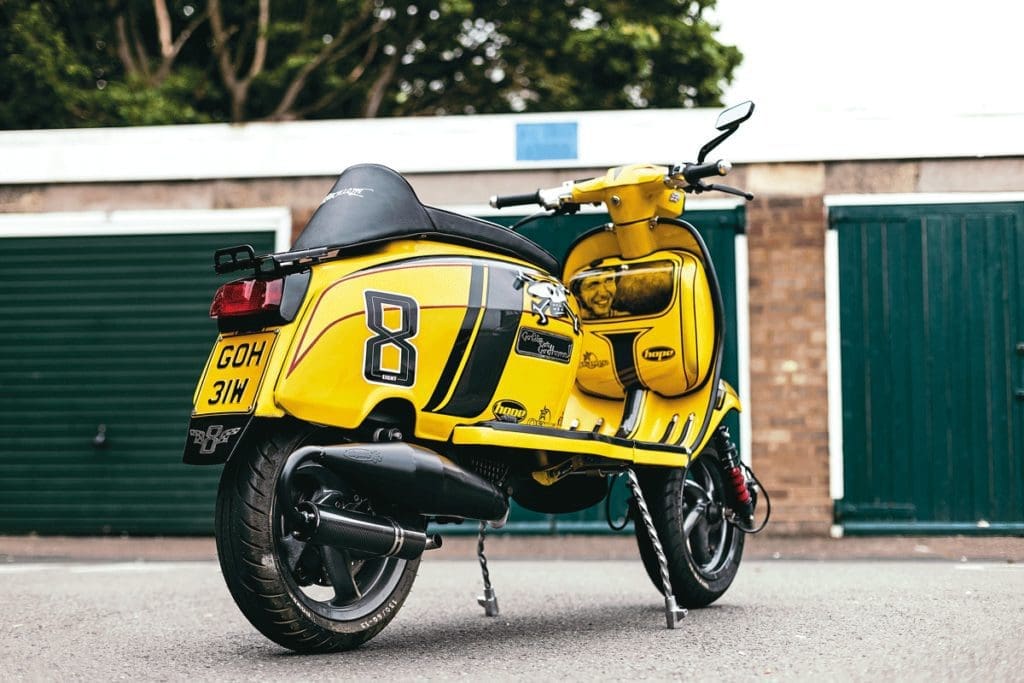 The chrome twisted centre stand supports the custom feel and the Ancillotti slope-back race seat fits perfectly into the street-racer styling. The K2 themed sprint rack looks fantastic and there's more of Keith's work on the side panel badges, which articulate Guy Martin's motto: "Go big or go home!"
Brian chose to keep the engine set-up the scooter came with. "It's got a Gilera Runner engine with a Malossi 180 kit which didn't need any changes because it'd already had a complete refurb before I bought it," he explained. On the road, the scooter proves its street-racer credentials. The Jollymoto exhaust with its carbon fibre end-can is neat and as well as increasing the performance it also increases the race looks. When first fired up it sounds crisp and sharp; but when the throttle's opened up it's loud, screaming to be ridden hard. It's got a top speed of around 70mph and it'll cruise at 60mph, but cruising's not what this scooter's about.
Owner Details
Name: Brian Winters.
Job: Maintenance team leader.
Scooter club & town: Jolly Boys and Blue and Gold SC.
First interest in scooters: My mates, Laurence and Kevin who had Vespas. I also like the music and of course Quadrophenia.
First scooter: Vespa PX bought for me by my missus, Miranda; she'll do anything to get rid of me!
Favourite scooter model: SX200 and GP Auto Series 5 now I'm older.
Favourite style of custom scooter: Street racer.
First ever rally: Isle of Wight.
How did you get there: On my Vespa PX125.
Any funny stories: Loads; my mate Darcy is usually involved in all of them. Once he decided to climb on to a bar and do a back-flip landing on his head. Another was when we went to Mersea Island, a couple got married there and we were in most of their pictures arm in arm with beer boxes on our heads. If  anyone gets to meet Darcy ask him about the speedboat story. Great tale.
Furthest you've ever ridden on a scooter: Kelso. I also need to go over the water sometime, which is on my bucket list (does Mersea Island count?)
What do you like about rallies: Getting there's a bonus; I love the people, the laughs and of course the beer.
Your most recommended scooter security item: My dog Levi, who's a Staffy with good hearing!
What would make the scene better: Better toilets and showers on some of the camp sites. We also need more young people going on rallies otherwise the scene will become extinct.

Perfect tribute
This scooter definitely delivers the unique feel that Brian was looking for and with its hybrid nature acts as a tribute to both Guy's racing and spannering talents. It was also one of the final pieces of work that Gary Cooper completed before his death in early September 2022 and as such forms part of his legacy.
As Guy Martin once said: "We're not here for a long time, we're here for a good time." Right now, Brian's intention is to make sure that his scooter is ridden, not hidden and that it'll be ridden hard. We're certain Guy would approve.
Scooter details
Name of scooter and reason: Guy Martin.
Scooter model: GP Series 5 Auto.
Date purchased & cost: 2020 during lockdown.
Time to build and by whom: Took about a month but there was a lot of wasted time with new parts that didn't fit!
Any specialised parts or mods: (What and by whom) Twisted chrome centre stand, back rack, front headlight grille, horncast badge, side panel badges, rear sprint rack and rear mud flap by K2 Customs.
Engine spec
Kit: Malossi 180 (Gilera Runner).
Crank: Wilkinson Racing.
Carb: Dell'Orto.
Exhaust: Jollymoto.
Describe engine performance and scooter handling: Fast, handles well and with the front and rear disc brakes there's plenty of stopping power.
Top speed and cruising speed: About 70mph top speed; cruising's about 60, which never happens!
Is the scooter reliable: Yes, so far.
Paintwork by: Gary Cooper, Mdmachine.
Hardest part of the project: The cables, rubbers and wiring were an absolute nightmare.
Thanks to: (Dealers, services, friends, etc) My mate Darcy who helps me when I need it and makes me laugh. The Jolly Boys and Blue and Gold SC. A late dear friend from Blue and Gold, Mel, who was a great lady and will be missed by all of us. My missus, Miranda, for leaving me alone while I built this in the garage; although I never got a cup of tea out of her. How rude! Teresa, Paul (Chicken Lips) Traci, PJ (Monkey Man) and poor Jenny for the quiet ones (never quiet) who're all great friends with lots of laughs. The now late Gary Cooper, Mdmachine for his paint and artwork and his imagination in helping with the design of this scooter, and finally Keith Newman, K2 Customs for his great ideas.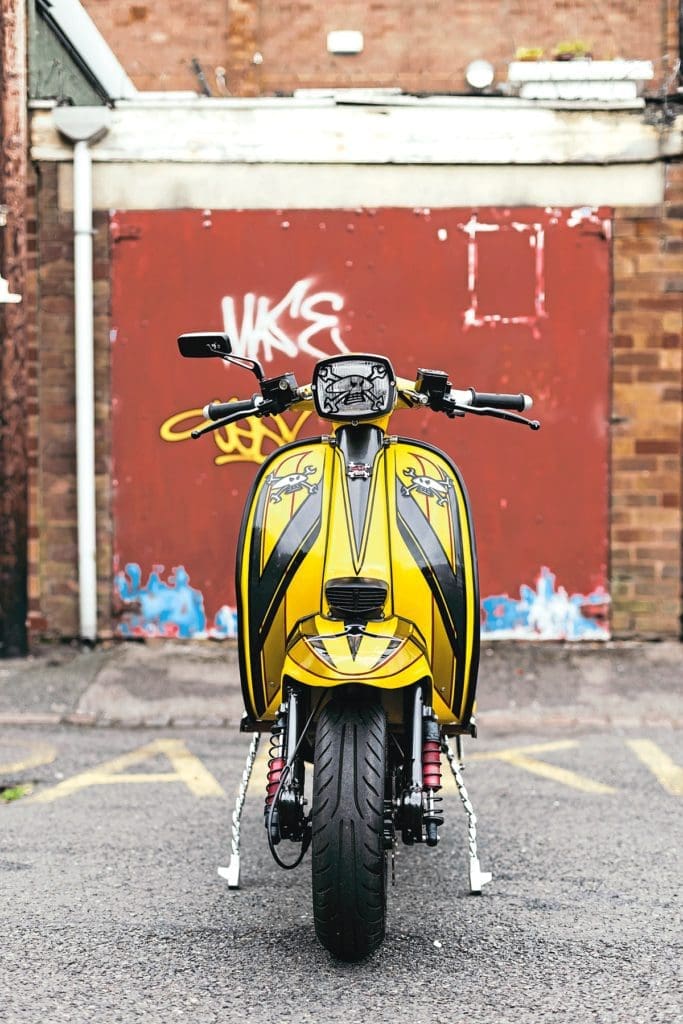 Words: Stu Smith
Photos: Gary Chapman/Stu Smith

Enjoy more Scootering reading in the monthly magazine. Click here to subscribe.