Step into the Scootering time machine, back to July 2007, and cast your eye over this lovely Vespa we featured…
I like subtle, and I like subtle touches. Granted that's maybe not the best way to describe myself I (or some of my scoots), but it's not me or mine under the spotlight here, it's Geert and his classic Vespa.
Granted, a beautiful golden paintjob, complete with flames, is not exactly subtle, especially when compared to the rather dull standard colours this Vespa 125 was offered in during the early 60s, albeit the curves of this classic piece of Italian engineering are well suited to the finish. No, it's the rest of the ingredients that are included in this scooter that I think qualify as being rather clever.
Actually, with hindsight there's nothing subtle about the Worb 5 engine that powers this scooter along! Created in Germany by the infamous Andy Worbel the spec includes a modified Malossi 210 top end, a 30mm Mikuni carb working with both a fuel pump and reed valve and a stronger Cosa clutch, all equating to a dyno reading of 142kph and maximum power of 24ps (about 88.75mph and 23.67bhp in English). What this is like on the road can only be described as 'rapid' as the speedo boasts no numbers (although after a recent run-in with the police, that is likely to change), just a low-fuel warning light, courtesy of a fuel tank and sender from a Vespa PX.
Like all good projects, Geert told me that he dry built his Hotrod Vespa first, just to make sure everything fitted, but simply couldn't resist trying out that Worb 5 engine for the first time. The only problem here was that he hadn't connected his brakes yet and as a 'quick spin' turned into 'just a couple of km' he soon found himself 'just around at a friend's house'! On the way back a kid on a modern auto pulled up next to him and gave him 'one of those looks', leaving Geert no choice but to open up the throttle on the Vespa and show him what it could do. Let's just say that acceleration and top speed was far more impressive than the stopping at the time!
But what was Geert dry building to check out? Well, a lot of subtle modifications have been made to the bodywork. For example the panels (and therefore their catches) have been moved a little to allow more space for the carburettor. This involved adding a little metal to them so that they fit flush against the frame again to retain Piaggio's original smooth finish, causing some to suggest that Geert has used Vespa GS panels, which he has not.
Underneath, the air intake hole has been smoothed and the choke lever, located near to the original position, is from a Mikuni carb and a very nice touch.
The frame has also been tweaked at the rear to accommodate the back light, while at the front the leg shields have been trimmed slightly so that when he's in fourth gear, Geert's hands and the drop bars don't foul on them. To complete the look (and the list!) the front mudguard has also been worked so as to fit around the superior forks from a Vespa PK now installed, which allow the use of a disc brake.
Overall, Geert has spent a couple of years on this project, with help from Belgium's Scootermarket (who handled the paint), as well as searching non-scooter sources too. It was at a custom car shop that he found the Ford rear light in fact, as well as the legshield 'Hotrod' badge, which to me looks almost natural there, and a fitting final touch on a very neat scooter.
OWNER DETAILS
Name: Geeri Eyckmans Age: 30
Scooter club: Speedboys SC (Belgium), Vespa Club Antwerpen
Job: Civil construction supervisor
First interest in scooters: Age 15, a friend's older brother had a Vespa PK50, I wanted something like that too when I was old enough
First scooter: Vespa PK50s
Favourite model: Anything sporty, G5. SS, etc.
First rally: Blankenberge '94, I got there by bicycle since I didn't have a scooter yet! Favourite rally: Mormoiron (south of France)
How could the scooter scene improve: Make it easier for 'young blood' to fit in. Not being narrow minded about clothing, music, etc
Funniest scootering experience: When going to EuroVespa in France we didn't find a place to sleep on the way so we rolled out our sleeping bags on the steps of the church in a small village. The next morning we had coffee with the local vicar!
The farthest you've ever ridden on a scooter: From a rally in Marl, Germany to another one in Mormoiron South of France, about 1800km
What features do you like in Scootering magazine: Articles about long journeys on a scooter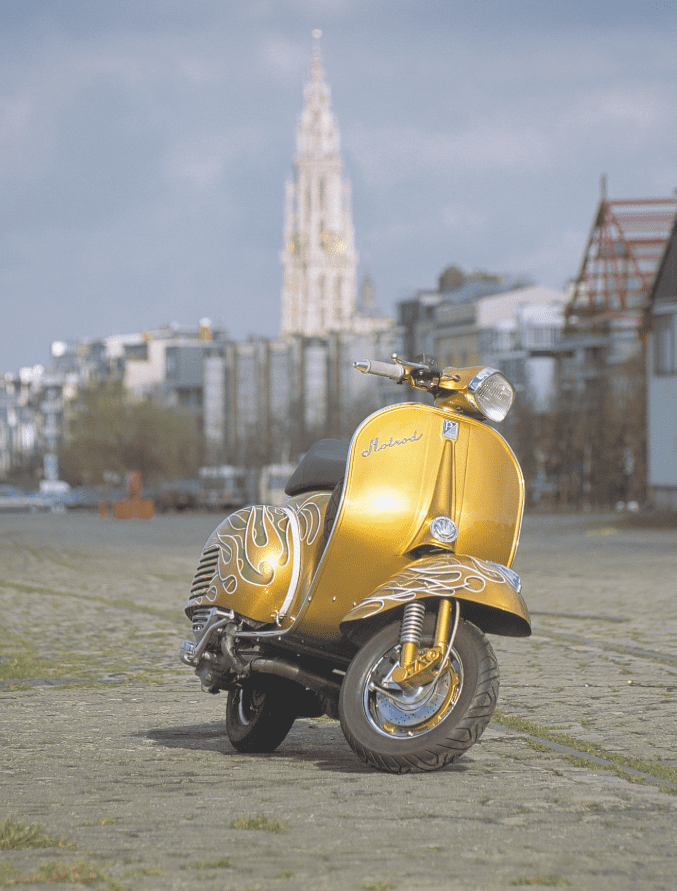 SCOOTER DETAILS
Name of scooter: Hotrod
Model: Vespa Vnb
Time to build: About two years, rebuild by owner, engine built by Worb 5 .
Frame modifications: Side panels rotated (for carb clearance) and modified to completely fit, legshield trimmed slightly, back modified to fit the rear light (Ford 38), PK forks, disc brake, dropped Sprint handlebar with hydraulic, reservoir (by Denis Pourrat, 5C du Sud Est France), choke and ignition key positions moved, P2 fuel tank and gauge. Modifications done by owner and Scootermarket
Engine: By Worb 5, Malossi 210 modified, modified head, 30mm Mikuni carb, MMW reed block, V-force reeds, reinforced Cosa clutch, 60mm crank, Mikuni fuel pump, SIP performance exhaust
Performance: 142kph, 24ps according the dyno
Is the scooter reliable: More or less yes
Paintwork: Scootermarket
Overall cost: Around 5000 euros
Hardest part of the project: Making it all fit
Advice for anyone starting a project: Do a dry build to the last bolt to see if it all fits before you even think about the paintjob. After building it, ride it, don't hide it
Anything you would like to be different: Some flames stitched on the seat
Favourite dealer: Scootermarket —top painter; Worb 5— a pro engineer; Scooter Center and SIP—both fast service
Thanks: Danny at Scootermarket; Denis for the handlebars; Jan and Joost for their support; Flying Fox Tuning Center and Kristel for letting me spend too much money and time on it!

Enjoy more Scootering reading in the monthly magazine. Click here to subscribe.