Words & Photographs: Stan
When Paulo Guarasci decided to restore the family Vespa, he was told it wasn't worth the expense, but some scooters have a value that can't be measured in money alone.
In 1963, Alfredo Guarasci left his home in Calabria to find a better life. He took with him two things: a strong work ethic and the conviction that a Vespa was the finest form of transport in the world.
After making his way to the UK, Alfredo settled in the Midlands and unsurprisingly purchased a Vespa, namely a used GS 160.
"My dad used that scooter for everything," explained Paulo. "Loaded with tools, it took him to work and at weekends he used it to visit friends, sometimes travelling as far as Glasgow."
The GS soldiered on until 1976, by which time it was effectively worn out. Today the GS would be a desirable classic, but back then it was just another old scooter.
"Dad didn't need another scooter," said Paulo. "We owned a little family car, but dad came from the generation of Italians who saw Vespa ownership as essential, and he'd no more be without one than a fridge."
Super story
After scrapping his GS, Alfredo purchased a new 150 Super from Arnold's Motorcycles in Loughborough. However, as Paulo explained, it had a much easier life than the GS.
"I remember dad occasionally loading it with tools and I learned to ride on it, but it was never used regularly." In 1992, with less than 4,000 miles on the clock, the Super was laid up, being slowly submerged by piles of junk in Alfredo's garage.
Fast forward a couple of decades and Paulo was helping to clear the garage. "We uncovered the Super and both started to smile. Dad started talking about his youth and I remembered the trials and tribulations of passing my motorcycle test. I realised that this was more than an old scooter, it was part of our family history."
Unfortunately, decades of storage had not been kind to the Vespa. "The frame was rotten," said Paulo. "It was completely unrideable, but I'd fallen love with it."
The Super immediately found a new home in the foyer of Paulo's office where it attracted plenty of attention.
"I realised that it wasn't just my family with a Vespa in their past. I've lost count of the stories people have told me about 'their' Vespas. It became clear that I needed to care for the little machine and if I was going to do that, it needed professionally restoring."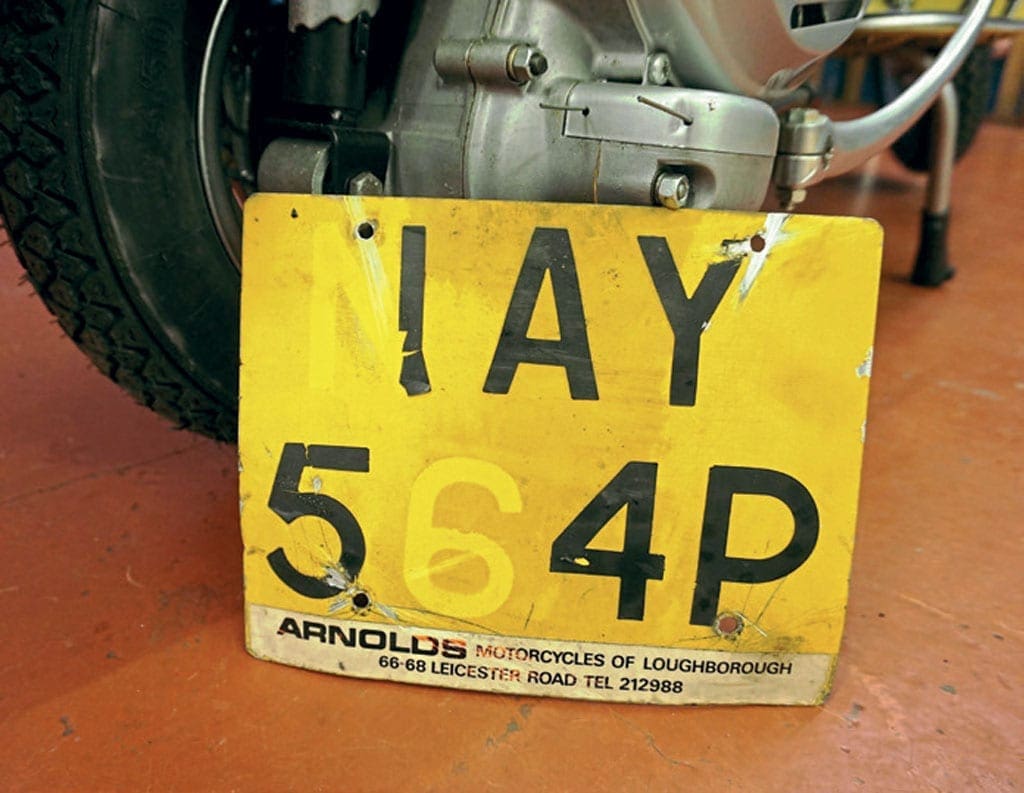 Armando's touch
Having taken advice as to who could be trusted with the job of resurrecting the Super, one name kept cropping up, Armando's in Sheffield. "I said it would be no problem," laughed Giulio. "When it arrived I thought it would snap in half before we got it out of the van! I told Paulo that it was fit for scrap."
As Giulio took stock of the work required, Paulo explained his father's story and how much Vespa ownership had meant to him. "At this point I realised that this restoration wasn't just about a scooter, it was about a family's heritage," said Giulio.
The most challenging part of the rebuild was the frame. Not only was most of the floor missing, but rot had also extended into the spine and rear frame section. Although Armando's hold a selection of floor pans in stock, the Super required extensive fabrication, all of which was handled in-house.
Despite Paulo's insistence on restoring the scooter to standard specification, Giulio persuaded him that upgrades were needed to the engine. "The 150 Super isn't really suitable for modern roads," Giulio said.
"First I persuaded Paulo that there was no reason to retain points ignition and having nudged him away from standard specification, turned my attention to performance. Fortunately, the 150 Super's casings are identical to those of the Sprint Veloce, so upgrading the Super's two port barrel is relatively straightforward.
"We've retained its 8-inch wheels and standard gearbox, but fitted a PX 150 barrel and carb. It won't break any speed records, but it's a far more enjoyable machine to ride."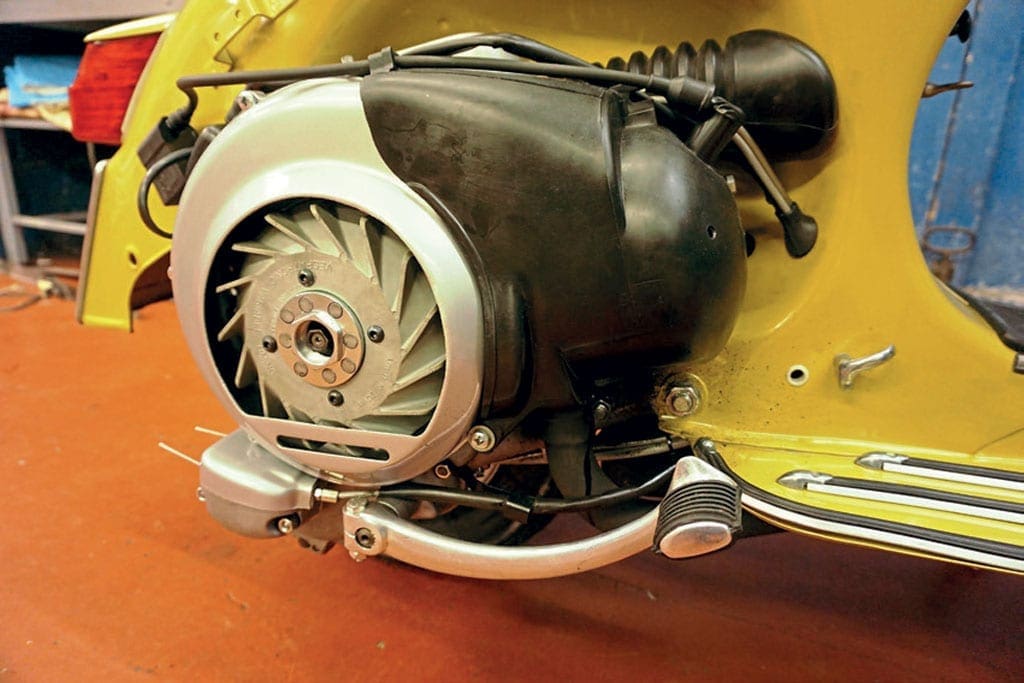 Coffee club
When asked what he thought of the completed scooter, Alfredo couldn't believe it was the same machine, and for Paulo the outcome's intensely personal.
"There are only two names on the V5, mine and dad's. That's really important to me." Both men are looking forward to summer when Paulo plans a ride out with his dad to an Italian coffee bar. "I might even invest in a sharp suit for the occasion," he laughed.
Both Paulo and Giulio are evasive when asked about the cost of restoring the Super, but one thing's certain, to Paulo and Alberto the result is priceless.

Enjoy more Scootering reading in the monthly magazine. Click here to subscribe.