Words: Garage Crew and Rik
The guys at the garage create all sorts of intriguing and inspiring scoots. Their custom approach is most definitely on the 'chrome won't get you home' side of the fence. Luckily for us, they've agreed to keep us in the loop of the projects that they have are up to.
The scooter we have here was a neglected 150 Super… and then Mitya, Misha and Mario got their paws on it. I'll let them explain in their own words about their background, and the superb scooter they built…
This is one of the three Vespa 150 Supers that we bought in Vietnam. These three Vespas started the history of Butcher Garage. From that moment we discovered the 'creativity of the Vietnamese engineering masters'… I'm sure you understand.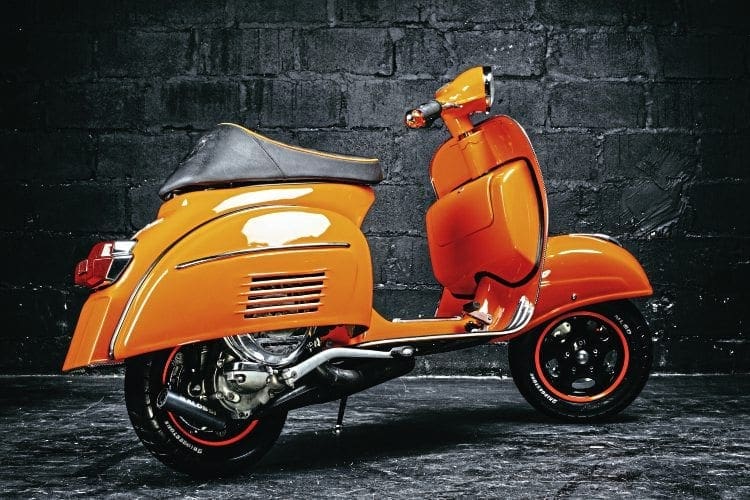 Our first experience was a Vespa ACMA from which (later) we built the 'invader' project. After that experience we decided not to buy any 'refurbished' in Vietnam, but to buy the base scooter and do it ourselves — basically like a Meccano kit, but with official paperwork stating it was a scooter.
We bought three 'scooters' from Vietnam and for a few months we were in communication with garages in Saigon, we sent them a list of parts in picture format to send with the frames, we did this in the small hope that they would understand what we wanted.
We didn't want to buy anything based on pure speculation, just exactly those items that we thought we needed. At about the same time we also started to buy parts and components from SIP.
The result was, we got three boxes of frames and assorted other parts, but unfortunately none of them actually matched. Basically it was a pile of Vietnamese junk, minus the parts we'd asked for. That was only the less-than-promising beginning of our journey…
Beyond the barricades
The next hurdle was our dear old Russian customs officials, who refused to give us the 'technical passports' for the scooters. They insisted that the stuff from Vietnam was so bad, that the items did not qualify as scooters at all, but 'parts' at best. So customs asked us to prove they were indeed 'unassembled' scooters. They gave us one day to build the three scooters from all the bits, all within the confines of the customs shed. No tools, no tech, no clue, no help,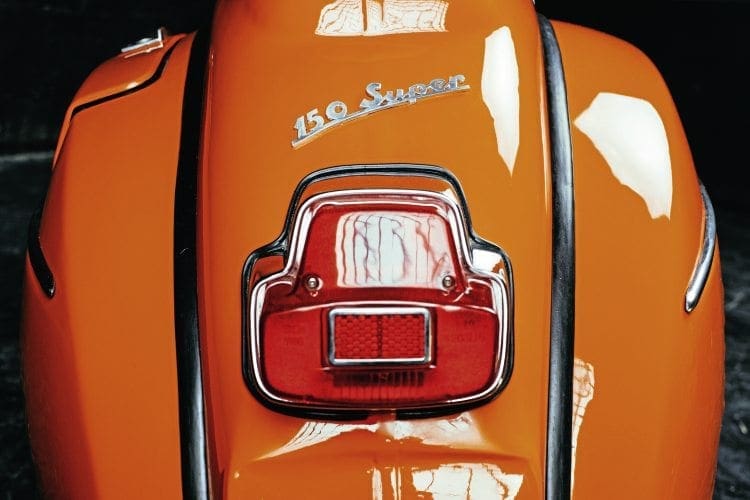 Amazingly we got a pass for two people with toolboxes to enter the enclosure (you won't believe how strict Russian customs offices are). So there we were, the whole crew determined to make it happen, because if we didn't, the whole lot would be confiscated and our dreams, and our money down the drain with it.
Another problem became apparent when we opened the parcels of bits. The Vietnamese had kindly 'forgotten' to put in any fixings, screws, bolts and the like. So it kind of looked like we were the only ones that were going to get screwed.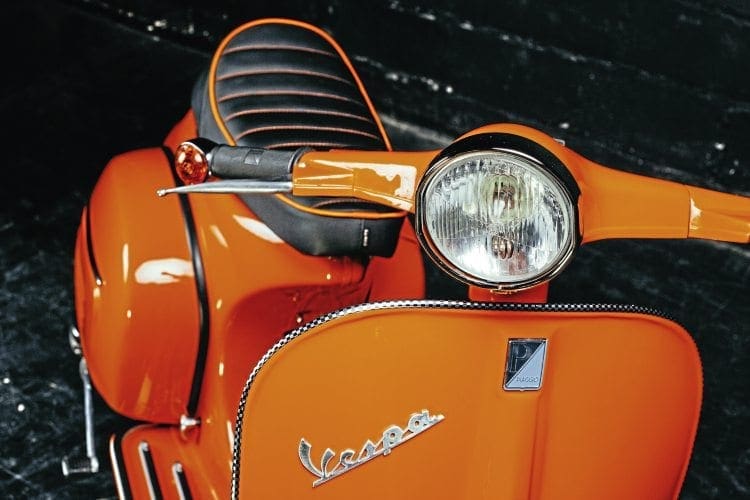 With great guile and subterfuge, we had to secretly smuggle into the customs shed a couple of kilos of assorted nuts, bolts and what have you. This had to be done to give us a fighting chance of building something that even vaguely looked like a scooter. To the surprise of the custom officers (and ourselves) by the end of play we had three 150 Supers standing there, however, none of them had any tyres.
This was all achieved in the 'Customs Clearance' zone… so when we say it's a Russian custom creation, we mean it in every of the word 'custom'! Our next blunder was painting them without any preliminary testing. Building the engine wasn't a problem, because prior to doing old Vespas we had some experience in tuning other marques of Piaggio scooters.
But when we had a test drive, it showed itself to be a crab-like Vespa — it always wanted to go sideways.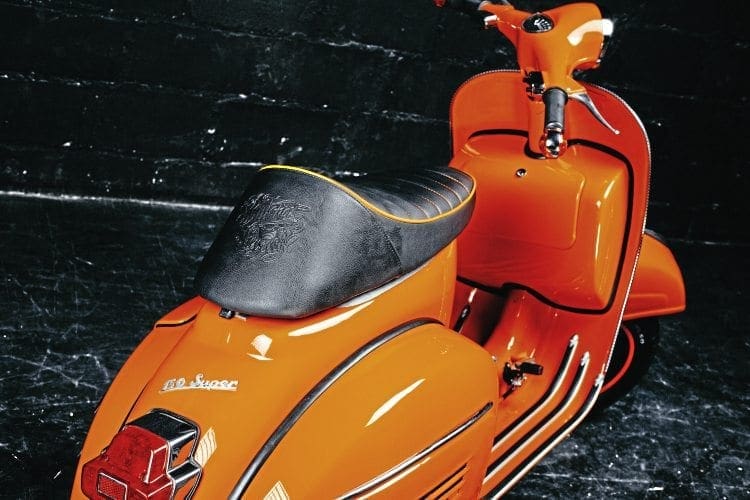 It turns out it was a dodgy headstock fitting. Once we sussed that we rebuilt the whole thing… again, and repainted it… again. It got the name Gallardo because of the chosen Lamborghini colour. At the same time we put a series 'S' fork in and had to amend the legshields to accommodate it.
The wheel is from an ET3, because it fit the design we had in mind a lot better. We had few other problems, the petrol tank being one. We made a custom tank from stainless steel, manufactured for us by a friend in Team Metal DIY.
Once fitted, we couldn't get the petrol to feed if the tank was less than a third full, so a pump was fitted. Later we changed the shape of the seat, so that you can carry a pillion easier. We also added a Malossi exhaust. We enlarged the back panels to make it easier to fit wider tyres and that was it.
Job done, This scooter has now been 'adopted' by a very close friend and since it's been made roadworthy, he's been off on it clocking up endless kilometres. Success at last.
Scooter Details
Engine case: PX 150.
Cylinder: DR 177.
Crankshaft: Mazzucchelli.
Gearbox: PX 150 with Malossi primary gear.
Clutch basket: PX 150 with DR friction plates & springs.
Intake manifold: Polini.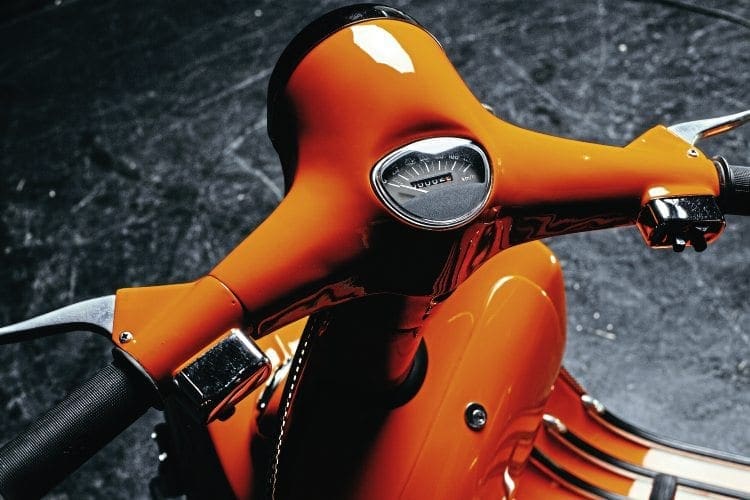 Carburettor: BGM 28mm.
Exhaust: Malossi right hand.
Fuel pump: Mikuni.
Steering column: Vespa 50.
Shock absorbers: BGM.
Tyres: Bridgestone ML 50.

Enjoy more Scootering reading in the monthly magazine. Click here to subscribe.