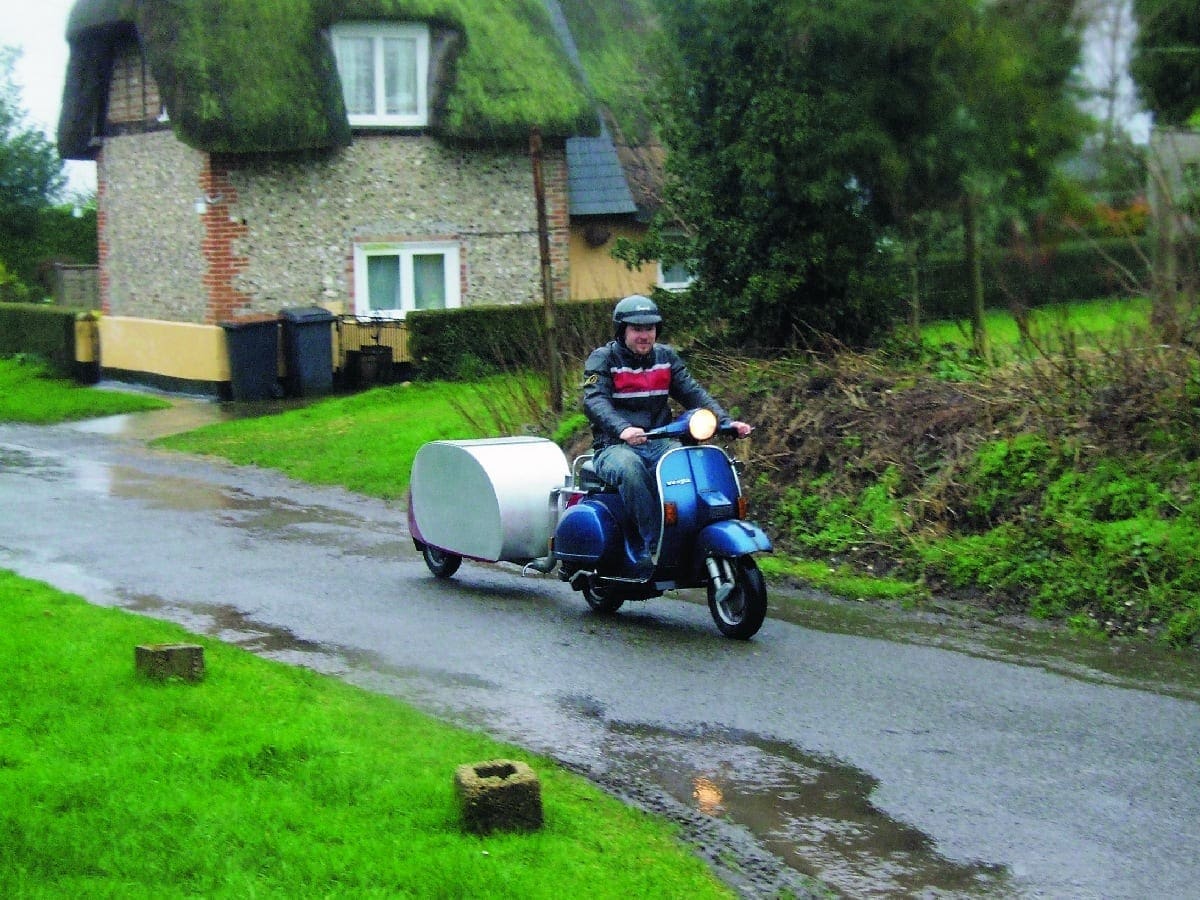 So here we have it kids, the latest chapter in our never-ending series of 'what happens when your imagination runs away and you start sketching ideas on a scrap of paper'!
Ant is no stranger to either the pages of Scootering or a bit of engineering, his other appearance being back in May 2001 when we featured his Runner-powered Lambretta, one of the first ever featured in Scootering (and yes he's still got it). Emigrating from Leeds to California in 2003, it was while sunning it up that Ant thought about building a trailer for his scooter. He didn't need one, but it seemed like a good idea at the time!
It could have all remained nothing more than a hastily scribbled design on a comp slip but he learned that a friend, Eric Peterson had an old IWL Berlin scooter and Campi trailer that he was restoring, giving Ant something to aim for. In fact he was determined that his would have a single wheel like a PAV trailer rather than the twin wheel set-up found on modern Squire trailers for example and was halfway through his own project before he saw Eric's Campi, although he had seen the frame earlier. The single wheel offered far more confidence to Ant with regards to riding the outfit, it just made far more sense.
Ant had no qualms about following the project through either, being more than happy to get his hands dirty as his aforementioned Lambretta conversion showed. Besides he's a furniture designer and maker by trade (which he is currently plying in Hampshire, returning to the UK in 2006) so he's certainly got the skill, and of course such a profession does lend itself to making more than just tables and chairs from wood…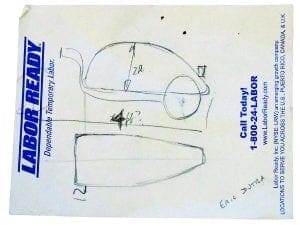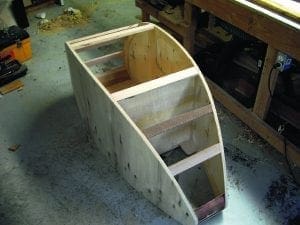 Two Become One
What you see here is actually one trailer with two bodies. Depending upon what he needs, Ant can either run it as an open flatbed or fit the enclosed body. The trailer was intended from the beginning to be universal regarding fitment to his Vespa P2 and Lambretta Runner. He also wanted it to be better than a PAV, and indeed other trailers, which do have a reputation for bouncing around all over the shop when running empty. Lowering the centre of gravity was a good starting point.
The main spine was the only part Ant didn't do. Instead he went with his drawing to a local exhaust fabricator in San Diego who bent a length of pipe as requested. The rest of the outfit was made from scrap he found lying about where possible, such as the cross struts underneath and the pair of rather nifty feet which hold the trailer upright so can load it while not connected to a scooter.
The rear wheel you may recognise, sitting between the 'handmade from scrap found lying about' swingarm, as it's the complete hub from the front of a Lambretta. Oh and there's Lambretta engine mounts there too!
Trailer suspension is usually designed for heavy loads and as such very solid when nothing is on board. Ant experimented and came up with using front springs from a Honda Melody moped which were soft enough to use the trailer safely when unloaded, and worked out his own preload adjusters so that alterations could be made so that the suspension still worked when fully loaded.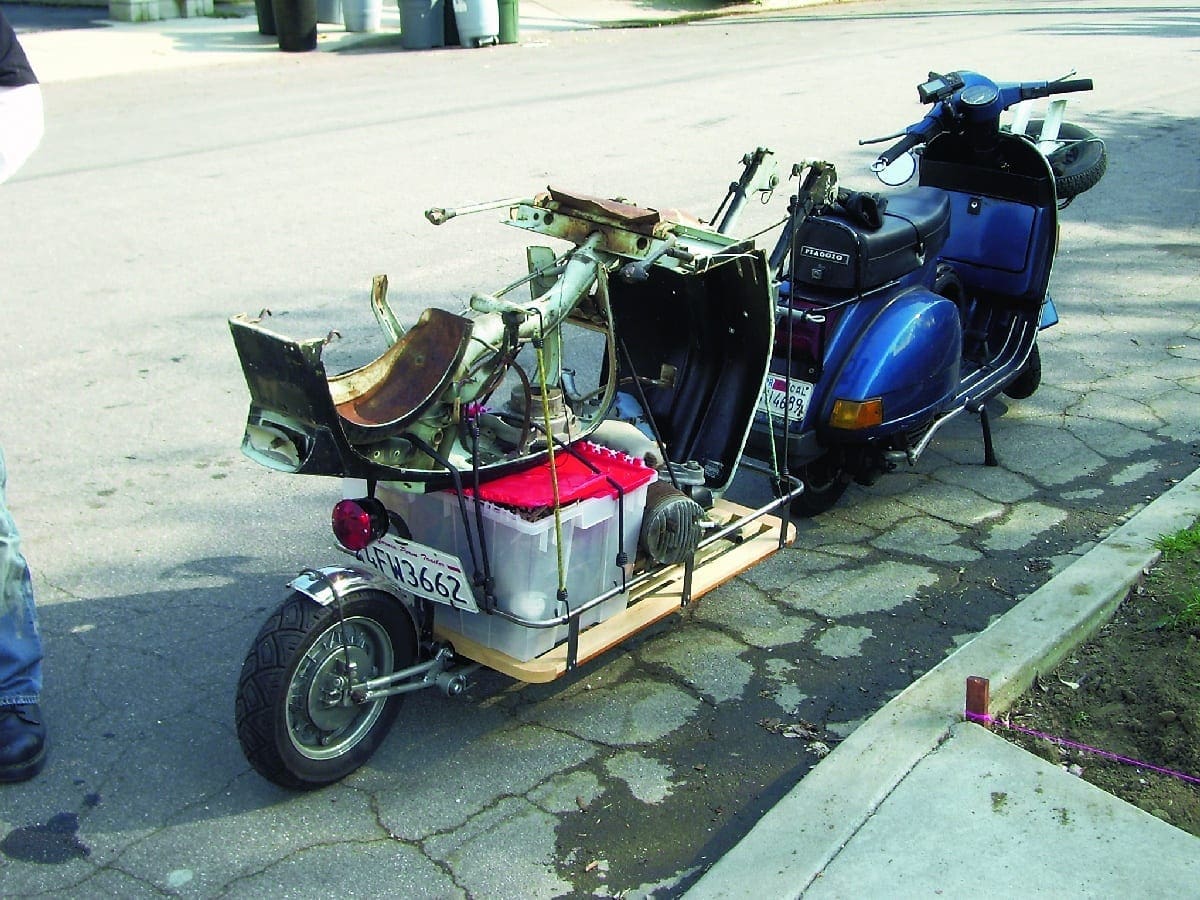 Bodies Beautiful
At first a rear rack fitted to the P2 was used as a coupling but it soon became obvious on his first real outing, while using friend Jeff Corsaro as a human guinea pig in the trailer, that this was not strong enough so Ant manufactured a new one from 16mm tubular steel. The phrase he has used regarding its construction is 'going overboard' which he has done with the welds and plating, resulting in a strong, rigid affair. He did try a universal joint but that didn't offer the right mechanism for towing. Instead Ant referred back to the PAV and IWL couplings and based his on theirs, although he says it's far tougher!
For the flatbed Ant used maple because it's apparently a hard wood, and there's a little mahogany trim for no other reason than he had some spare. This, by the way, came second after Ant built the main trailer first and decided he needed a more practical alternative too.
The container is also made of wood, despite its appearance, in this case consisting of a plywood skin around a ply frame that also utilises birch and mahogany. Inside are luggage hooks with bungee straps to prevent stuff from flying around while riding. It also has waterproof edging around the lid, some rather nice brass hinges and lock, and an extra cubbyhole to maximise the storage space available, neatly finishing off with a slender rear and a paint scheme that I think looks very retro, which along with the overall shape gives it a definite 50s style.
Building the trailer was comparatively easy compared to registering it in the USA. In California, where Ant was at the time, a trailer requires by law a separate registration plate. He was advised originally to claim that his unique build was in fact an old relic recently resurrected, the paperwork long gone, but even this was proving difficult with their equivalent of our DVLA, the DMV, The chap there didn't know how to complete the paperwork so advised Ant to go away and come back another day, claiming the trailer was a new build — which he did and the process was completed far easier!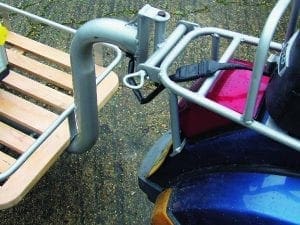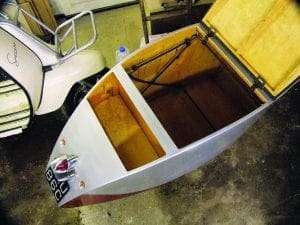 On the rodeo
So after building this multi-body trailer, Ant then had to find a use for it. However his work provided a solution and it was soon commissioned for picking up materials, then transporting tools to various jobs (he can even disconnect the trailer and walk it on site if need be!), next came the postal run, the weekly shop and of course collecting scooters and spares too!
And trailers are useful, I know because I've tried them, and I tried Ant's too, in torrential rain and high winds the other week and I have to say that even running the big trailer on the back of his P200 in this weather it didn't worry me. Granted I've ridden with trailers before and it can be to some a bit of an art. However I have driven some ill-handling outfits too and this ain't one of them, as Ant claimed and I was all too happy to test. All my ride did was exaggerate the flatness of the Vespa's rear tyre! Granted you have to load the trailer intelligently to balance the weight evenly either side of the single wheel, but that's no great chore.
So there you go, scooter-related ideas don't all have to involve a motor yet can still be a trick bit of eye-catching kit. And if it's practical too, there's far more chance that the missus will let you get away with it as well—especially if you can finish it all and still get change out of US$300!
Ant would like to Jeff Corsaro, Eric Peterson, Steve Bailey and Alex at Vespa Motorsport in San Diego for their help and support while making his trailer.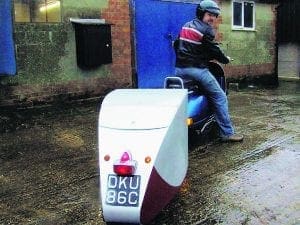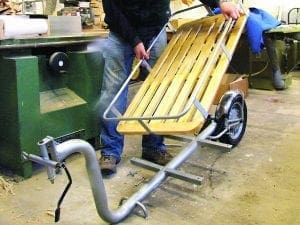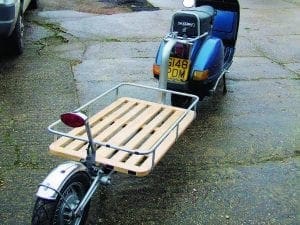 Enjoy more Scootering reading in the monthly magazine. Click here to subscribe.