Military themed scooters aren't unusual but very few depict the 'small wars' of the 1950s. As Stu Smith discovered, Gary Gould's Lambretta is an exception to that rule.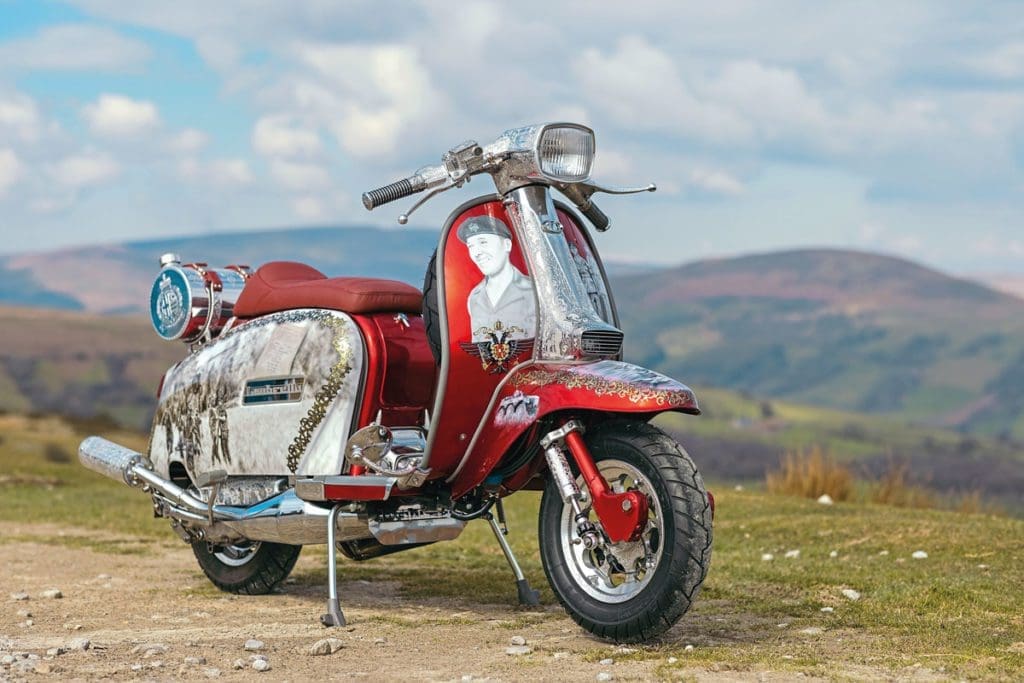 The origins of this project date back to 2010, when Gary bought a GP200 frame with the intention of building a clean, roadgoing scooter. "I specifically chose a GP200 frame because it's the model of Lambretta that I've always loved," he began. "I've always been close to my dad, he would come over to my house every weekend and always showed a lot of interest in how the scooter was progressing. I'd say we were more than father and son; we were also good mates and we used to talk a lot about the time my dad served with the King's Dragoon Guards in Malaya. Unfortunately in 2012 my dad, who has since died, was diagnosed with Alzheimer's disease. I decided to revise my plan and build the Lammy as a custom, themed around my dad's army service."
Detailed planning
Having done a great deal of research, Gary started to plan the work necessary to complete the project. "I got in touch with Fred at Painted by Fred in Gloucestershire. I showed him pictures I wanted him to use in the murals and whereabouts I wanted them positioning on the scooter. Then I spoke with George Sharman of GS Designs and went through the layout of the engraving with him."
Once Gary got the body panels and the engraving work back he commissioned David Payne to organise the engineering side of things and build the RB250 engine. Because of the engine set-up, Gary realised that the scooter was going to be a thirsty machine. "Because of the riding I've got planned I wanted plenty of fuel capacity. I sourced a long-range tank without any difficulty but wasn't happy with the idea of strapping a fuel can on the rear rack. I struggled for a while to find something suitable but fortunately George had a contact, Rob Till, who was able to help."
Looking around the scooter, the deep red base coat is eye-catching and sets the perfect foundation for Fred's artwork. The beautiful gold-flake scrollwork draws the viewer's eye into the monotone detail of the murals, which capture the period perfectly. The murals tell the story of the Malayan Emergency, evoking the heat and humidity of jungle warfare. An image of Gary's father in his army uniform takes pride of place on the legshields, being complemented by a mural of three pals he served with. Elsewhere George Sharman's engraving combines a blend of scrollwork with tributes to Gary's dad and his regiment. The one-off custom inner legshield two-stroke oil tank and rear carrier reserve petrol tank were built by Rob Till and are also engraved with complementary details.
A custom slope-back seat was completed by Corky and features a beautifully embroidered King's Dragoon Guards regimental crest. This leads to the rear frame where George's themed engraving continues on the rear frame badge and rear light settings.
Performance package
The no nonsense street racer looks, a leftover from Gary's original plan, are defined by the drop handlebars while the front and rear disc brakes do more than hint that the scooter's got plenty of performance. The RB250 engine is supported by a GP200 gearbox and AF six-plate clutch, which was set up by David Payne with 20/46 gearing to suit Gary's riding style. A 34mm Dell'Orto carb keeps the thirsty engine amply supplied with fuel and the NK Rally expansion pipe leaves no one in doubt as to the engine's potential to deliver plenty of power.
Showstopper
Now it's complete, Gary intends to show the scooter as regularly as possible and his display includes a selection of exhibits which help to explain the scooter's theme. "The Malayan Emergency was one of the forgotten wars against communists who wanted to remove the country from the Commonwealth. As well as being a tribute to my dad's Army service the scooter's also dedicated to all of the service personnel who were involved in the conflict."
It's a recipe that proved popular at Tenby, with the scooter picking up both Best Lambretta and Punters' Choice. Although such recognition's appreciated by Gary, this remains a very personal tribute to his father and the service men and women who fought in a conflict that, despite its ferocity, has largely become a footnote in Cold War history.
Scooter details
Name of scooter: Tribute. In memory of my late father's army service in Malaya.
Scooter model: Lambretta GP200.
Time to build & by who: Altogether around seven years with a lot of help from David Payne.
Engine spec
Kit: RB250 reed valve.
Crank: 60mm.
Carb: 34mm Dell'Orto.
Exhaust: RB Rally NK Expansion.
Clutch: AF six-plate.
Gearbox: GP200 with a 20-tooth front sprocket and 46-tooth crown-wheel.
What's it like to ride? It's an animal! Very quick with great handling.
Frame spec:
Paintwork & murals by: Painted by Fred.
Engraving by: George Sharman (Isle of Wight).
Chrome by: Quality Chrome, Hull.
Seat by: John Andrew Corcoran.
Any frame modifications? What & by whom: An anti-dive front disc-brake bracket and rear disc-brake bracket.
Are there are any specialised parts: Drop handlebars, front and rear disc brakes, one-off inner legshield two-stroke oil tank and one-off rear carrier reserve petrol tank by Rob Till (Isle of Wight).
In hindsight, is there anything you would have done differently: Would have done it earlier so my dad could have seen it completed before he died.
Is there anyone you wish to thank: A massive thank you to David Payne of Small Wheels for his help with the build, George Sharman of GS Designs for the engraving, Fred at Painted by Fred for the paint and artwork, Rob Till of RT Welding for the custom two-stroke oil tank and custom reserve petrol tank, Corky for the one-off seat and my Mrs for allowing me the time and money I've spent on the scooter.
A 'Small War'
The Malayan Emergency was also known as the Anti–British National Liberation War, which lasted for 12 years between 1948 and 1960. It was a guerrilla war fought in British Malaya between communist pro-independence fighters of the Malayan National Liberation Army (MNLA) and the military forces of Britain and the Commonwealth. The communists fought to win independence for Malaya from the British Empire and to establish a socialist economy, while the Commonwealth forces fought to combat communism and protect British economic and colonial interests. The conflict was called the Anti–British National Liberation War by the MNLA and an 'Emergency' by the British because London-based insurers would not have paid out in instances of civil wars.
On June 17, 1948, following attacks on plantations and after the MNLA had established a series of jungle bases and began raiding British colonial police and military installations Britain declared a state of 'Emergency' in Malaya.
The MNLA's terrorist activity reached a peak in 1951 with the ambush and killing of the British high commissioner to Malaya, Sir Henry Gurney. However, his successor, General Sir Gerald Templer, developed a close relationship of co-operation between the civil and military powers, which began to challenge the terrorist threat.
In 1956 the King's Dragoon Guards, with whom Gary's dad served, were sent on active service to Malaya and were stationed at Ipoh. During this time they took part in counter-insurgency operations in both mounted operations (armoured car) and on foot in the dense jungles. In 1960 when the Emergency ended, the remnants of the MNLA were driven to take refuge over the border in Thailand.
The Malayan Emergency was one of the few successful counter-insurgency operations undertaken by Western powers during the Cold War. It saw British and Commonwealth forces defeat a communist revolt, which lasted 12 years. The campaign cost the lives of more than 500 soldiers and 1300 members of the Malayan Police, not such a 'small war' after all.
Owner Details
Name: Gary Gould.  
Scooter club & town: Abergavenny SC and I live in Ebbw Vale.
What was your first scooter and how did you first become interested in them: A Lambretta GP200 – a mate of mine, Lee Breward, got me into scooters. He owned a TV175 (She Sells Ecstasy) which was a beautiful scooter.
What was your first (or most memorable) rally/ event: Most rallies are memorable. I love meeting up with old mates and remembering friends that have passed.
What is your favourite scooter model: Lambretta GP and Vespa PX.
What is your favourite style of custom scooter: Any full-framed scooters, street racers and chops.
Words: Stu Smith
Images: Gary Chapman

Enjoy more Scootering reading in the monthly magazine. Click here to subscribe.