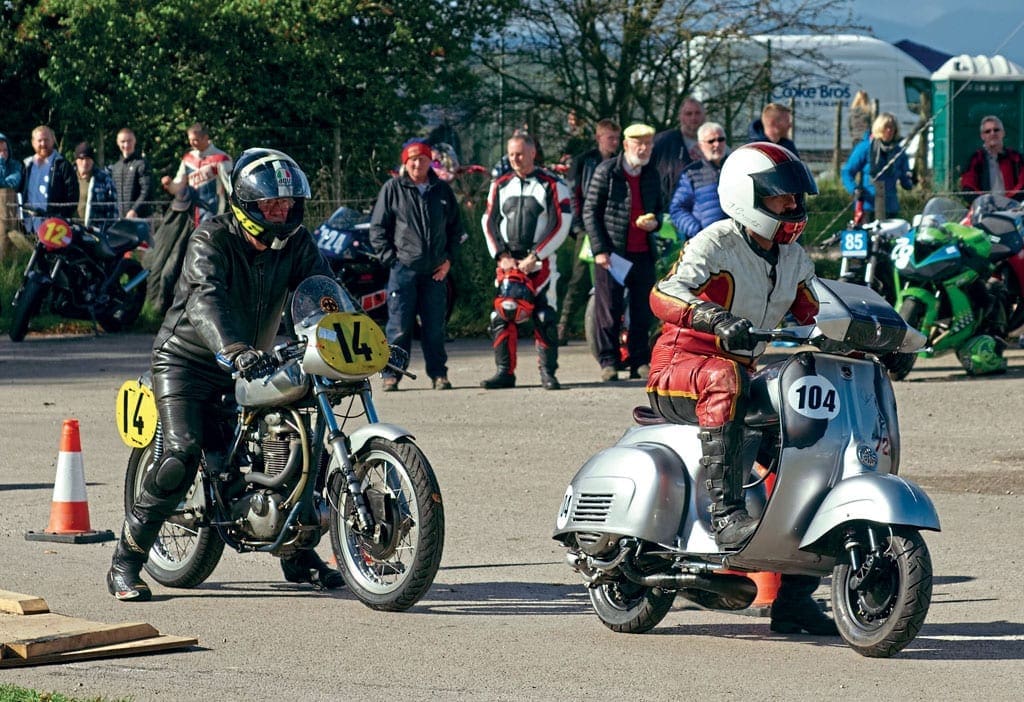 Words & Photographs: Rik
Who would believe I came across a racing outfit sheltered within the confines of a tattoo parlour come-coffee shop come-tune shop?
A nuts and bolts history
Paul (Eccy) Eccleshare is an ordinary bloke, who's crafted some extraordinary machines, his family have long been involved in customizing, engine building and general fettling and creating.
Paul's affair with tinkering started when he was just about 6 months old on holiday in Blackpool in 1968. His dad wanted to undo the bolts on the window of the caravan they were in, whilst Paul's dad had turned his back for a moment, Paul had undone them all and thrown the nuts out of the window.
The natural progression was Meccano, and helping his dad with his stock car and drag-racing a Mk 1 Cortina. Through that (and model kits) he got into custom paintwork.
Scarborough was the scene of Paul's epiphany. On the main street he saw lad crouched behind the headstock of a Lambretta with extended forks. The noise was just ricocheting from the walls.
Paul stood there and watched this cutdown fly up the street, and that was it. He was sold. In his own words… 'I thought to myself, I'm having some of that. I was not – and never have been a Mod, but I wanted that!'
Pimped up paddock bike
As well as loving customs, Paul had always wanted to race. His Sprint is a road legal race machine. "I rarely take it out on the road –but when I do, I like to wring its neck," said Paul.
"I was out with my mate Wilky (Nice N Sleazy), we were both side by side, I must admit, I did still have a bit of AV Gas in the tank, so I dropped it from 4th to 3rd and disappeared off into the sunset.
"It's just a ported P200, not a real fancy pants thing, just a Malossi 210 kit that's had some fettling done by Harry. The ports opened up, and the crank cases have been slightly nibbled away.
"I could have done more, but I didn't want to take the reliability away. It's got a 30mm carb with an tweaked inlet manifold, and we fitted a big fat expansion chamber from SIP.
"I race it on AV GAS (Aviation Fuel). It gives it a little kick up the arse. But no matter where you go you must carry a spare set of plugs with you from B7's to B9's, constantly checking your plugs that they are still burning at a nice colour. If it goes too lean then the dreaded melt will kick in.
"No matter how good they are, two-strokes are by nature unpredictable little sods, the weather on the day can make a big difference, so you've always got to have your wits about you.
"Simple things can affect stuff too, for example, some aftermarket expansion chambers can make you run too lean. You never stop finding something new or odd about two-strokes. Same with women… never understand them and just when you think you do, they spring something new on you.
"With custom scooters loads of people start off with great plans and intentions, but then make massive errors, so by the time they're coming to the end of the project, they are confused and fed up.
"You always need a few jobs going on at once, that way you don't get as bored, you can pause on one when it's starting to brass you off and go back to another.
"I was born with a thing called patience, and I'm trying to use it to the best of my ability now and I've always loved the roadside fixing capers, maybe not at the time that they occur, but I do think its all part of it. I promise you, they'll never be a bigger smile on your face then when you build or repaired something yourself, and it works.
"The Sprint frame came from a lad in Yorkshire, it was slightly damaged, a mate had a headstock and panels, he let me have them for the right money… and then it sat upstairs for about 3 years. I always thought a BSA tank would look nice in it.
"The front suspension in a Sprint is crap. They bottom out, they are rubbish for racing, so the ideal thing would be to put a PX one in, but that would be dog ugly, it'd be too tall. So I went on a mission to try to find either a Primavera or a PK set, Ideally a PK set, it's a more modern fork and you can get the improved brake shoes, I didn't want a disc front end to spoil the period look.
"What I ended up doing was chopping up a PX neck stem, adding on the PK forks and adding a fully adjustable shocker, so it doesn't bog down. It stays solid.
"That led to the discovery that you couldn't put the standard sprint mudguard on, they're too narrow – forks on a PK are wider, plus I'd chucked on the new shocker too. So I heard about a chap who makes these wider mudguards, I ordered one and it's a fantastic bit of kit, it's still got the little crease marks where it's been pressed. I really wanted to keep them, to show it's not off a sausage line.
"I needed a wiring loom for a P2, 12 volt stator, which would light up on a Sprint chassis. I got one. It wasn't all that clever to be honest, but I bunged it over to a mate, who knows what's what with wiring and the job's a good 'un. I wanted minimal shiny bits on it.
"The tanks in the middle for gravity and delivery, to cut out fuel surge, but also, for the theme of the scooter. I wanted it to look like it would have been Stirling Moss' pit bike at Le Mans.
"I wanted to build an old Vespa, capable of racing, but if you parked it by the side of Stirling Moss' Mercedes, it wouldn't look out of place.
"The seat, I got a lad who makes chesterfield sofas to sew me the leather work up, I made the aluminium pan myself, bolts go straight through the leather and onto the chassis. Then we aged the red leather with a burgundy wash. I wanted something that would sit in with an old classic sports car.
"In order to get it finished. I put myself under a bit of pressure, I entered it into an Autumn sprint in 2014 and it was a pile of bits.
"I locked myself in the shed with strict rules for nobody to mither me. I needed to left alone to not only build the thing, but make items like the brackets for the tank, drill and tap the steering column to take the tank at the front.
"You are always going to get problems building scooters, whether it's fraying a cable, which pisses you off when it stabs you in the finger, or when things that you know should work, don't work, then back track your problems.
"Another mate (Darren) painted for me. I normally do all my own painting, but silver is hard to apply without it appearing patchy. You've got to give it to someone who knows what they are doing, and he knows how to get a good deep finish.
"Not only that, but I wanted it in an old style, like the Mercedes in silver would have been back then. Nowadays, it's all pearlescent. Yes, I wanted the depth, but it had to be as authentic to the feel as we could and he knew how to lay it down perfectly… And then it sat in my shop window for ages.
"The reason it sat in the shop was that we had a job on to build a Ducati scrambler for a show. I purposely put it in the window, so each day it was a constant reminder, build me! At the time I was taking on some big jobs on at the time, so it didn't happen half as quick as I wanted.
"For 2019, we're going to have our own little race team. Not so much racing against other scooters, but our 'team' going off, bonding a friendship, still doing things with scooters, having a team, and take each other along on a mate's journey.
"I want us to all enjoy the experience as a family of friends. I want to build a different way of us all to remain in scootering, but have a social side too."
Eccy's top 5 tips if you're daft enough to consider scooter racing
1) Build it as reliable as possible, basically leave it standard. If you chuck a load of money at your first racer, you'll expect to do well, and you probably won't. So don't build it with money and build you expectations at the same time. Whether you have a standard engine or a multi thousand quid whatever, you'll still have the same buzz on your first time out when you here that countdown to blast off.
2) Put some numbers on it, tape up your headlights. Get good brakes.
3) Enjoy every run, even when you come in last.
4) Get some good leathers, gloves, helmet on – apply for a day licence.
5) Take away lessons in life like, OK… I've done that, so I'll go on a diet so the scooters not carrying as much weight, it'll go faster. Then you can start looking at conversion kits and lightening the frame and start doing this, that and the other. It's not cheap, but it's not massively expensive compared to other motorsports.

"In the 60s and 70s, blokes could take bikes and cars they'd built in their garage and compete, now you're faced with major sponsors and those that have the major names have cash thrown at them to get the fastest vehicle, basically.
"Going to sprint events, like I do, it's still pretty much 'those magnificent men in their flying machines', their own spanners in their hands, literally assembled it themselves, maybe you're not that good with spanners, there are plenty out there who are who'd help.
"I may sell the Sprint this year, I'd love to keep it, like they do with old Le Mans cars and talk of glory days and the like. But that'd be wrong, because it's been built to run, be seen going. I didn't build for pottering about once in a blue moon, to go on the odd rally. It was built to race.
"The extra factor to it is that it is road legal. The flip side is, we're also looking at getting a young 'un on the race team to front us. Either way, we'll end up doing more stuff, guaranteed. I know I'll regret selling the Sprint, if I do, but you've got to let the bird fly free haven't you?"

Enjoy more Scootering reading in the monthly magazine. Click here to subscribe.