Despite what the name 'Coastal' suggests, this shop which is dedicated to the Vespa and Lambretta is in fact located in the middle of the country!
Back in 2014, Daran Jones decided on a career change, keen to get out of the industry he was in. His love of scooters goes way back to the 1980s and, having built up a good working knowledge of them, he decided to take the plunge and set up a scooter business.
Now five years on, it is firmly established and offers a wide choice of services for both Vespa and Lambretta. Though the name of the shop suggests it's situated on the coast, it couldn't be any further away if you tried. Located in Tamworth, near to the middle of the country, it's easy to find and has ample parking space out the front. Perhaps the name alludes to most scooterists' general destination instead!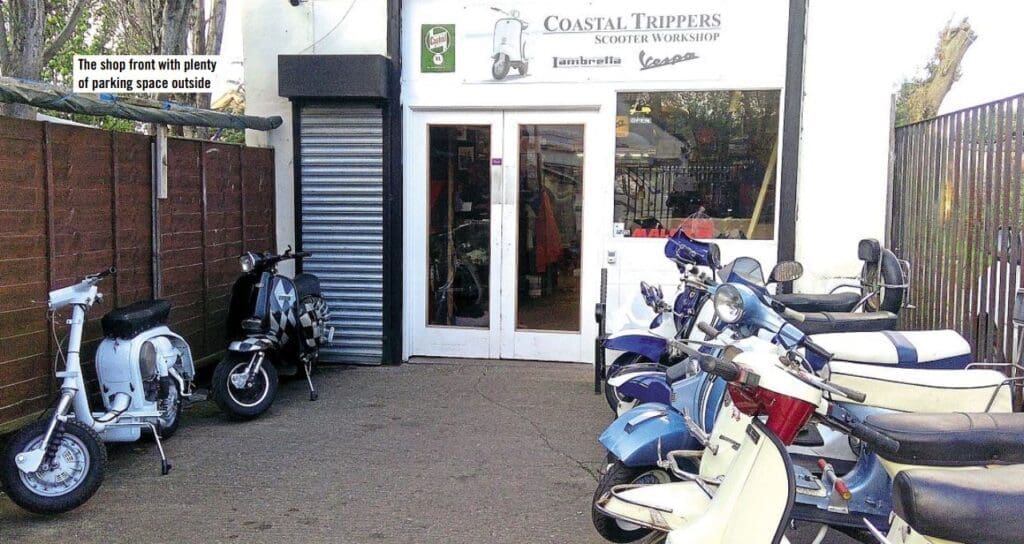 Keeping it in the family
Any business when it first begins trading will always find the first couple of years the hardest. Not only building up a customer base, but also investing in tooling and stock. One of the biggest expenses is the premises, which can quickly drain any cash flow that is being generated. Space is required for stores, a work area and shop front so all this has to be thought about before taking a unit on.
What you don't want is a huge expanse which will more than likely be half empty to start with. Having run a business successfully before, Daran took a careful approach – premises that were just big enough while at the same time not too expensive to run. Being owned by a member of the family helped, with no silly rent increases year on year.
Though not the largest scooter business, in terms of building size, it's big enough to operate from. When space is at a premium it needs careful planning and Daran worked it out just right. As you enter there is a compact but tidy display area and a shop counter. Situated behind is the workshop itself, the most important part of this business. With two hydraulic benches as well as several worktops for engine building, it's the ideal space to work in.
There is another dividing wall at the back that caters for the storage of all spares and stock. Because Coastal Trippers has no online shop, there is no need to carry huge amounts of stock. What's needed can simply be ordered in when required. Just when you think you have seen everything, the final surprise is a compact dyno room on the side. The whole place is well thought out, maximising all of the potential floor space.
Best of both worlds
For any scooter owner, it's the ideal place to visit, whether you own a Vespa or Lambretta. The fact that Daran has knowledge of both brands makes the job in hand much easier. One of the biggest boosts the business had was being appointed as a Malossi tech centre. Virtually any part is available at short notice from the Malossi brand as well as VE UK. It also benefits the customer to have those parts fitted directly in the workshop.
Daran has built up a good working relationship with the biggest Vespa parts manufacturers, which helps when owners want full rebuilds. Not just standard work either, catering for those who want tuned engines as well. It's similar to the Lambretta side of things, where any type of job is undertaken – from minor repairs to full-blown tuned engines.
Also using the shop facilities is Chris Sturgess of CS Performance Engines. Though he does his own work from the premises, he is on hand to help Daran. Having someone who works separately but on the same type of engines benefits both parties and they have a good working relationship.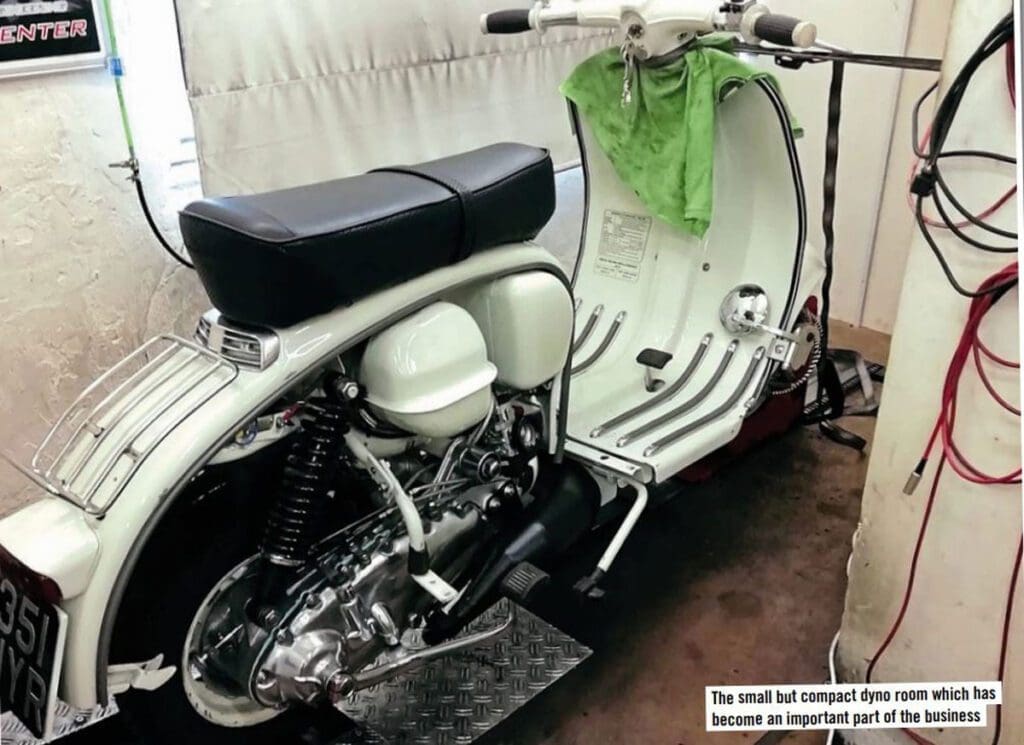 How much power
Though it only takes up a small amount of the shop, the dyno room is an important part of the business. Realising the need to be accurate with the readings, Daran opted to use the MJPower diagnostic dyno. As the
business is based in Denmark, he made the trip to MJP to see it in operation and learn how to use the equipment correctly.
With a fully operational system fitted in the shop, it has paid dividends ever since. Daran has both Lambretta and Vespa customers who regularly use the dyno facility to have their engines set up correctly. Prices start from £45 for the first hour, going down to £35 for every other hour afterwards with the carburettor jets priced separately. Over the years there has been a big bone of contention regarding the use of dynos when it comes to setting up a scooter engine. If used correctly it can be a big benefit.
Daran understands it's not just about getting a big BHP reading but how to sort out flat spots in the carburation. More importantly, making sure the jetting is correct once back out on the road and not running too lean, which can lead to other problems.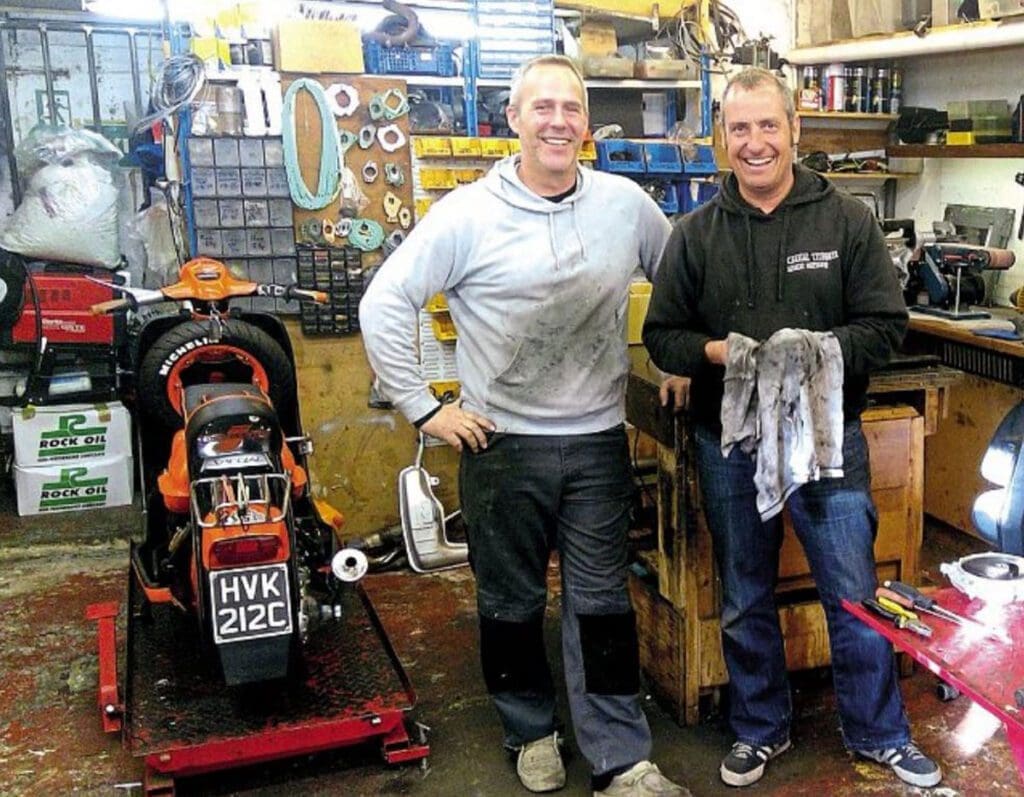 Not forgetting his roots
Quite often, once someone takes the plunge to turn their hobby into a business, the interest goes out of being involved on the social side. Not so for Daran, who has been a rally-going scooterist since the 1980s and is still keen to attend events. Having taken a keen interest in scooter racing for several years, he sponsored Damon Tunnicliffe in the BSSO race series for three years, putting back into part of the scene that supports his business.
Keen to have a go at some sort of sporting event himself this year, he built a Lambretta with the sole purpose of
entering it into the recent endurance race at Teesside. The team of three finished the event 16th overall and thoroughly enjoyed it so much that they plan to enter any similar event held in the future – again showing that just because Daran is now on the other side of the counter doesn't mean he has to stop being a traditional scooterist.
Filling a gap
There have been many scooter dealers based in the Midlands over the years; some who, shall we say, weren't the best at what they did. With a large catchment area, a reliable shop that can cater for all needs is required. Thankfully Daran has filled that gap and has built up a good understanding with the local scooter community. Next time you're passing that way, why not drop in and give Coastal Trippers Scooter Workshop a visit – you won't be disappointed. For more info: www.coastaltrippers.co.uk
Words and photographs: Stu Owen

Enjoy more Scootering reading in the monthly magazine. Click here to subscribe.