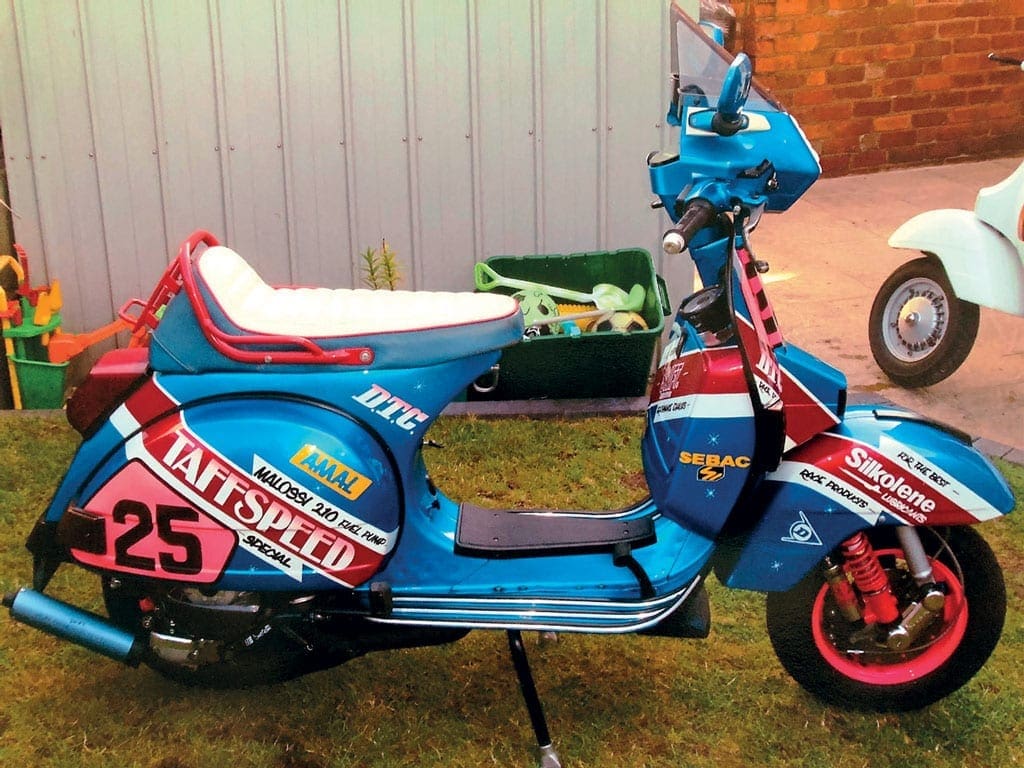 DTC are usually associated with Lambretta, but this beautiful beast breaks that mould, and delivers an interesting 80s classic.
When the original owner and builder of this beautiful Vespa street racer contacted me I was instantly reminded of its 1991 front cover Scootering debut. Next to his mate on a green GP, Paul's colourful Vespa looked the business. Interestingly, the pair are still good mates and carry on riding together to this day (Paul actually bought the base model P-range from him back in 1990!).
Anyhow, back to the scooter, DTC street racers as easily recognised – although the vast majority tend to be full-bodied Lambrettas, Mr. DTC himself, Brendan McNally, has adapted his design to cut-downs, GTSs, Gileras and obviously the Vespa P-range you see here. So when I found that Paul still has his version, I knew it was perfect for this month's DNCC feature.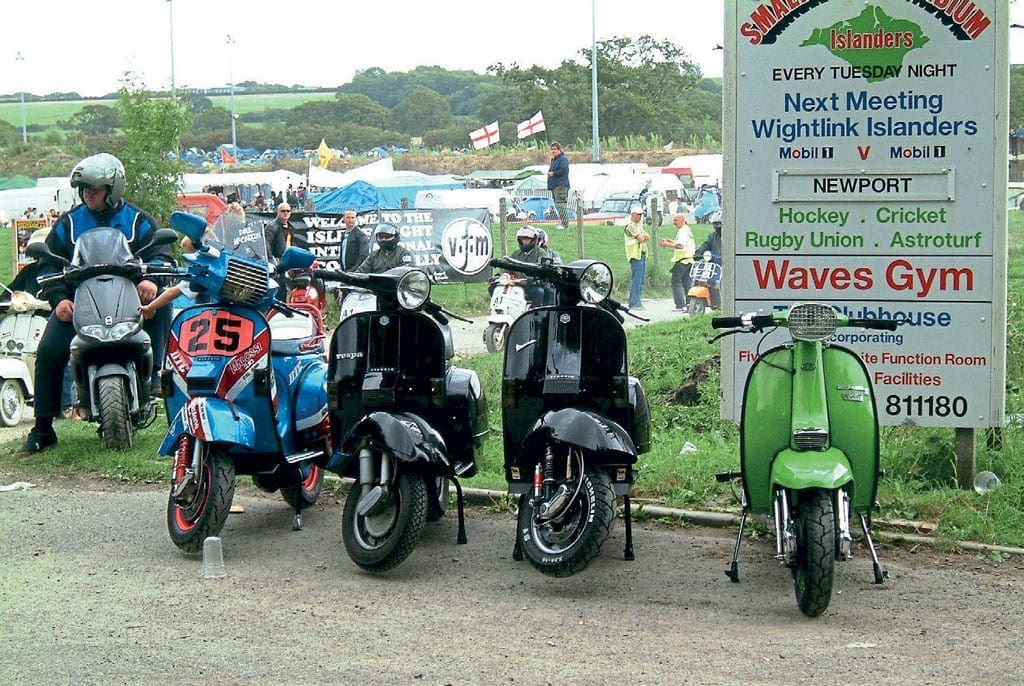 Name/Nickname: Paul Mccarthy / Macca.
Hometown: Birmingham.
Scooter Club: None, but I do go on rideouts with the Junction 7 Collective.
Scooter Name: Somekind of Wonderful.
Year originally built: Started the custom build in 1990.
Paint: Red & Blue Candy with White Pearl Race Paint, by Macca at DTC. I think this was the last scooter he sprayed under the 'arches', as when I picked it up the helmet wasn't ready and I picked it up from the new location.
Engine: P2 fitted with Malossi 210 kit. 34mm Amal power-jet carb, fuel pump, reed valve, casings matched and ported, cut standard crank, PK flywheel, Scooter & Service clutch and a swift exhaust.
Fabrication: PM Tuning hydraulic master cylinder conversion.
Chrome/Engraving: Not for me!
What condition/age was the base model when you got it: Mint, the P2 was only two-and-a-half years old and well looked after when I bought it.
What have you had done to it or plan to do since owning: Since the initial build I've only had to do a few things, mainly because of general wear and tear. I've changed the handle bar grips, the suspension has changed from Sebac to Bitubo, and the front disc brake to a 1998 disc. Before that it had 16mm forks because the only disc brake I could get at the time was 16mm!
Do you still do rallies: Yes, love them.
What other scooters do you own: Only a 1983 Vespa PX.
Funny stories: On the way home from Great Yarmouth in 1991 my mate was back-up in his van, and he thought we were in front of him so just kept going. I broke down in Peterborough, holed a piston, and had to push my scooter about five miles to a phone box (the days before mobile phones!), so my mate was at home in Birmingham to answer the call! Luckily for me he jumped in his van and came and picked me up.
Favourite Event Ever: For me it has to be the IoW. I just love the build-up to the rally between me and my mates.
Favourite Custom Scooter Ever: Blue Dazzle. I saw it in Weston in 1984 parked on the corner of a street – I'll never forget it! Vespa-wise, I always thought the 'flying' Armandos looked stunning.
Favourite Dealer: The original TAFFSPEED. Terry & Ian were superb from the first moment I met them.

Enjoy more Scootering reading in the monthly magazine. Click here to subscribe.