Words: Stu Owen | Photographs: Gary Chapman
Mention AF Rayspeed and the first machine which springs to mind is the legendary 'S Type', but we should never forget their other timeless classic, the Team Lambretta.
Ever since Arthur Francis first produced the 'S Type' in the mid-1960s, it has achieved cult-like status. When Ray Kemp took over the company a decade later, he further enhanced the brand and, if anything, made it even bigger. Often overshadowed by all of this is the AF Rayspeed Team Lambretta.
Ever since it was created in the 1980s, its timeless design has been copied on many occasions. Keen to see it stays in the limelight and receives the attention it deserves, Ray and the team have embarked on producing a limited edition run in celebration of its rich history.
Teamwork
The design first came about when Ray himself was persuaded by racing friends Jem Booth and Andy Francis to set up a race team in the 1980s. Taking up the challenge, they competed in several classes, including Ray himself, who briefly campaigned in group six to promote the then new TS1.
The colour scheme was executed around a white base with red and black overlay. The panel work used the stepped triangulation speed blocks incorporating the team name, rider name and number in a descending order.
Ever since its inception, this layout has been a source of inspiration for many street racer paint creations. While the side panel layout has appealed to many, it's the leg shields and the front end that are the real stand-out features of the scheme.
Using a set of uniform lines divided between the centre of the horn casting and front mudguard, each side flows from the front mudguard on to the leg shields. A new look at the time, it still appears modern by today's standards.
Although in a way the design is complicated, it has a clean, simplistic look about it and also one that is unique. Often copied or replicated, the connection to the AF team special is instantly thought of in people's minds, and it's this association which gives it the same kudos of that of the 'S Type'. For the same brand to have not one, but two classic designs that are instantly recognisable and admired, is some achievement.
Originally, they were painted exclusively for Ray by Maca at DTC, and go down in his catalogue of legendary designs. Whilst they have been produced in different colours over the years, it's the white, black and red combination which will always be remembered.
Fast forward to the present day and Ray has commissioned Dave Dickinson at DDK Airbrushing to produce a limited edition run to celebrate more than 30 years since its creation.
Dave has obviously added his own touches to the scheme, but has not detracted from its classic lines in any way, having gone more down the enhancement route.
Obviously, engine development has come a long way since those heady days, and they too are showcased on the new paintwork. At present number one and two have been built, with both carrying their own unique numbered signature. Number one is in the shop on display and is up a sale, whereas number two is in the safe hands of its new owner.
Guy's story
Guy Burnett has always had an association with two wheels, having spent years racing motorcycles. It was at one such race meeting in the 1990s that he first had any dealings with scooters, having seen them out on the track.
Amazed by the speeds they were achieving, he decided to take a closer look and not soon after took the plunge to build one himself. Picking up a series two Lambretta, he went about re-building it with a tuned TS1 engine.
This is where he encountered his first major problem… of how to ride it. Guy openly admits to having been baffled by the layout of the controls, having spent years riding motorcycles. In the end, it was a case of ringing a scooter friend for help to address the situation.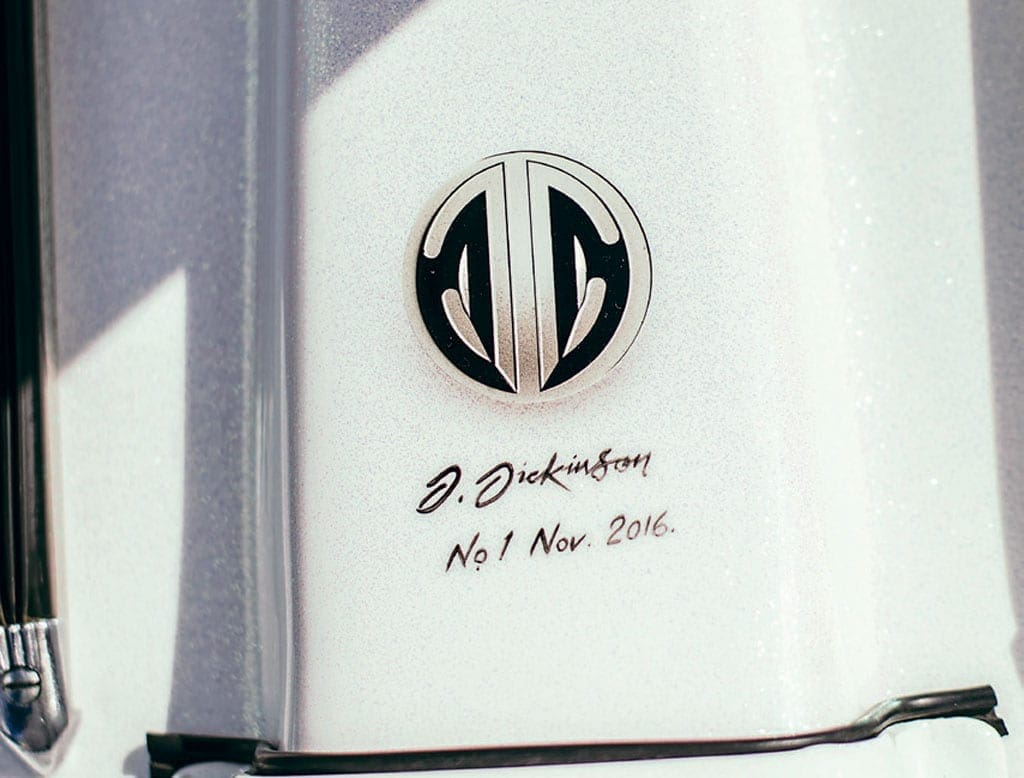 He rang him and asked: "How do you change gear with your hands, because I have only ever done it with my feet?" Laughing about it now, he soon got to grips with the technique and has been an avid scooter rider and owner ever since.
Having had a soft spot for the series two, it has always been the Classic GP street racer look that has appealed to him. Having already had his Series two street sleeper featured in the magazine in 2010, he was featured again four years later, this time with the 50th anniversary 'S-Type'. Though he still owns the series two, the 'S-Type' was sold, and that is something he has always regretted doing.
With this limited edition of the Classic AF race team Lambretta now being produced, Guy jumped at the chance of owning one again and is now in possession of number two in the series.
High specification
It was obvious that the technology being used was going to be far more substantial than the original. The engine, brakes and suspension have been thoroughly upgraded to the highest specification possible.
There seemed little point in paying homage to the classic design unless you were going to do it in style. This was the philosophy of Ray, at the same time showcasing many of the products they have designed over the years.
The heart of the machine is, of course, the engine, which is based around the now tried and tested RB kit. Using the biggest version available and a 62mm stroke crank, the capacity comes out at a nice 252cc.
Additional porting work has been carried out by Ben Kemp, combined with a mammoth head at 10.1 compressions to help with cooling. Also using a 34mm Dellorto Carburettor and New Variant NK expansion pipe, it produces plenty of power.
Guy informs us it's an impressive 32bhp at the rear wheel, and though the power delivery is smooth and the engine tractable at low revs, the acceleration is harsh with full throttle.
To cope with all the power created at the top end, it is fed through the transmission through the tried and tested AF cassette clutch and on to their version of the close ratio four-speed gearbox.
With all this power to hand, its stopped by a Mito twin disc with four-pot radial callipers built into a set of PM tuning forks.
Somewhat strangely, Guy's Lambretta only uses standard-type front dampers, even though number one is fitted with BGM ones. I think he may need to upgrade them at a later date. It uses an AFR nitrogen gas-filled shock absorber at the rear, which is an in-house design by Dampertech exclusively for AF Rayspeed.
The GT070 tyre was extensively tested on the race track by Steve Wright, and is fitted front and back using alloy single rims. Guy says handling and cornering using this specification of brakes, suspension and tyre set up is vastly improved and recommends it.
Complementing a classic
As already mentioned, the paintwork was originally a collaboration between Ray and Maca, with the latter responsible for the design, but using colours Ray chose linked to his favourite football team.
Dave Dickinson's first enhancement of it was when Ray asked him to do a version for their 50th anniversary. Dave then used these ideas to produce the two team specials that have been done so far.
The base and all other colours use metal flake and candy, which make them stand out further. The black now uses a carbon fibre effect to make it look more modern. It is finished off by using a dark blue on the number block which, combined with the red and white, give it a more patriotic look.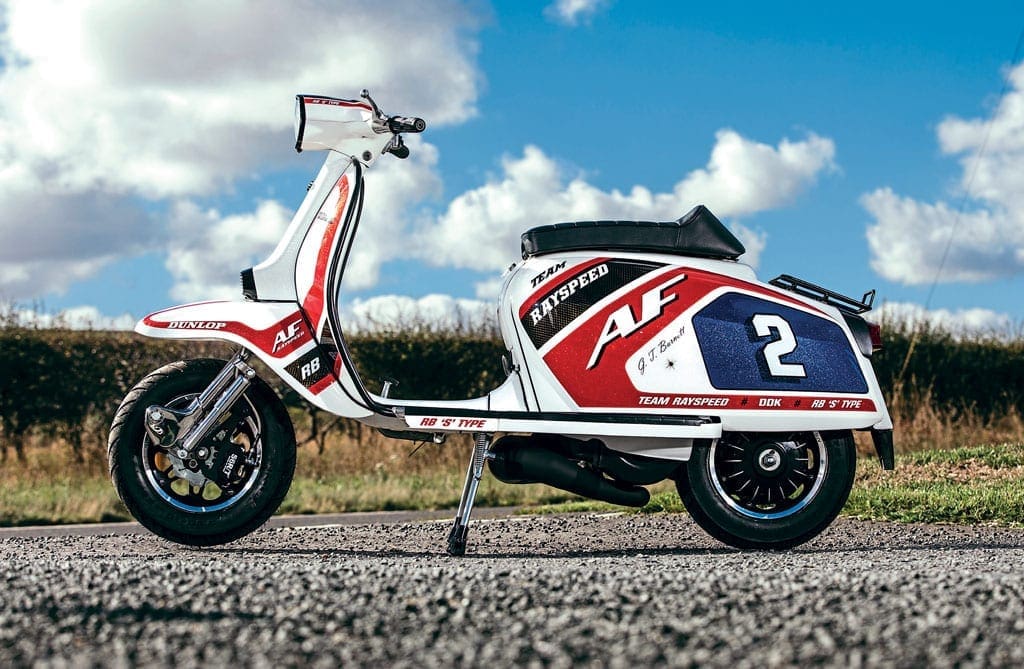 The number font has been brought up-to-date and the logos now incorporate all the latest equipment that is used within the machine.
The final touch is numbering each one individually on the leg shields, before finishing it all off with Ray Kemp's signature to the bridge piece. There is no doubt that the final result is a stunning array of colours that all complement each other perfectly, giving a modern street racer look.
What hasn't happened is the ruining of the original Maca design from 30 years ago. If anything, it's brought it up to modern-day standards ,which I'm sure he would approve of.
Whether Ray intends to keep this run going is anyone's guess, but regardless of that, he has proved it's not just the 'S-Type' which AF Rayspeed should be remembered for, but also their race team of the 1980s, a company which over the years had delivered time and time again, not just with groundbreaking components, but also stunning Lambretta designs.
It makes one wonder what they have up their sleeves when it comes to the 60th anniversary.

Enjoy more Scootering reading in the monthly magazine. Click here to subscribe.