The Sound Of Pop Art Drama England in June
The guest artists on Drama are drawn from the best of the Mod/60s-inspired live acts. With vocalist Turner, French Boutique's Gabriela G, Big Boss Man/The Bongolian Nasser and Dave Oakley from The Fliks, among others, all featuring on different tracks.
The Sound Of Pop Art draw from, embrace and celebrate many differing 60s styles on Drama, including Bacharach-esque big sound, rhythm and blues, soul, the lighter, poppier end of psychedelia and even a hint of film soundtracks all feature. Though with Andy Crofts, (The Moons, Paul Weller, Songbook Collective) on the credits it's no surprise. Opening track Freedom, with Louise Turner on vocals, sets a high standard for what is to follow. There's more than a hint of Dusty at her peak in there too. Other tracks that catch the ear instantly are Kiss The World Goodbye, Generation X (vocals by Simon Wells), and the title track Drama. There's even a secret track hidden within the official 10 tracks! Great songs throughout, an album that should have wide appeal.
Sarge
The Senior Service The Girl In The Glass Case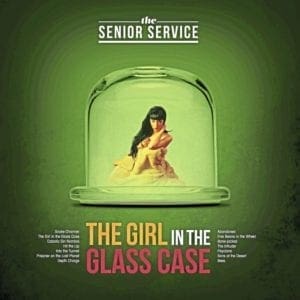 With a line-up reading like a who's who of the Medway garage scene, you know what to expect. Drop Graham Day, Wolf Howard, Darryl Hartley and Jon Barker into a band together, let them only play instrumentals in their own way, and you end up with as distinctive and esoteric a group of tracks as you could wish for.
With a passion for instrumentals and theme music, and an already close knit relationship shaped by playing in various bands on the same scene, they manage to create something new that has all the familiarity, confidence and competence you would expect.
Drawing on a shared background of John Barry, Booker T, Sixties 'club' films, forgotten spy movies and science fiction thrillers, they distil these through their special garage filter until a pared down, driving sound is achieved. If you're familiar with The Solar Flares, Buff Medways, Daggermen or James Taylor Quartet, then you know what to expect. If you're not, then pick this up and give your ears a treat.
Nik
The Cracked Actors Writ In Stone
I've been listening to this band for years now, but this is the first time I've picked up a new release by them — this is the fifth album, by my reckoning — in time for a review. Needless to say, they've improved with each release, and this one is no exception. Hard to define, they call their music 'skunkrock'. A laid-back reggae based backbone with a hard edge, theirs is a sound of its own, but one which puts you in mind of many others. Although they obviously look to Madness for a lot of inspiration, they throw enough unique and interesting elements into the mix to avoid that 'heard it all before' feeling. The brass section lift the album when needed while the rhythm section drive the songs along mercilessly. There are occasions when the lyrics let the album down but if you skip over that, then you have a cracking little album.
Nik     
St John's Wood Affair
St John's Wood Affair is Small Faces Convention regular Keith Smart's latest project. This self-titled debut eight-track album gives Keith, who fronts the band, an outlet for his psychedelic leanings. As an album, it takes the listener on an astral trip, with a multitude of unusual instruments contributing to the overall sonic soundscape. Particular standout tracks are the tripped out Electric Clouds along with I Am You, which features both slide guitar and a haunting trumpet! All in all a quality offering, which revisits and revives the late 60s psych-pop sounds. For mail order details visit www.stjohnswoodaffair.com
Sarge
When the five track EP from this Stevenage based band hit the CD player, I was immediately blown away by their infectious sound. Based on the 2-Tone model, but with large elements of acts such as the New Town Kings, The Talks and even The Skints, they've brought their music forward into 2016. Lively and bouncy, but not cliched, with incredible vocals from singer Cara, they have a sound that is much bigger than the four members of the band suggests should be possible. I really hope this isn't a one-time release from this band, I can't help but feel that they've got an awful lot more to offer the music world.
Nik
The Mads On the Bus
Italy's premier, possibly only, Mod outfit The Mads, are back with a brand new vinyl 45. Well Suspect released some of The Mads' early material retrospectively a few years ago (via The Beat Generation and Angry Young Men). Semi based in the UK these days, The Mads have on this 45 two brand new tracks. Lead track On The Bus, fuses scorching power pop with rhythm n' Blues undercurrents, while the flipside The Way She Smiles blends soul-inspired undercurrents with layers of vocal harmonies. If you are not already familiar with The Mads, this new single will give an insight and bring you up to speed.
Sarge

Enjoy more Scootering reading in the monthly magazine. Click here to subscribe.