With classic two-strokes being muscled onto the sidelines by new legislation, the four-stroke auto market is booming. From this, a new era of 'dealer specials' is being ushered in to run happily alongside the classic originals. This 'Low Rider' TL200 is a great example of just that…
January 1, 2017, marked the implementation of regulations by the UK Department of Transport which effectively saw the end of new two-stroke motorcycles and scooters being offered for sale via dealers and trade. While public response to plastic, automatic, four-stroke scooters has been somewhat mixed, Scomadi is currently at the vanguard regarding new scooters.
Although the TL125 model and its younger, big sister model TL200, have only been commercially available in the UK since 2015 and 2016 respectively, they have found favour with many long-term classic scooter riders. The recently announced 400cc Scomadi being launched commercially in the not too distant future has added to the favourable buzz surrounding the firm. With new two-stroke scooters having been forced out of showrooms by the Eurocrats, it's either pay the astronomical asking price for restored classic scooters, or take on a basket case and rebuild it to your own specifications. Both options can be very damaging to the average bank balance.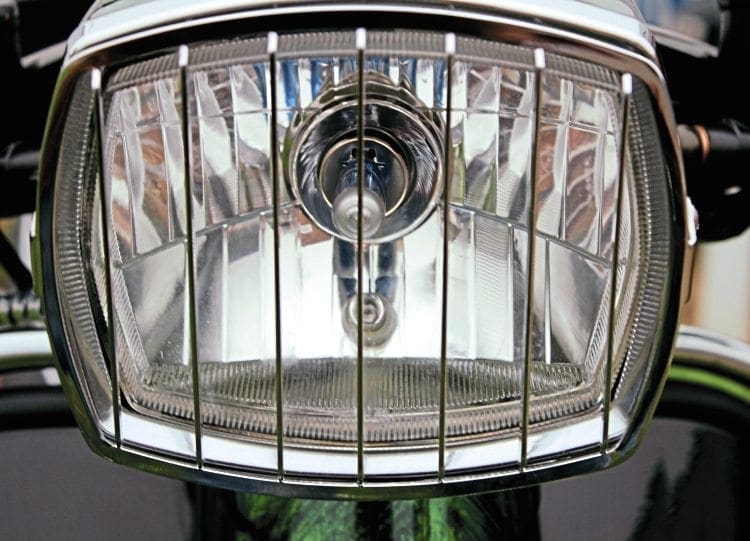 Alternatively… you can embrace the new four-stroke machines. With Italian-inspired appearance, Chinese built engines and British design by two of the scooter scene's top innovators, Scomadi could have the same sort of impact on today's scene that the Prange Vespa had on the 80s scene and beyond. The Invasion of the Scomadi feature (Scootering June 2016) put a four-way 'real world' spotlight on the Scomadi TL125. Among the Scomadi owners giving their opinions was Aaron Watt, owner of Night Owl Scooters in Northampton.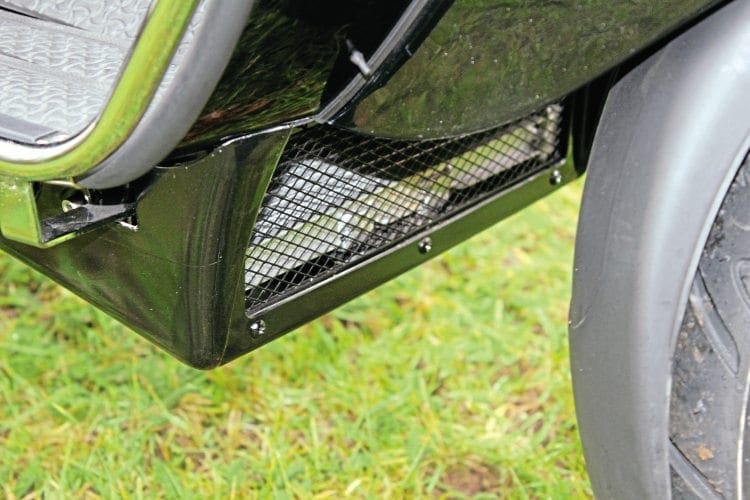 Since that feature Aaron has parted company with his TL125 Scomadi 'Illuminati', upgrading to a TL200. Aaron's Illuminati had been customised via vinyl wraps on the body panels, but for the TL200 he took a more traditional approach to the artwork. He told us: "I enjoyed having a bit of fun with my TL125, but as soon as the TL200 was readily available I bought one with a view to showing what I, and the shop, can do with scooters. Well, perhaps that should be Scomadis. As far as I know this was the first Scomadi to be custom painted. For the paint job I drew inspiration from Mexican lowrider cars, obviously adapting elements of that onto my Scomadi.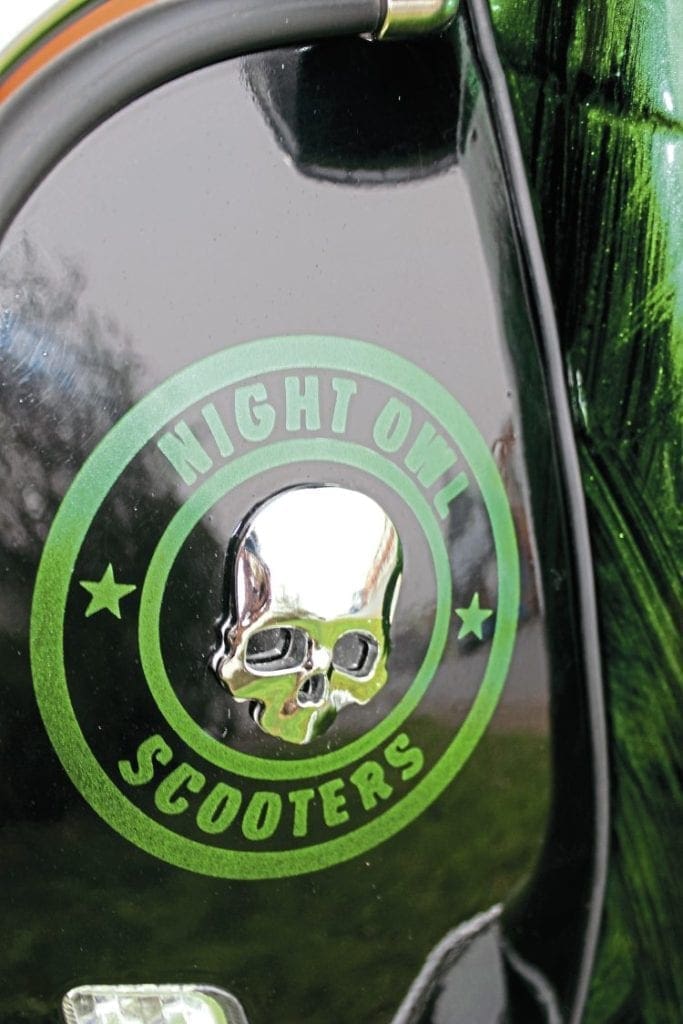 "There's lots of glitter painted details subtly and obviously too, on various parts, all done in-house on the plastic bodywork. We started with a black base coat, followed by a gold wash coat, then jade green and finally lacquered to get the effect. On the front mudguard there's a touch of metal flake in keeping with the lowrider style glitter painted parts. Wheel rims are a white base with gold glitter paint on top, to give it a bit more lowrider chicano-style bling. Of course there are a few chrome parts as well. I'm happy with the how the paintwork looks so far, though I've a few ideas for more airbrush work in the future."
While Aaron's TL125 Scomadi was more or less standard, once he'd got the wheels in motion to buy a TL200 he was already planning on giving the brand new engine upgrades. "Night Owl Scooters have only been open for just over a year," he said. "Our first open day a few months ago was an overwhelming success. We're probably the smallest outlet for Scomadi in the UK and my intention was to use my TL200 as a demonstrator to show the work we can offer. Stock crankshaft and piston have been replaced with Suzuki ones, it's a PM pipe with a Scorpion end-can. Internals and lighting have been upgraded, including fitting aftermarket PM tuning parts (see spec sheet for details). Basically anything that was available was put on it, what wasn't we adapted to fit and work. All the bits we've fitted can be bought. All upgrades to the engine and running gear were carried out in house at Night Owl Scooters. I've only clocked up about a hundred miles so far, it's got a top speed of around 85mph (88mph on a good day) and I'm a big bloke weighing in at 18 stone. A Scomadi returning that sort of speed with me on board isn't a bad performer, once the engine has bedded in properly with more miles on the clock I believe the top speed should be hitting 90mph plus,"
Although Aaron is now on his second Somadi he hasn't totally embraced them to the exclusion of all others. "I got into the scooter scene in the late 70s early 80s as a soul boy scooterist. I still own and ride geared classic two-stroke scooters. But for distance riding, handling and for comfort Scomadi take some beating. Frank (Sanderson), Paul (Melici) and all at Scomadi UK have got a great product and have built a network of outlets for Scomadi. Despite Night Owl being the smallest outlet, the back-up they provide is second to none.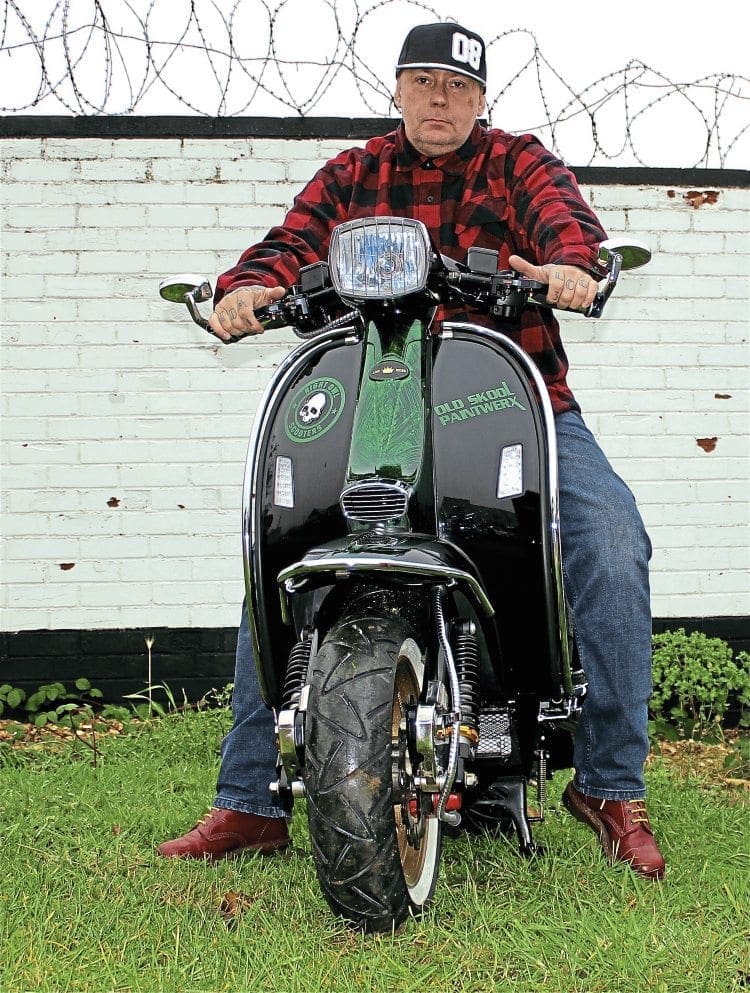 "Almost everyone who's been in the shop likes the look of Scomadis, everyone who has had a go on one has been impressed — most have either got one or are getting one. Unlike a lot of other four-stroke twist and go scooters, Scomadi with its Lammy type appearance has a classic look."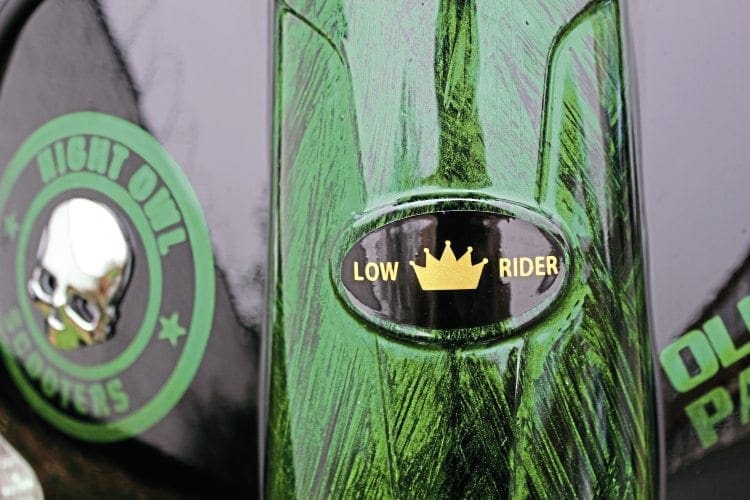 The 'public jury' will continue to deliberate on a definitive decision as to which makes, models and marques of new four-stroke autos are acceptable for a while yet. The debate on new versus classic will undoubtedly continue way beyond any jury proclamation however… and Scomadi is leading the pack, for now.
MAN & MACHINE
Name: Aaron Watts
Job: Workshop owner.
Scooter club & town: Unlikeables SC, Northampton.
When did you first become interested in scooters: 1978 through the Northern Soul scene.
Fist scooter: Vespa Primavera 125.
Favourite scooter model: Lambretta TS1.
Favourite style of custom scooter: The fully chromed style.
First rally or event: Skegness 80s.
How did you get there: Rode from Northants on a Lammy Li 125.
Favourite rally: Enjoying the Nationals at the moment.
What's the furthest you've ever ridden on a scooter: Around 300 miles.
What do you like about rallies/events: Like catching up with friends from across the country, and the music.
What do you dislike about rallies/events: Bad showers, cliquey bastards.
What's your favourite Scootering magazine feature: Feature scooters.
Your favourite custom/featured scooter of all time: Dazzle.
If you had to recommend one scooter part or item of riding kit what would it be: Armoured everything.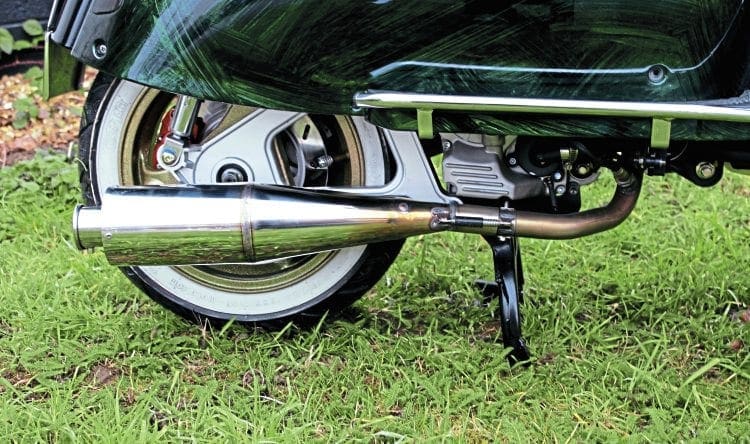 Name of scooter & reason: Low Rider, based on/inspired by Mexican lowrider cars.
Scooter model: TL 200 Scomadi.
Date purchased & cost: 2016, £4000.
Inspiration for project: To show what I can do with scooters/Scomadis.
Are there any specialised parts: Glitter wheels, various chrome, Suzuki piston and internals, PM variator and rollers, PM TFI unit, PM pipe.
Top speed & cruising speed: Only covered 100 miles so far, cruising 80mph, top 85-88mph(ish) at the moment, hoping for 90mph when run in.
Is the scooter reliable: 100%.
Paintwork & murals done by: Old Skool Paintwerkz and in house at Night Owl Scooters, Northants.
Overall cost: £6000.
Is there anyone you wish to thank: All at Night Owl Scooters, Northampton, George Stride on the build, Tony Martin on the engine, Sam Scotford on the paint, and everyone at Scomadi UK, top team.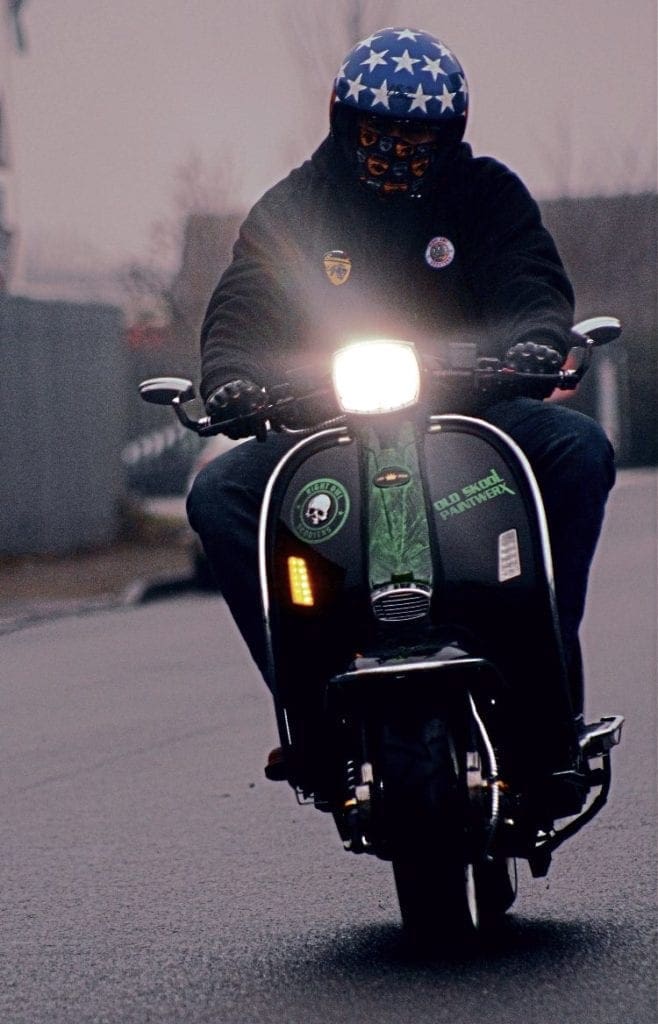 MEXICAN LOWRIDER
The American subculture of the Mexican lowrider goes back almost a century, to the 1920s. By the 20s, eastern Los Angeles had the largest population of Mexican ex pats in the United States. Unlike their parents, who chose not to venture out of the close knit community, the pachucos (younger generation/ delinquent youths), preferred going downtown, to beaches and even into Hollywood. They would drive there by car, an abundance of second-hand Model T and Model A Fords available for not a lot of money, made car ownership relatively easy. Various body parts, surplus to requirements, were discarded, thus giving birth to the then fledgling hot rod car scene that would grow over the forthcoming decades.
Although early hot rodding was a multicultural scene, those of Mexican decent developed their own appearance and style — chicano. After the Second World War, the desire for raw power and speed from hot rod cars became less important to some. The late 1940s saw the advent customising cars for comfort, style and appearance — a trend which has continued to grow and evolve ever since. From the late 50s early 60s onwards chicanos developed a semi-exclusive approach to their custom cars, resulting eventually in the lowrider.
Streamlined and lowered body work, with aircraft hydraulics fitted to make the cars go up and down, become more and more prevalent as the lowrider style was developed. During the 70s, the lowrider peaked, with funk outfit War releasing the track Low Rider, which reached the number 10 spot in the Billboard singles charts.
It was an anthem for the entire lowrider scene. As an aside, there's a whole sub-genre of rare soul-funk that has been categorised as lowrider sounds! There have been several big screen showings of elements of the lowrider scene, culminating in the film Boulevard Nights. This depicts gang violence as a part of the lowrider culture, which was a controversial subject and even allowing for (big screen) artistic licence, it's a connection disputed by many chicanos of that time. A New York Times article from 2000 observed that mainstream lowrider groups actively encourage youngsters away from gang culture. Lowrider car culture has been dipped into by advertising agencies with the intention to portray their product as cool and hip by association.
Today Mexican lowriders are something of a rarity on the streets in America, unlike 40 years ago. This is due to political pressure and police enforced clampdowns, however organised shows and competitions take place in many cities during each year. Low and streamlined, with superbly created stunning artwork, an abundance of glitter impregnated paint adding additional bling, and serious engineering to accommodate multi hydraulics, lowrider cars will continue to develop in their own right.
Lowrider magazine, which is behind many of the official gatherings, claims to attract as many as 10,000 lowrider cars and 200,000 people to its events. It is estimated there are currently in excess of 500 lowrider car clubs in USA. Evolving from the American working classes, the chicano style and continually developing Mexican lowrider custom car scene, despite opposition from the authorities, is here to stay — its influence being far reaching, way beyond its cultural origins.
Words & photographs: Sarge

Enjoy more Scootering reading in the monthly magazine. Click here to subscribe.