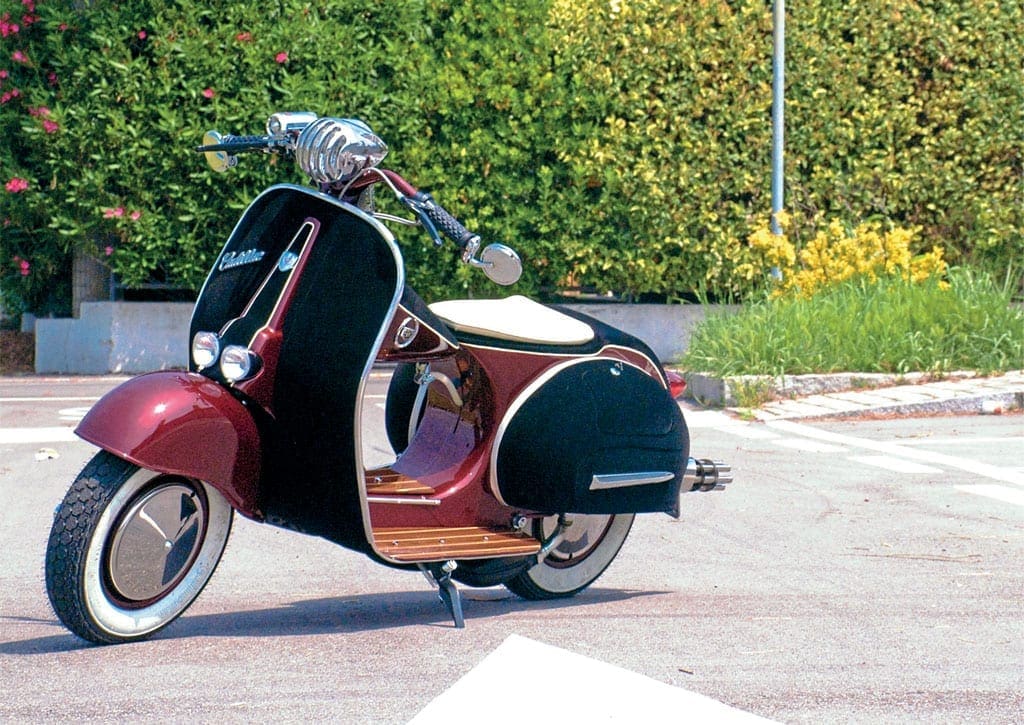 Words: Sarge | Photographs: Alberto Bersini
Customising, modifying even personalising scooters, or any sort of motor vehicle can be, and often is, more than a little addictive.
The desire to put one's own stamp on a vehicle is something that's been around pretty much since any form of motorised transport has been available. Whether it be adding a few extras or seriously radical modifications, alterations and changes, (as well as all points between), the end result is the same. A personalisation of a mechanical means of transport.
Customisation is pretty much a worldwide phenomenon, albeit with, in some areas/countries, a more localised approach. This can be shaped by the availability of items, restrictive laws and regulations along with what is fashionably current within the customising fraternity.
Alberto Bersini, who was born in 1980 in Bergamo, Italy had already been bitten by the customising bug on a number of occasions prior to embarking on working his magic on some radical custom Vespas.
Alberto's CV as a customiser includes transforming a Kawasaki VN800 into a Bobber, creating a cafe racer from a Honda 750, as well as working similarly on a '65 Mustang Fastback and a '67 Volkswagen Beetle.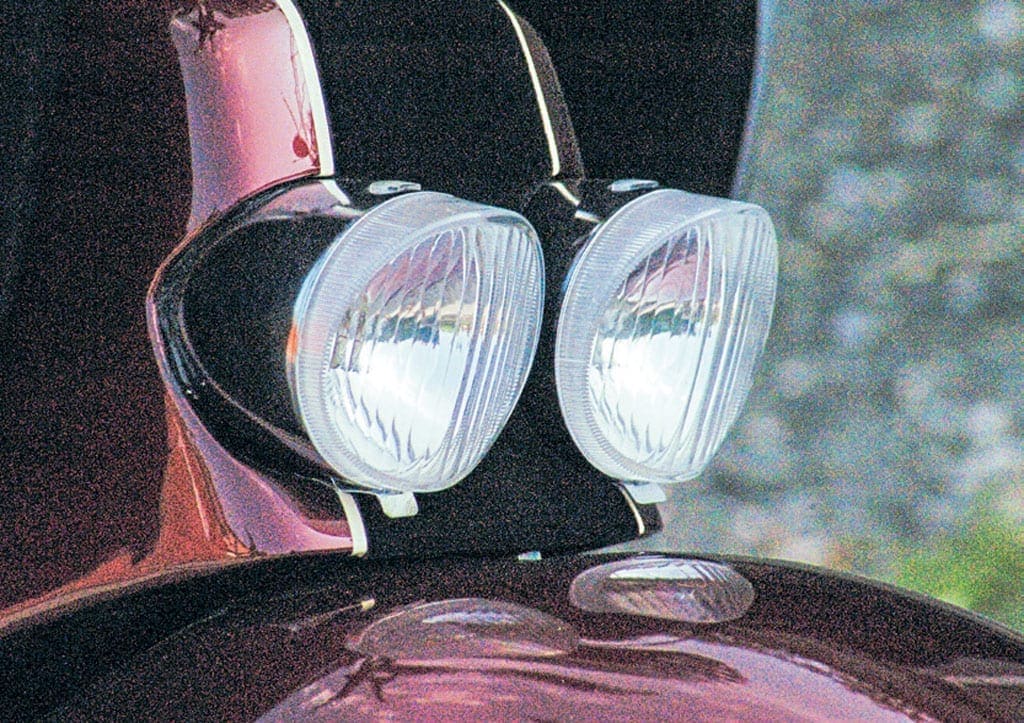 Boop-oop-a-doop
Hooking up with Michele and Fabrizio, becoming an integral part of Old Scootering Time in Villongo, Belgamo, Alberto's early love and appreciation of scooters, both Lambretta and predominantly Vespa, was reawakened with a vengeance.
His first custom Vespa was 50 Shades of Rust, completed in 2014, which inspired a plethora of imitations. He said: "When I created my 50 Shades of Rust, I didn't think for one moment it would become so famous, well known or that it would be responsible for many replica type scooters. I love the post-atomic hot-rod style of customisation, which I wanted to transfer to, and incorporate onto a Vespa, with real rust on the frame."
Alberto's next scooter project was a real hybrid, requiring considerable alterations, modifications and changes. Christened Vespocifero, it's a hybrid of an Italaljet Velocifiro automatic 50cc with Vespa body and panel work, along with some specially selected extras.
"I built it for my wife Paola. I chose to retain the auto engine, with electric start purely because she doesn't like, or get on with manual gear changing. I totally stripped all the plastic bodywork, replacing it with modified Vespa frame and body panels. It has a set of springer-type forks on the front end. As for the pink with a black dot, and black and pink paintwork, that's because my wife loves anything to do with the cartoon character Betty Boop."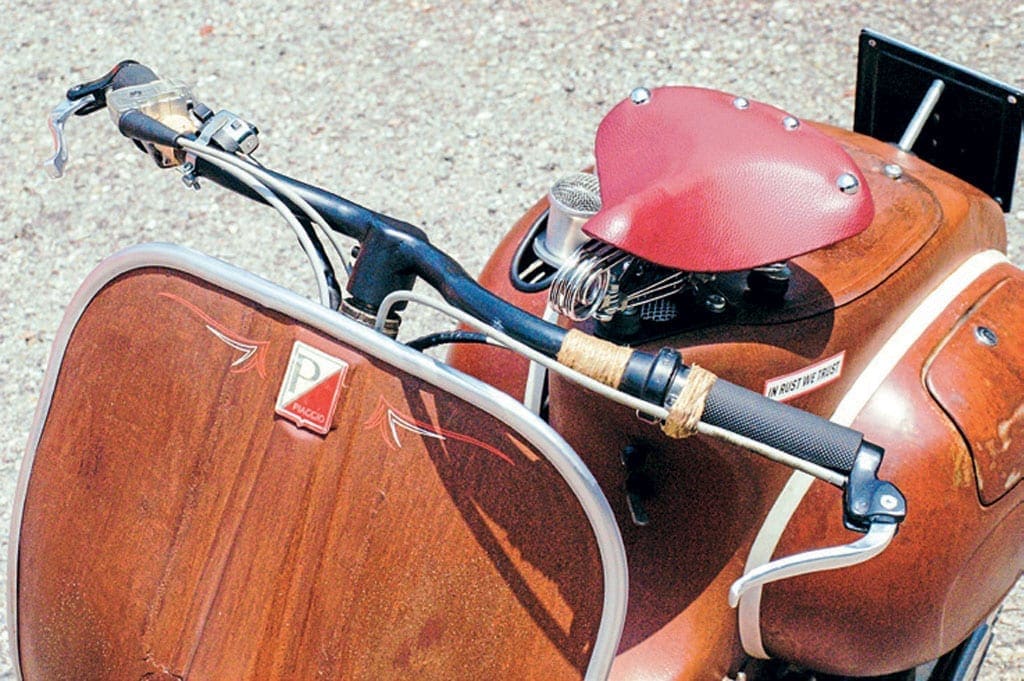 The Lowrider is a real goer
Alberto's most recent scooter project, completed earlier this year, was certainly his most ambitious, so far. Taking a stock Vespa PX 125, Alberto set about creating a custom scooter inspired by classic luxury American Cadillac cars of the 50s and 60s. Needless to say taking a stock PX and bestowing a radical makeover wasn't a quickly achieved operation.
Firstly, the monocoque chassis was lowered by some 18 centimetres, just under 7.75 inches in good old Imperial measurements. To enhance the lowered, wider appearance of his Caddi' Vespa, Alberto acquired a Vintage GS front mudguard, which once fitted, sits much lower on the front wheel.
A pair of early 60s VNB1 side panels were duly sourced, which after some one-off modification and fabrication to a sizeable section of the frame echo the lines of the front end. While the frame was being cut 'n' shut to accommodate the side panels, the seating area was dropped to take a thinner lower customised seat pad, handmade from marine leather.
Between the headstock and seat a modified fuel tank liberated off an Aprilia Red Rose 125 completes the silhouette of Alberto's creation. All the fabrication, welding and similar was carried out through Old Scooter Time Villongo, by Fabrizio, Enrico and Michele, to Alberto's specifications.
For the deep red livery along with fine white pinstriping surround paintwork, the talents of Carrozzeria Martinelli Davide were enlisted and put to use. As for the black velvet sections of the frame, legshields, tank and side panels, this was achieved through the services of Pieffe Car Wrapping. On the legshield floorboards and centre section have had genuine marine teakwood coverings tailored to fit perfectly.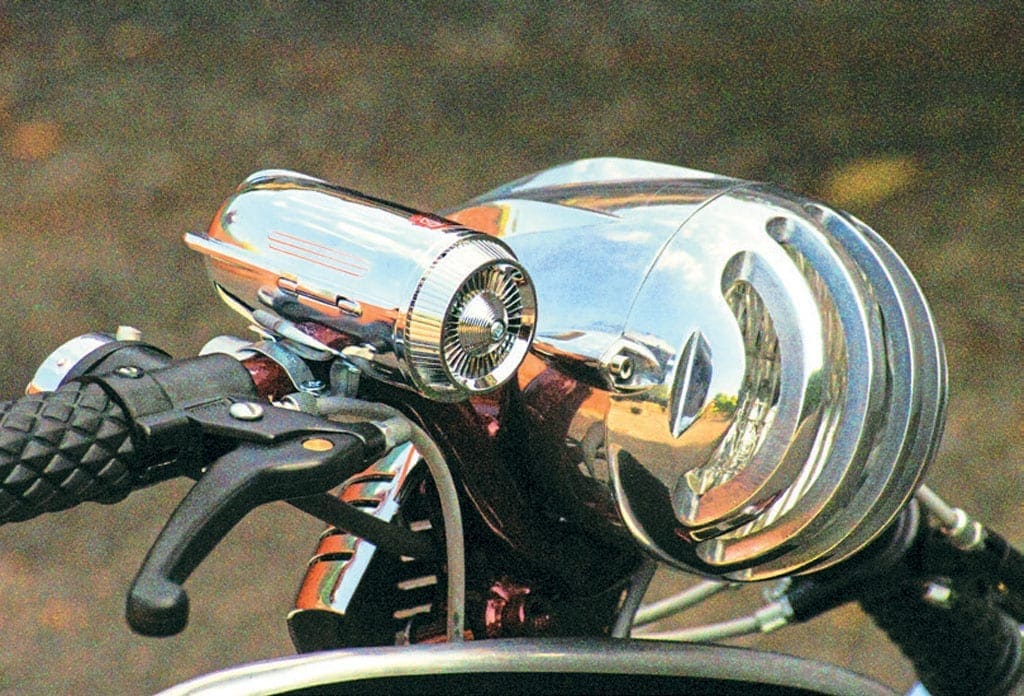 Brand new Cadillac
Although Alberto opted to keep the engine at a cubic capacity of 125, it had a few tuning tweaks, which were carried out by Gigi at Due Ruote Workshop. A closer, detailed look at Albertos Vespa Cadillac Tribute reveals a profusion of one-off and unusual but fully functionally items that have been fitted.
A Vespa 50 special horn cast cover was modified to accommodate a brace of custom bicycle headlights alongside each other, sitting just above the GS front mudguard. The main headlamp is an aftermarket billet item, which nestles on top of a modified Italjet handlebar, with a pair of Biltwell grips and cafe racer style mirrors either end. It has to be said that the vintage bicycle horn alongside the main headlight adds to the retro look of Albertos Vespa.
Both front and rear wheels sport chrome wheel covers liberated from a 1975 Ford. Being a Vespa Cadillac tribute machine, of course, there is a handful of Cadillac items fitted to Alberto's Vespa.
There's the various badging, including the large chrome letter 'V' on the rear of the frame, as well as others on both the fuel tank and legshields. Additionally, the twin tail-lights were originally intended for a 1959 Cadillac Eldorado Biarritz, which have been partly sunken into the bespoke rear frame section.
The hardest part of completing this particular build was getting the eye-catching, revolving 'machine-gun' type exhaust to fit and work. "The muffler is a commercially available item for Harley-Davidson motorcycles. It was a bit complicated to get it to fit and work how it should.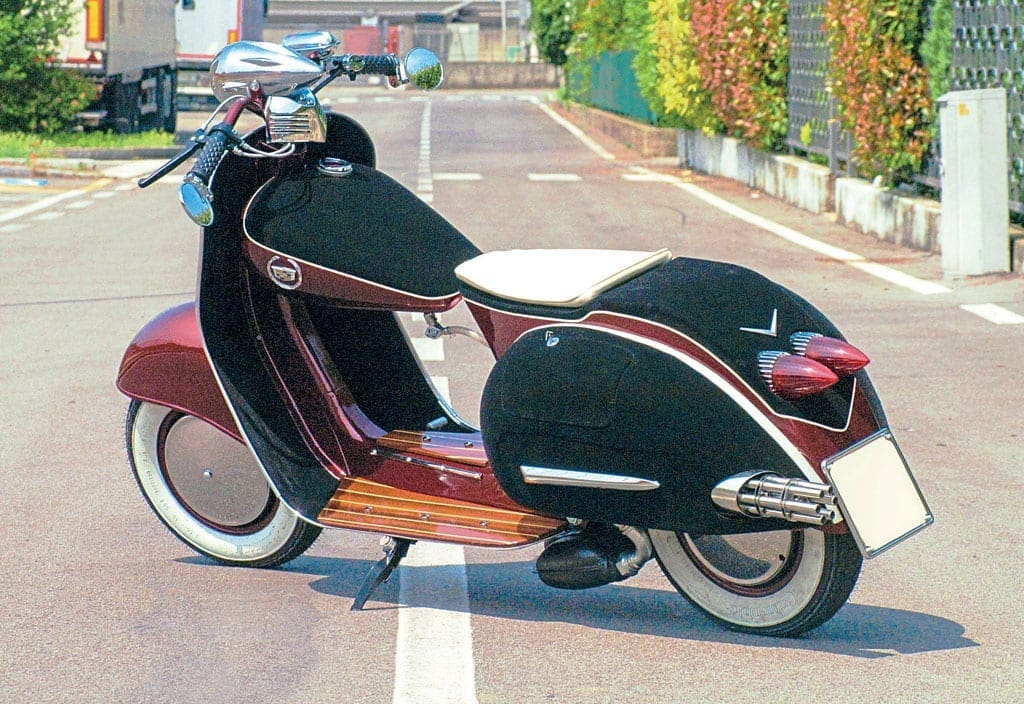 "I achieved it in the end by using the front section of a standard Vespa exhaust system, connected to the revolving machine gun muffler by a one-off curved metal tube, that has an additional flexible steel part. This lets both the engine and front section of the exhaust move separately from the muffler while remaining connected to it. It was a complicated job to carry out."
Now Alberto has completed his Vespa Cadillac Tribute, is he happy with the end result, and is there any changes planned? "I am pleased and happy with my Cadillac Vespa Tribute, there are only a few changes to make, the brake and clutch levers will be changed for chrome ones, and the fuel pipe I will change to a metal one, that's all, nothing more."
To conclude Alberto reveals: "Now, I already have plans, ideas for the next Vespa I will build, but I don't have any more space in my garage. So maybe I will have to wait a while, or my wife will kill me!" Best we don't mention that then.


Enjoy more Scootering reading in the monthly magazine. Click here to subscribe.