If you've ever fancied scooting in warmer climes, We Scooter, The Royal Alloy dealership in Thailand, invites you to tour this beautiful country.
We've all fantasised about pottering around on a scooter in some idyllic location and after two years of Covidenforced isolation the rest of the world's never looked more appealing. Fortunately Britain isn't the only country with a strong scooterist community and Elvis Lv of We Scooter, Royal Alloy's dealership in Bangkok, was only too keen to explain the scooter scene in Thailand.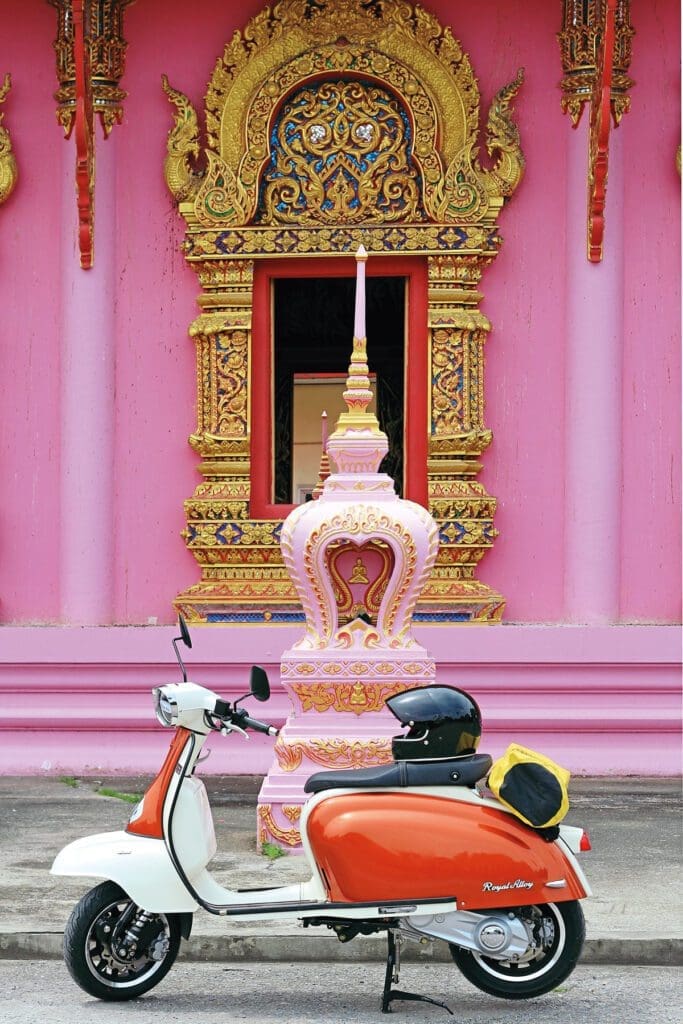 Dealer Focus
Although there are more than 21 million scooters registered in Thailand, the overwhelming majority of them are used as daily transport. The concept of a scooter being used as a 'hobby' is a relatively new phenomenon and is mostly popular with younger riders, typically aged between 25 and 35 years old. This group has adopted the 'retro scooter' as its own and Royal Alloy is a go-to brand because of its classic 1960s styling. Rather like European club scootering of the 1950s and 60s, Thai riders have strong affiliations with dealerships and because of this We Scooter has developed its own club. A coffee bar has been built next door to the showroom with the two being connected on a walk-through basis.
Although the British market is dominated by 125 and 300cc scooters, thanks to local licensing and tax regimes the most popular engine size in Thailand is 150cc. Asa consequence the Thai rider gets to enjoy models that aren't found in Europe. For Royal Alloy this means supplying the market with a single cylinder, four valve SOHC motor with a capacity of 149.8cc.
Road Tripping in Thailand
As Elvis explained, Thailand is a fantastic country to explore by scooter, but it needs some mental preparation. "We encourage people to come and ride here but take care, you'll find it very different from your home country. There are many, many beautiful sights to see when on your scooter and we'd highly recommend a visit to Chiang Mai in the north of Thailand. It's an ancient city with a perfect blend of incredible mountains and historically rich architecture. The weather here can change quickly and when the rain comes, it comes in very hard, fortunately it also dries very quickly too.
"There are also huge traffic jams in the big cities, these are often caused by scooters, but scooters are also the only way to find a way through them. Another thing to keep in mind is that outside of the main towns and cities you can't rely on an internet signal, so you must plan and know your route first."
Whether it's as part of a family holiday or dedicated riding adventure, if your appetite's been whetted and you fancy scooting Thailand, We Scooter's helped put together a few basic points for you to consider (facing page). However Elvis' main recommendations are simple: "Ride carefully, observe the law, take your time and enjoy all the breathtaking scenes that Thailand has to offer."
Thai Specification Royal Alloy
Royal Alloy TG 150s
Colour: Valencia Orange and Ivory
Engine type: Single cylinder four valve SOHC 149cc
Fuel System: Delphi EFI
Start mode: Electric
Max net power, rate (kW/r/min): 9.8/8500
Overall size: 1845 x 670 x 1115
Fuel tank capability (L): 10.5
Net loading weight (kg): 139
Front brake: Disc brake ABS
Rear brake: Disc brake ABS
Good Times
Insurance
If you listen to no other advice, buy a good travel insurance policy before you travel and make sure it covers you for riding a motorcycle in the country you're visiting. Policies have different requirements but most stipulate that a helmet must be worn and you have a valid licence for the scooter you'll be riding. If you don't comply with their terms and conditions your insurance company is well within their rights to refuse your cover. It may seem like a faff sorting that out but the backpacker forums are filled with stories of travellers who chose to save a few pounds but now face crippling medical bills.
Helmets
Rental shops offer them for free, but inevitably they're made of cheap plastic and probably do more harm than good in a tumble. This type of helmet is also sold around markets and busy streets, often for around $5. If you think a helmet costing so little's going to prevent you from serious injury then Darwin probably had a point. It's much better to visit a main dealer and addresses for these can easily be found on the internet. It's also possible to take your own helmet with you and it's always worth enquiring whether your airline will allow them as carry-on luggage. If you've an old helmet at home our tip is to take that with you, it'll be better than most helmets bought locally. Invariably you're going to sweat and get dusty and an old helmet can be discarded at the end of your trip.
Renting
Renting a scooter in Thailand is not a problem but you'll have to produce your passport and driving licence. In most places it will be copied and handed back to you but some shops insist on keeping your passport until you bring the vehicle back. The local police can insist on seeing your papers in the event of an accident and not being in possession of your passport can be problematic so it's worth negotiating a deposit that allows you to keep hold of your documents.
Before you ride off, always take photographs of the scooter, paying close attention to it, particularly to any scratches or existing damage. Make sure that the staff are made aware of them and always insist that they mark them on the rental form.
Road safety
Please bear in mind that Thailand has some of the most dangerous roads in the world. Accidents are frequent, with the victims usually being expats or tourists. Ride with caution and observe the traffic very critically. Stick to the left and ride at a steady pace. Remember to use your mirrors very, very frequently and always indicate, especially in the cities. This is true even if the locals don't.
Drunk driving is not strictly punished in Thailand and many people drive under the influence of drink and many other substances too! Keep your eyes, ears and wits about you. You may be the safest rider on earth but that doesn't allow for others on the road.
Words: Rik / We Scooter / Elvis Lv
Images: Chalermchai Tunsingha (Nuim) / Royal Alloy Thailand / We Scooter
To see the rest of the images from this story, take a look at the full article in the January 2022 issue of Scootering.

Enjoy more Scootering reading in the monthly magazine. Click here to subscribe.