I've been after a retro styled helmet for a while, however I've always had an aversion to open face lids. The thought of your chin scraping along the floor has always put me off… So on my search for a classy looking full face job I came across Biltwell Inc, an American helmet manufacturer. They offer an impressive inventory of full face lids with sleek lines, plenty of visor options and all at a impressive price (RRP around £150). Unfortunately there's a catch, they're not road legal in the UK and do not meet EU regs, although they do meet US DOT 4 approval. The good news is that Biltwell tells us this is something it is working towards, and I'll update you all should there be any developments.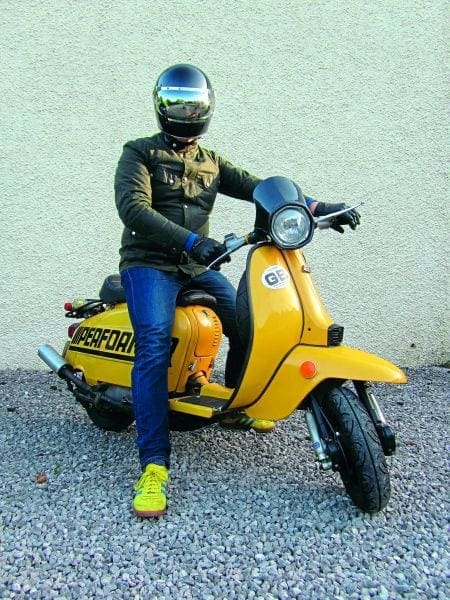 How do they perform?
With the helmets being constructed from Injection Molded ABS they are incredibly light, and don't strain your neck while riding long distances. The internal cushioning is also very comfortable, more so than many of the modern designed helmets I've used over the last couple of years. The slimline design, without any vents or ridges creates a surprisingly quiet helmet with very little wind noise. Which is always nice on the motorway jaunts! However this slimline design does also mean that despite being full face, it does leave your chin a little more exposed than most other helmets I've previously used… Anyway, the helmet comes in two guises, the Gringo and Gringo S. The Gringo, has many vibrant metal flake finishes, however it only has a clip on visor. This means you can't flip it up and it has a chronic steaming problem. The Gringo S has simpler colour schemes, but its flip up visor makes it far more practical and versatile!
Jordan

Enjoy more Scootering reading in the monthly magazine. Click here to subscribe.

Article continues below...
Advert