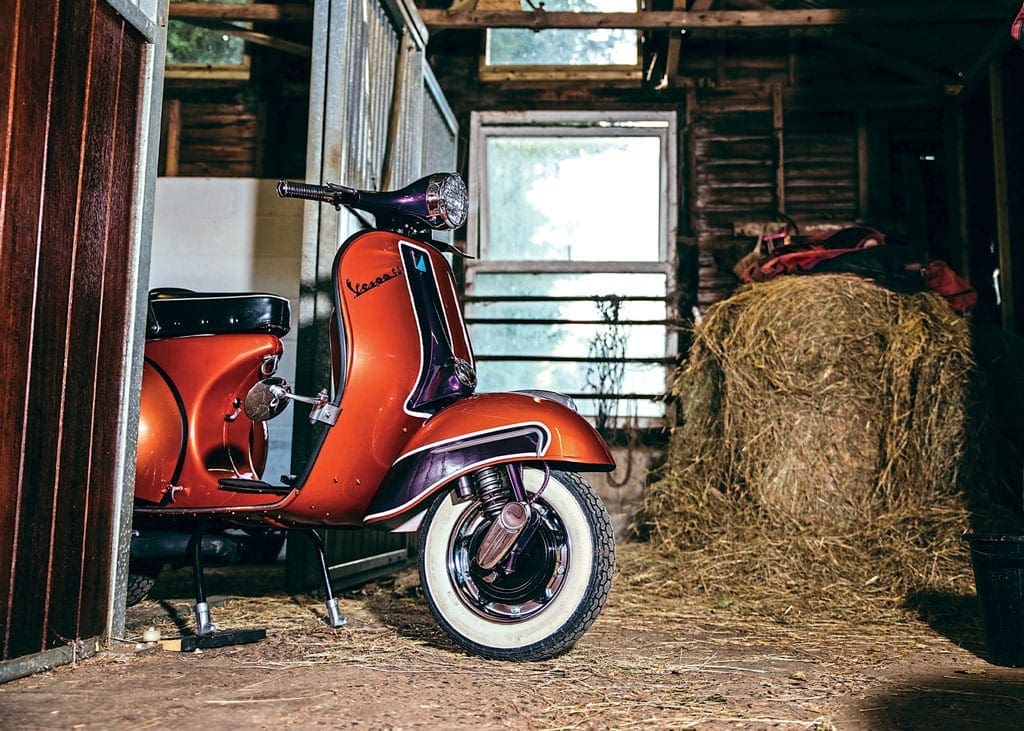 Words: Sarge | Photographs: Gary Chapman
A quote credited to Pete Meaden to describe the original Mod's outlook: "Clean living under difficult circumstances."
Many ideals pioneered by the original Mods of the 60s hold true 50 years on. Ultimate ace face Meaden's quote is an all-embracing aphorism describing Modernism, Mod living, which perfectly sums up all the many Mod outlooks on life, in one catch-all sentence. In application that descriptive sentence translates as doing the best you can within your means.
Original 60s Mod Arthur Lewis, Art to his pals, has always been a Vespa man, his first scooter was a 1964 GS160 Mk 2, his favourite all-time product of Piaggio. "To me, the GS Vespa is the best-looking Vespa, the best-looking scooter of all time. It's a classic shape, with those curves, the aesthetic is by far the best there is for any scooter, ever. I love the way the GS looks.
"My favourite style of scooter is a minimal Mod, back in the 60s we were youngsters, no one back then could afford much in the way of mirrors and spotlights. It was a fine balancing act with any spare money I had split between spending on clothes, music, going out and keeping my scooter on the road." First hand confirmation of just how accurate Meaden's quote was, and still is.
Early days
Dealer specials of the 60s were viewed, by some, as the crème de la crème – the ultimate scooter to own and ride. In Vespa terms, for example, an Andre Baldet Arc-de-Ciel and the Eddie Grimstead Hurricane are machines of legend today, while back in the 60s they were aspirational scooters. With distinctive paint schemes, plus additional extras, modifications and the like offered, on a sliding scale of price.
They were truly things of beauty albeit beyond the finances of all but the most affluent, nonetheless highly desirable to younger scooterists of the time. Art as a young Mod was inspired by the Grimstead Hurricane SS Vespa when he bought his first scooter.
"As a 16-year-old, as soon as I was legally able to, I paid £84 for my first scooter, a second-hand '64 GS 160 Mk 2, from Pride and Clarke in Tooting. What clinched the deal for me was it had a distinctive, very rare at the time, metallic red paint job. It looked the best, the metallic paint job was done by Grimstead, it was the nearest I could afford to a full Grimstead Hurricane.
"We'd ride to places like Brighton and Worthing in a group regularly. Something that sticks in my mind from back then was, when riding in a group, using hand signals to each other to inform the rest of the riding pack what we were about to do.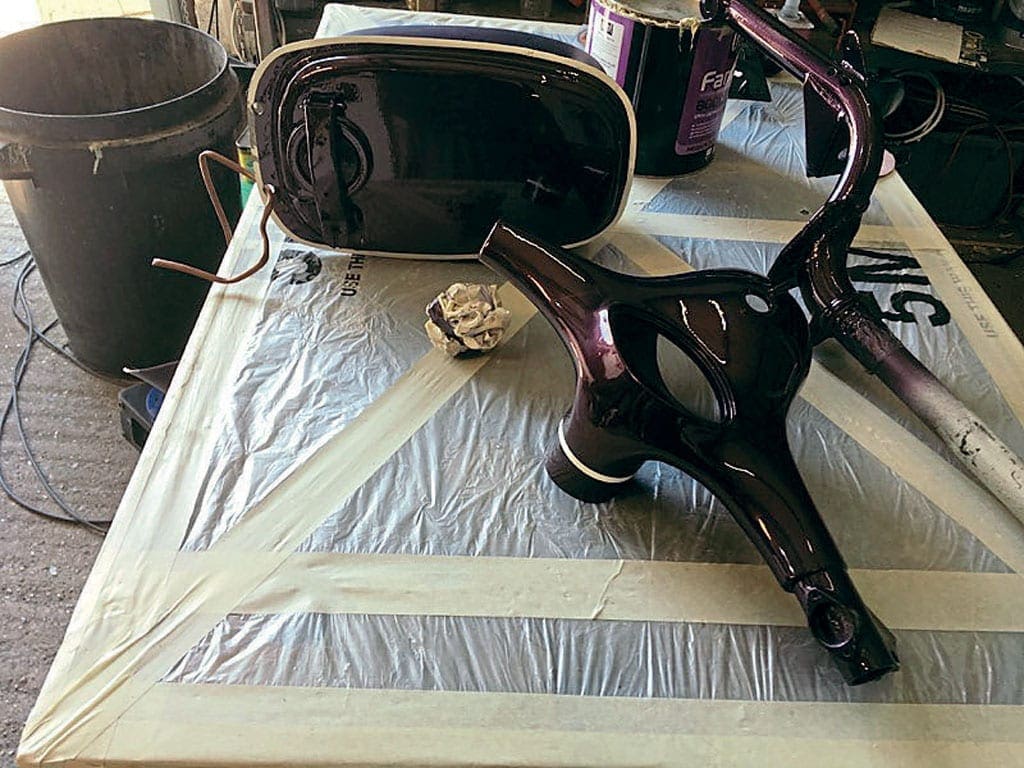 "Full throttle was signified by a clenched fist, third gear, half throttle was signified by three fingers waggled and so on, we didn't have indicators back then. Hand signals between riders in the group were commonplace in the 60s, a practice long forgotten now; you don't see it at all these days.
"My first GS was my pride and joy, being young, stupid and pushing my luck, I managed to kill it when I was 18. Riding along the A3, on a journey and stretch of road I rode almost every day back then, I went into a prolonged chicane, trying to push my GS to go faster and faster through it, the inevitable happened. Result being I killed my metallic red GS. It was a total write off and I spent three months recovering in hospital!"
Seek and you will find
Once a Mod always a Mod it's said, likewise, once bitten by the scooter bug you stay bitten. Forty plus years on from his A3 incident that bite began to itch and needed scratching. Art, following a successful career, running his own, large engineering company was approaching his well-earned retirement from the everyday grind.
With an abundance of spare time to occupy approaching, he began actively searching for the right Vespa. After a two year mission, he sourced the ideal scooter, the very same Vespa model, registered the same year as his first scooter. With only two (registered) owners from new, his acquisition had been stored in a shed since 1974.
Art said: "It was a GS bought brand new in 1964 off a dealer in Colchester, by John Marriage. It was originally Milan white, with the first owner adding the red paint for an, at the time, popular two colour appearance. John then passed it onto his father, RC, in 1967. It was left in a garage (with an Austin 7 car) for some years and ended up sitting neglected and unloved, albeit moving a couple of times.
"During the 80s a friend of RC's, during a conversation, mentioned his son was a scooterist, RC gave (!) him the GS for his son. The Vespa moved to another garage, where it languished until '92, when it moved location again, this time to a classic car restoration outlet in Rickmansworth.
"The lad who had been given the GS had an aunt who worked as a receptionist at the classic car restorers and she persuaded the owner to restore the GS as a side project, free of charge too.
"Sadly apart from a couple of occasions very little apart from firing the GS up and riding it around outside the garage, nothing in the way of any work appeared to have been carried out. Eventually, it was loaded in a van and taken back to the lads' parents' garage for a second time. Where it stayed, under a cover, until I liberated it three years ago.
"Whether it was the ravages of time, a few abortive attempts by well-intentioned people who didn't know what they were doing or a combination of both, the GS was in a bad way. Worse than it appeared initially.
"Some of the problems requiring attention included the gears not engaging and the wiring loom looking like it may have been on fire at some point – there were places where insulation had melted, different wires had fused together and in other places the wires had corroded.
"The seat was tatty, while the brakes were non existent. It had what appeared to be a bit of rust on the frame. When it was stripped back for a total overhaul and new paint job, I found it was so far gone under the original paint that the floor and centre bridge section needed replacing.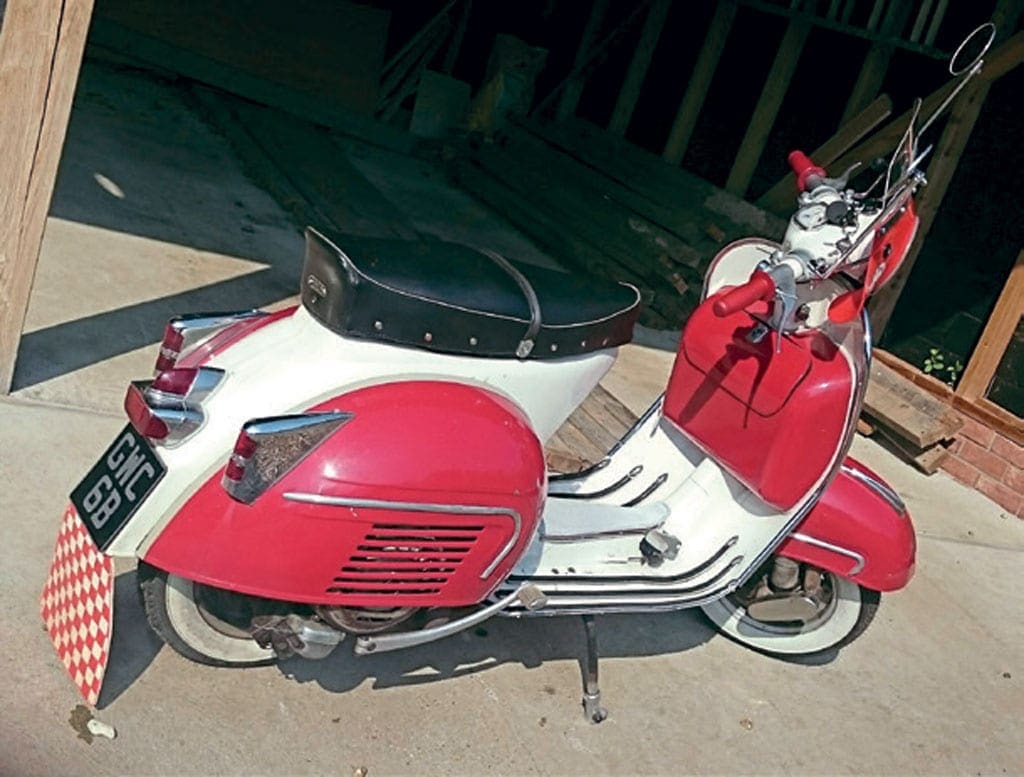 "On the plus side, the engine actually ran, it came with a bit of provenance, original logbook with change of ownership stamps, the tax disc from when it was last on the road, and the MOT certificate from the last time it was on the road.
"It appears that it hadn't been ridden much after it was last MOT'd. Recorded mileage at that point isn't much less than what the mileometer read when I bought it. I got it cleaned up and running properly in its white and red, before embarking on a fully refurbished transformation."
Twice Resurrected 'n' Revamped
After purchasing his second GS, Art embarked on a full refurbishment of the entire scooter. Following firstly getting it up and running properly in the white and red. It was a lengthy yet satisfying process, with Art carrying out the majority of the required strip down, fabrication and rebuilding work himself over a 24 month period. He also made a photographic diary recording all the stages of that process, some of which accompany this feature.
Art additionally designed the paintwork layout out and colour scheme. "I sketched up the colours, the pattern with a view to it having a modern but retrospective look," he said.
"It was definitely inspired by the paint layout on those 60s Grimstead Hurricanes but without being a copy.
"One of the hardest parts of the whole project was finding someone capable of producing three layers of paint without airbrushing. Dean at Dubz Daddy, VW Camper specialists, did an absolutely top quality job with the three coat three colour paint to my design sketches.
"Martin Drake at Anglia Scooters carried out the all the work that was beyond my capabilities, thoroughly professional with a second to none attention to detail.
"When I started searching for another GS my initial intention was to restore it 100% to the original specifications of a Mark 2 GS 160. I also own a GTS 300 Anniversary edition, which is a lot more practical for long distance riding.
"I then thought about practicalities and available upgrades to my GS so it would cope better with today's roads. There are a few changes from what would have been a stock '64 GS on my Vespa. Standard flywheel and ignition set up on the MK2 160 had a tendency to drain the battery. The simple solution was fitting an electronic ignition system.
"Locating a flywheel to suit the crankshaft taper proved to be not easy to do, though the Atomic lightweight flywheel was worth the trouble it took. Combining with a new cush-drive and clutch, it accelerates well from stationary with loads of torque at the bottom end. Standard bore size on the barrel, with a new, GOL Milano piston, the carburettor has been upgraded with a 110 main jet as recommended to work with the SIP Road 2 racing exhaust.
"I'm not a youngster any more, a BMG adjustable rear shock absorber is the better option for me these days than a standard 1960s item would be. Brakes are another area where I've gone for an upgrade, better quality braking shoes.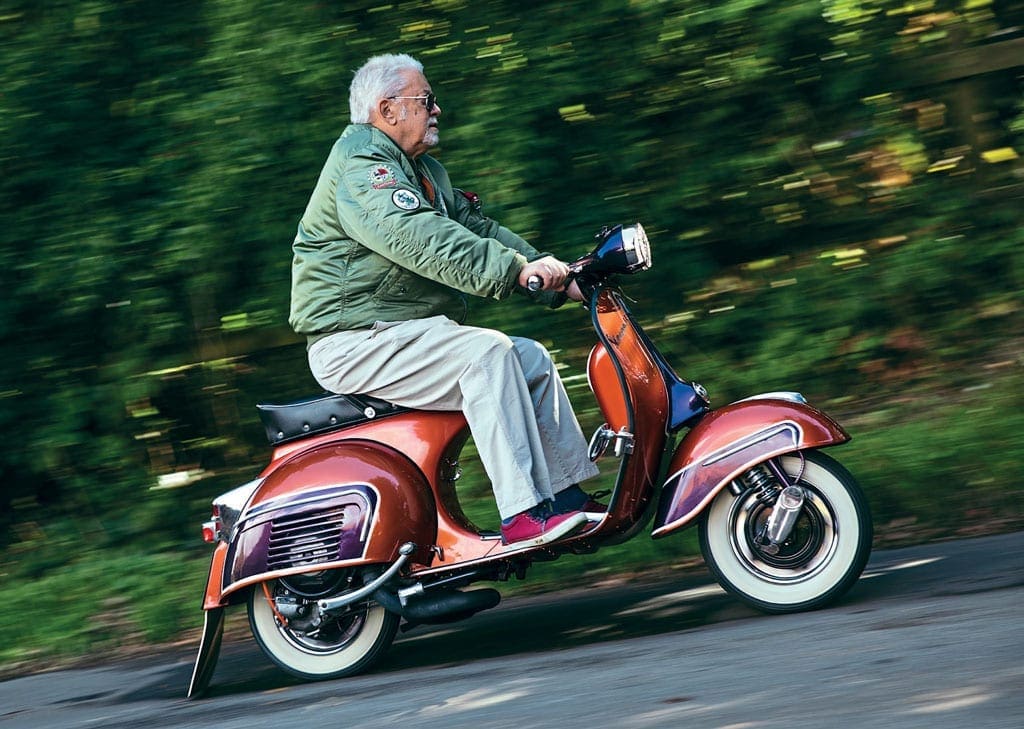 "I sent the speedo off to Speedoking in America to rebuild the inners, but retain the original mileage (28,000 miles), as well as obtaining a new speedo facia as the original over time had faded and discoloured.
"Currently there a couple of additions I'd like to make, an Ancilloti style seat that fits over the raised fuel tank, a chrome grab rail for the seat along with a headlight grill are in my plans too. I decided to give my GS the name Art for Art's sake, my name is Arthur, and the paint design is my own, I think it's rather artful!"


Enjoy more Scootering reading in the monthly magazine. Click here to subscribe.