Words & Photographs: Stan
It's probably the biggest name in scootering that you've never heard of. Stan visits Saigon Scooter Centre to find out the secrets of its success.
This year Saigon Scooter Centre celebrated its 21st birthday, yet outside of the trade it's relatively unknown. Putting things into perspective, if a classic scooter has been re-built in the last decade it's highly likely that some of the components used were sourced or manufactured by its British owner, Pat Joynt.
The story of how he came to settle and work in Vietnam would fill a novel, but it all began with a family holiday to Morecambe.
"I grew up in Wigan," explained Pat. "I was in my early teens when we went to the coast on holiday. The town was full of scooters and I got talking to some of the lads. They explained about scooters and scooter rallies, and I was hooked.
"Back home, I tracked down an old Vespa and eventually persuaded the owner to part with it. I tried everything to get it running, but when I eventually invested in a Haynes manual I discovered there were no jets in the carb. I replaced them and it started first kick!"

For the next few years Pat bought and sold used scooters, his mechanical expertise improving with each project. For a time he could be found at most local and many national rallies, but he also had his eyes on a bigger prize… the world.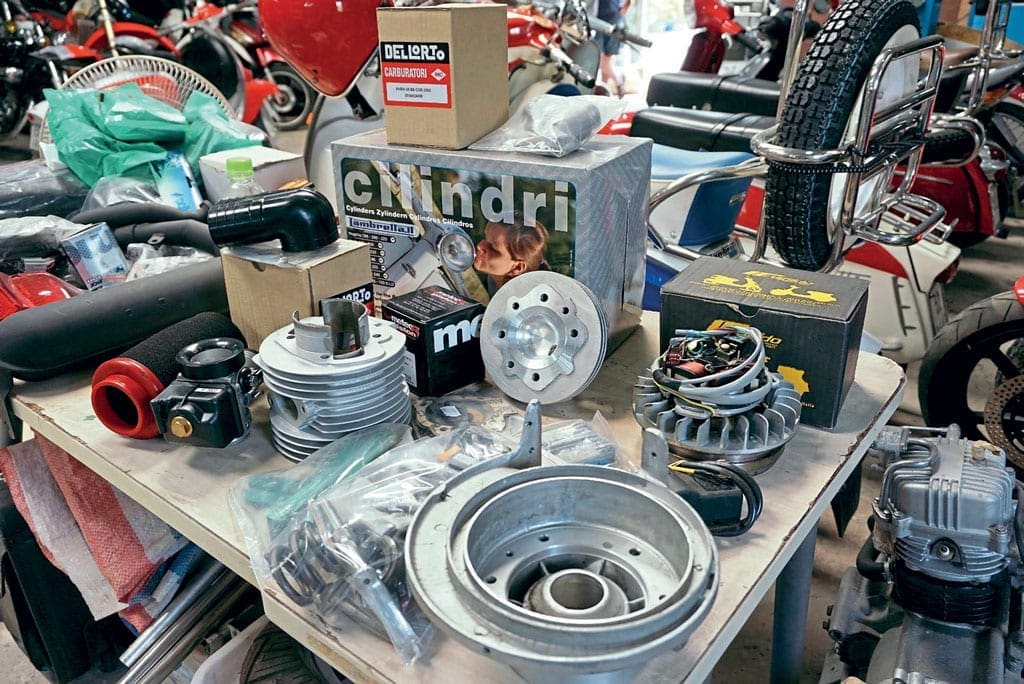 In the internet world of cheap air travel and instant access to information, it's easy to forget just how insular we were in the 1980s. When most of us were basking in the adventure of a package holiday to Magaluf, Pat was working in Las Vegas.
Having backpacked his way around the States, Pat returned home and settled into normal life. "I had a steady job, a girlfriend and a mortgage," he laughed.
"I woke up one morning and realised there were still plenty of places I wanted to see. I had a P2 in pieces so I threw it together, said some awkward goodbyes and set off for Europe."
Having spent the summer working in Italy and Greece, Pat had the idea for a much bigger adventure.
"I met a guy who was travelling overland by car, splitting costs with a group of friends. Back home, I'd been tinkering with Land Rovers and knew they'd be ideal. I went home, bought an ex-Army Land Rover and advertised for like-minded people to join me. In the end, 5 of us left the UK with a rough plan of driving to India.
This was the age before terrorists smashed airliners into high-rise buildings and the world was a more innocent place. Together, the band of travellers passed through the Middle East, Pakistan and even parts of Afghanistan. It sounds idyllic, but wasn't without danger "We were in Gaza and I was walking with 'Big Andy'.
A car pulled up and two guys pulled guns on us. I was bundled into the boot, but they couldn't fit Andy in! A group of Israeli soldiers saw the commotion and opened fire.
The car sped off and we both rolled out on to the road. The soldiers went nuts when we told them what we we doing. We spent the night in their camp and got an armed escort to the border.
Shortly afterwards two Americans were kidnapped that night and their bodies were never recovered. Having reached their goal of India, Pat said farewell to the Land Rover in Goa, although his journey eastward continued.
"By the Spring of 1997 I was in Cambodia, just in time for an armed coup! At first I wasn't too concerned, but when serious gun battles between troops started in the streets, I thought it was time to get out. I found a bus heading for Saigon and jumped on it."
"I'd only been in Vietnam for a few days, but had already found a bar run by Pete, an English scooterist," explained Pat.
"One day I saw an old boy pull up on an SX200. I managed to ask how much he'd sell it for, and we agreed on $300. He thought I was crazy, because with that amount of money he was able to buy a new Chinese motorcycle.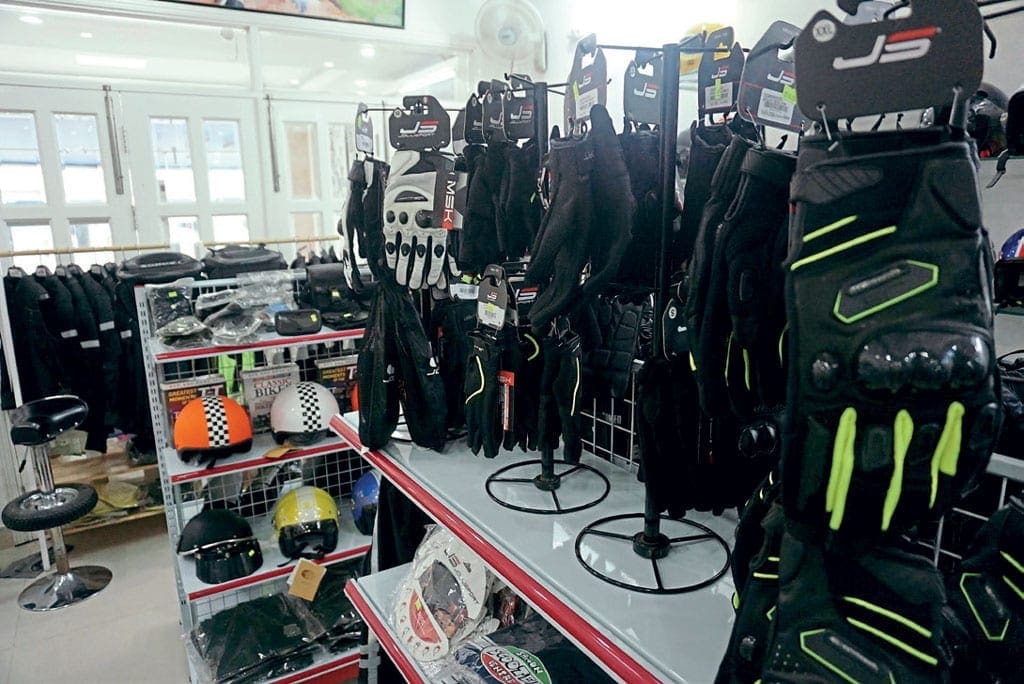 "Word soon got round that a crazy Englishman was offering good money for old scooters. The availability was such that I once turned down an SX because it had LI panels fitted, and the owner wouldn't go below $500! These were really the golden years for buying Vietnamese scooters. The machines I was being offered were in daily use. They'd been patched up, but were easily restorable."
As trade accounts and export licences were needed, it became increasingly difficult for Pat to operate 'under the radar'.
In late 1997 he launched Saigon Scooter Centre, and although it's grown dramatically since then, it remains British owned and operated to standards any European workshop would be proud of.

"The scooters I was exporting were obviously being restored by their local owners," said Pat.
"It's no secret that labour's cheaper in Asia than Europe, and I thought there'd be a market for fully re-built scooters. I put aside 10 scooters and negotiated a deal with one of the local shops. It was a disaster.
"Every horror story you've heard, I found on that first batch. In the end I virtually gave them away. The annoying thing was that I knew the Vietnamese were capable of high-quality work.
"There are skills in daily use here that are almost totally extinct in the West. I decided that it was still worth pursuing, but that I had to take control."
The largest problem facing Pat at that time was the availability of parts.
"There's no such thing as a cache of new old stock parts to be found here, for the same reason that there are no Vietnamese 'barn finds'. The country and its people have been through bad times and nothing could be discarded. If something broke, they fixed it.
"When markets opened up in the mid-1990s the Vietnamese realised there was money to be made from scooter parts, but if the master used to make copies is worn out, it's no surprise that the quality's awful."
For several years Pat stocked off-the-shelf items from local suppliers, but even as a budget range they proved to be more trouble than they were worth.

As Pat's business grew he began to develop a network of quality suppliers across Vietnam, one of which was a steel pressing plant outside Saigon.
"We've put a lot of effort into producing what I believe are the best re-made panels anywhere in the world. Our latest products are for the Series 1 and 2, and if they don't fit then I can guarantee the frame's damaged in some way.
"Each of the masters has been produced from new old stock Innocenti pieces and tested against an unused frame. The only piece I can't supply at the moment are Series 3 legshields, but we're currently working on those. We've had no end of problems with the press for those, and they won't be released until I'm 100% happy with the product."
Not content with becoming one of the main suppliers of parts for classic scooters, Pat's portfolio of interests continues to expand.
Visitors to Saigon, or those wanting to ride further afield in the country, are able to hire anything from a Honda Airblade to a PX150 from his rental arm, and with eyes very much on the future, Pat's the driving force behind 'Buzz', a classically styled electric scooter that we'll take a look at in a future edition.
Saigon Scooter Centre may not be a name which immediately springs to mind when thinking of classic scooter parts, yet their products have enabled most of us to continue using our beloved Italian shopping bikes.
Forget any fears about 'Nammers', wherever its sold, the name Saigon Scooter Centre is a cast-iron guarantee of quality.

Enjoy more Scootering reading in the monthly magazine. Click here to subscribe.