Ring-ding-ding-ding… that annoying thing. The frog, not the scooter! Steven Smyth's Vespa street racer is a thing of beauty.
P-range Vespas have been the work-horse of our scene since I can remember — bulletproof engines, easy spares/accessory availability, relative comfort and good carrying capacity have made them the 'go to' machine for clocking up miles.
Keeping them standard with good maintenance should give years of loyal service. That said, many scooterists don't like to fit into the 'Mr Smithers-Jones' mentality (thank God!) and like to make their rides personal and interesting!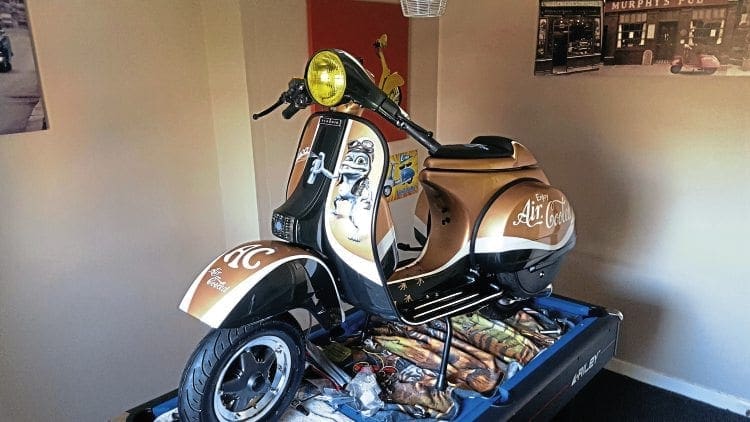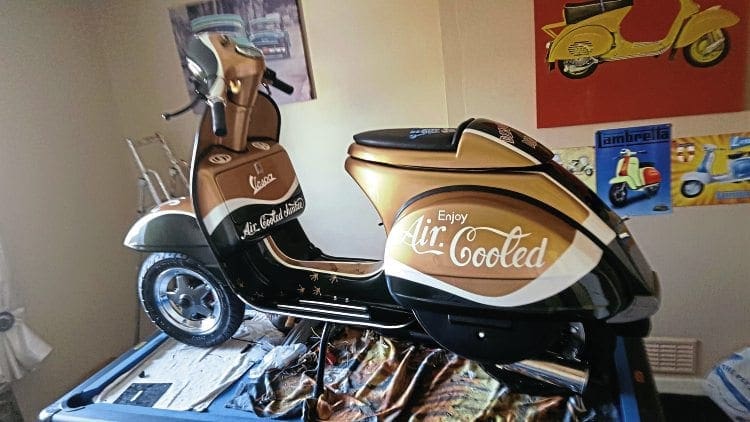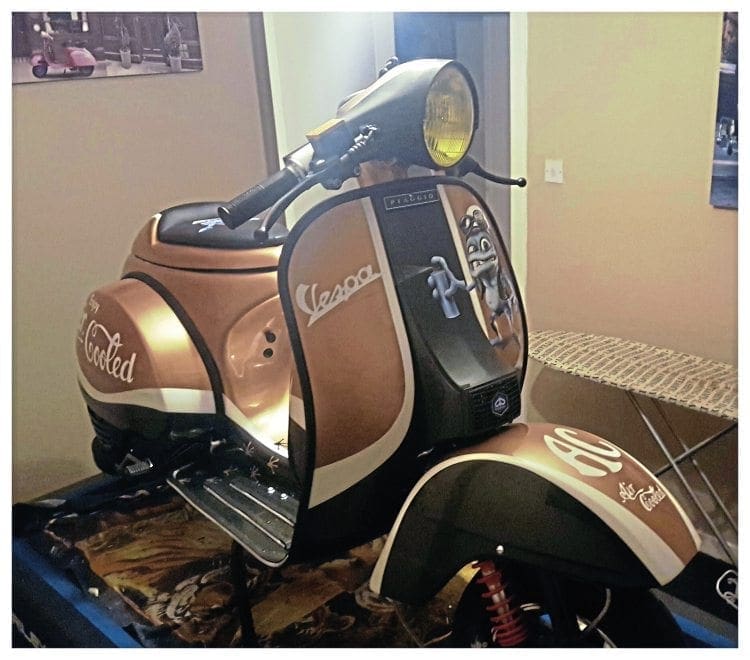 The owner of this beauty, Steven Smyth, started with a PX150 he bought a couple of years ago for just £700. It was soon split apart though, the frame and bodywork sent to Clan Customs for paint, while the engine was replaced with a T5 hot tuned item with Malossi 172cc kit, Worb 5 crank, Taffspeed Goldline exhaust, SIP banded clutch and some light porting work.
At Clan Customs, owner John set about creating some magic, with the brief of 'retro street-racer with modern twists'. Everything was first prepared — frame was de-seamed, badges removed, panels smoothed, rear light Frenched. You can see the amount of work from the pictures. It was then fitted with drop bars and an SIP seat to give a more street racer look.
Paint-wise they decided on a gold/white/black Coke style flowing scheme, retro graphics and 'crazy' mural. I can't help thinking of a mixture of two of my good mates when I look at it (better not say who though!). I especially like the frog footprints and the way Crazy Frog is graffiti airbrushing the Vespa logo on the front legshields.
Anyhow, once it had been transformed Steve, with the help of his peers, started the reassembly — not in his shed though on his son's pool table in the house!
From strip to rebuild this took six months and, as well as the mentioned changes, it also has upgrades to both braking and handling. It also had the seat pad professionally re-covered with a matching 'Annoying Thing'. It still doesn't look that comfy though, but it does look the business! So where did the name and inspiration come from?
Well, Steve is a self-confessed lover of all things air cooled, be that traditional scooters or classic VWs, funnily enough you often find this.
About the owner…
Name: Steve Smyth
Job: Ticket inspector.
Scooter club & town: Animals Fae Naboombu, Paisley.
How and when did you first become interested in scooters: Had my first scooter at 16, all my mates had them.
What was your first scooter: Vespa 50 Special.
What is your favourite scooter model: Vespa Mk1 T5 & Rally 200, Lambretta GPs, Series 1 and 2, anything really apart from Modenas.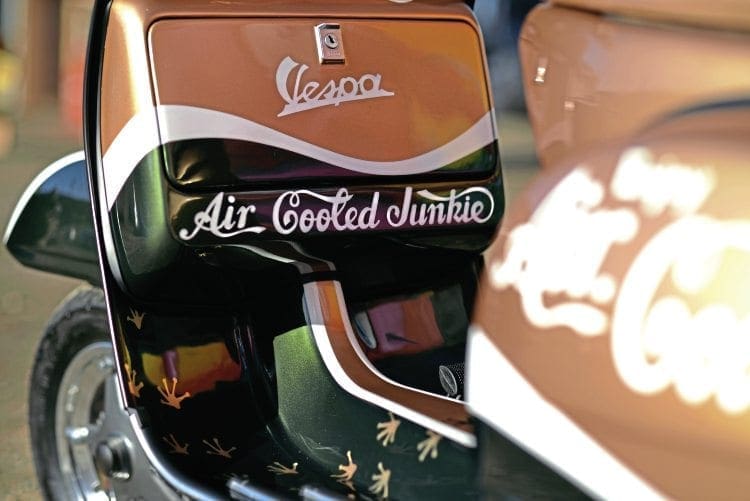 What is your favourite style of custom scooter: Race paint, full blown custom, rusty, well-engineered, chops and cutdowns. Anything without a mud flap and a target helmet attached.
First rally or event: Girvan National Scooter Rally.
How did you get there: 50 Special (110 Polini kit) with my mates.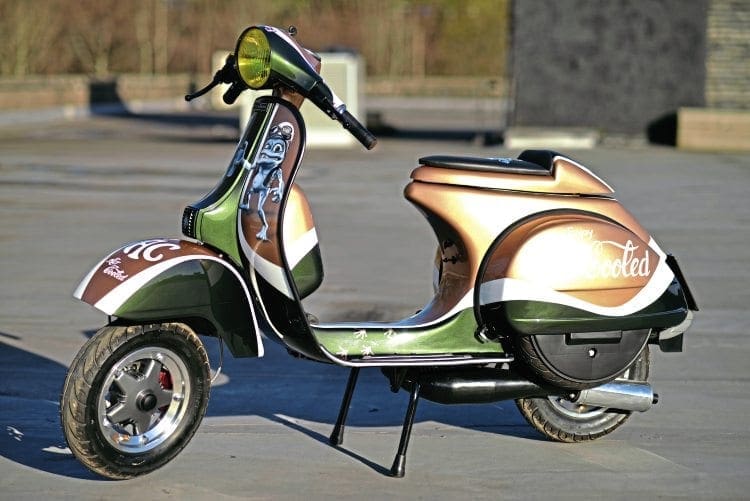 Any stories: On a 50 Special riding up to my mate Ronnie's house, my scarf blew out my jacket and slipped in through one of the door vents into the flywheel, bent the con rod and nearly strangled me!
Favourite and worst rally/event: Every rally is my favourite with good company and some money in your pouch; met some great friends over the years. Good times that I wouldn't change.
Funniest experience with a scooter: Again I have so many stories… Falling asleep riding a T5 with my friend Martin on the back, or filling up same scoot with fuel thinking he was on the back but didn't know when he put his leg over to get on I pulled away too quick and he landed on his rear!
Then going up Sutton Bank on the way to Scarborough on a PX with extended forks with a 180 kit fully loaded with my good friend Ronnie on back. It jumped out of second gear half way up. I went to talk to him when we got to the top but he had fallen off with the rucksack on his back.
What's the furthest you've ever ridden on a scooter: Germany Vespa World Days.
What do you like about rallies/events: Getting away from day-to-day life. Still lucky enough to be running about with mates I grew up with. Also making new friends and memories. You can't buy that.
What do you dislike about rallies/events: Cold, wet, waterlogged £5 tents. Running low on beer money, and riding home in the rain.
What's your favourite Scootering magazine feature: I love seeing old custom scoots getting found and brought back to life.
Your favourite custom/featured scooter of all time: Always loved Southern Comfort, Hellraiser and Armandos race paint.
If you had to recommend one scooter part or item of riding kit, what would it be: Arai helmets, nothing better than a nice helmet.
What's the more useless part you've ever bought for one of your scooters: Cheap brake levers from eBay from our friends who make nice curries!
About the scooter
Name of scooter: Air Cooled Junkie
Scooter model: PX150.
Inspiration for project: Was bored, better than watching a dodgy Amazon Firestick over the winter. Spare room rebuilds, ye can't whack it.
Any specialised parts or frame mods: Fabrication work by John Clan Customs.
Engine: Kitted T5.
Top speed & cruising speed: Going downhill it'll do about 75 (ish)… or when posing, looking for my reflection in the shop windows, just 30mph!
Is the scooter reliable: Let's hope so, as my wee boy Cody wants his pool table back!
Paintwork & murals: Clan Customs, John. He's some guy.
Is there any engraving, done by: Nope, not my cuppa tea.
Powder coating: Helen – PJ Powder Coating.
Chrome: Two chrome dome nuts hold spare wheel on… that will be a no!
Overall cost: Can't say as Karen will be reading… about £60 all in.
What was the hardest part of the project: Trying to not fling it out the bedroom window.
Do you have any advice or tech tips for anyone starting a project: Buy the best you can afford parts wise, take your time, walk away before you do something you might regret, and have plenty of good pals that can give you a hand… Ronnie, Colin, David Boyd, Paul Diesel, Karen Clark, all the Animals Fae Naboombu. Big thanks to all these guys.
Is there anything still to add to the scoot: A reg-plate.
In hindsight, is there anything you would have done differently: Probably no bothered, kept all the £60 that it's cost me to build and went to the Bellfield Tavern. Lol.
Is there anyone you wish to thank: John Clan Custom, Sarah Foss (Seat), Ronnie Spence, Colin Austin, Karen, Go Full Throttle, Animals Fae Naboombu, and of course, my mum for helping me carry it up the stairs!

Enjoy more Scootering reading in the monthly magazine. Click here to subscribe.