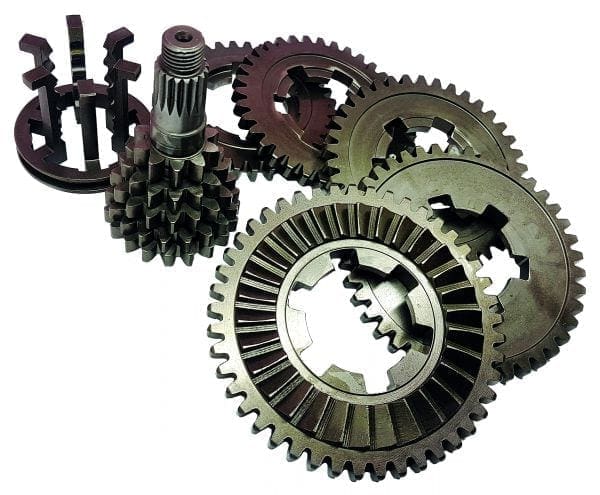 Five-speed gearboxes have been lusted after by Lambretta owners for quite some time now, but the limiting factor for most is the sheer cost of such an item. But fear not, AF Rayspeed has been hard at work testing and developing an affordable unit.
When purchasing the gearbox you have the choice between two alternate fifth gears. The 35-tooth fifth gear option is considered the 'standard' gear. This is 
only a 9% jump from fourth, using GP200 sprockets (18-47) and gives a 5.2 ratio for fourth gear followed by a 4.8 ratio for fifth gear. In testing, AF Rayspeed found this to be the favoured ratio for when your speed is often dictated by other riders. (e.g. if you are riding at 50mph on a bike capable of 85-90mph, on a standard box you'll usually find fourth too tall and the bike chugs, but third is screaming at the 
upper part of its rev range).
The alternative 34-tooth fifth gear option is the 'alternative' gear. This brings the jump to 12% (with 18-47 your new final drive will be 4.7). This slightly larger jump is better for more aggressive riding. When you get to dictate your own road speed, rather than having to ride at the speed of everyone else.
The two fifth gears make it much easier to achieve a desired final drive when you wish to keep your existing crownwheel (i.e. you've already purchased a high spec clutch fitted with a 46 crownwheel).
Final Drive examples
17-46 std 35 5th FD = 4.98
17-46 alt 34 5th FD = 4.84
18-46 std 35 5th FD = 4.71
18-46 alt 34 5th FD = 4.57
First gear is 10-45, instead of the 11-50 of the Pacemaker and AF Close Ratio four-speed. This makes a 1% difference to 
the ratio but is significantly stronger.
Second gear is 13-41, as was the Pacemaker and AF Close Ratio four-speed.
Third gear is 16-38, as is the Indian GP200 and AF Close Ratio four-speed.
Fourth gear is 18-36, as is the Indian GP200 and the close ratio fifth gear (standard) is 19-35, as is the Pacemaker fourth. Fifth gear (alternative) is 19-34 as is the MB five-speed. Although most of the ratios are familiar the profile and clearances of the gears have been altered to reduce friction and noise. The metallurgy, and surface treatments are also new to Lambretta gearboxes.
AF has been running samples of these gearboxes for over a year now in both Group 6 race bikes, and several powerful road bikes, and has been exceptionally pleased with the results. The highest mileage sample has covered just over 4500 miles mostly in a 28bhp RB ridden as a daily B-road commute by AF mechanic Scott, whose riding style is 
best characterised as aggressive.
AF is confident this new gearbox will enhance the enjoyment of riding a Lambretta for all those who choose to fit one. If your engine is in good condition you can expect to buy a small selection 
of gear shims but you should not have to replace anything else. In most cases it's good practice to replace any worn gearbox bearings, selector shaft, tie bar, and gear cables at the same time to ensure the gear selection is positive.
Fitment is straightforward, the gearboxes will be supplied with instructions to highlight the checks required, but if you are competent to 
fit a standard gearbox this will offer no surprises. However, do not underestimate the skill of a good mechanic. There are 
a lot of checks in building a standard gearbox. If in any doubt have it fitted 
by your local dealer. It is cheaper to get 
it right once than risk your safety and money on 'it'll be alright'.
The gearbox will retail at £495 for the loose five gears, the gear cluster and the gear selector.

Enjoy more Scootering reading in the monthly magazine. Click here to subscribe.