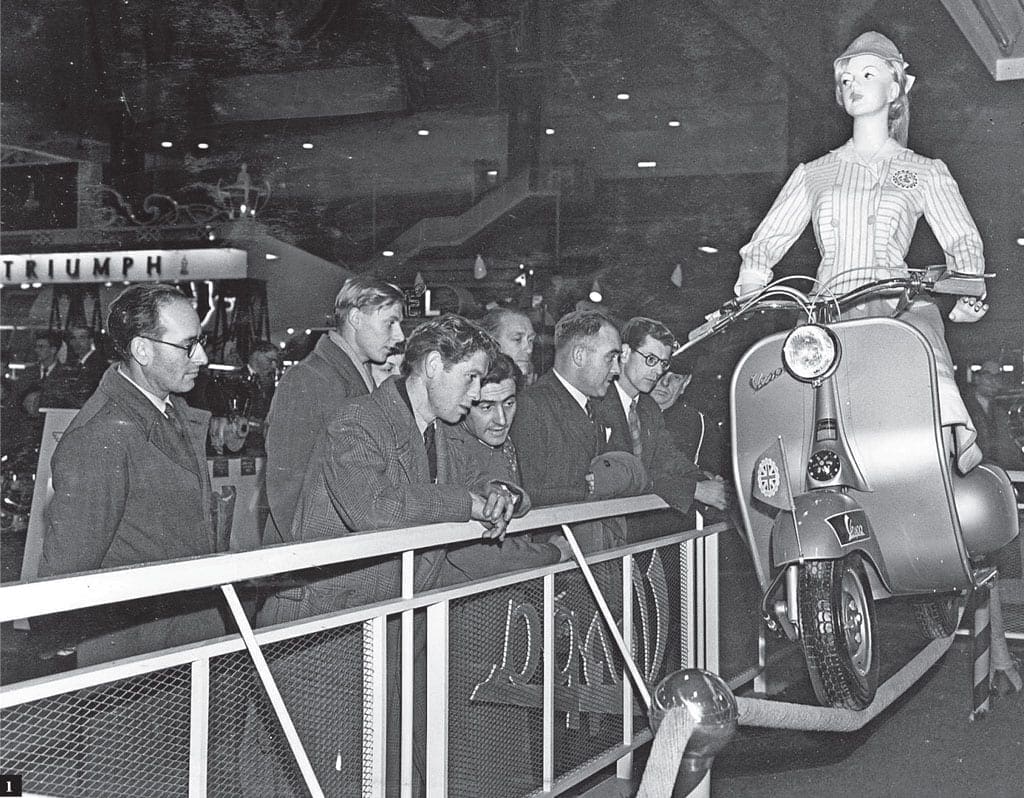 Words: Stuart Owen | Pictures: Mortons Media, Piaggio and Paul Reeson
Thanks to: Norrie Kerr for additional information
This year Vespa celebrates its 75th anniversary, and what a success story it has been…
Since Vespa burst into life way back in 1946, Piaggio has built a staggering 19 million machines and with the brand as strong as ever, it has become one of the biggest two-wheeled success stories in the history of modern transport.
To celebrate this epic milestone, we have decided to showcase a series of carefully selected pictures to bring some of the best moments to life. Enjoy…
1: The 1950s was the boom time for two-wheel sales, as cheap transport after the Second World War became a necessity. In a fiercely competitive market, the big motorcycle brands of the day ruled the industry, but slowly the scooter pushed its way in.
The biggest show by far was the Earls Court international motorcycle show, and for a manufacturer it was an event not to be missed. Among the plethora of leading UK motorcycle exhibits sits the Vespa stand, often ridiculed by the big boys of the industry during its infancy, but by 1954 when this photo was taken, they were starting to run scared.
2: In a competitive market any publicity was welcomed and especially when it was something unique or different. Here Bill Pegg, chief test pilot for the Bristol Aeroplane Company, proudly sits on his desired choice of transport when it comes to getting around the Farnborough Airshow in 1952.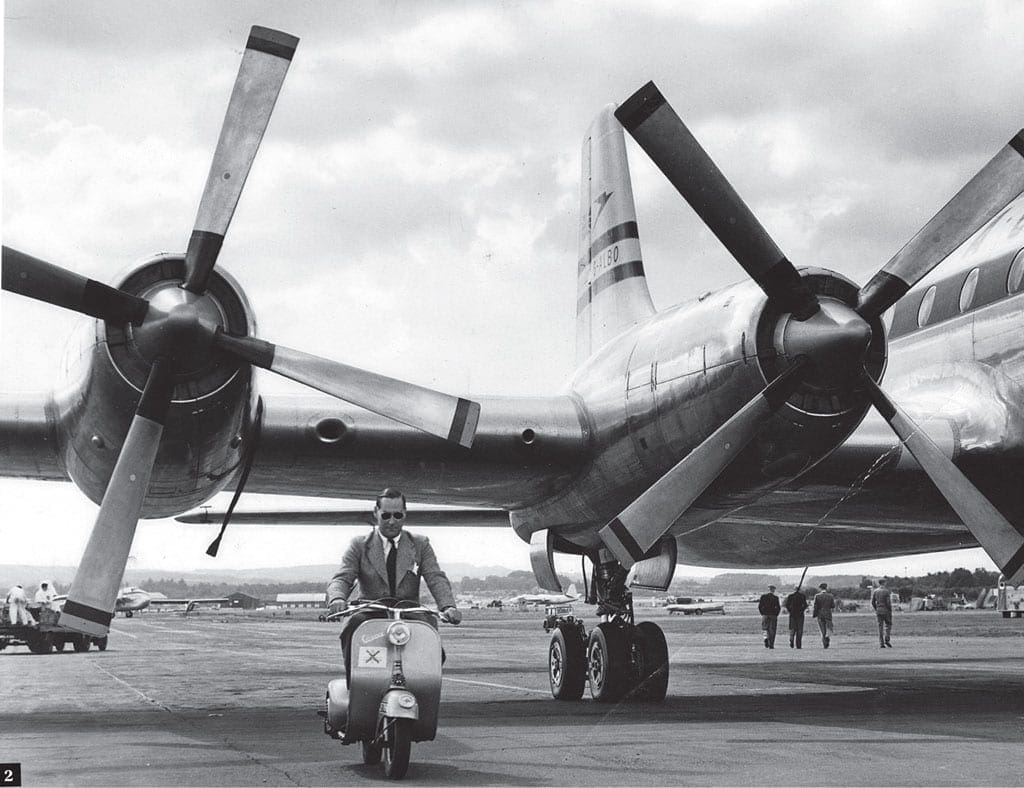 3: For decades Triumph and Norton dominated the order books from the British police force when it came to two wheels. Seen as a lucrative market it was not easy to break into, and for scooter manufacturers even more difficult.
From time to time some local constabularies did opt for the scooter, depending on its intended application. In this picture Bradford's police scooter patrol appears ready for action in an almost regimented line-up of Vespa scooters.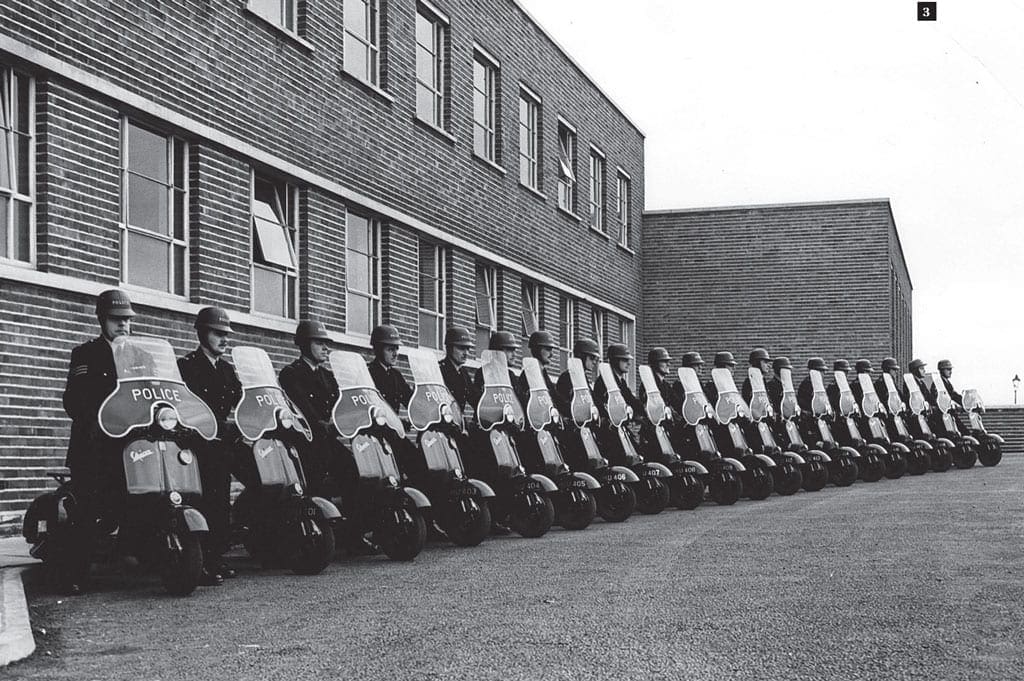 4: The era of racing flat out around a public street is now frowned upon, but back in the days where health and safety took a back step, it was positively encouraged… even on the busy streets of Milan where this image was taken as passers-by casually watch on.
5: Vespa world days have become hugely popular ever since the idea was launched. Seen as the largest gathering of the Vespa brand, owners travel across continents just to be there. Uniting riders of machines both old and new, it proves how popular the Vespa continues to be.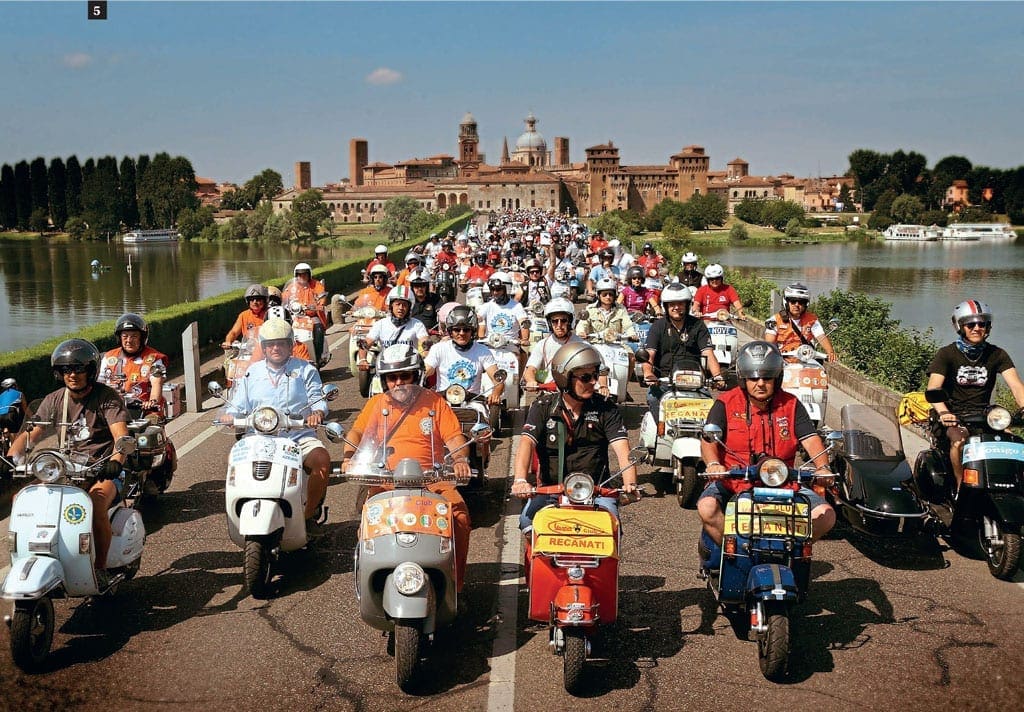 6, 7 & 8: In the early days, Piaggio was keen to show the world how well the Vespa performed. Whether it be on a racetrack or street circuit, the idea was to prove its sporting prowess and durability under any conditions.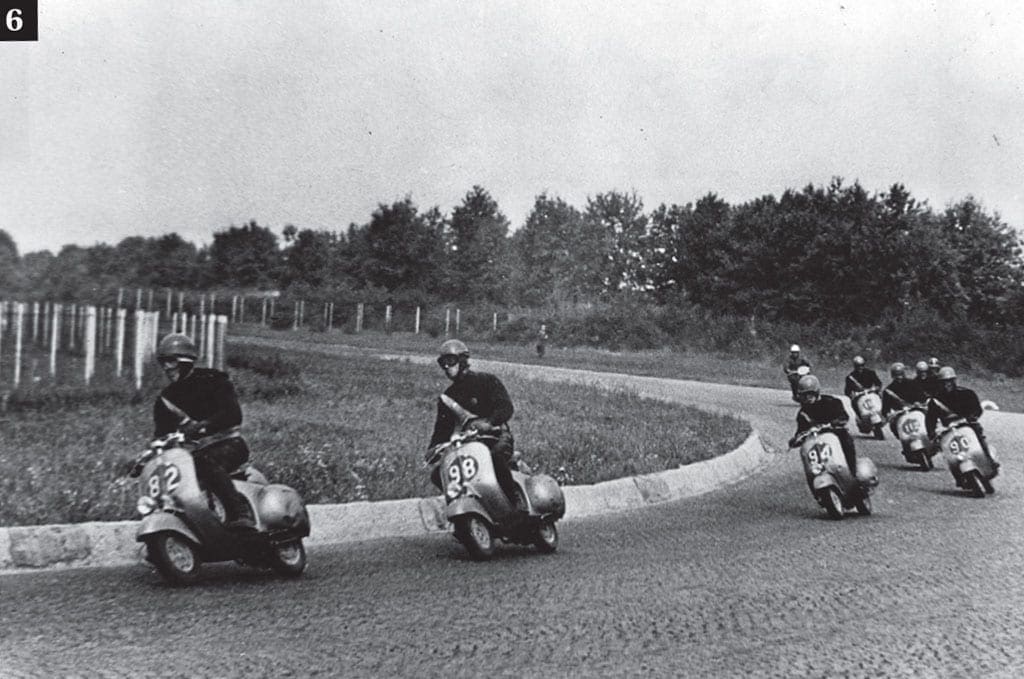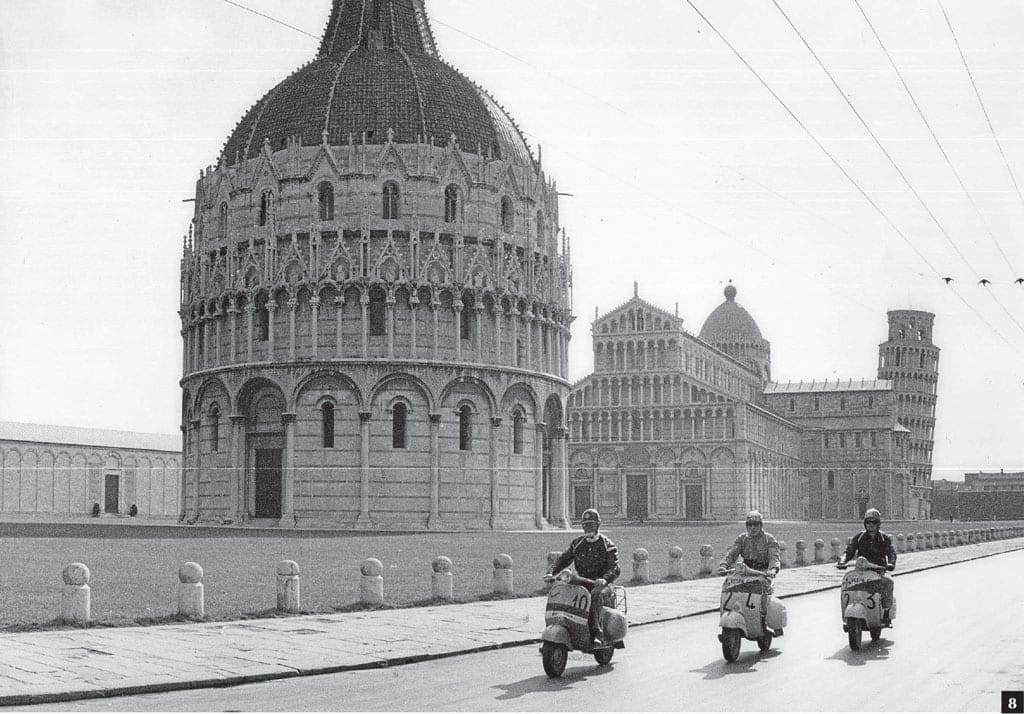 9: There is no doubt that the hierarchy at Piaggio could never have imagined how owners could transform the Vespa. Once the custom boom of the 1980s took hold they were almost unrecognisable from the machines which rolled off the production line. When done well, as shown here, they become a work of art in their own right.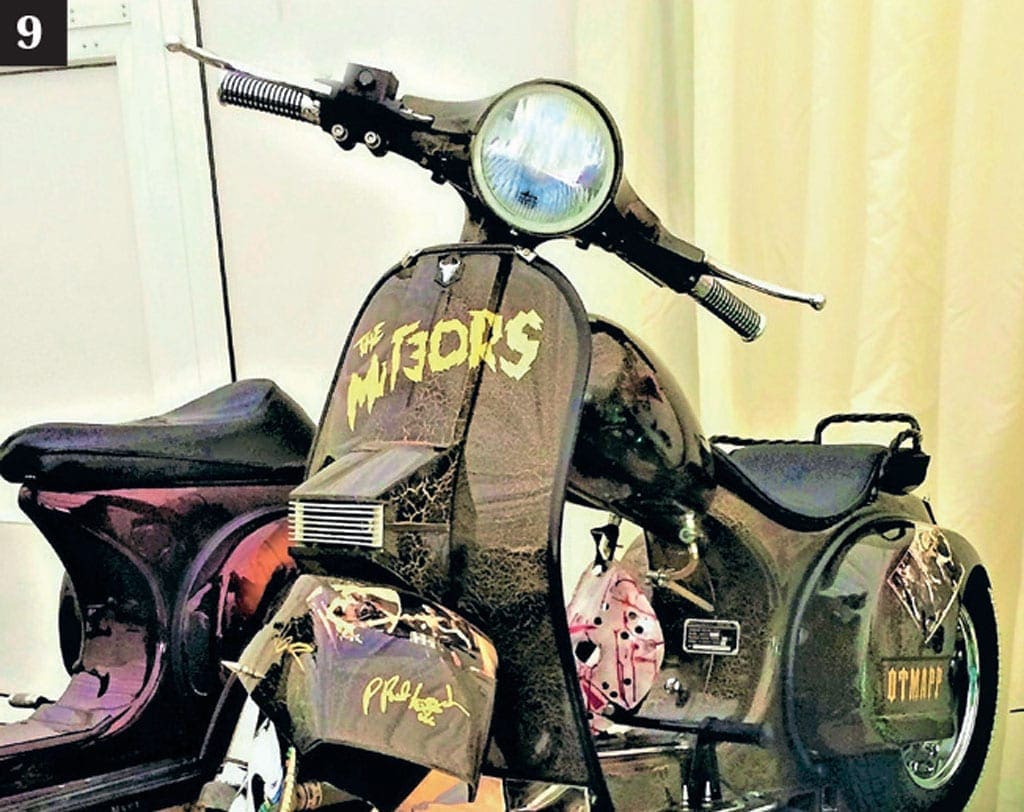 10 & 11: In the early days those who raced the Vespa were regarded as heroes. Mixing it with motorcycle riders, they may have been the underdogs but, as the pictures show, they had gained their respect.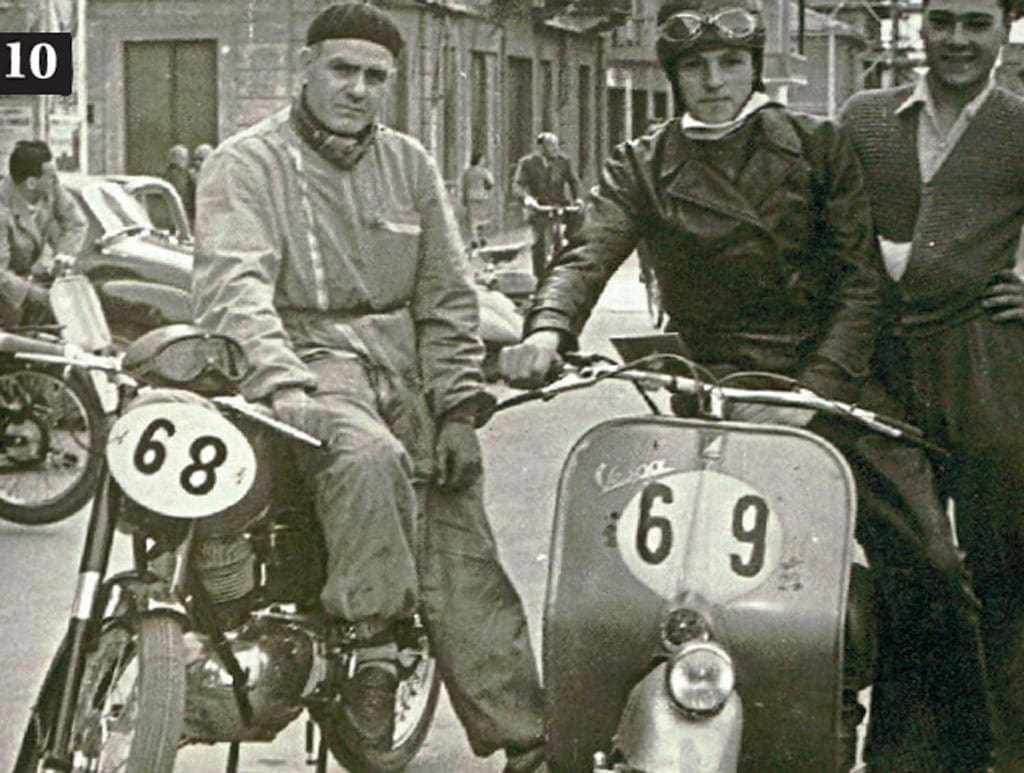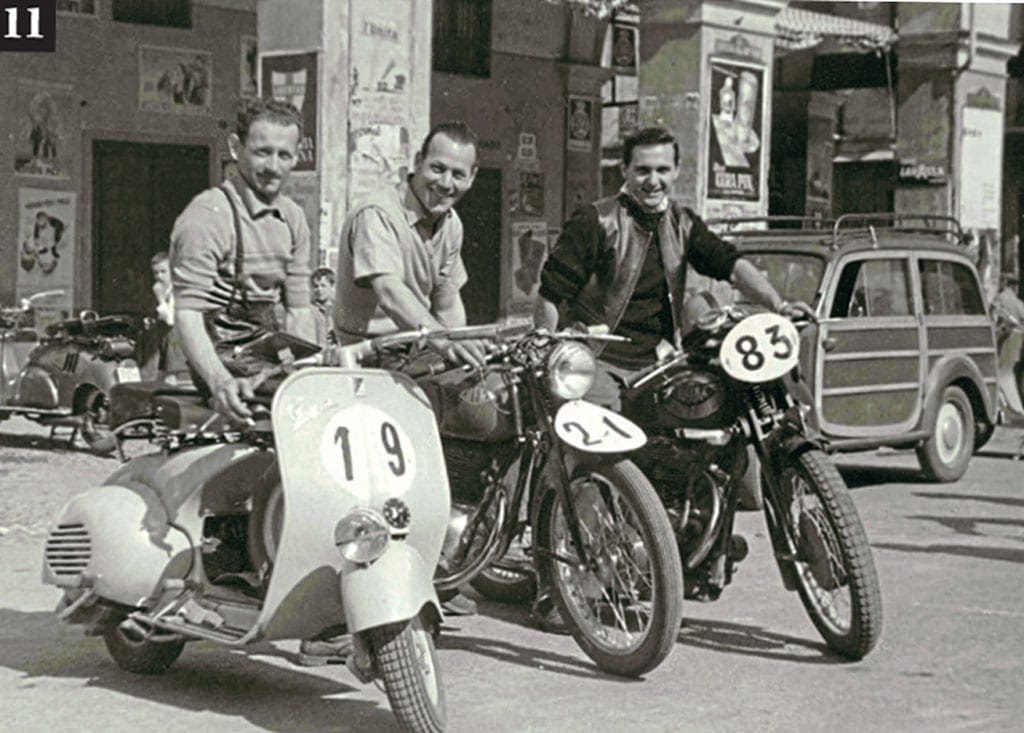 12 & 13: No matter how weird or quirky the setting, the opportunity to gather press attention was always welcomed. From chariot racing in Berlin to snake charming in India, the Vespa found itself in some strange scenarios but even so always came out looking good.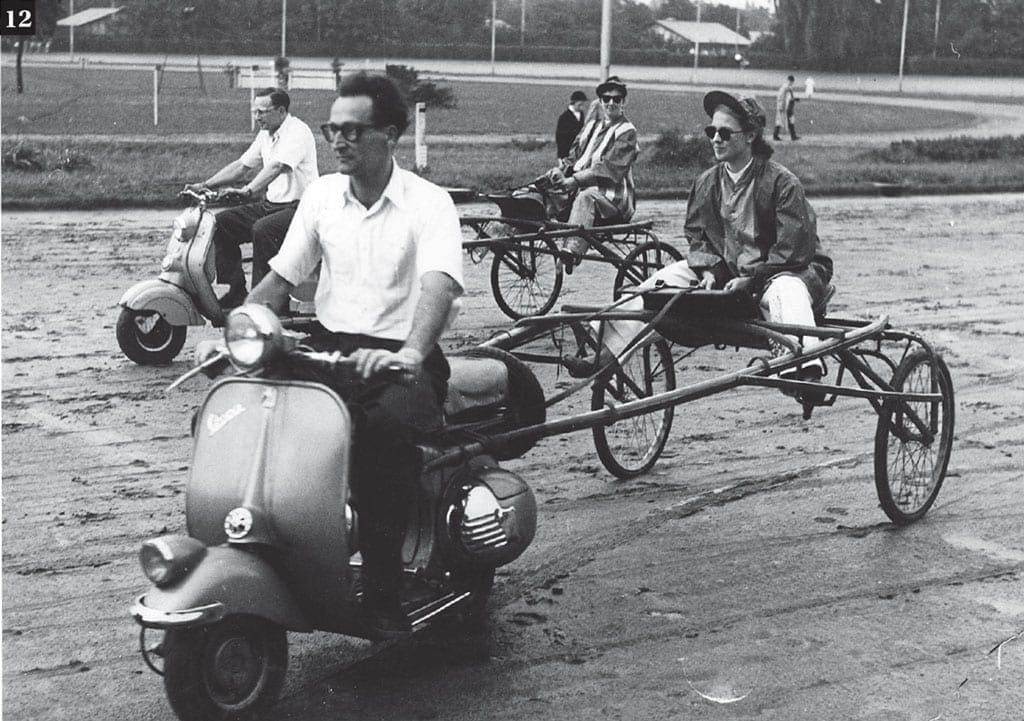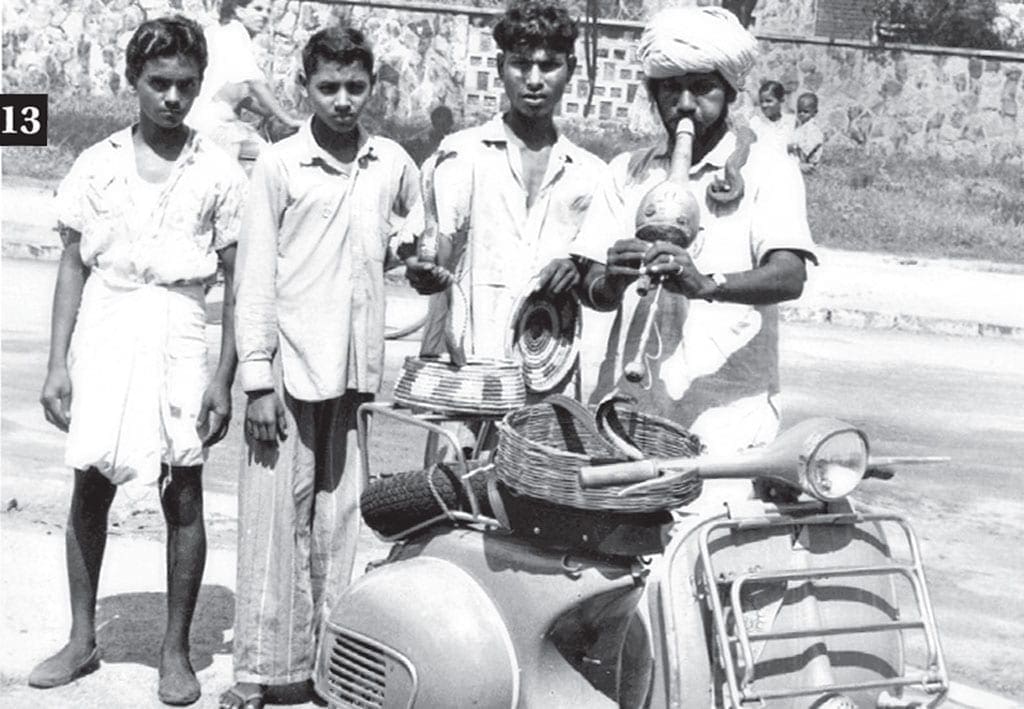 14 & 15: Outside of Italy, the UK was a huge and important market for the Vespa – especially as its rivalry with the Lambretta intensified. Vying for top spot in the prestigious UK market became an obsession between both brands so any opportunity to showcase the finer qualities was welcomed.
In the first picture the two riders exchange control of the Vespa, almost like a baton exchange in a relay race. In the second picture dominance on the track was once again highlighted, even if it meant scraping the frame on the floor to gain the lead.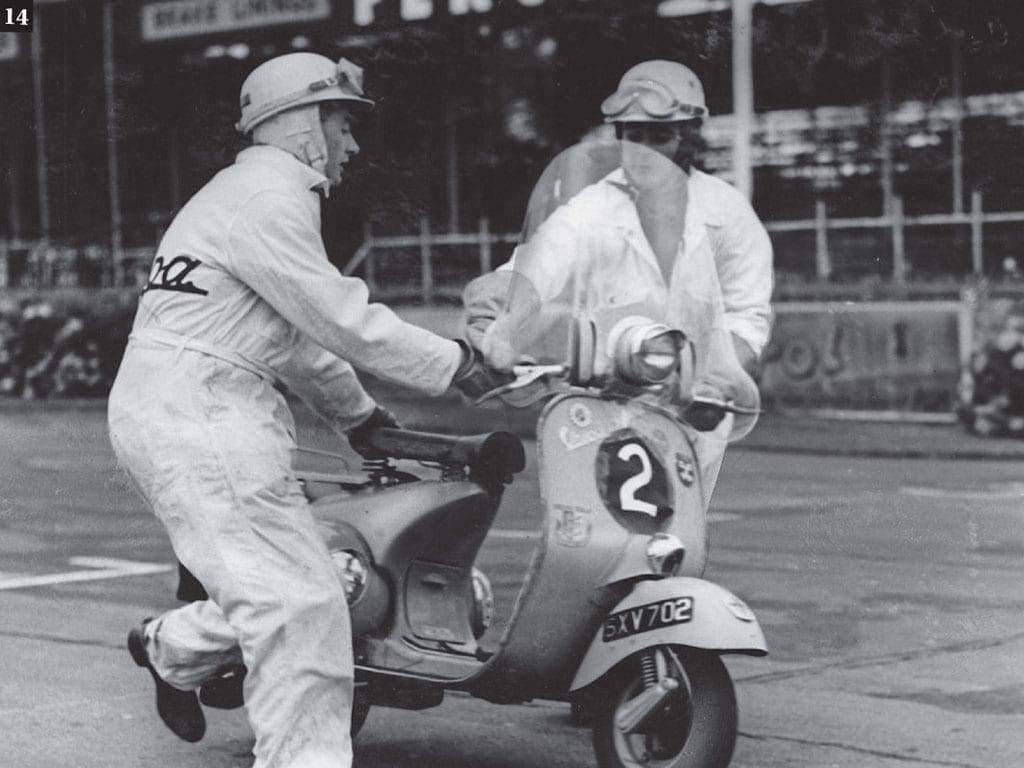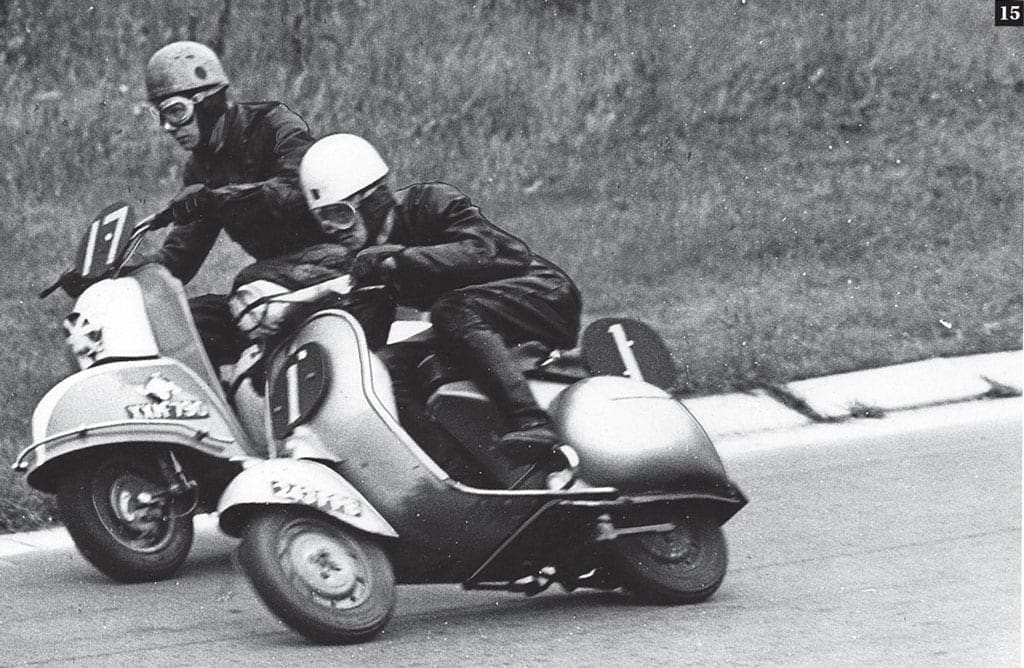 16: The dealer special became a major selling point for scooters during the 1960s, seen as the way to give a dealer the advantage over their opposition by way of different colour schemes and tuned engines. It's a historic concept that still exists today. Pictured here, the Vespa Mona was one of the first and pioneering dealer specials to be created.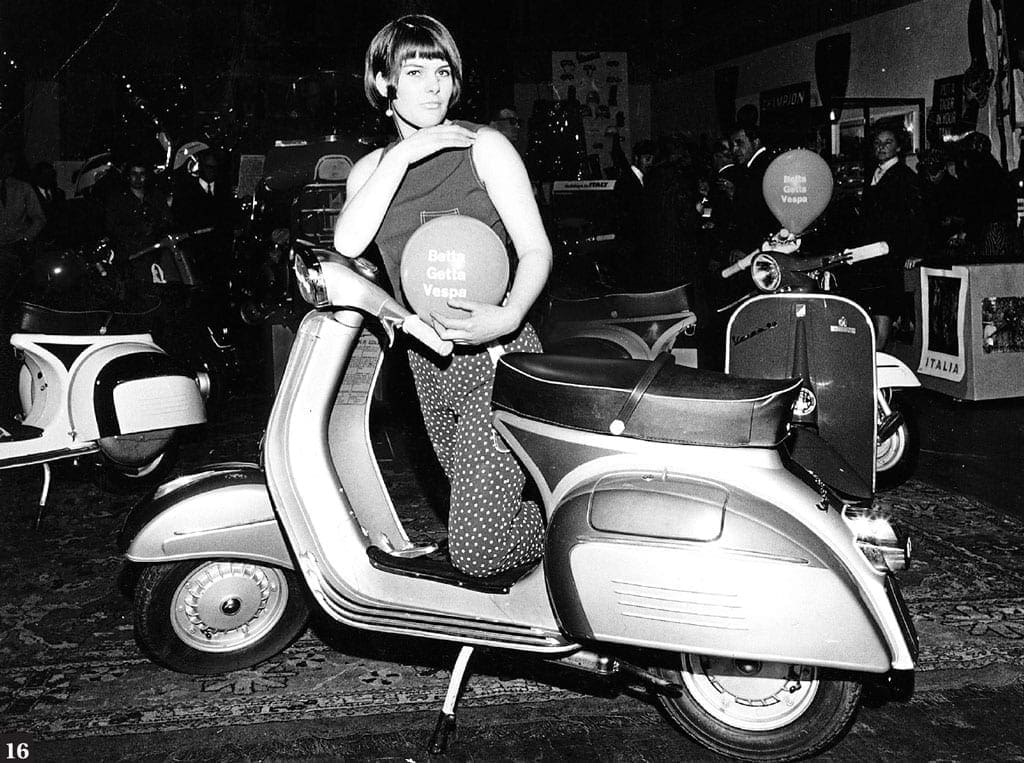 17: Approval by any authority or leading figure can only be a bonus, quite often by way of a famous film star or singer/band. However, in this instance, it's a holy blessing given to Vespa scooters as they are lined up for inspection.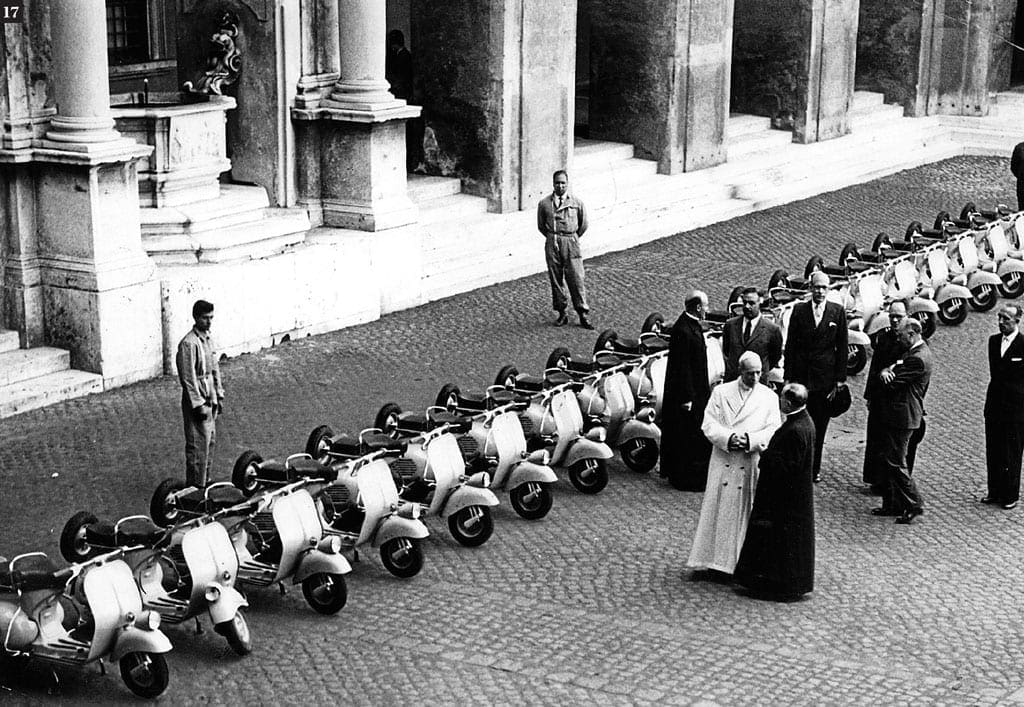 18: The biggest asset any vehicle can have is its reliability when it comes to persuading the public to buy it. Getting that point across isn't always easy and simple adverts telling us so doesn't always work.
Here to get the point across are two Australians in the Afghan desert travelling from the continent down under all the way to the UK. While it may be expected of the huge BMW motorcycle pictured next to it, the smaller Vespa is proving reliability and endurance on a grand scale.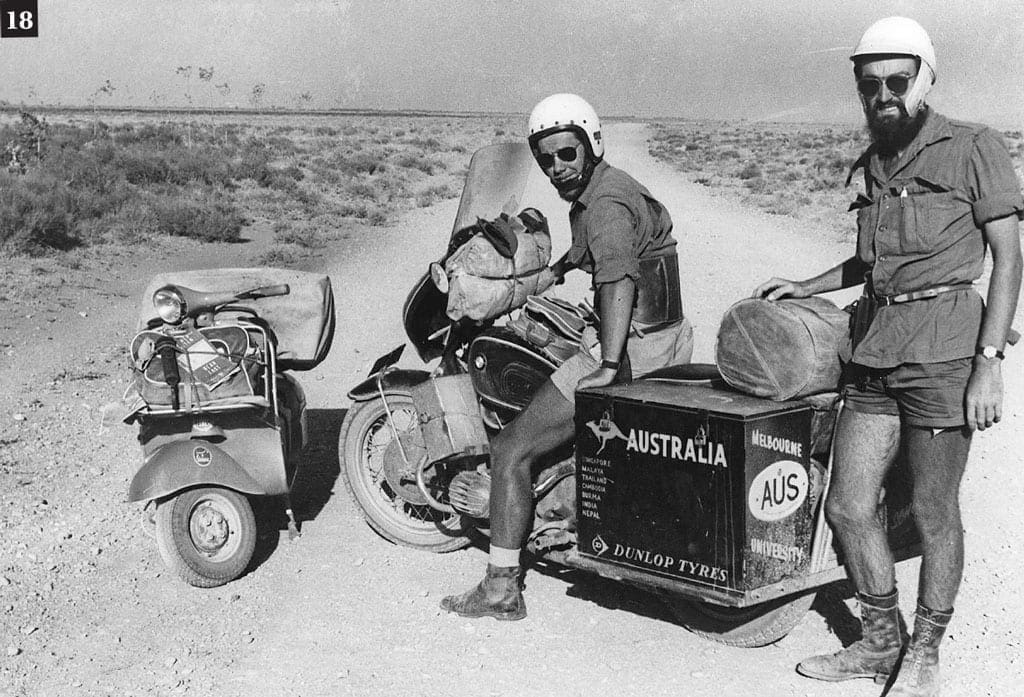 19, 20 & 21: If it is endurance you want, then to prove a product look no further than this set of three pictures from the Paris-Dakar rally in 1980. The most gruelling race in the world across some of the most dangerous terrain is the ultimate challenge to any vehicle, but the thought of doing it on a scooter sounded preposterous.
A French team led by Jean Francois Piot thought otherwise and equipped with four riders on PX200 models they attempted to prove it could be done. After 10,000km and travelling through seven different countries along the way two of the team crossed the finish line in Dakar, not bad considering only a third of the overall competitors managed to make it.
The pictures tell the story of just how difficult it was from a lone rider struggling to keep his machine maintained, to being out on a sandy stretch of the desert not knowing what dangers lay ahead. Arguably one of Vespa's finest historic moments, proving just how versatile and reliable a machine it really is.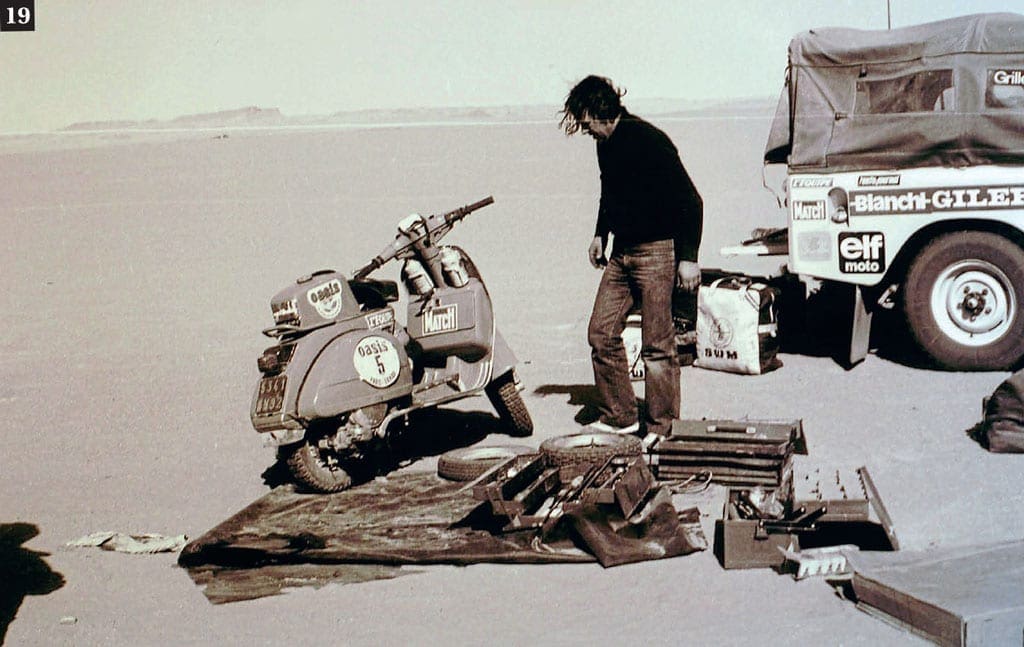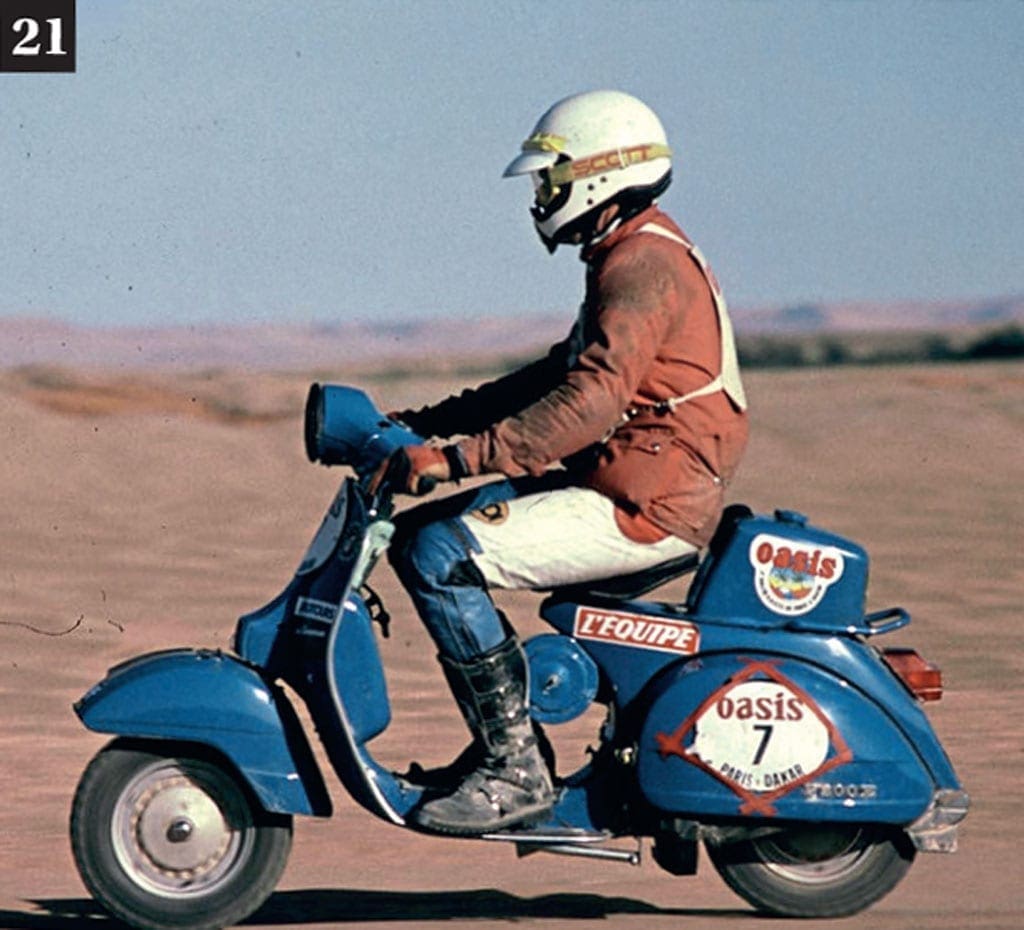 22: Seventy-five years later and in the 21st century, the Vespa story continues to grow with the release of a special anniversary edition GTS. No other brand of scooter has stood the test of time like the enduring legacy of this iconic Italian machine, and it looks destined to continue for many years to come.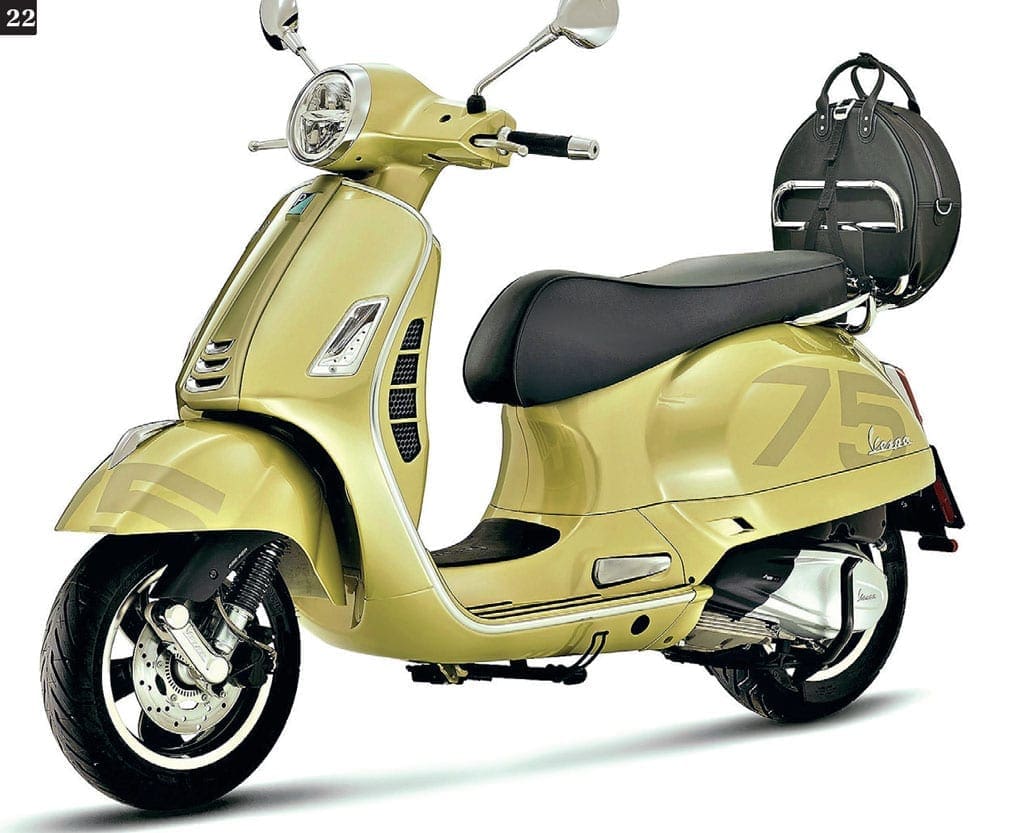 23: Of all the Vespas produced, the P-range was, in many people's eyes, the most important. It bridged the gap from the older models and brought it bang up to date with what was needed at the time. With huge sales worldwide, it guaranteed development could continue and today we see the result of that.
This picture was taken from the UK launch in 1978 on the stand of the then UK concession Douglas Bristol. News of its arrival was broken by Norrie Kerr in his magazine Scooter & Scooterist a few months earlier, much to the annoyance of Douglas – so much so, they declined to offer him a machine to test ride for an article in his magazine.
Its launch couldn't have come at a better time just as interest was beginning to pick up. With the post-Quadrophenia/Mod revival boom meaning thousands of new owners, the P-range became the scooter of the 1980s and a must-have machine when it came to the biggest decade ever in the history of the scooter rally. Its almost unbreakable engine and great reliability made it responsible for getting thousands of scooterists around the country year after year.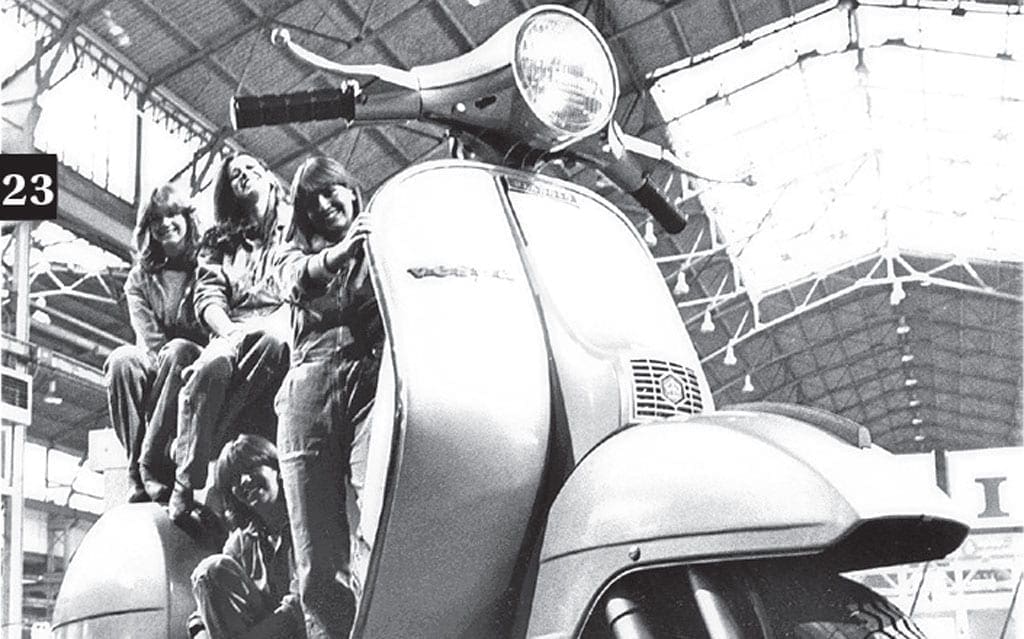 ---
Vespa Scooter Dealers
Check out these fantastic Vespa scooter dealers from every corner of the UK…
East
MOTOTECHNIKS LTD
Tothill Bury Road
Stowmarket
Suffolk
IP14 3QQ
---
East Midlands
MIDLAND SCOOTER CENTRE
30 Pasture Road,
Stapleford,
Nottingham
NG9 8GG
0115 939 2713
www.scooters.co.uk
MOTORCYCLE WORLD LLP
Unit 9, James Trade Park,
St James Mill Road,
Northampton,
Northamptonshire
NN5 5JH
01604 753 579
www.motorcycle-world.co.uk
---
South & South East
BMG SCOOTERS LTD.
416 Upper Richmond Rd West
London
SW14 7JX
020 8878 8121
www.bmgscooters.com
BRIGHTON MOTO
85 Lewes Road
Brighton
BN2 3HZ
01273 680900
www.brightonmoto.co.uk
DEARDEN MOTORCYCLES
Unit 5 Hardley Ind Estate,
Lime Kiln Lane,
Southampton
SO45 3NQ
023 8089 1110
www.deardenmotorcycles.co.uk
ROBINSONS FOUNDRY LTD.
Broad Oak Road
Canterbury
Kent
CT2 7QG
01227 378430
www.robinsonsfoundry.co.uk
SCOOTER CAFÉ
71 Queen Street,
Maidenhead,
Berks
SL6 1LT
01628 672000
www.thescootercafe.co.uk
SCOOTECH (EAST)
425-427 Roman Road,
Bow,
London
E3 5QS
020 8983 4111
www.scootech.co.uk
---
South West
FRASERS OF GLOUCESTER LTD.
261 Bristol Road
Gloucester
GL2 5DB
01452-306485
www.frasermotorcycles.co.uk
---
South Yorkshire
RON DALEY (MOTORCYCLES) LTD.
46-52 Doncaster Road
Barnsley
South Yorkshire
S70 1TL
01226-203377
www.rondaleyscooters.co.uk
---
West Midlands
READSPEED SCOOTERS
39 Mitton Street,
Stourport on Severn,
Worcestershire
DY13 9AQ
01299 828037
www.readspeedscooters.com
---
West Yorkshire
DYRONS MOTORCYCLES
410-412 York Road
Leeds
LS9 9EE
0113-2499208
www.dyronsmotorcycles.co.uk
---
Northern Ireland
McCRUMS MOTORCYCLES
48 Armagh Road
Portadown
BT62 3DR
02838 868004
www.mccrums.co.uk
---
Scotland
GO FULL THROTTLE
Unit C, Block 2,
Caprington Estate,
Kilmarnock
KA1 5LA
01563 530444
www.gofullthrottle.co.uk
---
Wales
A & D MOTORCYCLES
Spencer Trading Estate
Denbigh
Clwyd
Wales
LL16 5TQ
01745-815105
www.admotorcycles.co.uk

Enjoy more Scootering reading in the monthly magazine. Click here to subscribe.