03 Welcome letter from the Editor
A warm welcome to the March issue of Scootering
06 Kickstart
The upfront section with all the latest news, views and product reviews
14 Feature Scooter: Replica Revisited
Some scooters are hard to find, whilst others fall into the category of mythical. This Dealer Special is a beautiful replica of such a beast
21 Scooter Boy Tales
Another cracking Scooter Boy story from the annals of Scootering history
22 Riding the Ho Chi Minh Trail Part 2: Gravel Rash and a Difficult Decision
Last month we left our gang of explorers exhausted, but with 1,000 miles still left to travel. Could they bring themselves to leave Da Lat, Vietnam's prettiest town?
29 Feature Scooter: Teenage Kicks
In retrospect, those who spent their formative years traversing the UK during the 1980s going to National scooter rallies, had the time of their lives. This scooter is the epitome of that era
34 Mailbox
Readers's letters, laughs, feedback and fury – get it off your chest, man!
35 Dealer Profile
Whilst many blow their own trumpet and surround themselves with fanfare, these guys fly quietly under the radar. Don't let their modest demeanour fool you. We visit Anglia Scooters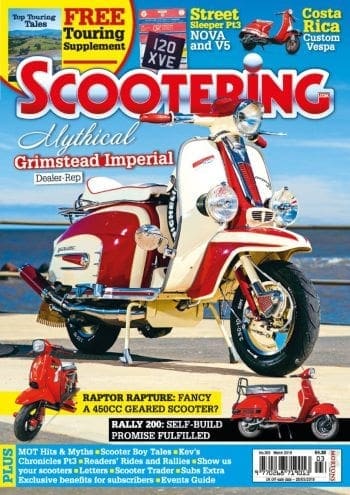 38 Feature Scooter: Vintage Evil
The Toxic team has produced an off-the-wall low-rider Vespa cut-down, influenced by the 1940s/50s, and it will certainly turn heads
42 Subscriptions
Get your mag delivered to the door, earlier than newsstands, and save money… cool. Plus, gain access to all the benefits of the 'Scootering Extra' subs-club
44 Show us your scoots
The best of our readers's rides as sent in by you

49 Kev's Chronicles
Part 3 of our homage to scooter legend Kev Walsh. This episode takes a look at his brief, but memorable, racing career
54 Feature scooter: Nasty
This scooter's theme was driven by the owner's love of the band Prodigy. As the definition suggests, it's something of an extraordinary example
59 Tech: MOT Myths & Hits: Part 1
Nik takes us through the process of MOT testing a scooter, and dispels a few myths
70 Project Poland: Quattri-phenia
Since riding Chiselspeed's Quattrini demonstrator, Stan's hankered after his own conversion. This summer's ride to Poland provides the perfect excuse
72 Club Do's & Events
Your essential guide to the scene – What, where and when
76 Scootering Words & Sounds
The best of Scootering words and music as reviewed by Nik and Sarge
78 A Quick One with Richard Searling
Wigan Casino provided the soundtrack to the formative years of countless 1970s youngsters. Sarge caught up with leading DJ Richard Searling for a chat on the subject
81 VCB Club News
The official newsfeed from the VCB
88 Tech Torque: Building a Lambretta or Vespa Street Racer
Part 6 of our tech guide to building a Lambretta and Vespa Street Racer. This month: Rev counters, gauges, and finishing touches
92 Project Street Sleeper
Dan's project involves no fancy paint jobs, just a discreet pocket rocket. This month he jumps through DVLA hurdles and endures a visit from SGS inspectors in his quest for a V5
94 Feature scooter: Never Sleep Again
With a paint job inspired by the Nightmare on Elm Street film series, building this scooter caused its owner sleepless nights
100 Time for Change?
Big Stan is out in Italy with Piaggio to test the new GTS300 HPE range… and he is impressed!
108 Lui per tutti… tutti per Lui
The Luna line celebrated its 50th anniversary in 2018, and our own Italian stallion Christian met a man for whom the Lui is an object of fascination
113 Scooter Trader
Sales and classifieds section
120 Dave's Nostalgic Custom Corner
This month's trip down memory lane from DNCC is the stunning Hard to Handle
Thank you, one and all, for making us who we are
It's hard to believe how quickly the time has gone, as I now enter my fourth year with the magazine.
It was back in 2015, whilst running the scooter garage Scooterotica, when I spotted an advert for the position of assistant editor.
Having had 11 years's experience in publishing, as well as being the co-owner of a scooter garage, dyno centre, and the UK's No1 scooter forum, I sent in my application, in the hope that all of the above would be enough to get me a foot in the door. It was.
Not long afterwards, I was being interviewed for the position by then editor, Andy Gillard. He gave me a two-hour grilling, leaving no stone unturned as he checked my credentials.
Part of the process was for me to give a synopsis of the mag, its problems, and deliver ideas for future editorial features. I must have got something right, because only a week later I received a phone call offering me the job.
It took me a good three months to finish off the scooters and engines I had already taken in at Scooterotica, and then I had to inform my customer base that I could no longer service their requirements. It was quite a sad time for me in that respect, being the end of an era, but I knew I was going on to something bigger and better… Scootering magazine!
I made my dep-ed debut in the March 2016 edition of the mag, and the rest is history, as the promotion to editor presented itself.
The landscape I walked into wasn't the one I was expecting, but regardless, I got stuck in and have never looked back since. It's been head down and balls out all the way, paying respect to as much history and tradition as possible, whilst carving my own path along the way.
There've been a few small bumps in the road, but they've made the journey all the more interesting and worthwhile. I inherited a strong team that had been with the magazine many years.
Mark 'Sarge' Sargeant, Dave 'Nostalgic Custom' Oakley, Nik 'Special Brew' Skeat, Richie 'The Lens' Lunt, and newer starts such as Jordan 'Young Guns' Lewis. Standing on the shoulder of giants, I added to the mix BSSO racing aficionado Paul Green, 100mph Lambretta Club owner and scooter historian Stu Owen, tuning expert Darrell Taylor, industry journalist Big Stan, travelling journalist Christian Giarrizzo, as well as rally reporters Stu Smith, Jamie Godley, and Serena Chamberlain.
Many others have, and still do, contribute on an ad-hoc basis, giving the magazine a highly valued input from a variety of sources, and stop it becoming simply one man's view of the scene.
It would be far too easy for me to sit in the editor's chair and announce: "This is how I see the scooter scene, so this is how you should see the scooter scene." That would be a very narrow-minded approach, and would also severely limit the readership.
Between the inclusive approach I strive for, the journalistic talent that has been assembled, the supportive team behind the scenes at head office, and you, the Scootering readers, riders, owners, tuners, racers, enthusiasts and general scootering loons, we've gone from strength to strength.
I encourage constructive critique, search out practical suggestions, and try to include as much reader feedback as possible in the mag, as it helps develop the product and stops things going stale.
I'm therefore incredibly pleased and grateful that all our hard work has been so well received by you, the reader, and kept us in the Scootering magazine top slot by a country mile. Thank you, one and all.
Anyway, that's enough of my ramblings. It's another belter this month, so enjoy the issue.
Dan

Enjoy more Scootering reading in the monthly magazine. Click here to subscribe.