Latest issue of Scootering out now!
The sultry features of Blondie frontwoman Debbie Harry gaze from the cover of this month's issue – as beautifully depicted on Atomic, one of the finest customs you're likely to see this year. Also featured are the smokin' Rothmans-themed TS1 Lambretta 'Lady', the downright awe-inspiring Vespaholic in all its fiery green glory, a true 'love it or hate it' GTS, the radical yet wonderful scratch-built Lambretta GP-based PURE esSEX dragster and the "battle-scarred warrior dressed in leather and steel" that is classic 80s Vespa custom Road Warrior. We also have a self-built Lambretta that really is an awful lot better than just 'Okeh'.
If you've ever dreamed of unearthing a cache of rare scooters the like of which few have ever seen before, dream no more because our Stan's delivered – find out for yourself in his account of visiting dealer Ricambios Motos Clasicas. Incorrigible grump Bodger presents his take on the Union Flag hat-wearing commercialised Mod sellout versus the honest and unsullied (ahem) scooterboy, top Italian scribe Christian Giarrizzo dusts off his pointy hat and wand to visit the exhaust wizard, and Stan's at it again with a mile-munching trip out on a Scomadi amid gorgeous scenery, courtesy of tour company Gran Tourismo (see what they did there?) in southern Spain.
Our abused Dyno Donkey Vespa begs editor Dan for mercy as he sorts fuelling and exhaust issues on the Malossi 210 kit (its pleas fell on deaf ears), Stu Owen breaks out the polish – and a spanner or two – for the final installment of his Lambretta Series 3 restoration guide and Darrell Taylor finds a surprisingly simple and effective way of getting port timings spot-on. We also get well out of line discovering the best way to straighten up a bent frame, stare open-mounthed at the 'big hitters' during the BSSO pre season test day at Mallory Park, then cheer on those brave BSSO boys at Croft, before mourning the passing of Darren Emberson's famous wicker shopping basket at the blisteringly quick 2017 Straightliners Scooter Championship.
Plus! We interview hot new band The Spitfires, cast an eye over the latest music releases, list the latest club do's, share the best of readers' scoots, answer your letters and feedback, review the news, offer up a great Scooter Trader section and so much more!
Article continues below...
Advert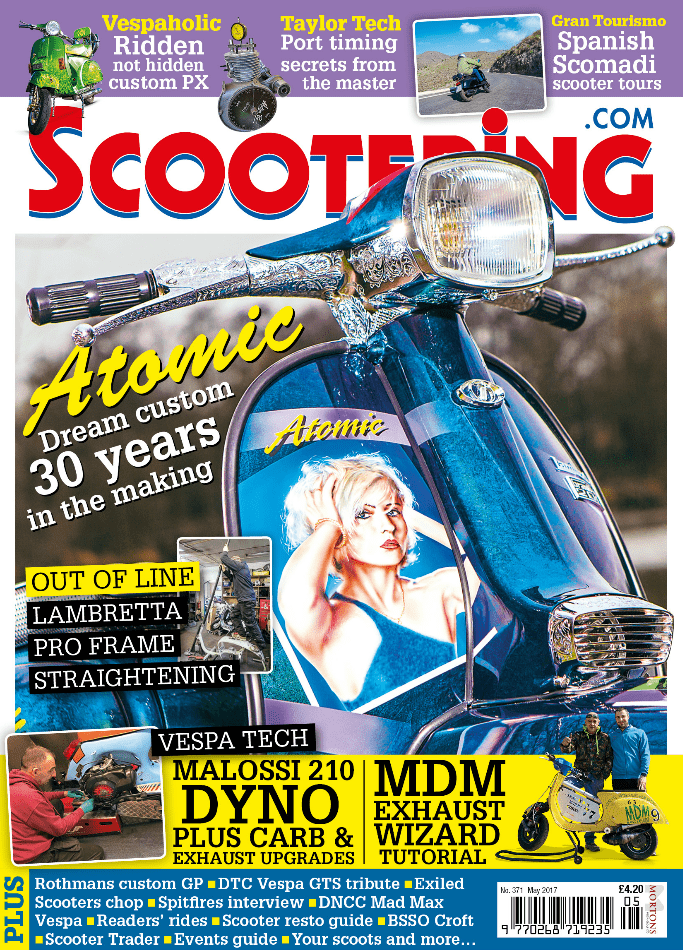 Enjoy more Scootering reading in the monthly magazine. Click here to subscribe.

Article continues below...
Advert