Latest issue of Scootering out now!
The mouthwatering Cornish cyder-themed Rattler RB200 custom, covered from top to toe in glistening Dave Dickinson paintwork, is our cover star this month, ably supported by another drink-themed scooter – Frijj, a Vespa that really moo-ves. Those with a yen for the airbrushed titans of the 80s will enjoy our look at Death Stalker in Dave's Nostalgic Custom Corner and we've a gorgeous pair of race replica Lambretta street racers that evoke the spirit of the late 70s. Curvy Italian beauty Bergamo 2 shows us its subtle charms and we learn the secrets of Rick Galloway's highly unusual Zipbretta.
With prices rising across the board for the most desirable classic scooters, we present a three-point plan to help you enjoy cheaper scootering, resident curmudgeon Bodger offers some views on the origin of the scooterboy that're likely to raise a few hackles, we look back at the career of the legendary Norrie Kerr, find Spanish gold behind the scenes at Buzzsolomoto in Halifax and report back from Scooterist Meltdown in Germany. Our man in Italy, Christian Giarrizzo, meets a man who sculpts scooter parts out of clay before building them for real and Big Stan can't help but laugh out loud at the raw power he experiences during his test of the Scomadi 200 Stage 4 tuning kit.
On the tech front, pity the Dyno Donkey Vespa as Dan attempts to determine whether the Malossi 210 kit's reputation for creating fire-breathing rev-monsters is justified and Stu Owen brings us the penultimate installment of his Lambretta Series 3 winter restoration guide. Darrell Taylor looks at the runners and riders for this year's sprinting season and we learn how teams prepare for BSSO during the off-season. We also meet up with Manish Mittal from Uni-Auto to find out about their new 200cc Lambretta engine casing.
Plus! We have the latest music releases, club do's, reader's ride All or Nothing, the best of readers' scoots, letters and feedback, news, Scooter Trader and more!
Article continues below...
Advert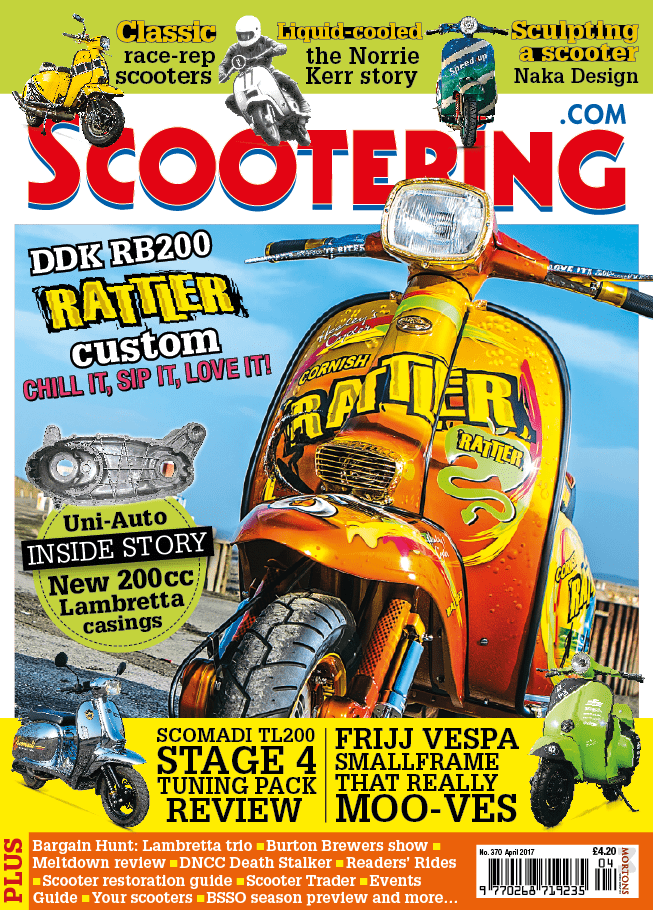 Enjoy more Scootering reading in the monthly magazine. Click here to subscribe.

Article continues below...
Advert