The Total Rejection Wrapping Yourself In Silver Foil Won't Save You From The Blast (Raving Pop Blast)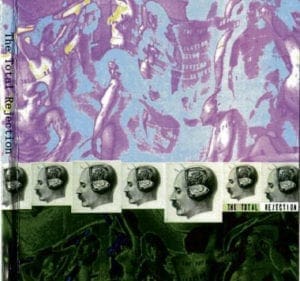 The Total Rejection are Bristol based, their debut album, Wrapping Yourself In Silver Foil Won't Save You From The Blast, contains nine tracks that mix the best elements of 60s garage punk, with nods to 60s Mod icons such as The Who, Small Faces and Creation. The opening track, The Legendary Orgasm, takes no prisoners, guitar chord patterns reminiscent of I Can't Explain, with a nod to The Chords' Maybe Tomorrow, as well as a smidgen of Creation, setting the standard high for what is to follow. A Lemmy-era Hawkwind-esque trippy swirl leads into the unrelenting workout of Licking Furniture. Contrastingly Tooth By Tooth comes over in a kind of Stranglers-do-Mod pop way. Power chords abound when Raw Power era Stooges collides with early Small Faces on Did You Fall Out The Window? The Total Rejection show they have more than one string to their musical bow on the short and quirky Save The World, with a wink in the direction of fellow Bristolians Portishead. Party Seven invokes all manner of references throughout its epic 4m30s duration: Ride, Creation, Stone Roses and Inspiral Carpets can all be detected on this joyously uplifting number. Incessant beats, wig outs and astral tripping farfisa vibes combine on the breathtakingly upbeat The Sweetest Dream.
The spirit of pop-art as pioneered by The Who, and taken into new territory's by Creation, is revisited and rebooted on penultimate track Vampire Cats, coupled with a sneering vocal delivery that conjures up memories of the likes of John Lydon and Liam Gallagher. Last, but by no means least, clocking in at nearly six minutes' duration is closing track Bending Spoons, which concludes The Total Rejection's impressive and promising debut long player by blending psychedelic grooves with lo-fi garage punk to perfection. Available to download at £5, on CD at £6, or heavyweight vinyl for £12 from www.raving-pop-blast.bandcamp.com
Sarge
Sultans of Ping FC Casual Sex In The Cineplex (Cherry Red)
Although largely known only for their bizarre anthem, Where's Me Jumper?, The Sultans of Ping (FC) were a huge draw on the live Indie circuit of the early Nineties. Their debut album explains why. A wry sense of humour pervades the record, drawing comparison with their punk predecessors Half Man, Half Biscuit, while that era's obsession with football marked the band as instant favourites with the Casual crowd of the day. All this is secondary to the songs themselves. Solid tunes with danceable rhythms, they were as catchy as herpes, but perhaps not as life changing. Edging on punk rather than Madchester, they had the catchy hooks and memorable riffs which mark a great band. Sadly, they were short lived. Apart from one other album, all they left behind was the original album which makes up disc one of this two box set, and a few singles and live tracks, many of which are compiled onto the second disc. If you've never heard beyond the best known release, then this is your chance to get to understand the appeal of this much loved band.
Nik
Article continues below...
Advert
Various artists How Is The Air Up There? (RPM)
It's easy to think that London in the Sixties was the hub of a national scene, a hotbed of beat, R&B and freakbeat bands that were confined to this sceptered isle, a sound which really didn't travel very far beyond its shores.
Article continues below...
Advert
Although true to an extent, there were other hotbeds of the music scattered across the world, with a surprisingly vibrant one about as far away as it is possible to travel, New Zealand. RPM have been busy curating a variety of releases from a variety of antipodean labels to bring this massive three disc compilation together. Although almost all the acts are largely unknown in the Northern hemisphere, the impact of the London sound shows that British bands were widely admired down under, and that certain American acts who were influencing our music were known about too. It's pretty difficult to pick stand out tracks on a compilation of this size and scope, but it's fair to say that there's something for everyone with an interest in the music of the back end of the original Mod scene. Even the nascent northern soul scene gets a nod here with a couple of cover versions of songs which would later become admired on the all-nighter scene and beyond.
Nik

Enjoy more Scootering reading in the monthly magazine. Click here to subscribe.