Backbeat, the word is on the street….
How To Do Northern Soul Properly
(A Handbook For The 21st Century) – Tony Ellis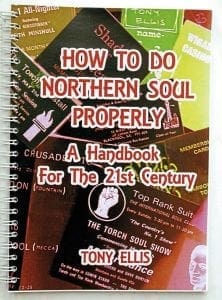 The author of this laugh a minute, tongue in cheek 'instruction manual', Tony Ellis, has been an active personality on the northern soul scene for years. He's a mine of information on rare 60s soul records as well as having a phenomenal collection of original releases, many on super rare British labels. His DJ CV includes Shades Of Green, Camberley, Yate all-nighters (near Bristol), 6Ts Rhythm Soul nights at West Hampstead, 100 Club allnighters, as well as Jon Buck's RSG all-nighters. Tony is also renowned for his infectious sense of humour.
Which is where his book comes in. Self-published, it doesn't even have an ISBN number. Nonetheless, almost anyone who has a degree of insider knowledge of the northern soul scene of the 70s and beyond will find themselves laughing (literally) out loud at much of Tony's book. Of course it's not intended to be serious, so don't expect it to be, at pretty much any stage.
Throughout, it gently and somewhat affectionately pokes fun at many aspects of the northern soul scene as it was during the golden era of the 70s and the scene currently. Granted, if you have no interest in northern soul, this isn't going to be for you. Likewise if you do have a taste for rare soul music, but have had a sense of humour bypass, again, maybe give it a miss. If you enjoy a good laugh, don't take things too seriously and northern soul floats your boat, treat yourself to a copy of How To Do Northern Soul Properly.
Sarge
How To Do Northern Soul Properly is only available mail order: £10 + £2 postage uk/£2.45 Europe, £3.50 rest of the universe. Cheques made out to AJ Ellis, send to 37 Thornhill Rd, Surbiton, Surrey KT6 7TN, UK or Paypal [email protected]. Either method, add your
postal address.
Western Promise
Here Comes A Revolution (self-released)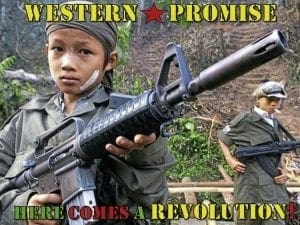 Drawing together many disparate influences isn't something many bands carry off well, but Merseyside's Western Promise manage it here. Various styles intermingle across the album — The Clash here, A Flock Of Seagulls there, a hint of The Doors, a touch of reggae, maybe a little Beautiful South and, in one particular place, a massive slab of 2-Tone all beautifully intermingled.
Overall, it's an album to sit and appreciate the lyrical content of, with songwriter Phil Calland taking centre stage and painting some wonderful word pictures of a Britain in decline. It's not all deep, moody thoughtful stuff though. Wake Up Call summons
The Specials at their most lively, and their take on The Clash's Straight To Hell — originally recorded for this year's Specialized compilation is a fine finishing track, though why it was added after the natural album closer is something of a mystery.
Highly recommended if you fancy something a little more relaxed and, dare I say it, adult than I'd recommend.
Nik
RedEyed Jedi
The Grind (self-released)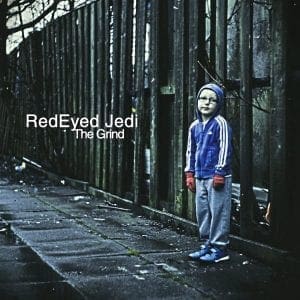 This band have matured well since their debut EP a couple of years back. Less deliberately discordant than they were on there, they've changed into a much more competent and
entertaining band.
Large dollops of American ska heroes Buck-O-Nine and Less Than Jake stride their way throughout the album, a killer brass section driving the album to a much higher level than they reached first time out. A few of the track titles will be familiar to those who bought their initial release but they've taken the honest route of re-recording these tracks specifically for this album, and it's fair to say that all sound the better for it.
They also pick up on the current trend for pirate-related nonsense too, and it's one of the better takes on the theme, refusing to go down the over-the-top line that most other bands have taken, sticking instead to what they do best. Pirates Of The House Party is a gently skanking lope of a tune that tells of adventures in party land instead of at sea, the "Ho, ho, ho, a pirate's life for me, An empty house, a bottle of rum and a pack of L&B," is guaranteed to stick in your head for a week.
All in all, a tasty album, and worth the few quid it'll cost you to pick up,
Nik
This article was taken from the June 2016 edition of Scootering, back issues available here: www.classicmagazines.co.uk/issue/SCO/year/2016

Enjoy more Scootering reading in the monthly magazine. Click here to subscribe.