Legendary tuner Max Quattrini has designed and built a cylinder kit for small-block Lambrettas — the M-210-TV. Prior to the kit's release, our man in Italy, Christian Giarrizzo, tracked down the enigmatic engineer behind the name to find out more…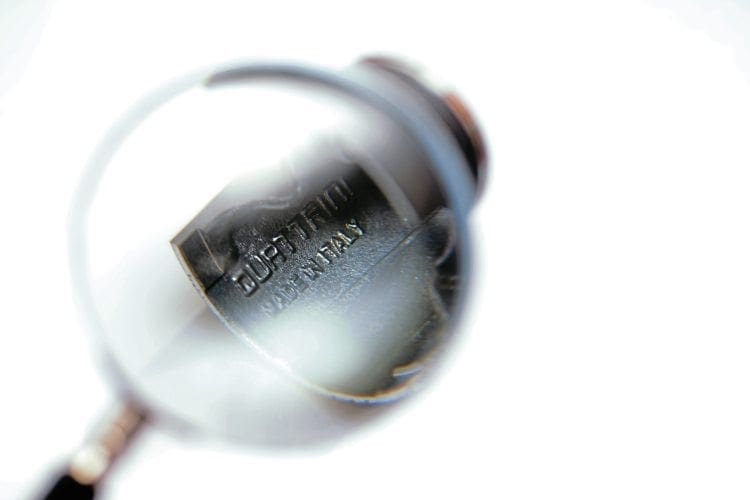 If you walk through a cemetery in Emilia Romanga, north-eastern Italy, you will soon spot gravestones depicting the deceased astride their beloved bikes on a race track – this is a region where passion for motorsport runs deep. I was in the city to visit one of its residents, a man I had spent three months searching for: tuning legend Max Quattrini. Guarding the entrance to his house as I arrived was an Abarth Fiat 595 – the wild sports version of the little Fiat 500 hatchback. Parking up, proceeding towards the front door, I pushed aside some leaves and noted the surname on the doorbell: Quattrini. It is a name that speaks for itself. My finger was just a millimetre from the button when a voice behind me suddenly asked: "Sei tu?" Are you, you? "Yes, I'm, me," I replied, a little uncertainly.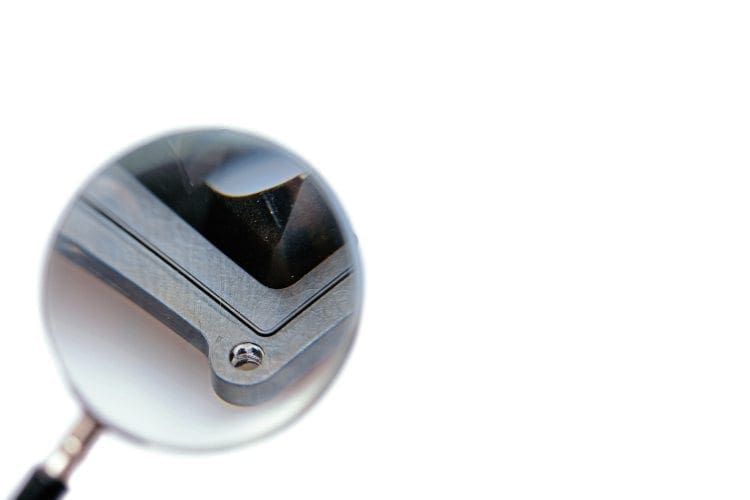 A man with streaky grey hair appeared in front of me, along with a beautiful girl, her eyes sparkling. "We were worried you were a hitman here to kill us all!" Max laughs deeply. My Taliban-style beard can make an unfortunate first impression.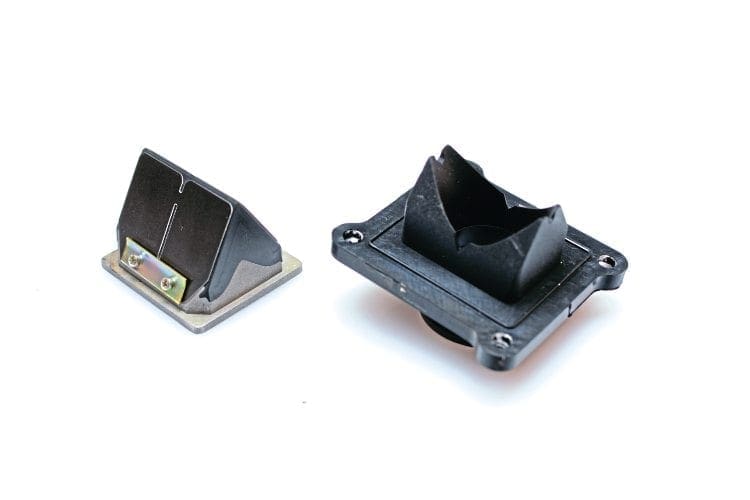 From this moment on, I was at the mercy of Max's fluid train of thought and I quickly discovered that trying to steer him towards answering my questions was like trying to catch lightning in a butterfly net. I wanted to break the ice by talking about his life but as soon as we sat down on his couch he reminded me that he doesn't like to discuss his past. "I am a man of facts," he said, lighting a cigarette.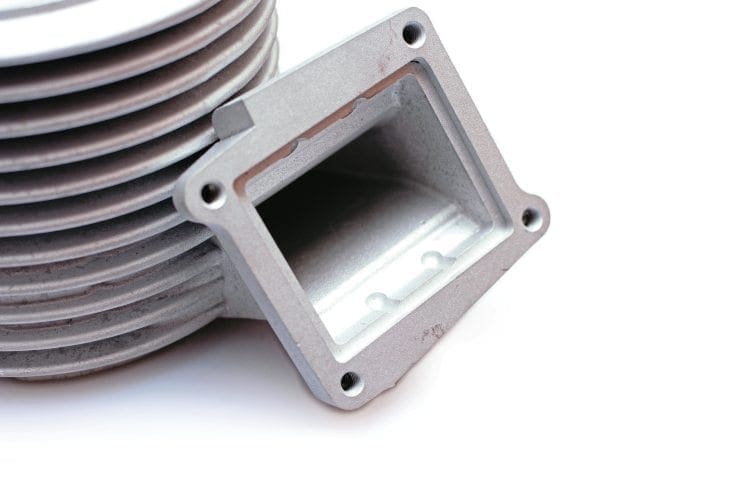 "But where did all this begin?" I insisted. He gave me a sharp look before continuing: "When I left my job as a piston designer, Marco Porlotti told me about a race taking place in the village of Tire Casali. We spent three weeks testing a Polini-based engine but Marco ended up breaking it so we went along to the event by Vespa as spectators.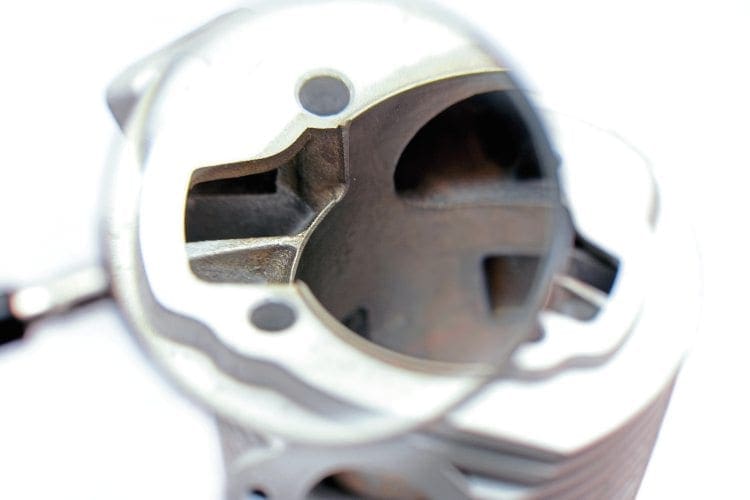 "When we got there, we asked to join the race just for fun. They agreed so we gave my machine a go. You wouldn't believe it — we were up against Vespas that had been brought along in vans, tuned just for that race, and we won.
"We took the cup, our girlfriends and returned home."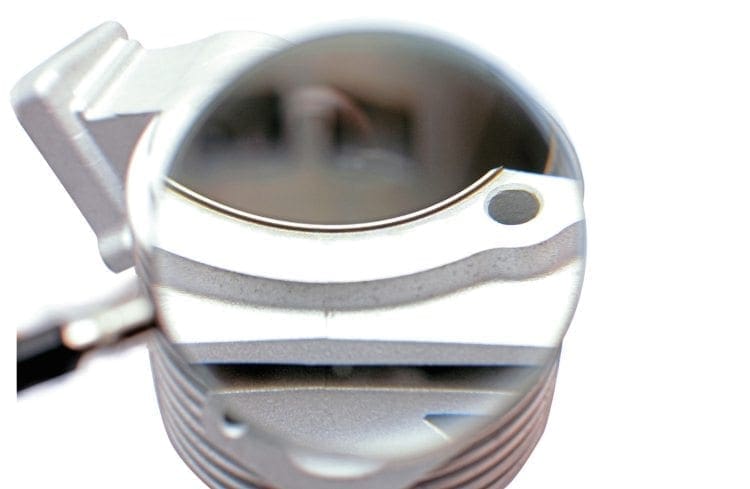 Sitting there watching Max's expression, I imagined the faces of the other competitors when a Vespa with the luggage holder still fitted beat them all.
"If you saw the Vespa history book we publish here," continued Max lighting up another cigarette, "you would read in the 50 special section that this machine is capable of 45kph everywhere except in the Parma province. There — the book says — they even tune up their electric razors before a race."
I asked whether the modern generation of young Vespa/Lambretta owners is still hungry for tuning but Max shook his head — no. "We were mad to live, mad to talk, obsessed with speed. In my day if you didn't tune up you were a sfigato – a dork."
There was a little pause, Max apparently lost in contemplation of his youth, then all of a sudden: Time to show you where the new Lambretta product is born, no more talking about the past." Conversation over. We got up, walking through his house escorted by his sweet daughter who made sure we always had something to drink. Entering a small but tidy office, Max left me at the door, proceeding to position himself behind three big monitors. When he fired them up, they showed something that amazed me: a new Lambretta kit — cylinder/piston/head — called the M-210-TV.
"I cannot work on a single project alone, it has to be at least three or four, can't help it," Max told me, almost apologetically. "Last year during my winter holiday I took my computer with me. Do you remember the Vespa M1-X cylinder? I designed it under a beach umbrella, and do you know what I sketched it out on? On the weekly newspaper puzzles page." He smiled.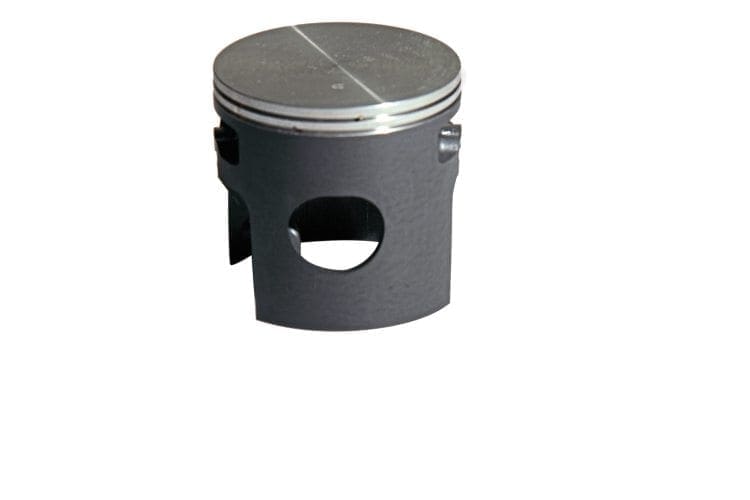 A substantial part of Max's cylinder work revolves around gas flow and shaping metal, so it makes sense that his headquarters is equipped with a 3D printer — handy to check intake and exhaust ports in the flesh, rather than merely on a screen. I was busy checking out other toys when Max unwrapped a parcel and showed me the contents — the new Lambretta kit. Despite the jungle of data and specs I had already seen, I could now see for myself how much work Quattrini has put into it…
Cylinder
"When young I went to an exhibition and met the chief technician of HRC Honda. He showed me a Honda GP two-stroke cylinder and asked me what I was looking at. I remember the ports were so big that you could walk inside! But this was not the point. He told me that my goal would be to have a kit in which heat could expand evenly, as if inside a one-piece sealed cylinder, without any holes. This is the best result, but accomplishment is far from easy." This was Max's way of outlining the importance of thermal stability in a cylinder. He then showed me the cylinder cooling fins, and I noticed they were off-centre (almost 3mm) in relation to the bore. "This is my personal choice, to guarantee maximum cooling and a negligible heat-expansion in the bore." Max knows the importance of keeping the cylinder cool and gives maximum fin area on the hotter side of the engine. "There is more," he said, "it is a 68mm cylinder due to the large amount of small-block Lambretta casings still available at the moment." The previous largest kit available for small-block casings was the RB200 (198cc) at 66mm; with a standard 58mm stroke the new Quattrini is 210cc — on small block casings and like the RB200 kit, Max specifies a 116mm con-rod. Lastly, the inlet is kept to the left-hand side, as per original item, and feeds both Boyesen ports to the side and boost ports to the roof of the inlet area. "Researching gas flow is agonising," he grimaces. "In this case I chose to work with the tuned length to create a deflector and calm the turbulence a bit." Nothing is left to chance — Max only works by design.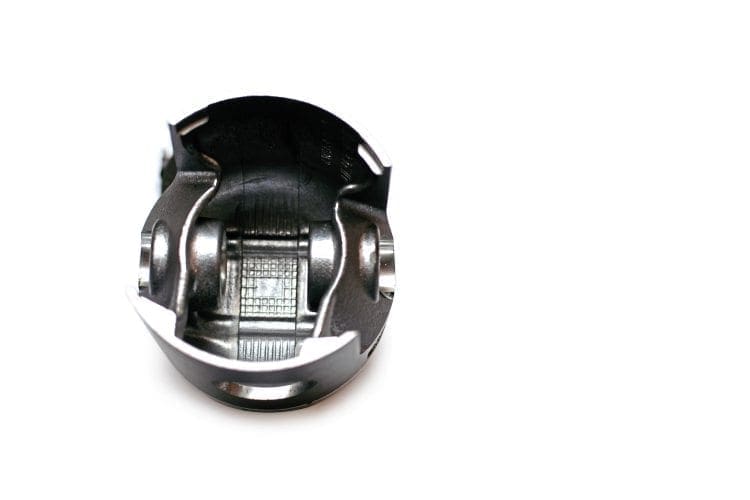 Piston
I ask Max about the machining because when I touch the piston-skirt one way it is smooth like silk and the other way around you can feel a texture. "You are looking at a pre-production unit," Max explains. "The texture is due to the machining, but nowadays I prefer to cover it with a thin coat of graphite-based paint. That helps with any vibration or heat. Plus after hours of the engine running, you can check where the paint is gone to see if there are any high spots, or overheating areas. You will not find anything like that if the engine is well engineered though." Max blinked at me, smiling. He then showed me a computer generated study of the internal temperatures and I must say that I hadn't seen something so precise for years. I can recall seeing this kind of study only once before — at Lamborghini's race division. At the hotter running temperature the piston seems to 'float' in the chamber. As a result, you can achieve maximum compression when hot. What a dream. The piston also incorporates 'dente di sega' (saw tooth) machining, to help with oil distribution, and a wedge-shaped skirt to force the air/fuel mix into the transfer ports more efficiently, One more thing: it weighs 24g less than the 150cc original Lambretta piston… so it's very light indeed!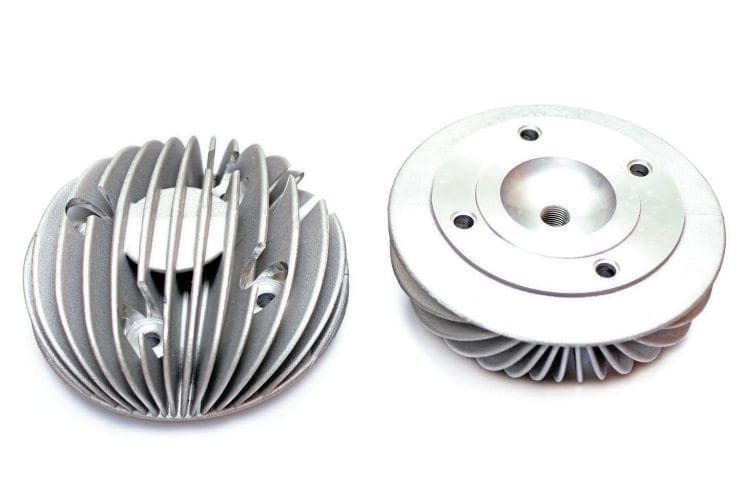 Head
It is a radial unit, and available in both centre plug and side plug options. I asked Max the reason for the four small rubber rings present in the box. "As you can see the cylinder doesn't have the traditional spigot under it," he said. "I noticed that due to the imprecise nature of the available engine casings and the large size of the studs, air leaks are something very common. These special rubber items solve this problem, by closing and sealing head very tight." No design decisions are easy, he tells me. "Imagine designing an engine. Metaphorically speaking, you open a door to a very big space and for each adjustment you do, each choice you will find yourself in another big room with another three doors to open and so on. It is an endless process."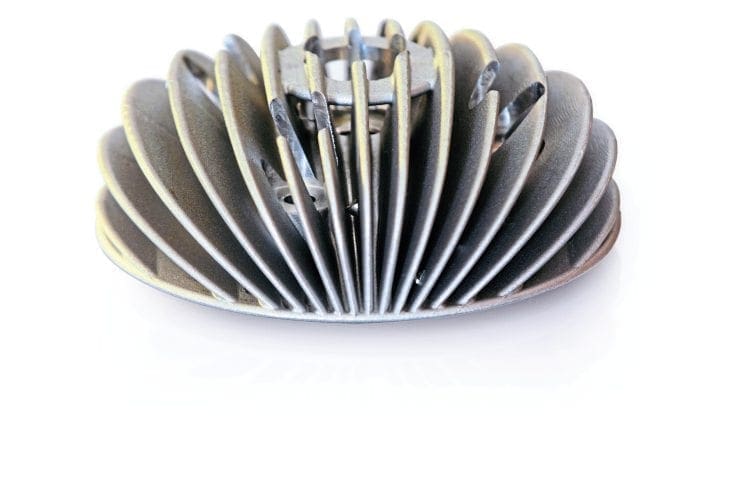 I couldn't help but be amazed at both this new kit and Max himself. Talent is important but courage is the quintessence of life. Max has more than 25 projects among Lambretta and Vespa parts, and this is only the scooter section. I packed my stuff on my 'Negra' Vespa and just before I left Max said: "I don't want to design an engine just for race wins or only for talented riders, I do it for pleasure, to listen to my friends who I consider clients to make them happy."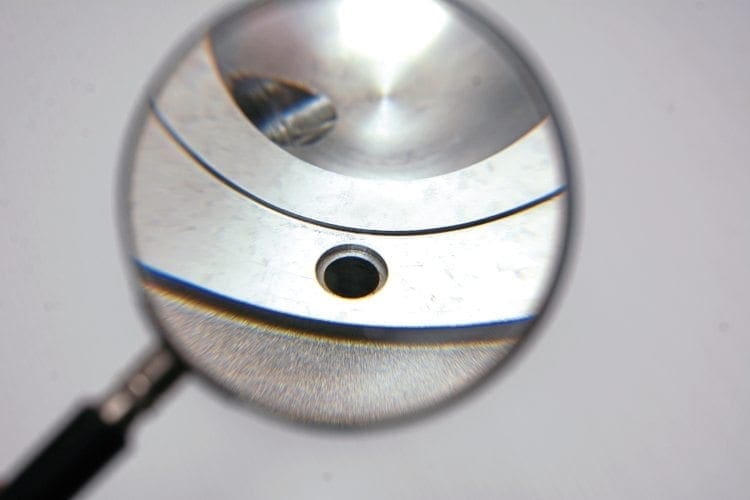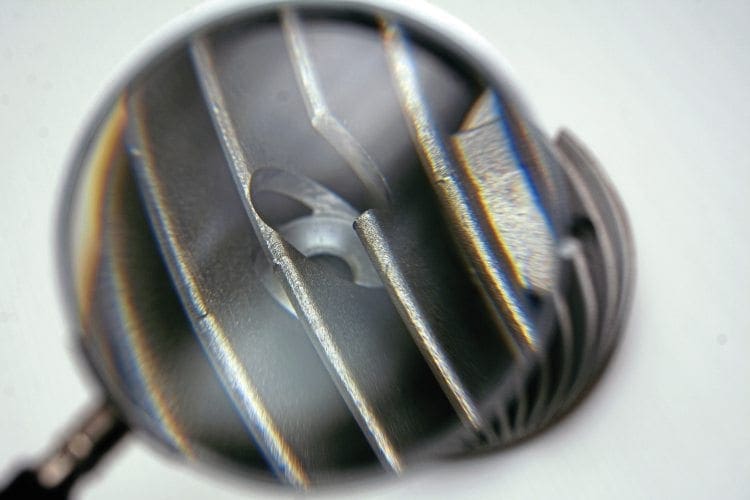 Words & Photography: Christian Giarrizzo
WHAT MARTIN COOK OF CHISELSPEED SAYS…
First out of the gate with dedicated expansion chambers for the Quattrini kit are Chiselspeed Tuning. We asked Martin Cook about his initial thoughts on fitting the kit and the performance of his new expansion chambers.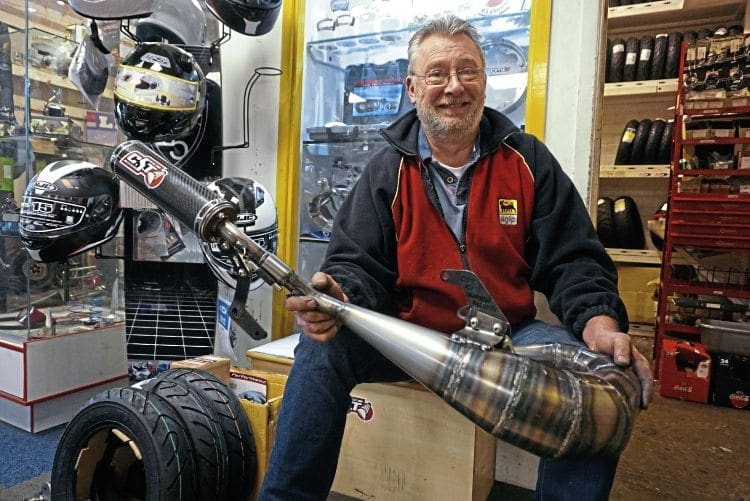 "Having fitted and dynoed the Quattrini M-210-TV, I have to say we're very impressed. We'd seen some reports about the barrel overhanging the casing but this wasn't an issue with the standard Italian Li125 case we used as a test bed. The only work required was a matching job to barrel and there was no need for any welding around the transfer ports. We used a 117mm rod in a 58mm Stroke crank, Mikuni TMX-28 carb and our CST10 exhaust, getting initial readings of 24bhp and 20lb-ft of torque. That's more bhp and torque than an RB20 as standard, especially at lower rev ranges.
My only concern with the kit was that its compression ratio of 13:1 seemed high for regular use. We've taken that down to 11:1 which has resulted in a very slight loss of power, but I believe the result is an engine that's more sustainable in daily use. Straight out of the box it's a very impressive piece of engineering but I'm confident it has more to offer."
Chiselspeed's expansion chamber is currently the only one designed specifically for the kit and comes in two configurations. The CST10 is designed for touring and develops low end torque while the CST11 is the fast road version.
Both exhausts are produced in the UK exclusively for Chiselspeed and are priced at £325 including VAT.
For more details visit www.chiselspeed.co.uk

Enjoy more Scootering reading in the monthly magazine. Click here to subscribe.