Of all the reasons I've heard for a scooter taking a long time to be built "waiting for the artist I want to paint it to visit my home town" has to be one of the most unusual. Ray Stewart was most insistent on whom he wanted to spray his GS160. The problem was that the artist was an American, and Ray is in Scotland. Still, good things come to those who wait…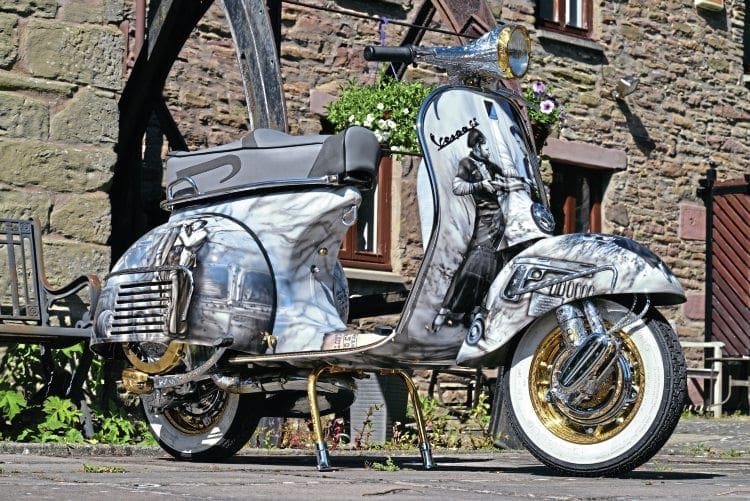 Ray had come across the artist's work on another scooter and had been impressed with the work involved, and decided that no matter what, he would eventually have a scooter painted by him. Luckily, the airbrush genius in question has something of a wandering soul, travelling the world to complete commissions on the customer's home turf and, after long discussions about the theme and how it was envisaged, he had promised to visit Dundee at some point to paint this scooter.
By a lucky coincidence, the artist — Dewey Franklin — had a contact in that part of Scotland, arranged to stay with them and pretty much told Ray that he was coming once he was already en route there. The GS had already had a lot of work done to it before his arrival, including having the floor replaced by a friend known ominously as 'The Blade' while Ray was away working on a rig in the North Sea. On his return, the owner got on with doing all the necessary prep work in anticipation of the day it would get built, and so it was a simple matter of getting the scooter to Dewey's accommodation and leaving him to work his magic.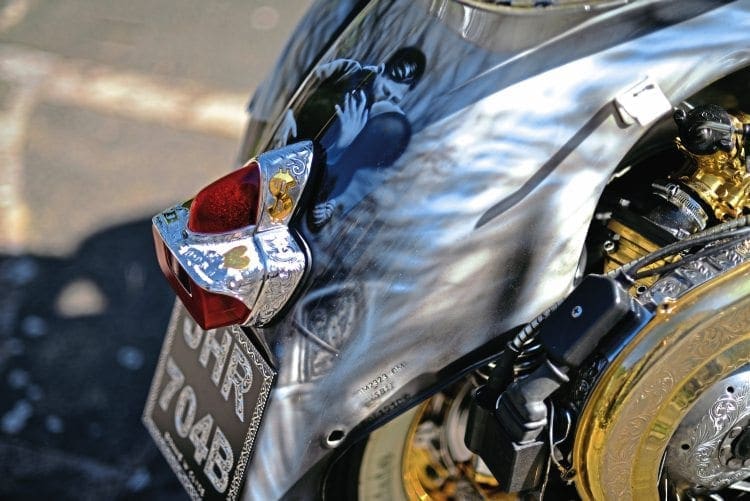 The level of detail and original thought which has gone into the paintwork of Bonne & Clyde makes it worth spending a lot of time examining the detail, from the beautifully reproduced photographs to the 'faded' newspaper headlines they sit over. Take a look at the background detail too, from the images of guns used, to a reference to Clyde Barrow's preference for stealing Ford V8 cars — because the police didn't have anything fast enough to catch them! The legshield image is particularly impressive, showing Bonnie apparently threatening Clyde with a shotgun in an image taken from a roll of film found in an abandoned hideout, and which helped to shape the public image of the couple.
I'm also particularly taken by the haunting faces on the toolbox that seem to stare accusingly towards you as you ride. One of the lesser remembered skills of Bonnie Parker was that she was fancied herself as a poet, composing work throughout their time of the run, a part of one appearing on the left hand panel, with the title of a second — "the trail's end" being engraved into the kickstart. Five weeks later and the scooter was ready for lacquering, a job that was handed on to another friend Ronnie Lochart, known as 'Big Oz', for clear coat.
Engine-wise, Ray had already decided to reuse the one that had originally been in his previous custom scooter, 'Burlesque', the T5-based chopper that graced these pages a couple of years ago as he'd sold the frame without it. Featuring an impressive but practical list of tuning parts, including a one-off crank, it seemed appropriate to slide it inside the chassis of a scooter that featured someone who'd made a career of finding the fastest thing on the road in his endeavour to avoid arrest, and so far the engine has proven to be bulletproof. Sadly, unlike Bonnie and Clyde themselves.
Externally, the casings had already been treated to some impressive chisel work from 'The Don', Don Blocksidge himself and no further work there was considered necessary. The rest of the scooter was treated to some further metal carving from perhaps the only other engraver to be worthy of mention in the same breath, Adi Clark, and features some incredibly detailed work on the handlebars.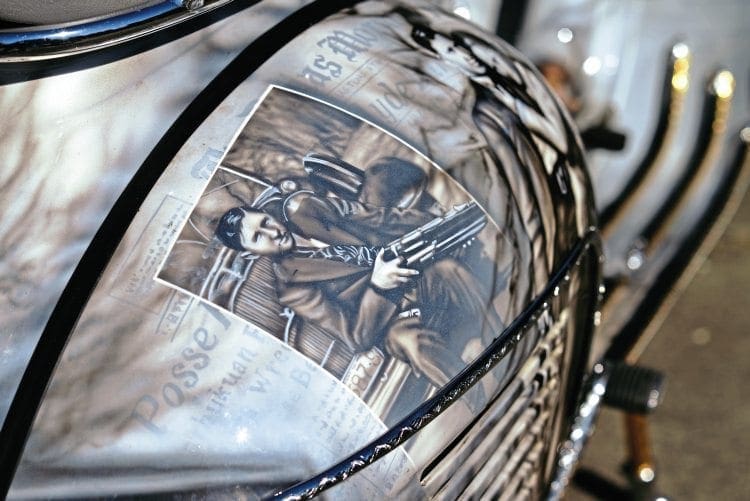 Following the lead of the paint , it features intricate and detailed scrollwork surrounding their names and a dollar sign, appropriately picked out in gold, the same finish which decorates the one-off bullet valve covers and choke levers. Given this incredible level of detail, I'm sure Ray considered it that it would be a shame to cut any corners on the finish, sending the finished parts down to Quality Chrome for a layer or three of shiny electroplated magic in both chrome and gold.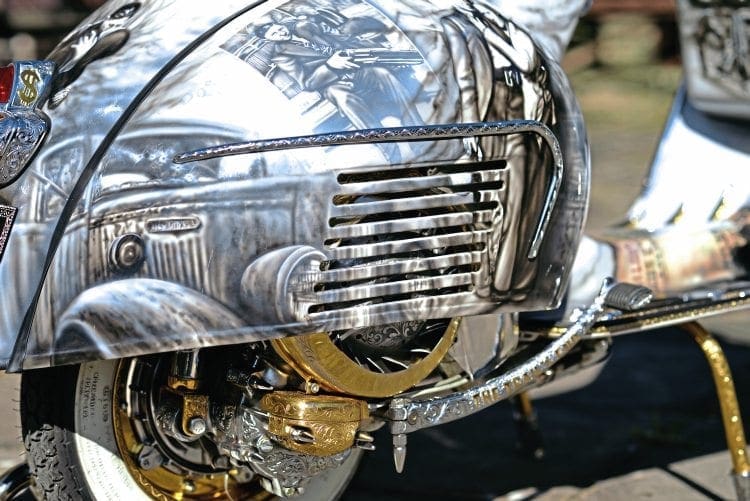 One item that did catch my eye was the seat; a genuine Super Gandolfi, it was originally fitted so that Ray could run his son around on the back, but I can't help but feel that it's design has something of the sumptuous styling associated with American cars about it, which finishes the scooter off nicely.
Looking back at the names of Ray's associates in building this scooter, 'Big Oz' and 'The Blade' would be perfect names for a couple of hardened bank robbers.
Now Ray, could you tell us again exactly how you managed to afford this scooter?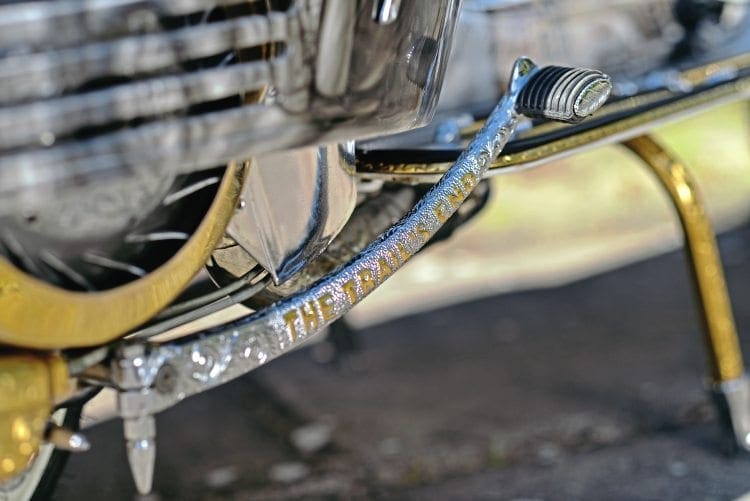 OWNER DETAILS
Job: ROV pilot
Scooter club & town: Dundee Stars and Stripes SC.
How and when did you first become interested in scooters: In the 80s, I remember this girl who used to work in my local chip shop and she owned a P200E which was all Modded up, painted with The Who on it. Paula Devany was her name and the scooter was built by a lad in the Early Stars 'n' Stripes SC, John Culross. That was my sorta first recollecting of scooters. What was your first scooter: PK 100.
What is your favourite scooter model: Well it's always been the Mk1 T5, but I do love the GS 160 as much.
What is your favourite style of custom scooter: Well I am an 80s scooterboy, so it has to be cutdowns and chops.
First rally or event: Morecambe 1986.
Any stories: I remember my first rally probably as one of the worst experiences on a scooter. Leaving work on the Friday with £27.50 in my pocket with college jacket and combats on. No waterproofs, no tent or sleeping bag. Let's do it… I got as far as the Kingdom of Fife and my clutch cable snapped, so I continued to drive it all the way there with no clutch. It pissed down with rain all the way there, most of the weekend and all the way home. Driving home I almost had tears in my eyes. I was freezing, soaking, starving and wondering why the f**k was I doing this. The rest is history.
Favourite and worst rally/event: I loved the scooter rally scene in the 80s but it isn't the 80s any more. Times move on and the scene must move on as well, I love Kelso. Amazing well run rally and I love the way it opens its gates to all.
What is the funniest experience with a scooter: Got caught doing a wheelie by the traffic police (in the 80s). I gave my mate's name, only to find out from the police that there was an unpaid fine outstanding in his name so I was arrested. It's a funny story now — wasn't funny at the time. Roddy, when are you gonna give me back that forty quid?
What do you like about rallies/ events: I like the ride to the rallies, not so much the going home though. Getting away with all my family and friends, having a great time and meeting old friends. I've always liked the custom scene and custom shows.
What do you dislike about rallies/ events: There's a lot of snobbery these days. I am first to admit my wife drives our motor home to most rallies and events with my kids, Maya and Evan. They thoroughly enjoy the scene and I hope they continue to. As long as they want to go we will take them, hopefully they continue to carry our scene on.
SCOOTER DETAILS
Name of scooter: Bonnie & Clyde
Scooter model: GS 160 Mark 2.
Date purchased and cost: Eight years ago, £800.
Time to build: I started the build in 2015. It took me one year to complete.
Any frame modifications: I've owned the GS 160 for around eight years. It's sat in my garage awaiting a full resto. It looked 100% minted body wise, until I got it blasted. The floor was in pretty good condition, but a few words with my mate 'The Blade' and we decided that a new floor would be best, if I was gonna build it. So I dropped it of in Aberdeen before going offshore and collected it once I landed onshore again. I then took the chassis home and did all the bodywork and prepping myself. I smoothed off the centre of the frame to have a mural covering the floor, then primed it, flattened back and then I waited for Dewey to come to my home town to do his artwork.
Kit: Malossi 172.
Crank: One-off race crank by Lord Damian Wass.
Carb: Malossi Reedvalve 30mm Dellorto.
Exhaust: PM Tuning pipe.
Clutch: 21-tooth Cosa.
Gearbox: Standard.
Porting work: Did the porting myself and built the engine.
Dyno: Done by myself up and doon the street!
Are there any other unique details: Kris Green at Mental Engineering for the bullet dust caps and choke lever.
Paintwork & murals: The artwork was carried out by an American artist Dewey Franklin. Then sent for its clear coat by Ronnie Lochart (Big Oz) fay Auchtermuchty. These two lads can take the credit for the finish to the bodywork.
Engraving: The engine is around 15 years old, all engine engraving was done by Master Don. All other parts on the scooter were done by Adi Clark.
Chrome: Again you get what you pay for. I've always used the best — the Lads at Quality Chrome. They did all the chrome and gold work.
The Legend of Bonnie & Clyde
Bonnie Parker and Clyde Barrow rank highly among the best known American gangsters of the 1930s but, unlike their contemporaries, they weren't driven by a thirst for money or power. Their story is based around Clyde's desire for revenge on the Texan Penal System for abuses suffered while in their care. Mix in a huge dollop of romantic fantasy and illicit sex and you had an automatic recipe for newspaper sensationalism. Between them they were responsible for over a hundred known crimes, including the murder of at least eight law enforcement officers and several civilians. Their legend portrays them as hardened bank robbers, but the truth is more prosaic.
Although they robbed around a dozen or so banks in their brief career, they found it easier to steal from small family businesses and petrol stations, trying to build up an armoury so that they could launch a `raid of liberation' on Eastham Prison, the jail where Clyde had been held. Despite this, they found themselves on the FBI's Most Wanted list, leading to their deaths on May 23, 1934. Caught in a hail of bullets from a posse, taking around 50 rounds between them, they died a violent and bloody death which brought to an end their 27 month long criminal partnership.
Words: Nik
Photographs: Alex Adair
This article was taken from the August 2016 edition of Scootering, back issues available here: www.classicmagazines.co.uk/issue/SCO/year/2016

Enjoy more Scootering reading in the monthly magazine. Click here to subscribe.