Another trip down memory lane with Dave O, this is a scooter that should put a smile on anyone's face… The Parades Gone By.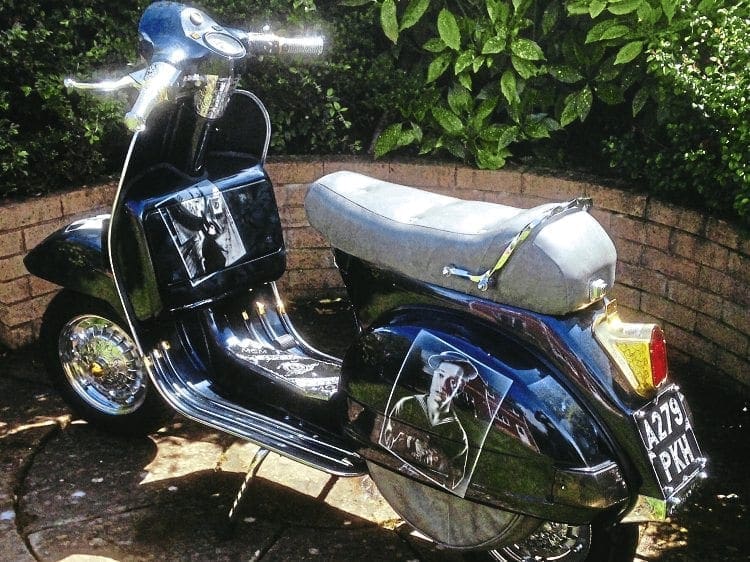 This month we re-run the celluloid to track down the whereabouts of another 'classic' Vespa P-range which first hit the show and rally circuit in this form in the early 90s, the stunning 'The Parades Gone By'. Still owned and ridden by the original builder, John Arksey, it now resides in Conwyn, North Wales, where John relocated for work. Featuring top notch artwork from one of the scootering airbrush masters at the time, it was based on the magic of the silent screen, and the actors who brought it to life.
As well as the second most famous 'toothbrush moustache' wearer, Charlie Chaplin, there are fantastic paint reworks of Harold Lloyd and Buster Keaton all taken from a book by silent movie authority Kevin Brownlow. It also features a duo, who were a personal favourite of mine, Arthur Stanley Jefferson and Norvell Hardy, these two brought us over 100 films from the 1920s to the 1940s and even though both died before most of us were even born their brand of slapstick comedy was a must on Saturday morning TV.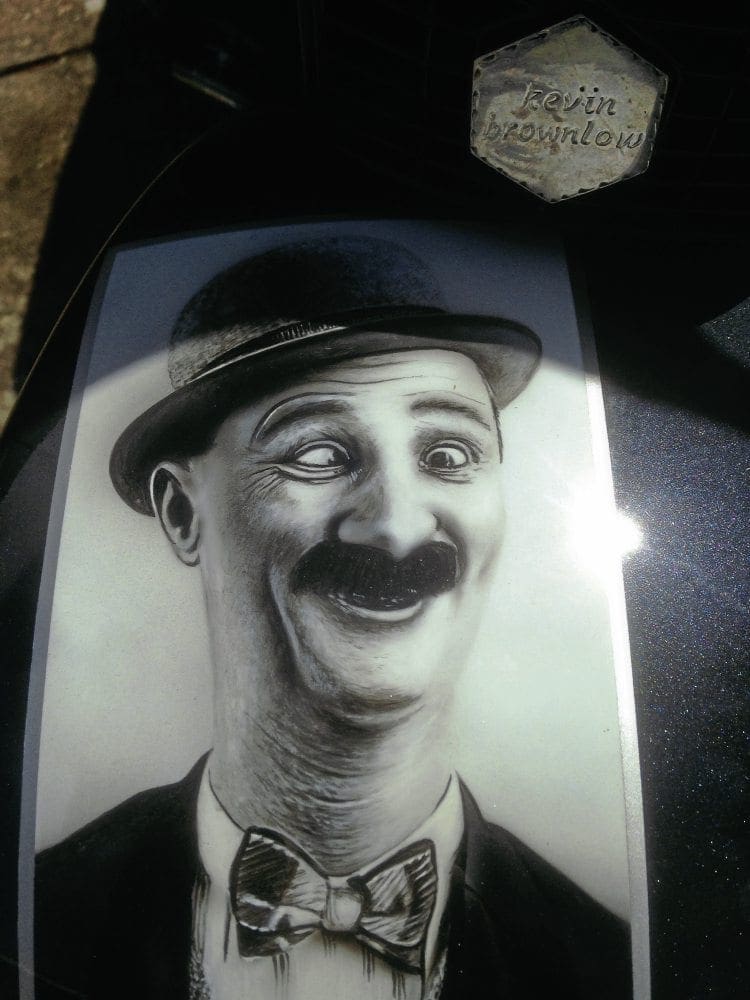 As I mentioned earlier the paint and murals are really rather good: a dark grey swirl base created by dipping in water is supported by offset framed black and white murals – a winner at the time and still one of personal favourite paint techniques. To compliment the art John not only went for standard scroll engraving but also got the 'scratchers' to incorporate both logos and film brands from the subject era.
Since its debut in the magazine in 1991 it has been added to – a mural of optical challenged funnyman Ben Turpin was added to the mudguard, and the engraving 'boosted'. Please take a curtain call!
Owner: John Arksey.
Hometown: Originally Hull now living in North Wales.
Scooter club: Skull Snaps SC, originally Hull SC.
Scooter name: The Parades Gone By.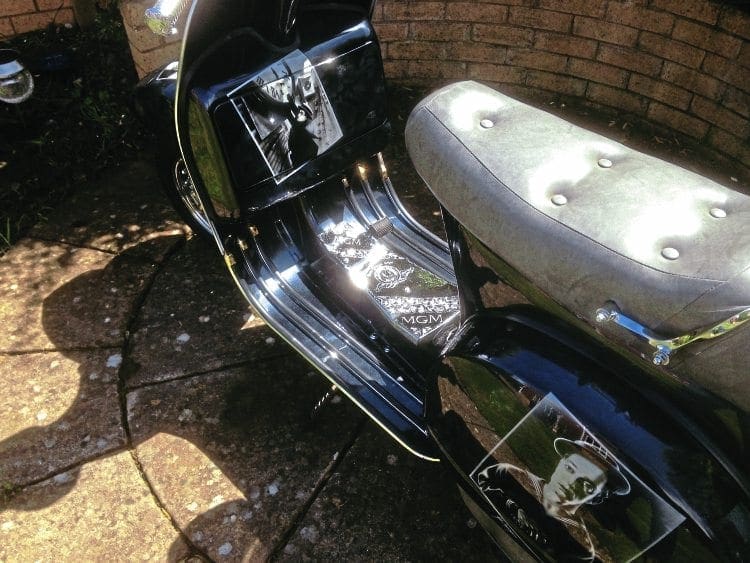 Year originally built: Model is a PX200 from 1984. I bought it for £500 in '85.
Paint (Artist): Loki Spurgeon at Aerographics. After an accident it was repaired, parts replaced where required and all for only £1000!
Engine: Standard P200 With Pinasco exhaust.
Fabrication: Andy Smirk (rear bumper, twisted stand, sissy bar on seat).
Chrome/engraving: Chrome/gold plating my very good friend Karl Russell (Quality Chronic). Engraving was originally done by Peter Robinson in exchange for a GP Lambretta. Laterly parts done by Adi Clarke.
Are you the original owner: I got it second hand in 1985 so have now owned it 31 years! It was in average condition with a lovely scratch across the front mudguard. I got it resprayed and had it sign-written, then had a Marilyn Monroe themed full paint job. Then after an accident in 1991 I had it rebuilt with this theme.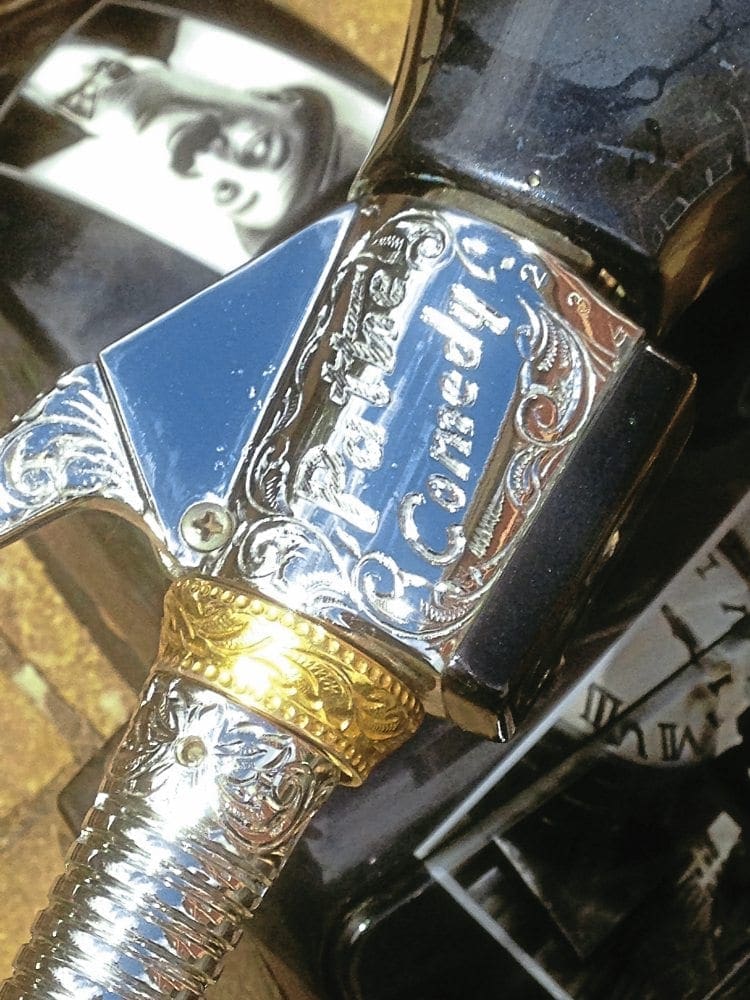 What have you had done to it since owning: I've spent a small fortune over the years having things replaced and improved upon, I haven't touched it for over 16 years though, other than the odd clean from time to time. I would love to get it back to its former glory and add to the engraving and gold – front forks, rims etc.
Do you still do rallies: I still try and get to as many events as possible. Currently doing up a PX 125 Disc with a 60s style theme (no mirrors though!!). I'm reliving my youth on that scooter and loving it more than ever – another Vespa scooter becoming a 'money pit!'
Funny stories about scootering In the 80s: Myself, Karl Russell and Paul Wynne did a series of Scooter Rally Videos called Cuthbert Trenched. Hilarious at the time, we interviewed various people – Paul Heaton (Housemartins), Jeff Smith (NSRA), etc. It was done very tongue in cheek but was a right laugh back then, a total piss take! Looking back at the footage we were very young! I would also say I'm a bit embarrassed about some of the rubbish I said in the original publication back in 1991; "Gonna take my Vespa to Hollywood". As if!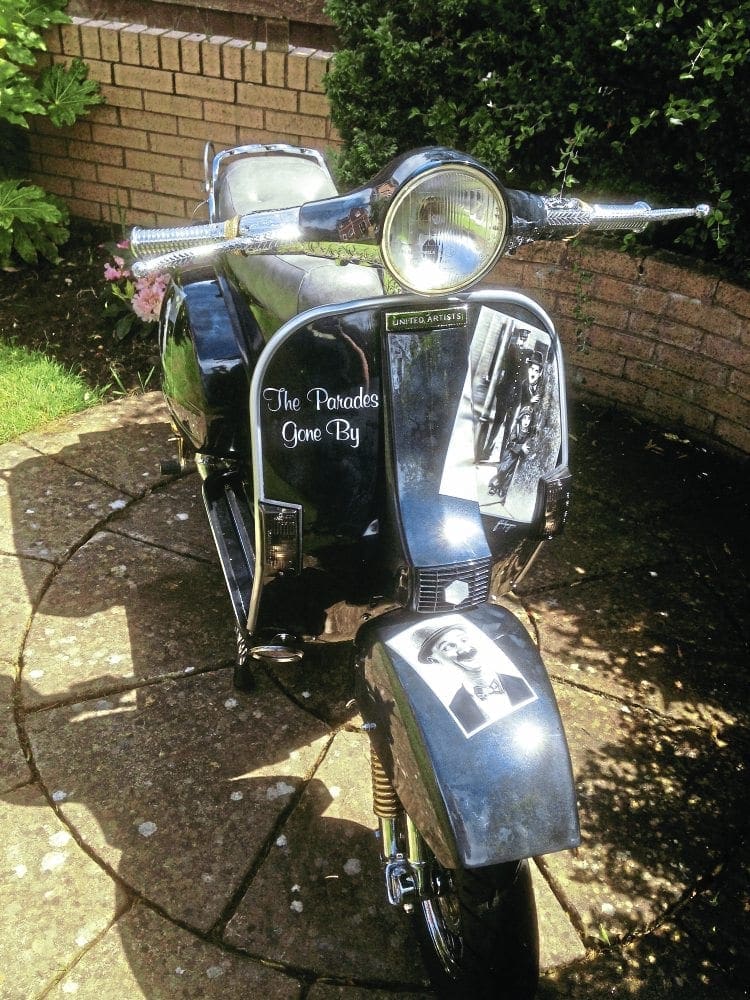 Favourite event: Too many… Had some great times with the great friends I've met over the years.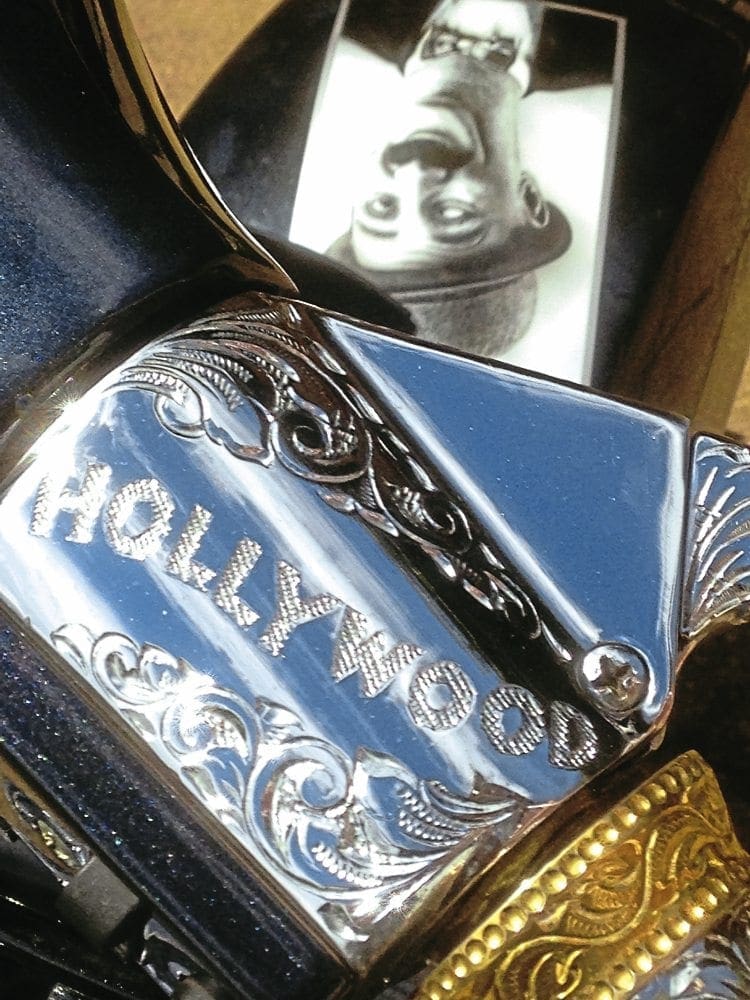 Favourite custom scooter: Levi Stubbs Tears, but I also loved Spiritwalker, Rhapsody & Blues and Real Gone Kid. In modern times Shake It Up Baby and Ceremony have caught my eye.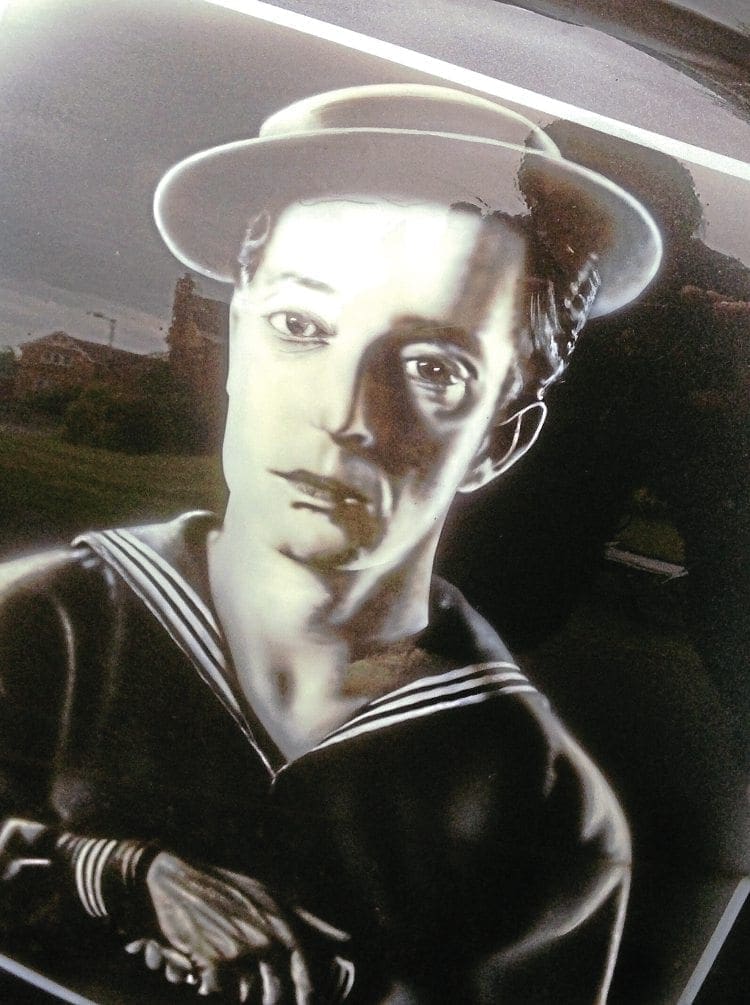 Favourite dealer: Beedspeed back in the day now Flintshire Scooter Centre.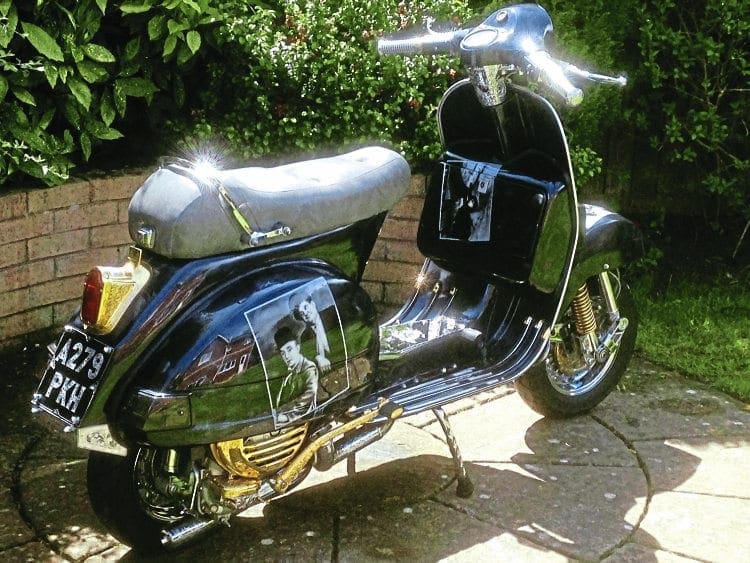 Final thought: It's clear since being away from the scene for a few years that silly little things have become extremely expensive. Luckily I know some great people and feel I have been looked after. For those new to the scene who don't have these connections it must be very hard and expensive to get a foothold. This is detrimental to the scene in general not just custom scooters. I would say, do your homework, shop about and ensure you're not paying over the top! Happily there are some great people out there, some I have named and would recommend any day of the week.
Dave O
This article was taken from the July 2016 edition of Scootering, back issues available here: www.classicmagazines.co.uk/issue/SCO/year/2016

Enjoy more Scootering reading in the monthly magazine. Click here to subscribe.